Siem Reap – a place that I immediately fell in love with when I went there 3 years ago. The idea of going there especially with my mom and two siblings made me go even more excited – because I really wanted to bring them there and showed to them that this part of the region used to be home to some of the best architecture in the world. Topping the list of the Travelers' Choice Landmarks for 2015 where thousands of travelers from around the globe voted for their choice of best landmarks on TripAdvisor, it's always worth to return to the magnificent Angkor Wat.
We stayed at a brand new hotel called Chez Moi Boutique Hotel and Spa. It was only opened a few months ago and was still in the process of undergoing some final touches. The walls were still naked without paint and they didn't even have any mirror placed in the room so it was one of those times when I had to be creative and used my hand-phone to check out if there was something missing on my face. LOL.
We went for the sunrise and as usual found ourselves surrounded by hordes of people. Too bad, it was a cloudy morning so there was no sunrise. I felt bad for the people when they were still hopeful and staying put even after the sun had risen way off the horizon.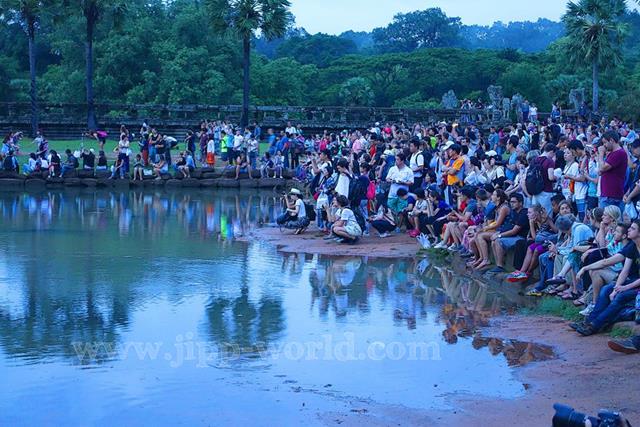 Mom and siblings were immediately crazified by the grandeur of Angkor Wat once we ascended the ancient stairs. They were all over taking pictures and they came up with their own theories on how the Angkor Wat could have been built in the past. I was amused but just as excited as they were.
The top flight of the temple was still off-limit, just as it was when I went there 3 years ago. But of course there really is no need to go up there to experience its grandeur and magnificence. For me, the best monuments in the world are best visualized from a distance.
Then we went to Bayon – which is probably the only temple within the ancient city of Angkor Wat that has faces. My mom struck the best pose here.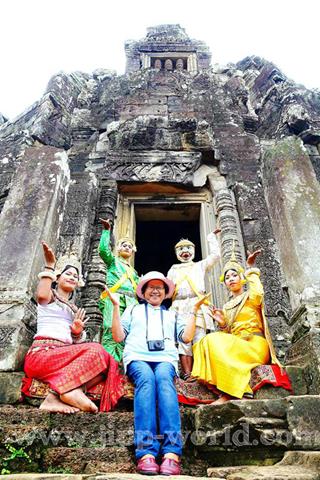 Then we went to Preah Khan – which is my favorite temple in Angkor Wat. This temple never failed to impress me especially the way they built the walls and the roofs. The roofs were made of stone blocks and there seemed to be no reinforcement to tie them together (except – may be those that they built recently as part of restoration project) so they rely solely on their own weight to support each other. It's like playing lego where the dimension of each stone block has to very precise so that they can be fixed against each other.
We ended our Angkor tour by going to Ta Phrom – the temple which was made famous by Angeline Jolie through the movie Lara Croft: Tomb Raider. The film director didn't choose this temple for nothing. It has those very ancient looks – thanks to the existence of giant strangler figs whose roots have now snaked all over the temple. Somehow this time, it wasn't easy to find the famous fig thanks to the ongoing extensive restoration works. Many entrances were closed off so it was like being in a maze where you'd have to find your way around or you'll find yourself tailing behind your own tail.
But then, looking for the fig among the ancient ruins of Ta Phrom was really part of the fun and we had the best of laugh while doing it. We were lucky to have found the fig when there weren't many people around. Each of us took turn in striking a pose and just when all of us were done the whole place was suddenly flooded with people – all eager to take photo in front of the famous fig.
So we did a half a day tour but taking into account that we started off at 5am, we were actually there for some 9 hours. By the time we pulled out of the Angkor Wat area, everybody was quit tired and sleepy. We went to have lunch at a local restaurant – which served authentic Khmer food and which we found almost by accident – and had the best of meal in Cambodia. I could not believe my eyes (and nose) when we found a dish which is very similar to our 'bosou' or 'pinasakan' in Sabah. It really is true then that the best things that you find in life are those that you find by accident. Heh.
Our second and last day in Siem Reap was allocated especially for shopping but there was one last place that I wanted to bring them to before we started going on a shopping spree. It was the Angkor Silk Farm which is located some 15kms from the town center. Going there on a rented Tuk Tuk, we were amazed by the beauty of countryside of Siem Reap – the greenery and the expansive paddy fields.
The best thing about the Angkor Silk Farm is probably the free tour that they provide. We were taken to a tour that shows the process of manufacturing silks – right from the hatching of silk wombs right to the traditional weaving to produce silk clothes. Mom and siblings showed such a great interest in every single thing in the process. My sister especially was not quite fond of the idea of putting the cocoons into hot water to kill the wombs. Taking them out manually without killing them might be a good alternative but it will be very time consuming.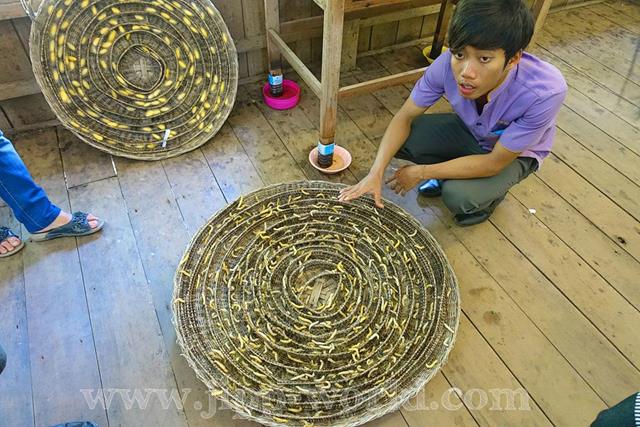 We didn't buy anything from the shop (felt a lil bit guilty) – because the prices were crazy – but then we are talking about silks so it is quite understandable. We returned to Siem Reap when the sun was already up ahead but not before we stopped at one of quite a number of roadside food stalls to have a taste of – well – these.
My mom and siblings liked them so much that they actually bought quite a lot to be eaten with our meal later at our lunch table. I was like – erkkkkk!
Of course, every short trip has to be ended with shopping. It was not really the best time to come to Cambodia when the Malaysian Ringgit is very much low against USD which is unfortunately the dominant currency in Cambodia. Still, Siem Reap remains one of the best shopping towns in the region. Imagine, a good T-shirt is sold at about USD2 per piece – which is actually less than MYR8 based on current exchange rate. Imagine – just imagine – if our money is at its usual MYR3.5 against USD1. Heaven. Uhuks.
But still it didn't stop them from buying quite a lot of stuff, in fact, even exceeded the 15KG that I purchased on Air Asia as an add-on.
So, that was about it – my #CambodiaRevisited2015 trip – together with my mom and two of my siblings. They had fun, I had fun and we are already thinking of another trip. In the meantime, I have to face the bitter reality that I've got a lot of things coming right my way this year.