I've always been an avid book reader for as long as I can remember. I remember how I'd go to the public library in my hometown Keningau, which at that time located on the 2nd floor of an aging shop lot before moving to what had then become the largest library in Sabah upon completion, and I'd spend the whole day there trying to read as much as I could before the librarian shooed me away came 5.30pm. Being a kid that was full of imagination, my favorite books had been those of fairy and folk tales – Cinderella, Hensel and Gretel, Snow White and the Seven Dwarfs, Badang, Si Tanggang and so forth.
Then as I grew up, my interests changed more towards traveling, urbanization and geography, so I'd spend many hours looking at pictures of cities and mountains and everything that has to do with geography. I'd try to locate where Iran was in the world map, and Tunisia and even some famous cities in the US that I heard about from movies that I watched and I even had interest in the number of population in each country in the world and made a comparison. That was when I first saw a picture of naked women (and men) on a hard-covered book that featured a nudist beach in Germany. I remember how I was so fascinated by the 7 wonders of the World so I'd look at pictures of Taj Mahal, Giza Pyramids, the Great Wall of China and so forth. Of course at that time, I didn't see the possibility of me traveling to some of those places that I could only admire through pictures on books that I read at that very library.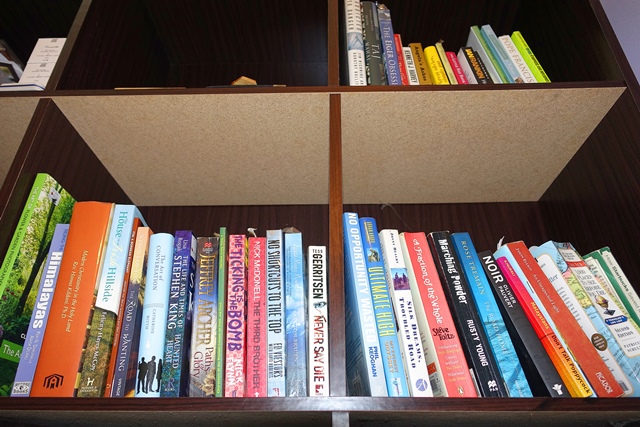 I never stopped reading, starting from primary school to secondary and on through to my uni years. Of course, all throughout the years my interest in books had to evolve with my age. I started reading 'heavier' books when I was at the University. I remember buying just about every book by Stephen King that I came upon, usually at my favorite bookstore – the MPH outlet in Section 14 of Petaling Jaya. I started with 'It' which I think was adapted to a movie because I remember watching that movie when I was a kid and I had difficulty going to sleep for days.
Then I bought another of his book called 'Insomnia' – a book about an aging insomniac who spends most of his time watching over a street from the veranda of his house. Then one night he begins to see things. He'd see a balloon hanging over the head of each person that he sees. That balloon reflects the fate of that person – and he'd even know if the person is going to die soon. Then another book had Salem's Lot for a title. Damn, that book was about vampires and I can't believe how I'd skip classes (especially TITAS – damn. I hated that subject so much) just so that I could finish reading it. The story was full of shit and nonsense but still my nose was glued to the book until the very last page. I even re-read it just in case there were things that I had missed out on somewhere between the lines. Erkkk!
Then I began to turn to Sydney Sheldon. It all started with Master of the Game, a book that I borrowed from my dorm-mate so that I could pass my time while waiting for the next semester to begin. Damn, that book really got into me. It was a damn long story, spanning through 3 different generations but I got hooked so much to it that I lost counts on how many times I had actually re-read it. I found that book very uplifting especially that part when Jamie McGregor – the main character for the first generation – traveled all the way to South Africa to find diamonds (he was born into a very poor farming family in Ireland). That time when he squeezes into a tiny mail cart that takes him on a very rough ride – on rough and bumpy roads and across deserts for many many weeks on end. The ride was so rough that even the horses had died so he had to continue his journey on foot.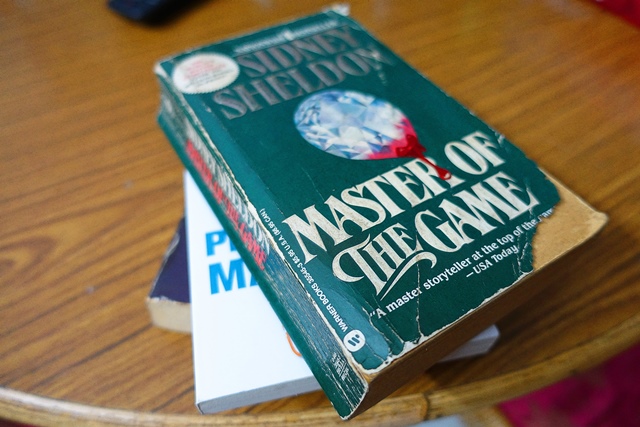 "The raced through the long night, traveling over dusty, bumpy roads by moonlight, the little cart bounching up the rises, plunging down the valleys, springing over flats. Every inch of Jamie's body was battered and bruised from the constant jolting. He was exhausted, but it was impossible to sleep. Every time he started to doze off, he was jarred awake. His body was cramped and miserable and there was no room to stretch. He was starving and motion-sick. He had no idea how many days it would be before his next meal. It was a six-hundred-mile journey, and Jamie McGregor was not sure he was going to live through it. Neither was he sure that he wanted to"
Of course my favorite part of the whole story is that part when he and his friend Banda took a hand-made raft across a raging ocean towards a place called Namib Dessert where they found diamonds laying in the sand. Gosh, I remember pausing several times when I was reading this part because my heart was racing too fast and I had to calm myself down so that I wouldn't pass out! And it still happened even after I re-read it several times. Yes, to that extent. Heh.
So, the bottom line is, I love books. I love reading stories. Just recently I started to read motivational books – something that I had been distancing myself from before somebody gave me How Starbucks Saved My Life. It led me into buying The Man who Sold His Ferrari when I was in Nepal and I believe there'll be more to come although it has not been easy for me to find time to read since I took up this master's program that I'm doing now. I try to finish reading a book – and if possible two although it is quite too ambitious – every month.
For the love of books, I have allocated a section of this aging blog of mine dedicating my passion for reading books. I love traveling but there are more to life than just traveling and reading books is just a tiny fraction of them. Heh.