WE left from Bungurasih Bus Terminal in Surabaya to Probolinggo where we were dropped on a road-side without really knowing what to do next. We knew they were minivans going up to Cemoro Lowong (the nearest town to Bromo) but we didn't know how they looked like or what time of the day would they be departing.
That was when some stupid Javanese came introducing himself as 'the official tourist guide for buses to Mount Bromo'. That word 'official' had caught me off guard and he led me into a small office with nothing in it but a small table and two chairs – one for him and one for me his 'customer'. He asked me to take a seat to which I hesitantly adhered to although all I wanted to know was the departure time of the next minivan to Bromo.
"Let me explain first!" he suddenly raised his voice. He took out some stupid map of East Java and he showed me where we were and where Bromo was and how the minivan journey was gonna be like on the map. He told me all the kind of bla bla things which I already knew from all the little researches of Bromo that I did on the internet.
Then he told me WHY we needed a tour company to arrange everything for us.  That was when I sensed (that) something was wrong and that he was not really an officer after all but merely another one of those stupid tour agents who really thought that they could easily sell overpriced tours to unsuspecting tourists.
He even asked if we had already booked a hotel room in Bromo. When I told him that we had and we did it via Agoda, he quickly replied "I know Agoda! He is my friend!". I was like – what? That alone CONFIRMED that there was definitely something wrong with this fler.
When I told him that we didn't need a tour company, he suddenly shouted at me as if I was indebted or had just slept with his daughter the night before.
"You don't believe me???! You don't believe me???! You can go somewhere else!!!", he shouted and I began to be very convinced that this fler was crazy or was really desperate for money. "It's not like I don't believe you but we have to be a little bit careful you know", I told him in the most civilized fashion. "Noooo!!! You don't believe me!! Go! Go!" he said while alighting abruptly off his chair and motioning me towards the door.
I shrugged and walked out towards my travel buddy who was there relaxing on a bench without having the slightest idea of what I had just been through. Grrrrr!
I actually had no idea of what to do next because it was not even a bus stop and they must be dozens other buses passing by every hour so there was no way I could tell which ones were heading to Bromo. But then, things always know how to get into place when you most need them to. A mini-van stopped right in front of us and the conductor motioned us in. He seemed to know that every tourist in Probolinggo was heading to Bromo.
Thinking back now, that stupid tour agent actually had no business whatsoever with the minivans to Mount Bromo and I should have just simply ignored him. He was totally a waste of precious time.
I knew instantly that the real adventure has begun when we were sandwiched into the tiny mini-van with probably a dozen other people. The bags had to be put (strapped and covered) on top of the van to maximize the capacity and I had to grit my teeth when more and more people were picked up along the way although there seemed to be no more space inside the van!
I looked in disbelief when the van picked up another person when some of the passengers were already half-squatting in the totally packed out van. We were so damn packed that the conductor had to stay hanging to the door while the van continued moving towards Bromo. Walaweii!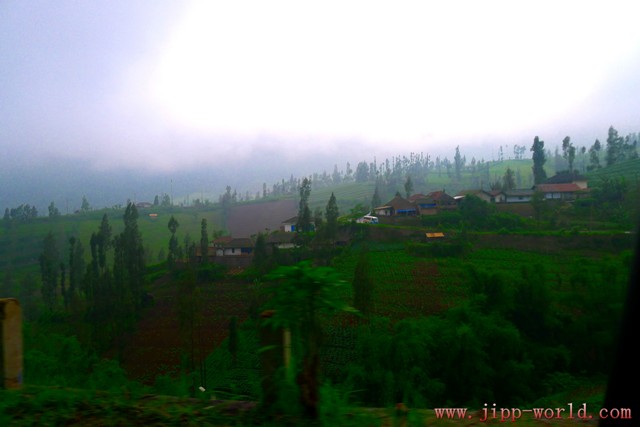 The mini-van moved along the convoluted road, across beautiful villages and farms.  I was amused to see how they plant plants on very steep areas. I could imagine how they do the harvesting when a little bit of accident could send them rolling right down into the ravine. I didn't even want to imagine.
After one and half hour, we finally arrived in Cemoro Lawang and checked ourselves in at Cemara Indah Hotel.
Mind to tell you that hotels in Cemara Lowong are quite more expensive than most other hotels in other parts of Java. A simple room at Cemara Indah Hotel had cost us IDR 600k which is close to MYR 200 per night.
The whole area was ensnared in thick fog when we arrived there but once the wind blew the fog away, I could not believe what I saw. It was a valley of a very flat land with the mountain of Bromo in the middle. We could see smokes billowing out from the top of it as if motioning to us to come to it and see for ourselves how it is like 'down there'. We were right on the edge of what is known as the rim of Bromo so we had the best of view of the valley from there.
Most people would go to the crater by jeep or motorbike and some even go there on a horse. We intended to do something different by walking our way across the sand sea and up to the crater.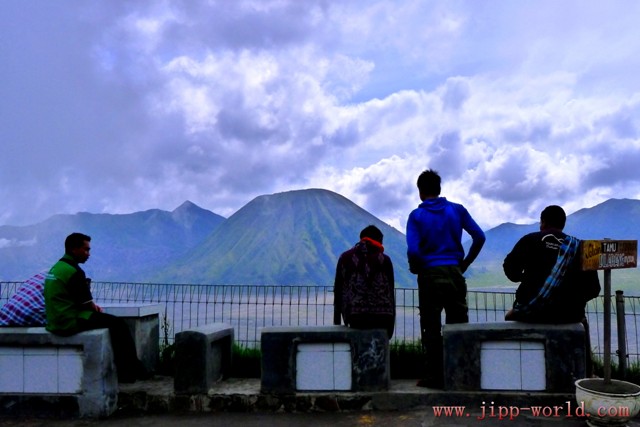 The experience was surreal. The fog was blindingly thick but once in awhile the wind would blow it away, revealing such a majestic view that I had never seen anywhere else before in my life. It really is amazing what a volcano can do to the earth surface.
My travel buddy who was a first time traveler himself (he had always been a tourist) was just as excited as I was. He kept taking photos with his new LX7 like there was no tomorrow.  He even asked to be photographed while doing a star jump – something that he had shamelessly copied from me. I didn't blame him though. Bromo is the kind of places that would make anyone go jumping. LOL.
It was actually an easy walk towards the crater but we had all the time in the world enjoying the view and the surrounding and of course doing a lot of camwhoring along the way. Every now and then we'd see people riding past on motorbikes or jeeps and even horses. We walked past the famous Bromo temple and trekked straightly up to the crater which was something that I was excited to see more than anything else.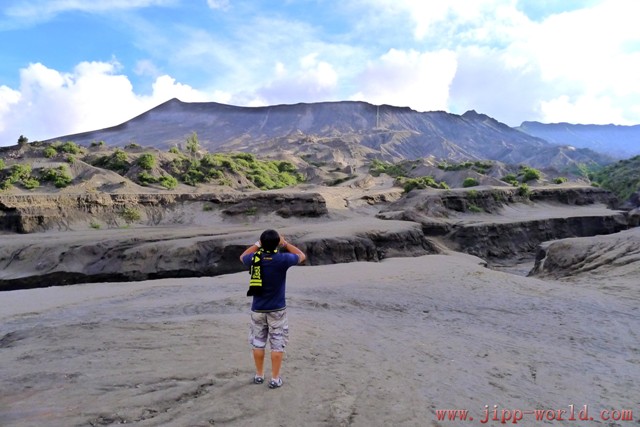 To tell the truth, there is nothing much to see except the billowing smokes that come out of the earth opening. I couldn't really see anything beyond but just knowing that it was coming from the mantle depth of the earth amazed me in a way that I could hardly explain. Volcanoes have always fascinated me.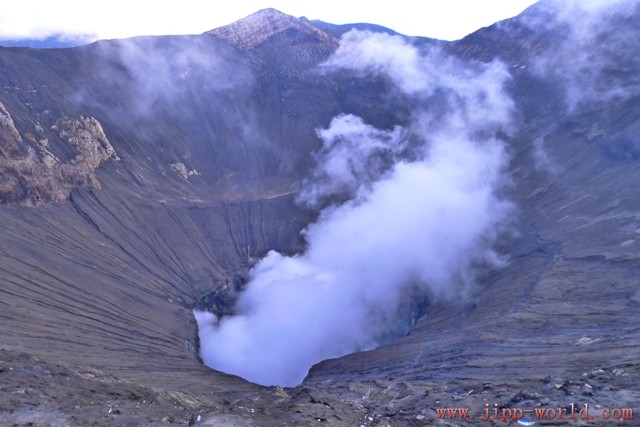 We bought two clusters of flowers from the only seller there, and threw it into the crater after making a wish as suggested by him. I did not really believe that a prayer required coming to a crater to be heard but I still did it just for the sake of doing something different. Besides, I admired his patience and positivity in standing up there alone when everyone else has already gone home.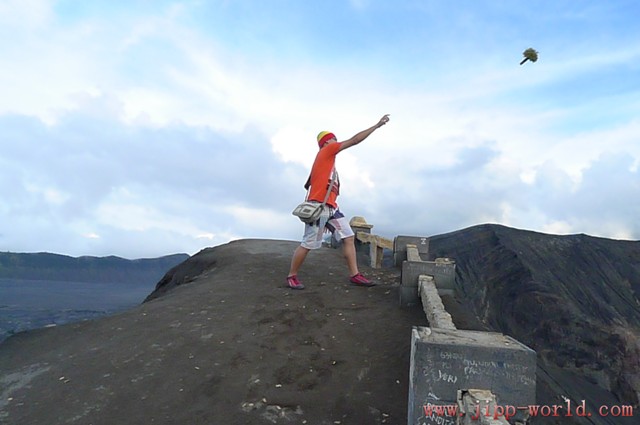 We spent quite a bit of time there before walking back across the sand of sea as the locals there call it and back at the hotel before nightfall.
We'd be heading to Mount Pananjakan early the next morning to do something that I had always wanted to do for such a long long time – to watch the sunrise over Bromo ! Wow weee!!