Since I was already in Semporna where I spent overnight at Mabul island, I decided to stay back for a couple more days so that I could join a day tour to Tun Sakaran Marine Park off Semporna. The picturesque view of Bohey Dulang kept coming to my head and I knew I had to see it for myself whenever I had the chance.
So after a little bit of browsing on the internet, I decided to book the tour with SMP Tour and Travel Sdn. Bhd. My phone call to this company was answered by a lady by the name or Maira. She asked me to whatsapp my full name and IC number, which I did, and she told me that I could pay at their office on the day of the tour itself. So the price was RM150 and it would include a tour to 3 islands, namely the much anticipated Bohey Dulang, then to Mantabuan and then to the famous tiny island called Sibuan.  It would also include lunch and one session of snorkeling in between.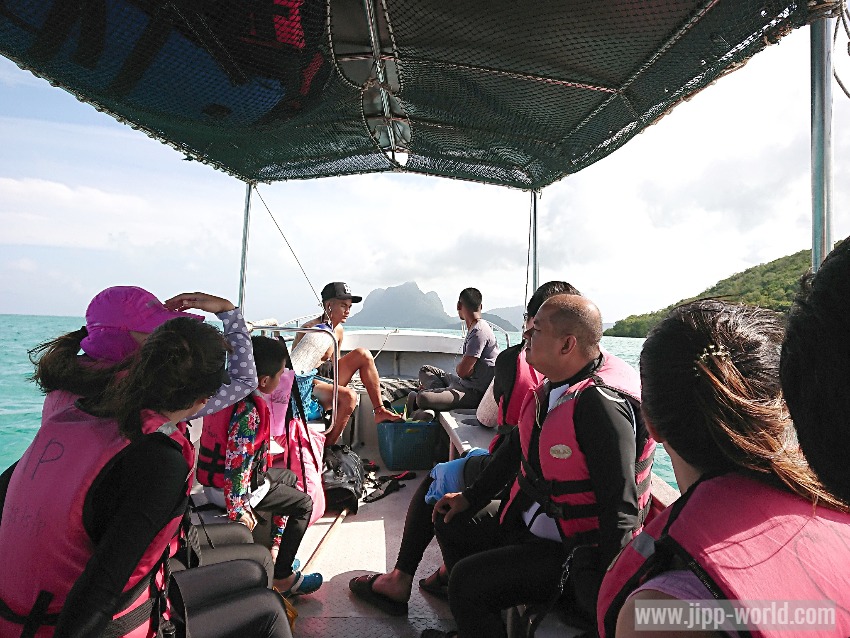 So I shared the tour with 2 young couples, one was from Hong Kong which was surprisingly struggling with their English because I really thought the people in Hong Kong speak fluent English after so many years under the British rule, then the other one was a young doctor who is currently attached to Queen Elizabeth Hospital in Kota Kinabalu. She was there with her boyfriend. Another member of the tour was a local family of four who came about 45 minutes   late. They came on board, pretending like nothing happened, so I had to remind them that they were late. The fact that they did not even bother to apologize kinda irritated me, and I did not mind to make it known to them.
So the day started off with a perfect weather in the morning when we dashed across the strait of Semporna towards our first destination of the day – the much anticipated Bohey Dulang.  But before going there, the boat took us to a short visit to one of the floating villages of the Palau, the famous seafaring tribe that's been staying in the Celebes Sea since the beginning of time.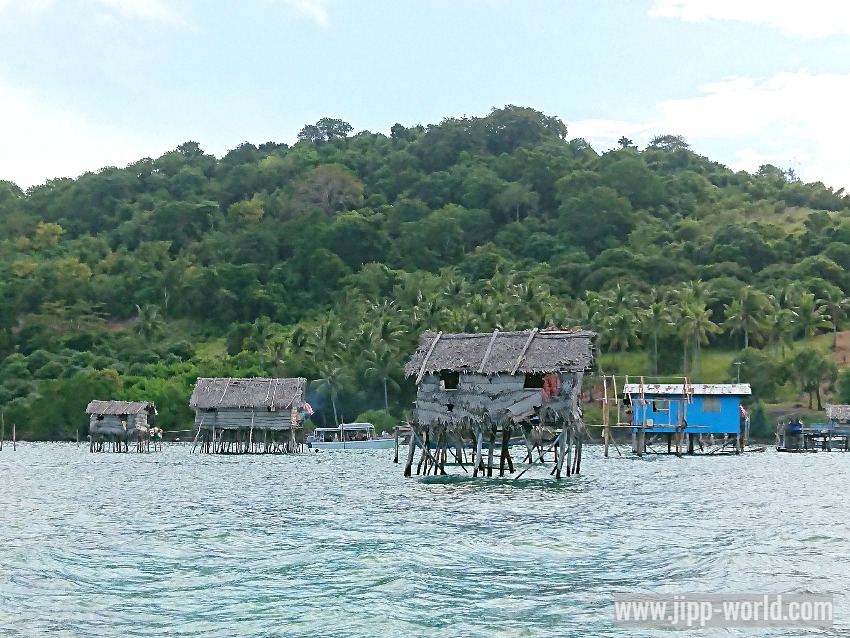 Their houses are scattered all over the area, without any form of walkway to interconnect them (the houses) so it really is isolation within isolation where each family stays in a single-standing house. I could only assume that any visit to a neighbor would involve either a swim or a boat ride. They'd look out the window and wave at us and some of the kids would come near to us on a crafted boat, asking for food and money. I think all of us were aware that giving them food or money was not a good idea, because doing that is known to draw attention from other kids and we'd be swarmed by them in no time.
It is also a well-known fact that they are a people of no nationality but whose rights are protected by international laws. Yet, I really think that they should be helped in any way, probably by facilitating them with (proper) education so that they become aware of the fact that there is much more to the world then just the sea and the islands. They should be given the opportunity to progress with the rest of the world and in order to that, their mindsets need to change first and of course in order to change their mindsets, knowledge should be brought to them in the form of education.
So from the village of the Palau people, we dashed off towards the most anticipated feature of the whole tour – a climb to the peak of Bohey Dulang. The jetty was already bustling with incoming boats when we arrived, and the walkways were already crowded with people. In fact the whole trail was crowded, from the jetty all the way to the peak. It really amazed me just how popular Bohey Dulang had become when it was relatively unknown not so many years ago. Having been there I can now safely say that Bohey Dulang is the most climbed peak in the whole of Malaysia, no kidding!
Climbing to the peak of Bohey Dulang is certainly doable, and even children could do it (with extra care by whoever is with them). But then it is certainly far from a walk in the park. The trail is quite slippery which explains why no climb is allowed when there was rain the day before. Many parts of the trail are heavily studded with sharp-edged rocks which explain why the use of shoes to the trek is mandatory (although I did see some visitors wear sandals). After battling against the 'human traffic' for about an hour or so, I finally made it to the peak. As expected, even the peak was crowded so there was no way one could take a photo up there without the spoil of craning heads, umbrellas, selfie-taking hands and what-nots.
The view from the peak was breath-taking, I had no doubt. After all, it was the very view that I saw being widely posted on facebook, Instagram, twitter and what-nots. But then, one of the very first pictures that I saw of Bohey Dulang had the jetty extending far into the sea, but what I saw from the viewing spot now was only a very small fraction to it. In fact, I could only see the jetty head. I guess the restriction was quite loose back then and visitors had more freedom to roam around before the manning ropes were put up in place to restrict the visitors' viewing area.
Prior to my visit to Tun Sakaran Marine Park, I was told about a white dog that used to usher hikers to the peak of Bohey Dulang and back, so I had this sudden joy in me when I spotted him lying still on the beach. But then he was so still I began to think that he was probably dead and it kinda made me sad. But when I was about to return to the boat, he suddenly came nudging at my leg and the joy that I had in me when I first spotted him returned to me.
But then he appeared to be so old now, and he seemed struggling with his walking. But then he still made the effort to usher me all the way to the jetty head (I'm not sure why he picked me, out of so many visitors. I guess he just knows an animal lover when he sees one). Somehow I felt choked with emotion as I had my last look at him – knowing that I'd never see him again. I remember the same emotion I experienced when I went to the peak of Adam's Peak in Sri Lanka where a dog walked with me and my travel buddy for about a few kilometers before he finally stopped – probably knowing that he had reached his last boundary – and I had my last look at him before walking out of his sight like forever.
So from Bohey Dulang we crossed over to another island called Mantabuan and I couldn't help but getting awed by how clear the water was I could actually see the pieces of reef at the seabed. We were at Mantabuan island for lunch break and I was so (pleasantly) surprised by the extent of effort that they did in providing food for their tour participants. It was quite a big spread of food; with quite a few choices of dishes I felt so spoiled and wasted after two rounds of meal.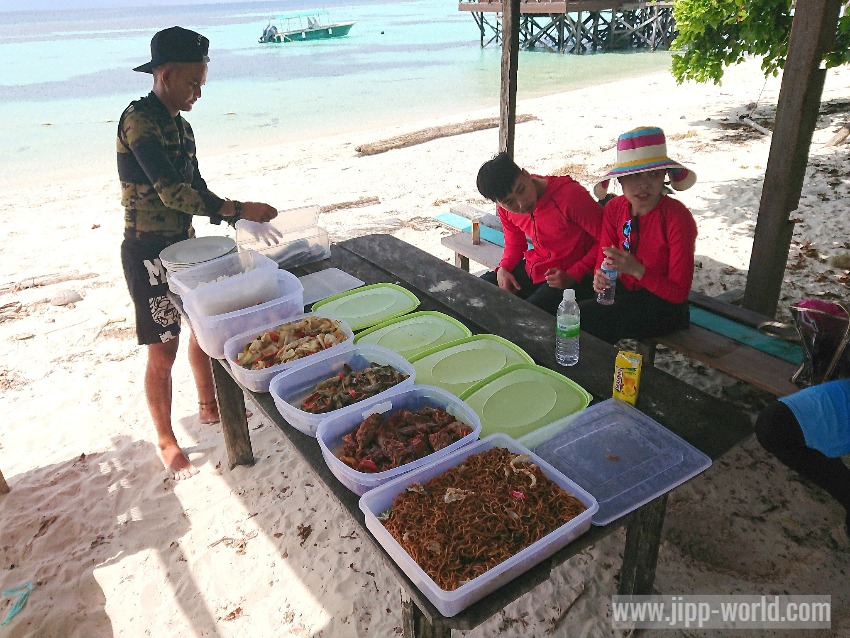 There was nothing extraordinary about Mantabuan to be honest, apart from the crystal clear water of course, but the fact that it is quite isolated from other islands makes it such a perfect place to go nude. But then getting nude may put you into trouble because of the run-in with the laws. Heh.
So from Mantabuan the boat took us to a little more ride before it staggered to a halt somewhere in the middle of the sea – which I found later was a snorkeling area. As the engine stopped running, it suddenly felt so silent as there was no other boats at sight. I did not snorkel. Instead, I just kept myself afloat with the help of the safety jacket and took lots and lots of selfies while I was at it. The fact that I had to have my glasses on while snorkeling did not help at all. In fact I might break my glasses if I forced the goggles on me while I had them on. Otherwise I wouldn't see anything if I wore them without my glasses.
I was back in the boat when there was a commotion. Apparently, one of the tour guides had just resurfaced with a red octopus in his hand. The octopus was wrapping tightly around his hand and I watched in disbelief when he squeezed and twisted the beautiful octopus with all his might. He then took the half-dead octopus back to the boat where the excited tour-mates were waiting to get a hold of it. I was stunned and disgusted and I really could not believe my eyes. This is a protected marine area and people come all the way to this part of the world to see the richness of its marine life and yet these tour guides who are supposed to be eco-tourism ambassadors of some sort acted totally the opposite. I told myself to file for a complaint when I returned home.
So after this snorkeling session, the boat took us to the last destination of the day – Sibuan island. Sibuan island that I found out is a long beach that stretches out from a tiny island to form the shape of a tadpole. I wouldn't say I was so wowed by it, but it is quite unique in its own way. The beach is tip-top, and the azure water just completes the beauty.
There were a significant number of tourists on the beach that day, so it felt quite more like a beach party. I walked to the end of the beach, and later into the water which was surprisingly warm. By then the sky had darkened and let out a rain before long so everybody scrambled back onto their boats. We were all fully soaked, and having just completed a long snorkeling session, we were all shivering and it became worse when the boat started to pick up speed. I gotta highlight though that the company had provided us each with a dry towel so it really was there when we needed it most.
We were back at Semporna Harbour at around 4.30pm and I wiggled my way back to the hotel with my towel wrapped around my cold body. It was quite a day.