Horton's Plains was the next destination in our trip to Sri Lanka after coming down from Adam's Peak. There were mixed reviews about the place, so I was hesitant about going or not going there. My travel buddy Audrey had wanted to ditch it right from the beginning but I had to pujuk her to do it may be cause the idea of standing on the edge of a cliff and enjoying the scenery sounded quite appealing to me.
Nuwara Eliya
We entered Horton's Plains from a very beautiful town called Nuwara Eliya. Nuwara Eliya seemed like such a perfect holiday destination for tourists (as opposed to travelers. Heh). There are beautiful mansions built by the British when they colonized a big part of Sri Lanka, back then called Ceylon, and they have now become private properties probably owned by rich Sri Lankans and some of them have now been turned into hotels and guest houses to meet the demand for a booming tourism in this remote town. Known as the highest town in Sri Lanka, the weather was quite cool, in fact it could get quite too cold at night that I had to wrap myself in layers of clothes to stay warm.
We arrived there on a bus that we hopped right into at the Nanu-Oya train station. We didn't book any room in advance which turned out to be not a so good idea especially when we had just come down from summiting the Adam's Peak. My backpack suddenly felt heavier and my knees felt like they were going to break loose any time.
Nuwara Eliya might be a beautiful place to have a holiday in but there was something depressing about it that made it less appealing to me. We were met by a number of hotel agents (or whatever they were called) at the bus station all trying to persuade us to stay at the hotel that they represented. I don't even think they represented any hotel – not officially – but more like trying to get some commission out of tourists that they managed to take with them back to the hotel.
Some of them got very angry when we ignored them, accusing us of having no sympathy for those who are struggling for a living like them. "You tourists come to Nuwara Eliya and stay at big hotels. You give money to the rich and not to the poor like us" – not really the exact words, but that was about it. Some of these so-called hotel agents appeared to be very persistent and they wouldn't simply leave especially when we showed even the slightest sign of interest in their offers.
After spending the past few days up at the mountains without a steady access of internet, I decided it was probably time to keep in touch with my friends and relatives back in Malaysia. I went to a cybercafé that sold prepaid cards and the guy at the counter asked me to fill up a form, took a copy of my passport and of course asked me to pay.
I had no idea what the hell he was doing but I was forced to wait longer than my patience could (usually) bear. He appeared more like playing with that stupid handphone of his that I was so tempted to snatch it away from him and smack it right onto his sorry head. All the hassle of waiting and having to keep my patience in check turned out to be a total waste of time as the prepaid card never worked anyway. That stupid guy assured me of an internet access "a few hours after activation" as he said it but of course by then that stupid shop of his had long closed and it'd still be closed when I left for Horton's Plains the next morning. Grrrrr!
We stayed at a new hotel called New Tour Inn whose view from its windows was dominated by a beautiful park.  The receptionist was very theatrical and animated in telling us how he mistook us for Chinese (tourists from China) and how tourists from China had a special place in the hearts of Sri Lankan people because of the involvement of the Chinese involvement in the Sri Lankan Civil War.
We spent the rest of the evening taking a little bit of walk and explored the beautiful town of Nuwara Eliya. I couldn't stop thinking how I felt like I was walking in some little town in England and not in Sri Lanka. It was the weather – of course – and probably the buildings. They come perfectly together with each other to form such a perfect place for a vacation.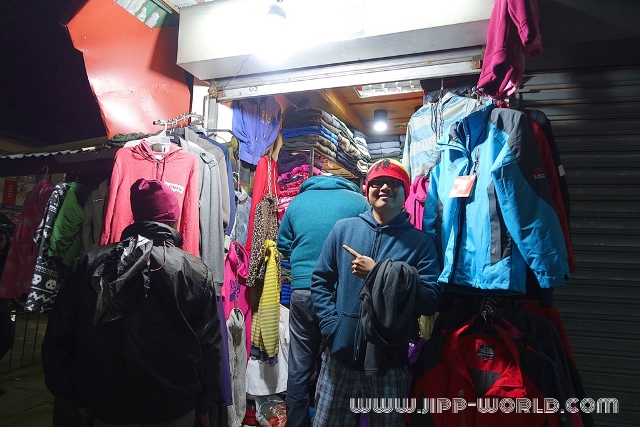 Thinking that I might need another jacket to keep myself warm since the one that wore up to Adam's Peak could now kill a cat with its smell, I couldn't be more glad to see that jackets were sold in abundance at Nuwara Eliya. I bought one – of course – after a successful bargaining with a Muslim hawker. He told me how Muslims which is a minority in Sri Lanka sometimes faced with repression in the Buddhist majority country. I told him that it happened to us Christians back in Malaysia too. It was Eid Mubarak so I couldn't leave without wishing him a happy Eid.
I really wish I could spend longer in Nuwara Eliya as I believed there was much of that town that we could probably explore. Of course our itinerary wouldn't permit us to be there longer than an overnight stay so we had to say good bye to it when we got onto the van in the wee hours of the morning – the van that would take us to our very next destination – the Horton's Plains.
Horton's Plains
Horton's Plains is part of a UNESCO World Heritage Site so I was quite excited about going. We hired a bus together with its driver from the hotel that we stayed in at Nuwara Eliya. We left early so that we could catch the sun rising from the horizon as described and recommended by many. The road was a mix of bad, OK and not-so-OK but the scenery in the countryside along the way was something to die for. Again, as we meandered along the winding road, I was fascinated by its resemblance to the countryside in England.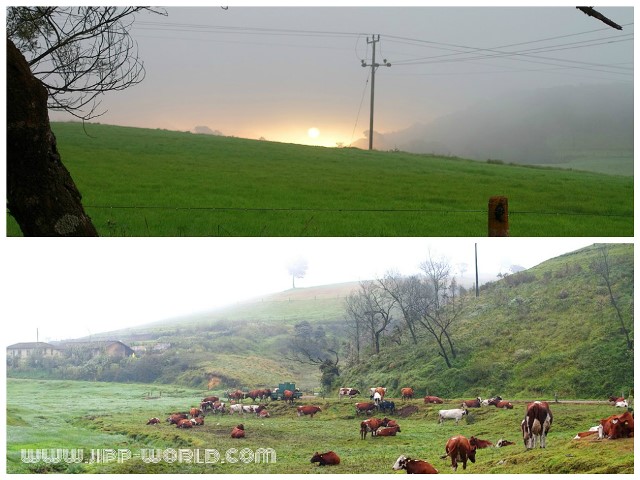 I guess we didn't leave early enough as the sun began to show itself when we were still on the road. But still, it was one of the most beautiful sunrises that I've ever seen. It was heavy with fog but still the sun showed itself in its full shape, illuminating through the morning mist and casting its golden rays over the expansive grassland. There were cows grazing in cattle field but most of them were still there idling around, probably thinking that it was still too early for breakfast.
When we finally arrived at the entrance gate to Horton's Plains, the ticket counter was just about to open so there was a long queue of people all eager to see for themselves what the plains could offer to them. It was so damn cold that I couldn't help but cursing myself for stupidly wearing a pair of knee-pants instead of protecting the whole of my legs with long pants. The unprotected parts, from toes to knees, felt numb against the freezing cold air. I really hoped that the heavy fog would eventually give way to the sunlight before I froze to death but too bad that didn't happen, not for awhile. Seriously, I didn't expect that a place in a tropical island country like Sri Lanka could get so damn cold.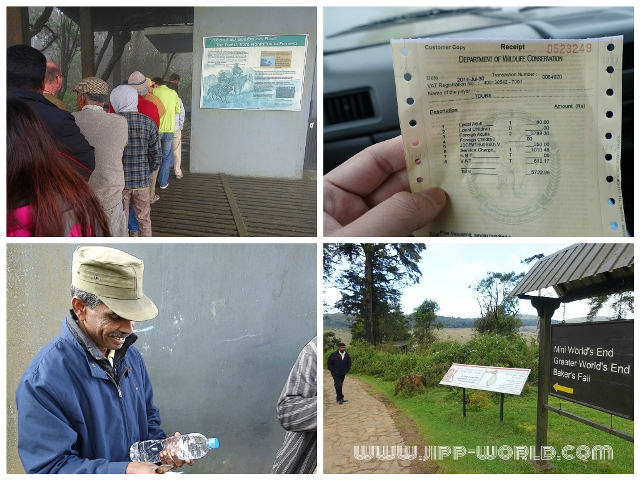 One thing I gotta tell you about the Horton's Plains is the strict regulation against bringing food and drinks into the park area. They would confiscate your chocolate or anything with plastic wrapping so you might have to leave them in your car unless you are kind enough to give them to the guards – which was what I did. Ikhlas or not ikhlas is another thing. LOL.
Hiking at the Horton's Plains that I found out was more like a walk in the park. It was not really hard to do, in fact even a toddler could do it, except may be when the trail took us to the jungle where the Baker's Fall was located. We were there on a rainy season so the track was quite slippery and it took quite a bit of courage for me to go down to the bottom of the Baker's Fall from where it could be best visualized.
The jungle at Horton's Plains is the kind that you'd see at high mountains in any tropical country. I've seen quite a lot of it back in Malaysia – at Mount Kinabalu, Mount Trusmadi and even Mount Santubong, just to name a few – so it didn't really wow me but still it was beautiful. There is something so relaxing about walking across a grassland and I tried to take it all in while I was there. I even found Rhododendron plants – something that I didn't expect to see in abundance in Sri Lanka because I had to hike deep into the Himalayas before I managed to find them in Nepal. They seemed to have been there for so long that they appeared to look more like bonsais to me.
It was cloudy and windy and for the first time in my life I saw clouds moving fast enough for my bare eyes to watch in amazement. My travel buddy Audrey had ventured far ahead so I was pretty much hiking by myself. Every now and then I'd bump into other hikers, mostly in groups, and I'd stop to have a little bit of chat with them before continuing on.
When I finally walked beyond the grassland and was back in the jungle again, it was not long before I found myself standing on the very edge of a sheer cliff that drops  4000 feet down and looking at the magnificent view of the greenish covered mountains with jagged peaks. I could even see blue lakes surrounded by tea plantations and further beyond was the ocean – probably part of the Laccadive Sea. Quite true to its name, I was at the World's End !
Horton's Plains was beautiful but I was quite disappointed because I didn't see any wild animals. What we saw was a couple of beers but that was all there was. I was expecting to see more. So, if you enjoy walking in a grassland and a little bit of jungle (more like bushes actually) then Horton's Plains might be a place for you. If you go there expecting to see wild animals grazing in the wild then quite more than not you might be in for a disappointment.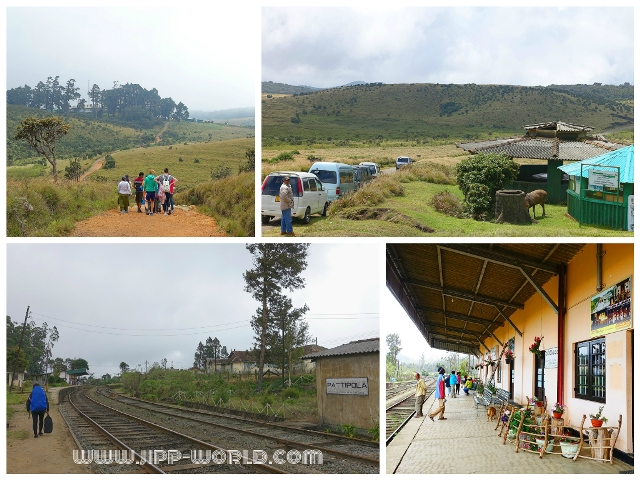 The van took us to the closest train station called Pattipola. Our next train ride would bring us to some little village up in the mountains called Ella. Ella – such a beautiful name for a place, and it was one of those places that I was so excited of going to.