It would be our very last day in Jaipur and there was one place that we wanted to go to before returning to New Delhi to spend the rest of our holiday in.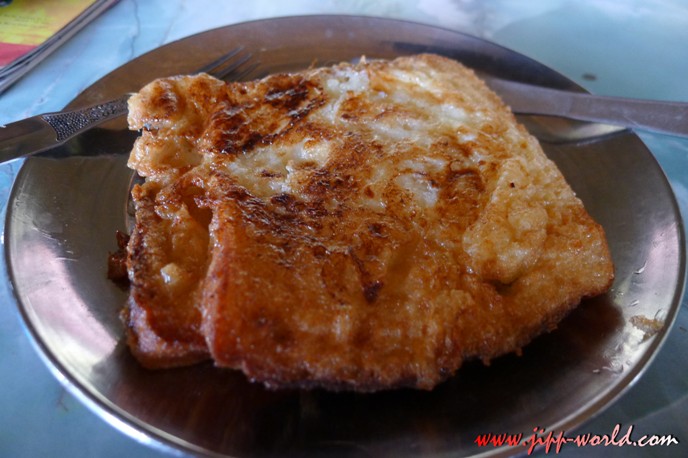 To tell the truth, The Sun Temple was not in our itinerary to Jaipur. Neither me nor my travel partner Audrey was aware of its existence and thanks God our newly found friends from Italy told us about it. Otherwise, we wouldn't know what we have missed.
"Somebody told us about Temple of the Sun when we were in Varanasi. He told us how beautiful it is there and that we must go there when we come to Jaipur", Erica the wife said in her ever-appealing tone of voice.
So – MUST-GO it was, we arranged to go there with them the next morning. Of course, it's always good to ask the receptionist on how to go to a place that you're heading to for the first time.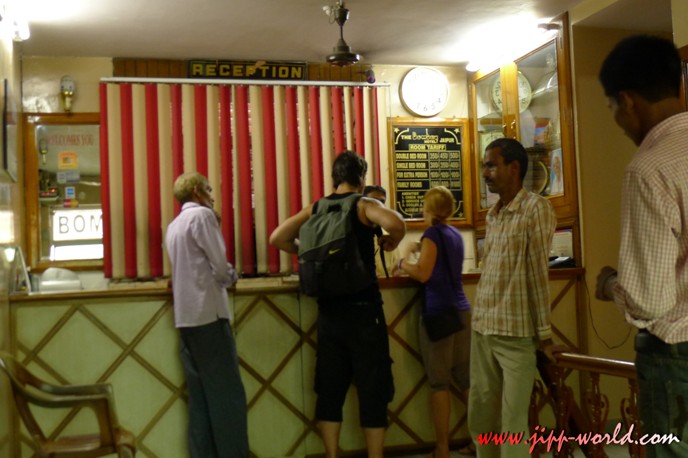 The Temple of the Sun, as we'd come to find out is located very much on the outskirt of Jaipur city. Since we were like somewhere in the middle and Jaipur is such a sprawling city, it would consume too much of our time and energy if we went there on foot.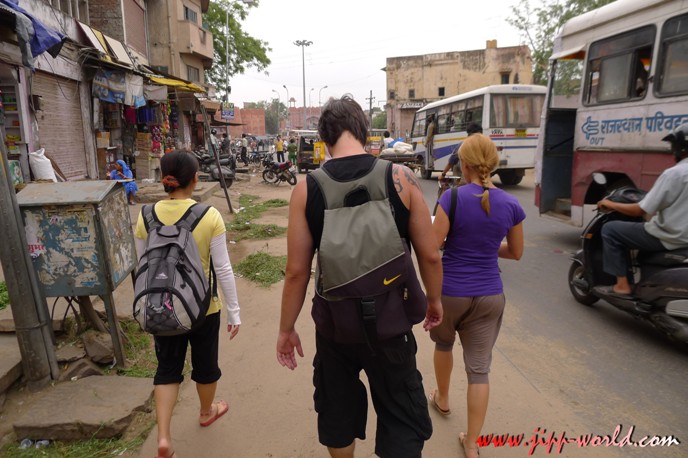 IN the end, Tuk Tuk was still the best option.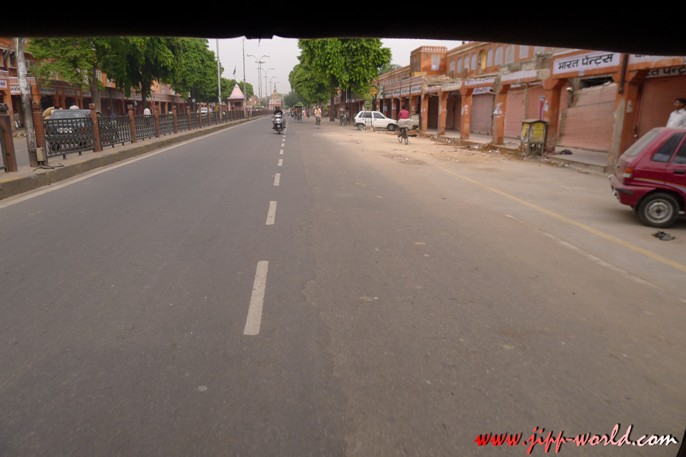 The Tuk Tuk could have taken us closer to the temple but since it was a pre-negotiated fare, the driver was more than happy to drop us off where we wanted it. The receptionist told us that we shall ask to be dropped off at the gate so at the gate it was that we disembarked ourselves from the Tuk Tuk. Little did we know that there was another gate closer to the temple. Erkk.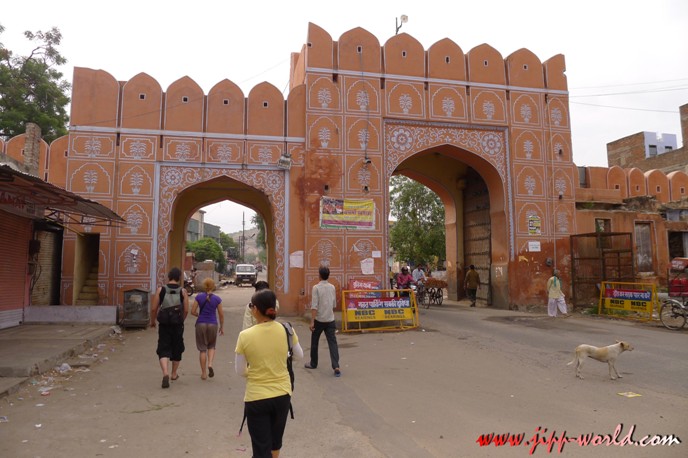 Walking closer to the temple, my attention was drawn to a donkey in the middle of a road – which appeared to be hollering and crying as if she had just lost something so precious to her or something. She was running erratically around – almost uncontrollably- and it was obvious that she was looking for something that was so dear to her.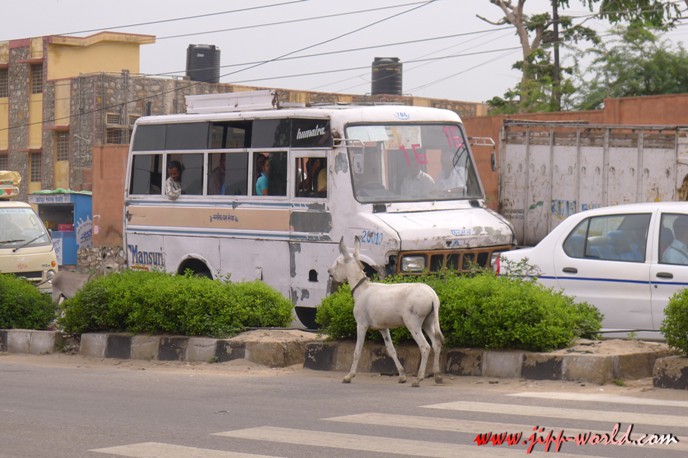 True enough, it wasn't long before another donkey – probably a sibling or something – came running toward her and for a moment I just stood there witnessing something of a re-union in such a heart-wrenching fashion. Even without hands, they appeared to be hugging to each other. Seriously, I could have cried right there.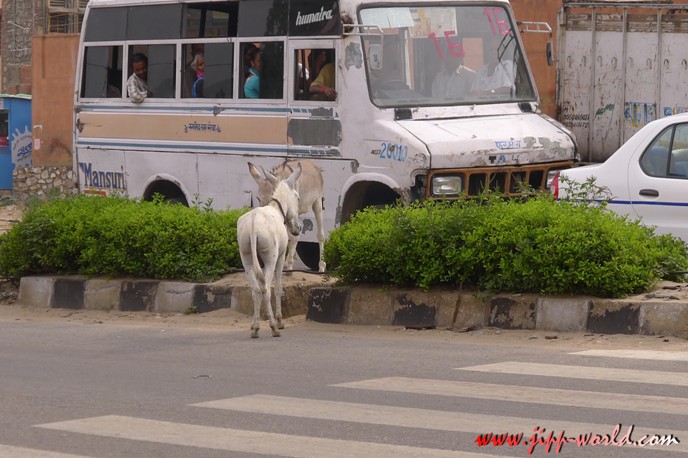 You know you're nearing a temple when you see all kinds of religious processions and all and I couldn't help but questioning why that one guy over there has the privilege of wearing sandals while the rest have to walk bare-footed. (Not that it mattered to me though. Just a pure curiosity. LOL).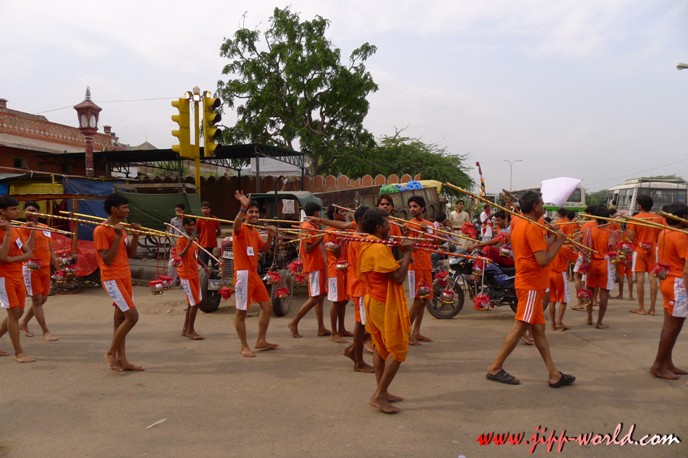 If there was one place in Jaipur where you could see all kinds of animals living harmoniously together – it'd be The Sun Temple.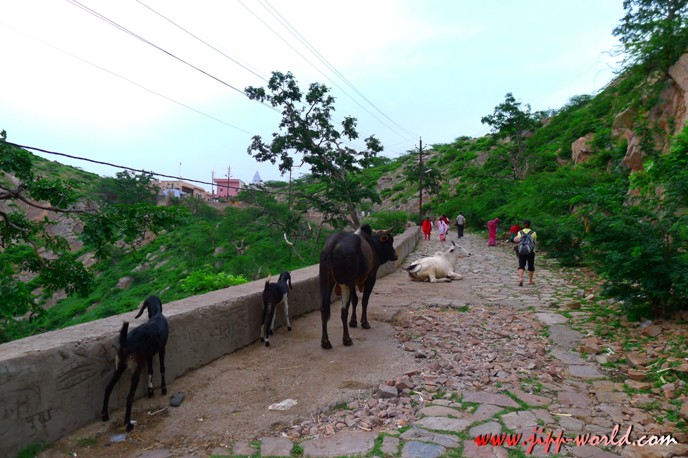 And of course, 'animals living harmoniously together' means you can't let yourself be carried too much away by the beauty of the surrounding. Otherwise…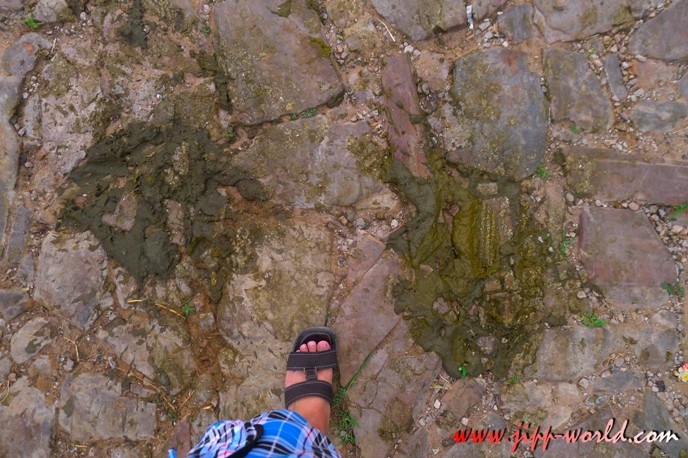 There's no way of telling when you'll find a water tap again.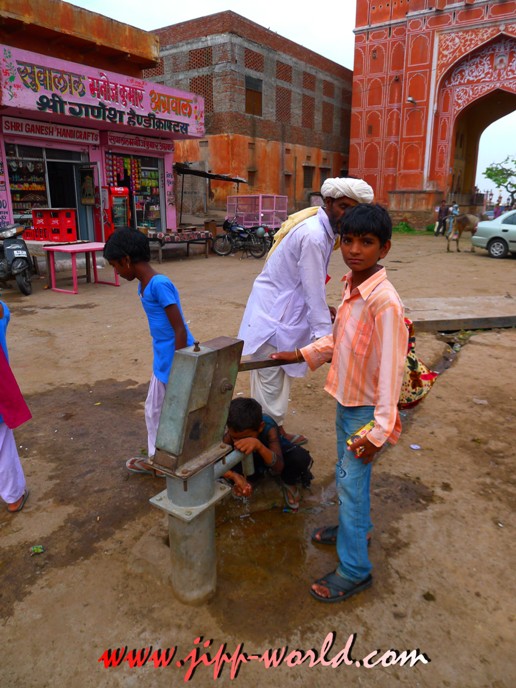 I might have developed some kind of hatred for monkeys especially after I went to Uluwatu in Bali a few months ago (grrrrr!) but the ones that they've got here at the Temple of the Sun were surprisingly so disciplined and well-mannered you wouldn't really feel intimidated being around them.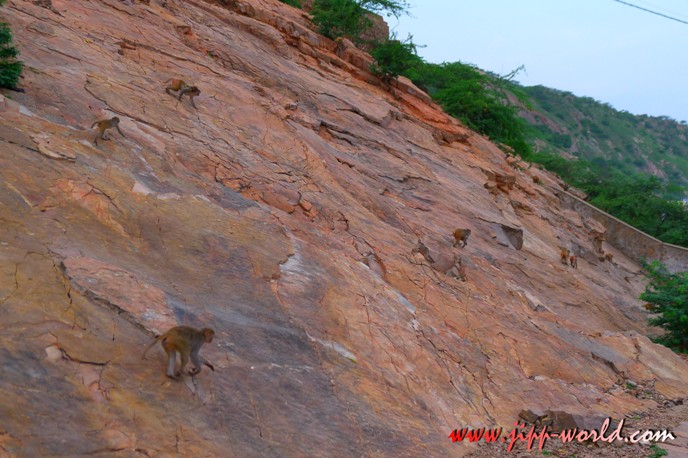 They are not even choosy when it comes to food. It seems like they eat just about everything that is PRESENTED to them.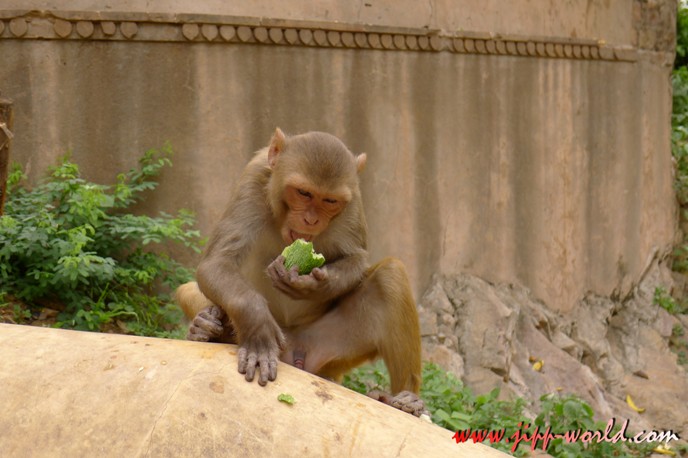 And they don't mind sharing the food with other residents. You see, it really is a harmonious neighborhood they've got there.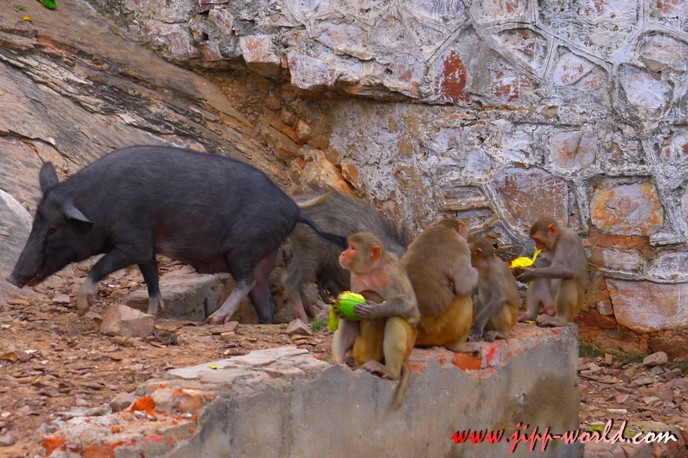 Mind to tell you that the Sun Temple is perched upon the top of a hill that overlooks the Jaipur City. Having said that, it might need a little bit of energy to go up the hill before you can see what it has to offer from there.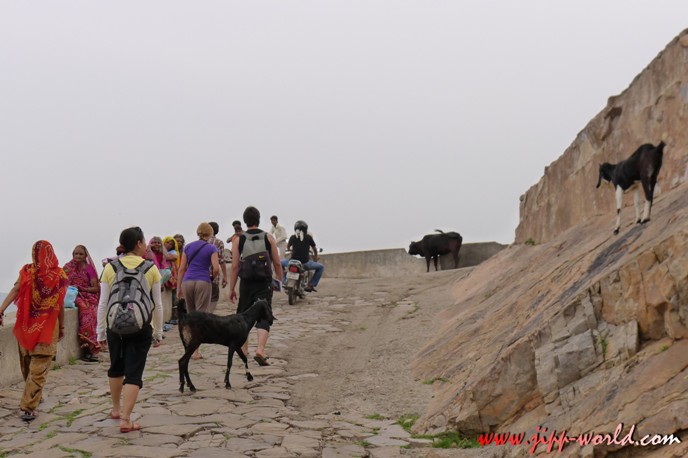 It was almost like a hiking or something but you'd never run out of interesting things to see along the way.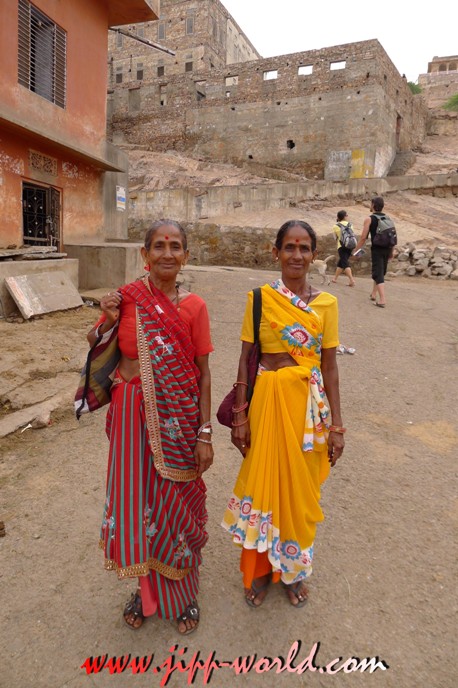 We were welcome by a beautiful singing by a group of ladies. I don't know what song it was but there was something 'spiritual' about it that brought a wave of goosebumps all over the back my neck. 😀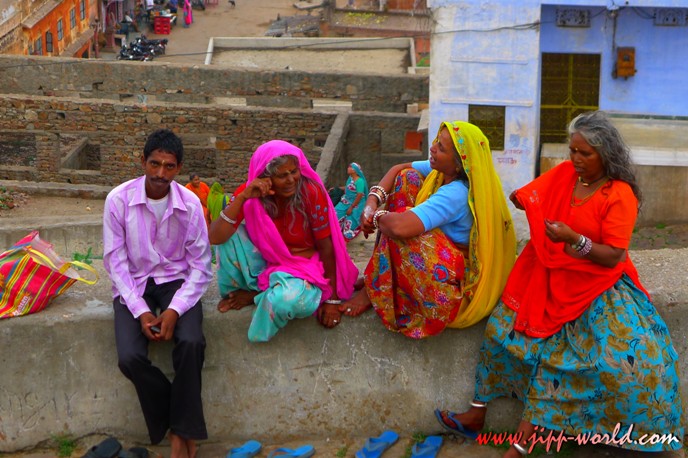 Having reached the top of the hill (or rather somewhere nearby the top), the journey hadn't quite come to its end just yet. In fact, the trail would lead you to the descending part of it before you can reach the  Holy temple of Galtaji somewhere at the bottom of the beautiful valley.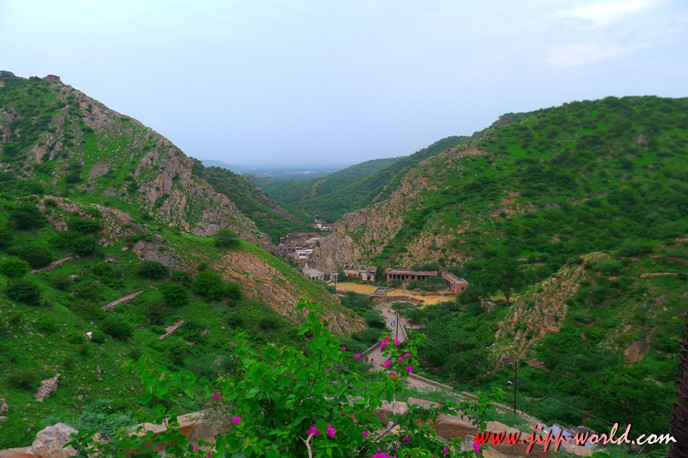 Thanks God it was one of those days when the sun seemed so tolerant to the 'waxy' us.  It was cloudy and weather was just fine and if there was anything so challenging about the hiking, it'd be the physical challenges of going up against the elevation.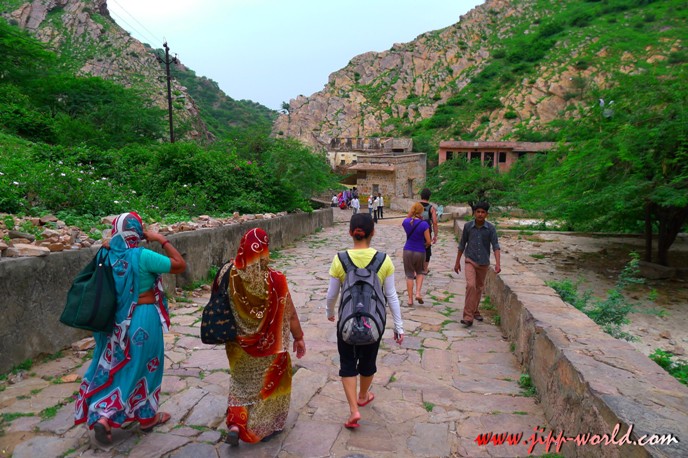 Right after the entrance gate you'd see a pool of some kind, probably the place where the Hindus come to purify themselves up with the water from it. With rubbish floating on its surface like that, it did me little wonder as to why nobody seemed to be doing just that at the pool.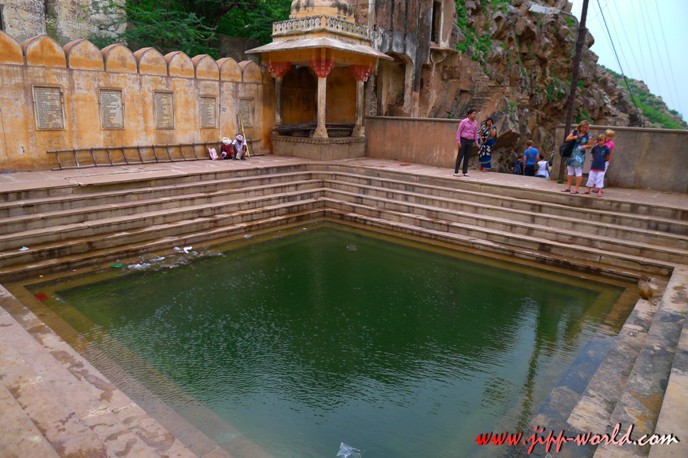 In fact, they do it somewhere else – at a pool that you'd see when you walk a little bit further down the stairs from there.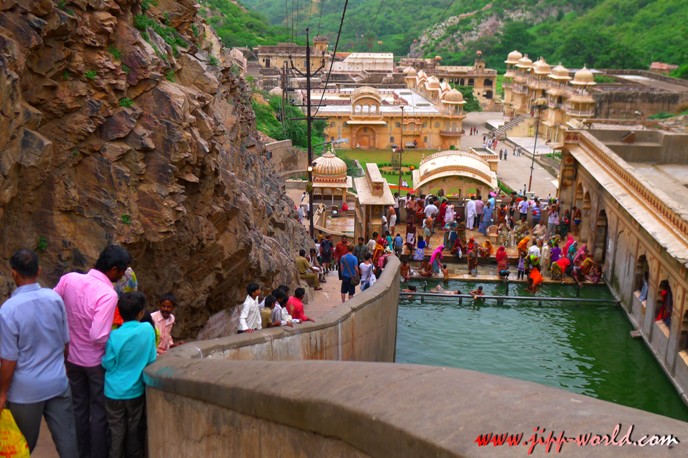 It was a magical sight really. I've heard a lot about Hindu practitioners purifying themselves in the waters of Ganges River and although this one here might not be as compelling as the famous one in Varanasi (soon baby… soon…), it was good to see at least a bunch of Hindu practitioners doing just about the same sacred ritual here in Jaipur.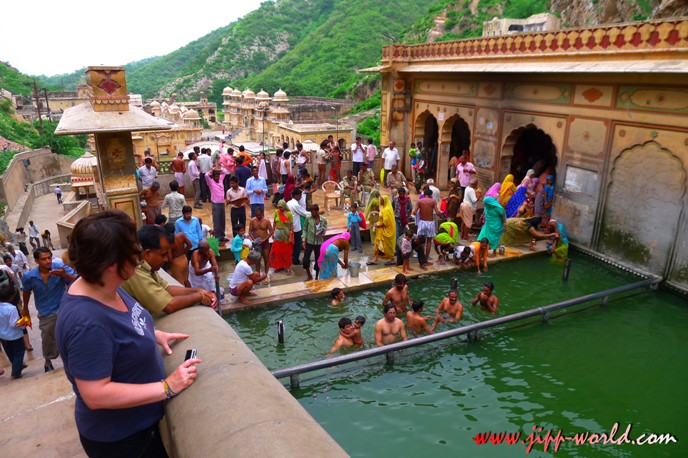 Of course, doing something religious for a ritual like that, I had expected them to be deeply immersed in their prayer, probably with eyes closed in such a meditative manner and all – but NO. What I saw was a bunch of people taking a bath at a pool in more of a picnic-like manner. They seemed to be having so much fun I had to brace against the idea of slipping right out of my clothes and joining them in the pool.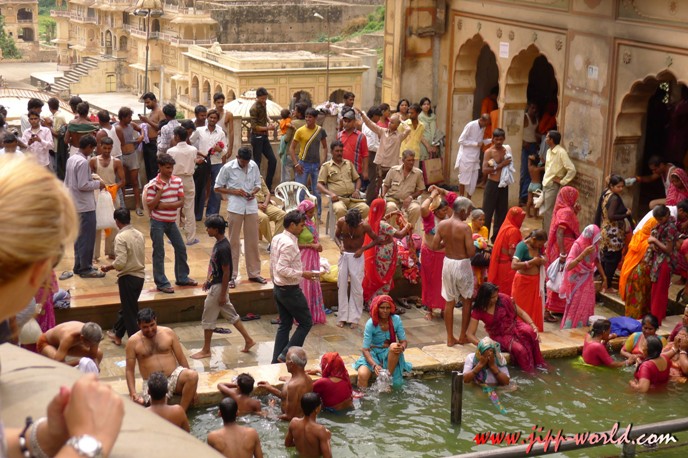 That was probably the unisex section of the pool. Another section a little bit further down from there was allocated for a women-only area and even the unformed janitors were all women.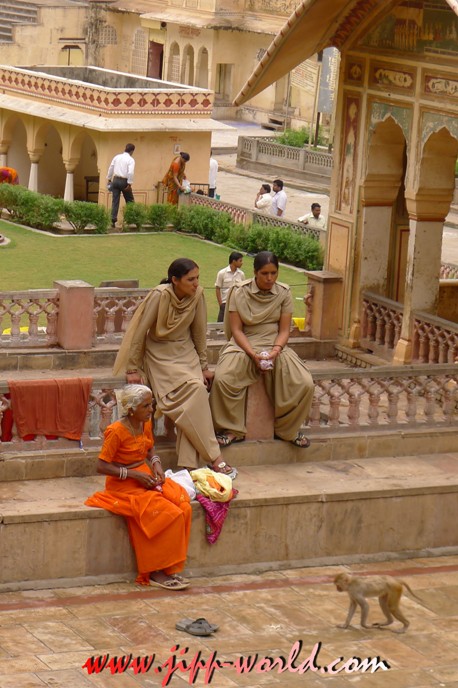 Needless to say, it appeared to be less favored by the visitors.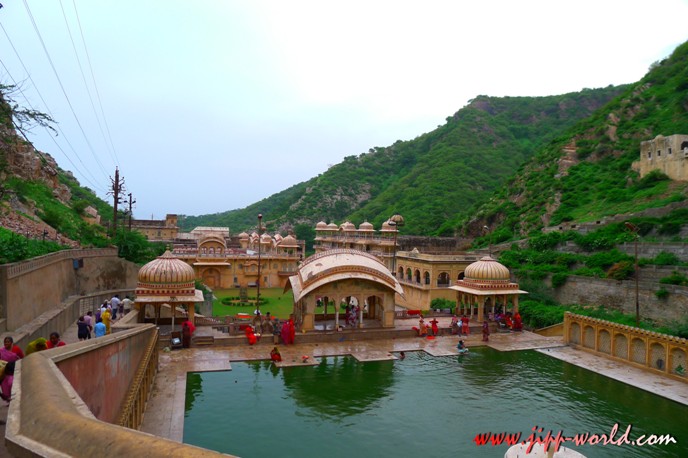 Of course, the pools are only a part of the whole attraction at the temple. A little bit of walk from there is where the main temple Galwar Bagh (Monkey Temple) is located.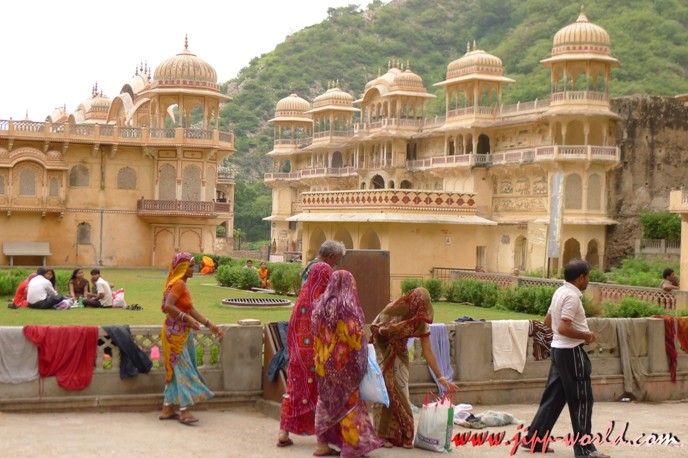 It is more like a complex of temples and the combination of its spectacular architectures and its location right at the bottom of a valley made it one of the most beautiful Hindu temples I've ever seen in all my travel trips so far.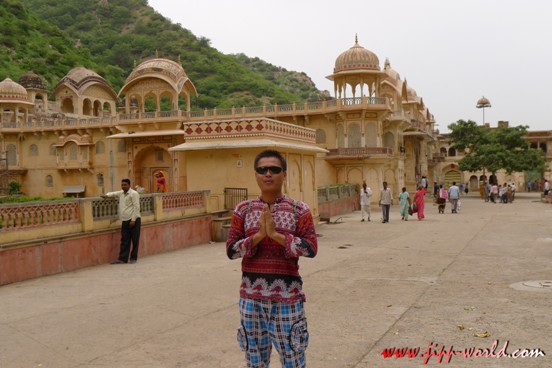 The temple is surrounded by ranges of hills so being there is like you're separated from the outside world or something.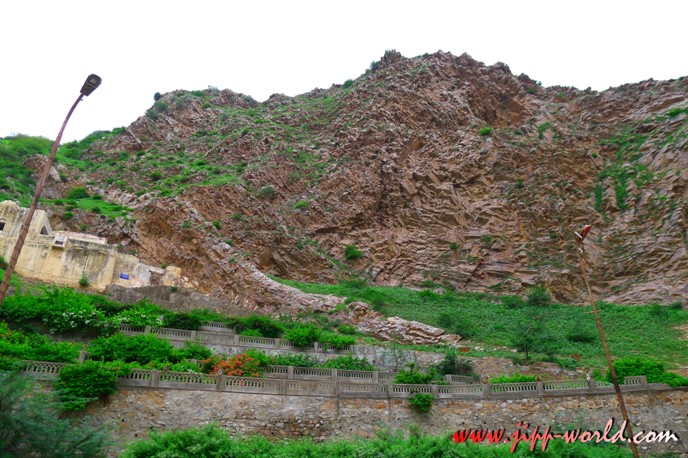 It is such a perfect place to turn yourself into another Elizabeth Gilbert or something. 😀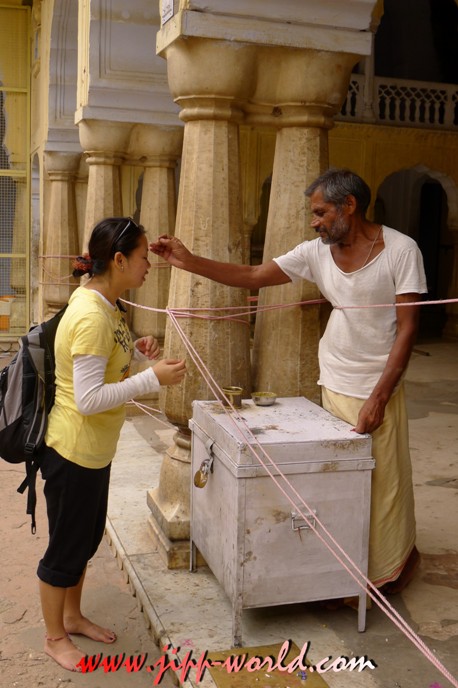 If there was something I wanted to change about the temple, it'd be the way it is taken care of. It is quite poorly maintained and that makes it look like it is well past its glorious time now. What a shame.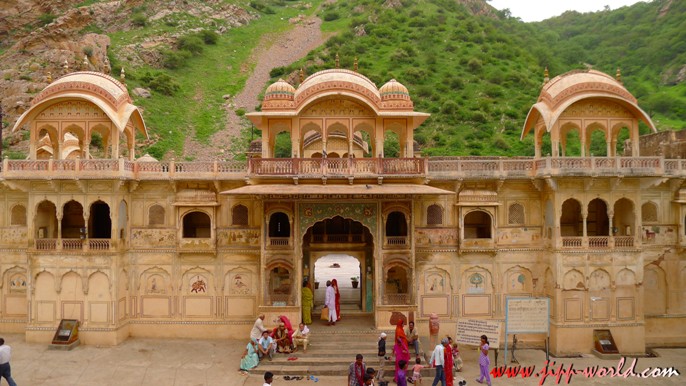 But it is still so worthy to visit really.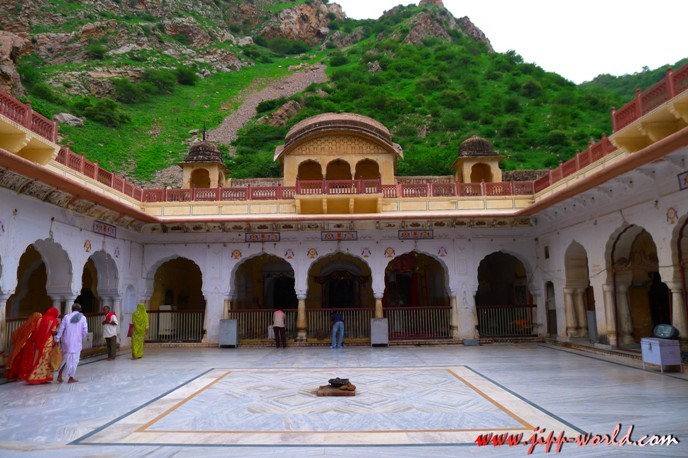 An entry to the Galwar Bagh is technically FOC but you might be charged for the camera that you bring with you.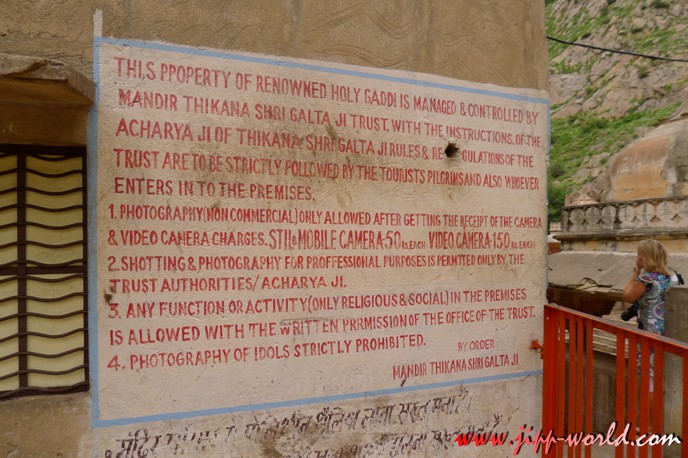 Unless you've got a pocket-size camera, it would be a matter of time before any of the 'camera hunters' find you and charge you accordingly.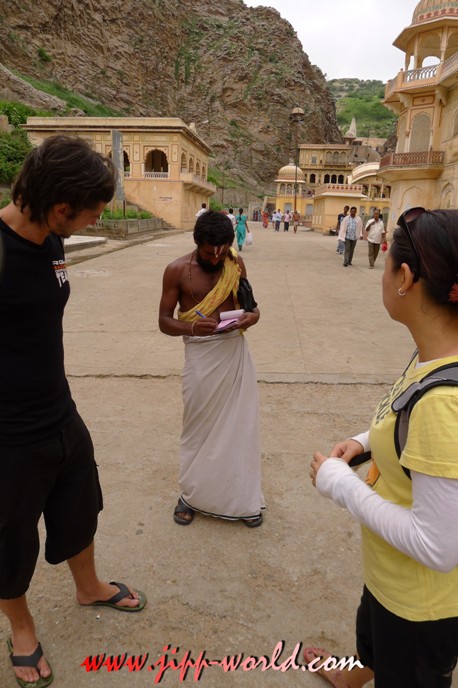 So, we spent at least an hour or so at the Galwar Bagh alone, and I'd say it was worth the visit. Going back to where we came in from had to be the most challenging part. The trail was a zig zag of walkway that required a big chunk of my fast-diminishing energy but as they always say – do it one step at a time and you'll get there before you know it.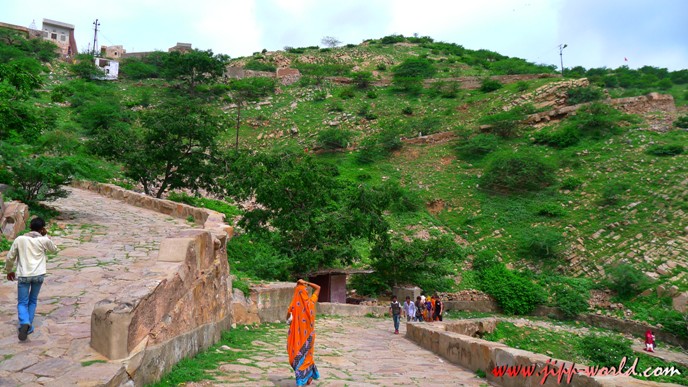 And we DID get there before we knew it.
If talking non-stop is what most people do at a time of going up against something quite challenging, my travel partner Audrey certainly has her own way of doing it.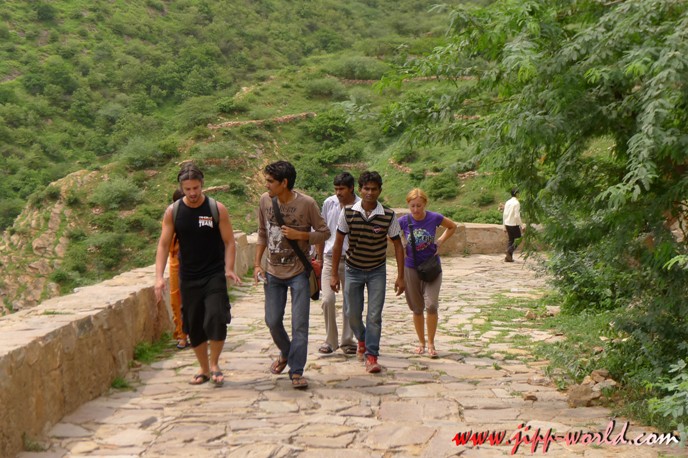 She'd do quite the opposite. I knew it was the best time to poke any of your stupid jokes at her. 😀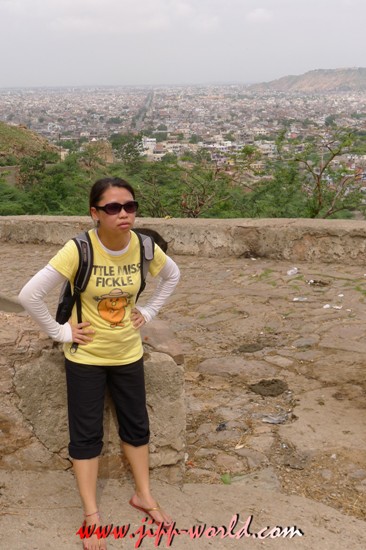 Despite being generally known as The Sun Temple, it actually refers to a small temple at one corner of the hill. Getting there requires you to do a little bit of detour from the main track to the Galwar Bagh.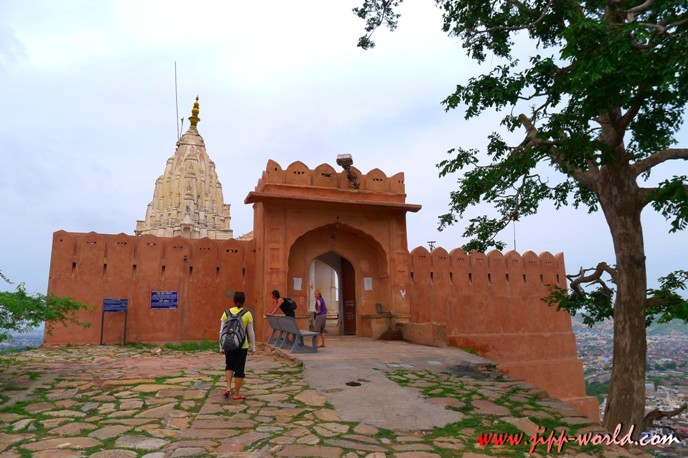 To tell the truth, there was nothing much worth whoa-ing about at the temple.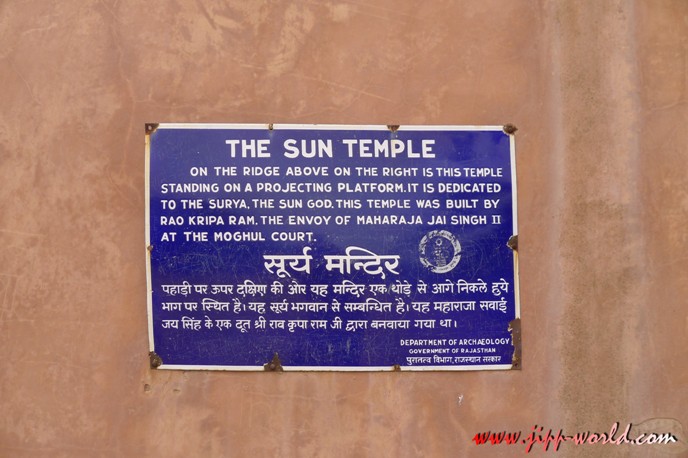 What made it well worth the visit was probably the view that has to offer from there.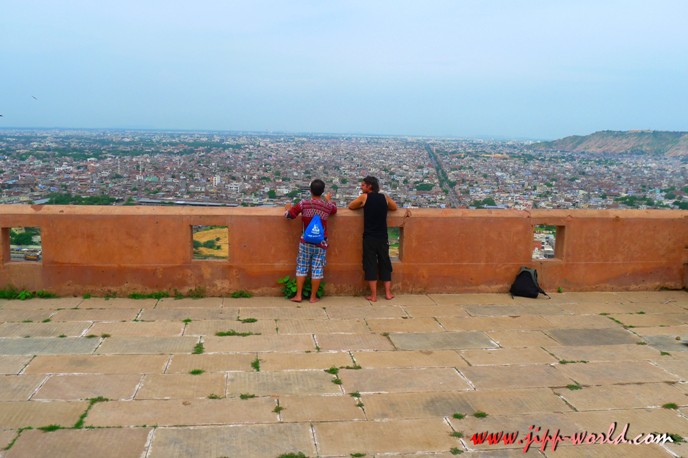 The city of Jaipur might be best viewed from the Sun Temple and it was there that I realized how big and beautiful the city of Jaipur is.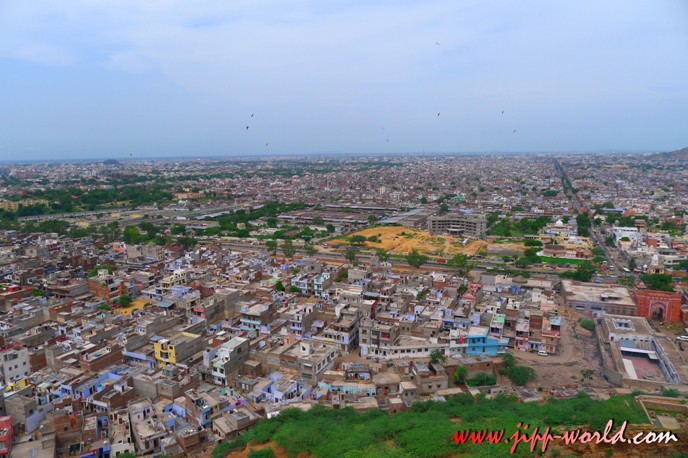 I could see as far as my eyes could see from there and I could hear all kinds of noises coming from the neighborhood nearby.  It was certainly such a rewarding moment for me.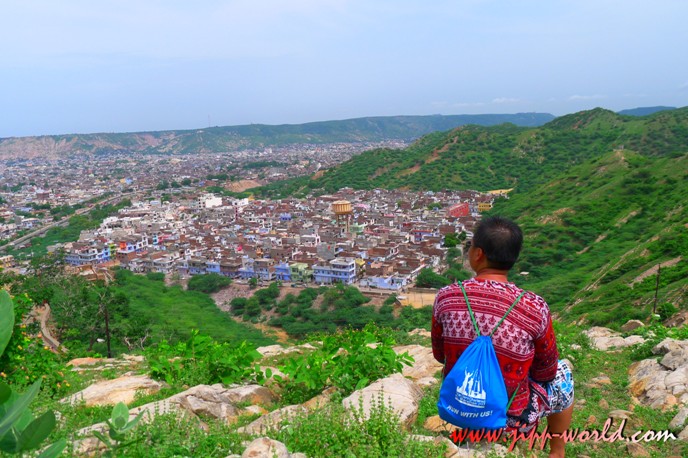 It wasn't long before we had to say good bye to the Sun Temple and returned to the busy and noisy streets of Jaipur.
Jaipur had been so kind to us but of course traveling means you'd have to move on at one point in time. With such a limited time that we had in India, we knew we couldn't stay in Jaipur any longer that we had already planned. Besides…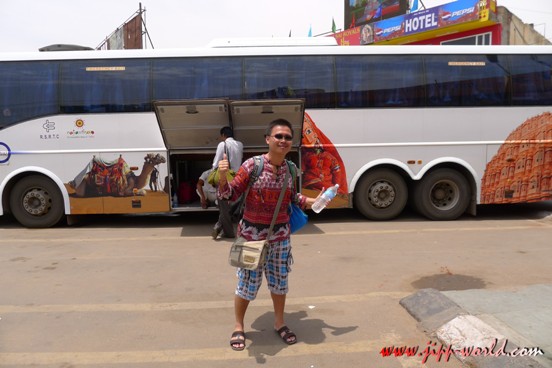 New Delhi is calling!