Thanks to the public holiday in conjunction with the Malaysia Day, I grabbed the opportunity to do a little bit of weekend escapade to the neighboring country – Thailand. Being one of the most visited countries in the world, one will never run out of things to see and do in Thailand.
I landed at Don Muang airport this time, unlike in my previous visits when I landed at Suvarnabhumi Airport. It is closer to the city center but it has no direct train connection to Bangkok. We had to take a taxi (if you're on budget, get a public taxi outside of the terminal and not at the counters inside the terminal. They are damn expensive) to Mo Chit which is the nearest train station from the airport and take the BTS from there all the way to our hotel in Ratchathewi.
I returned to Samran Hotel – the hotel that I checked in to when I first visited Bangkok back in 2009. Amazing how the hotel hasn't changed much. Rathcathewi in which the hotel is located is without doubt my favorite part of Bangkok because of the availability of so many eateries. Food stalls are aplenty and there seem to be less tourists coming to this part of the city so you get a taste of being a Thai local or something. LOL!
The fact that it is located quite near to Ratchathewi BTS Station makes is so easily accessible from just about every corner of Bangkok.
Of course, there's nothing more exhilarating than doing what I love most about Bangkok – eating its food! Bangkok is known as the food capital city of the world (although I'd like to challenge that fact now. Bangkok has the volume but I think KL definitely has the variety. Hee! ) so you'll never run out of foods to eat there. I don't know why but whatever they cook in Bangkok tastes so good to me so I just could not stop eating while I was there.
Even their beers taste so good especially Leo. It has the quality of the American beer Budweiser which remains my favorite beer together with The Philippines' very own San Miguel Light. Coming from KL where beers are known to be very expensive, Bangkok feels almost like heaven for a beer-lover like me. One big bottle of Leo only cost around 70 baht which is half the price of beer back in KL.
I have never failed to visit this row of stalls in all my visits to Bangkok. As always, ordering food can be a little bit daunting because of the language barrier. Thanks God they have menus with pictures which makes ordering much easier although those pictures can be quite tricky at times. Sometimes I'd look at other tables and point to the foods that I wanted to order. It's faster and quicker. 😀
Speaking of food, there was one dish that I particularly wanted to get a taste of in this visit based on a suggestion by a colleague of mine. I don't know that the fish is called (barramundi?) but its widely available at most stalls in Bangkok or at least in the stall area that I went to in Ratchathewi. The fish is coated with salt and char-grilled with lemon stems stuffed to its mouth. I can simply say – the taste was OMG. It was so soft I could feel it melt in my mouth.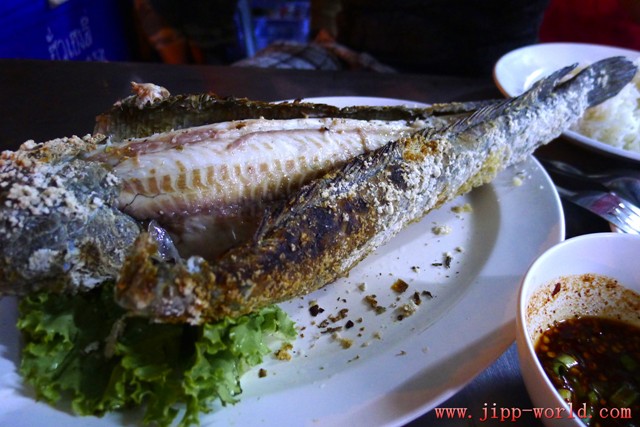 You know, traveling has been much easier now that most countries make pre-paid phone cards easily available to tourists. Ever since I got the shock of my life when I received my roaming fee in the Philippines and later Singapore, I made it a habit to buy a pre-paid phone card whenever I travel to another country. It really saves me a lot of money.
Pre-paid phone cards can be easily bought from Seven Eleven outlets which are scattered all over Bangkok. Buying one at the air-port might not be a good idea because they sell it at almost double the normal price.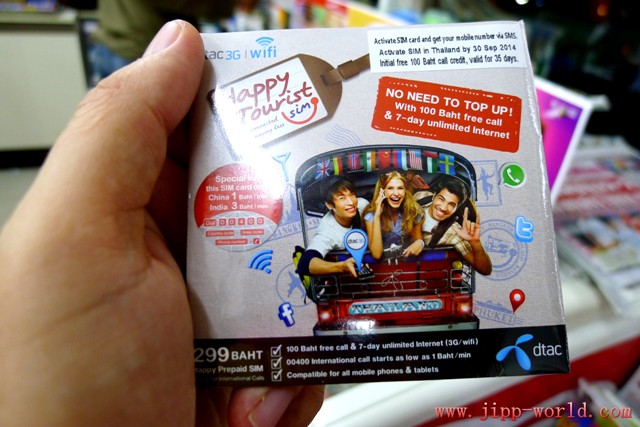 Good thing about these pre-paid phone cards apart from the price is that you can stay connected on your social media. Coming to Bangkok with two travel buddies, it's very easy to communicate through whatsapp. Malaysia suddenly felt so close to me because I could always contact my friends back at home through whatsapp even when I was in the loo. LOL
With an allocation of 1GB of internet data which is valid for 7 days, facebooking and tweeting in Bangkok is suddenly so easy. But of course, sometimes it has its downside. You see, I used to be very observant when I went traveling because that was the intention of traveling anyway – to look at things. But now, it's very easy to get stuck to the screen and miss a lot of things around me while I was at it. Damn! 😀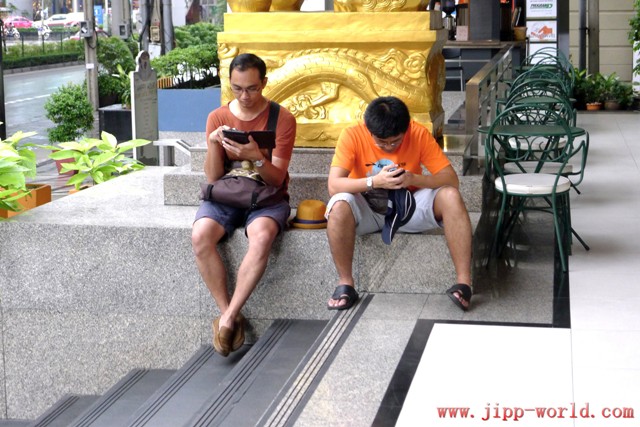 The main intention of going to Bangkok was actually to acquire a tailor made suit. My other buddies did but I didn't because my job doesn't require me to wear a suit, not anymore. The suit that I bought in Phuket back in 2009 is still in a good condition so I don't see the need of making another one. But of course it's always good to find at least some reason to travel. 😛
Bangkok is quite well-known for its tailoring industry. Just go to one of the tailor shops there and you'll have your suit ready within 24 hours. There are dozens of tailor shops in the Shukhumvit area alone making it quite difficult to pick a choice among them.
But then, I think it is quite a well- known fact now that most of them are just textile shops from where you get to choose the textile of your choice. The suit will not be made there but sent to a 'real' tailor. It's quite likely that many of these material salesmen as I'd rather call them go to the same tailor shop so in the end it's all about communication.
One good thing about the shop that we went to was that they actually asked the tailor to come to the shop to do the fitting (but then there's no way of telling if he was the real tailor or another middle-man) so we had a direct communication with him. I remember how the shop that I went to in Phuket just took my measurement and did the fitting himself.
Mind to tell you that while you want to believe that they are the experts, they might want to make your garment the way that they want it instead of doing it the way you want it to be. Just remember that you always have the final say so be sure of making it clear to them on how you want your suit to be. After all, you are the one who pays for it.
We did go to some places in Bangkok – like the Taling Chan Floating Market. It was much smaller than I had expected but at least I got a taste of a floating market. It is very local unlike the Damnoen Floating Market which is known to be very touristy and full of tourist traps.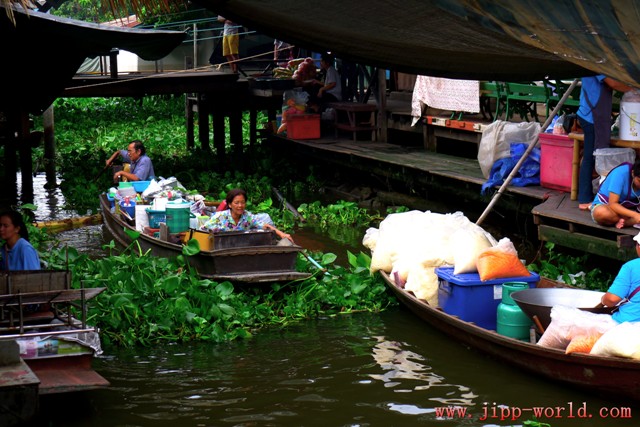 WE took a seat at one of the many tables on the market and each ordered a bowl of noodle soup. There were no chairs so we had to sit on the floor while enjoying our meal. It was actually part of the beauty of the market. Once in a while a boat would wheeze by, rocking the wooden structure which was anchored to the land only by ropes.
Taling Chan market is a very relaxing place. It's not crowded unlike most other markets in Bangkok. We ended up spending the whole morning there before taking a taxi back to the city centre.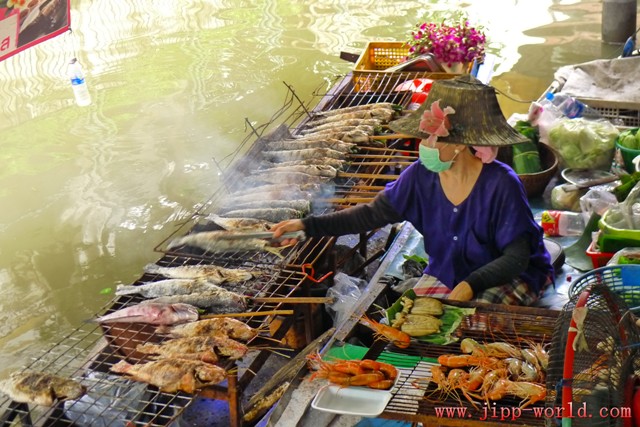 Our next destination was Chaktuchak Weekend Market. It was my 3rd visit there so I already knew what to expect. I didn't really buy anything apart from a sling bag and a Jason Mraz's hat. I have made it a habit to buy a new hat every time I come to another country and I am actually running out of space to put them in back at home. LOL!
We returned to Samran Hotel to take a quick shower before going to the tailor shop at Shukumvit area to do the fitting. Sukhumvit is like Bangkok's version of Star Hill in KL. It's full of shops, shopping malls, hotels, pubs and restaurants although most of them were suited to meet the tourism demands. Of course, coming from KL which is considered one of the best shopping cities in the world, we didn't come to Bangkok to shop.
We did however take a little bit of stroll across the Red District of Sukhumvit just to check out if there was anything new. The memory of watching a Tiger Show for the first time suddenly came flashing back in my head. Of course I didn't go in this time because I don't remember enjoying watching it back then.
OK, I did. In the beginning. But not for long. It's painful to see the girls making their rounds on stage with nothing on them and they are doing it for a living and not for fun. It's something that you have to experience watching at least once in your life but watching once really is enough 😀
Out of so many places of interest in Bangkok, there's one place that keeps me coming back to it every time I come this city which is fondly known as the City of Angels. There's something very relaxing about Wat Arun probably because of its location which is close to the river of Chao Phraya River and the beautiful views of Bangkok as seen from its stupa.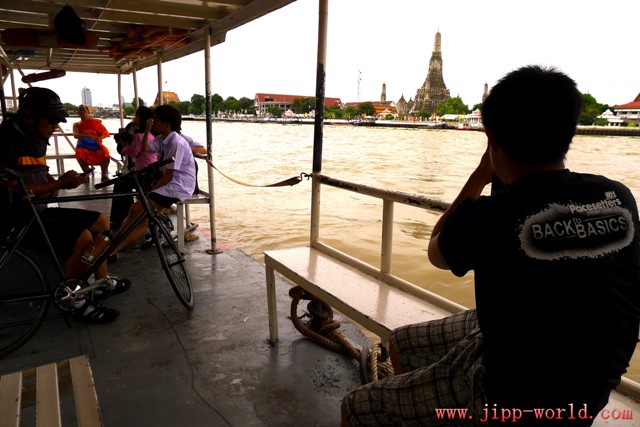 I did take a little bit of time exploring more of Wat Arun this time unlike in my previous visits when I went straight to climb the stupa. Wat Arun is probably the most Chinese wat in Bangkok. It might have something to do with the history of the temple itself.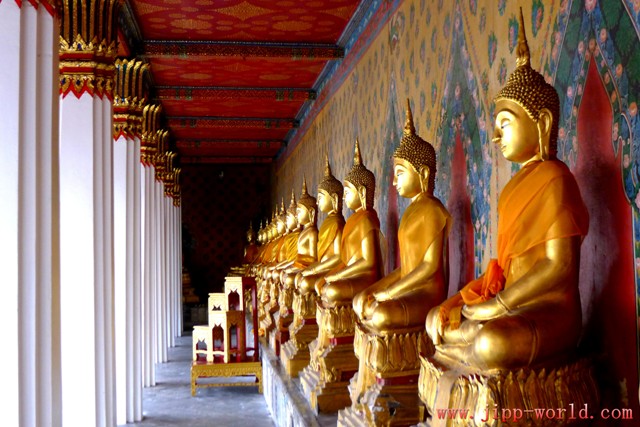 The walls of the temple were said to be made of porcelains found at a ship from China that sunk while heading towards Bangkok. It was than hoisted up and the porcelains were plastered all over the walls of Wat Arun which makes them so beautiful and colorful.
Bangkok remains one of my favorite places to travel to in Asia. The fact that it is located quite close to Malaysia makes it very convenient to travel to from here.
I don't know when but for sure another visit is very likely to happen again soon. 😉