AGRA as a name of a town might not be known to most people but when we say – Taj Mahal, people would immediately let out an 'ahhhhhhh'. And yes, compared to so many cities with all kinds of attractions in India, Agra has nothing much to offer. It just happened to be lucky to have one of the most famous buildings in the world.
We arrived in Agra from New Delhi at about eight in the morning, at a train station called Agra Cantt. I really like railway stations in India for the fact that they are so simple and straight forward. It's like you know where to head to even before you disembark from the train. You go to KL Sentral in KL and you'll get lost before you can find the tourist information centre – or even the toilet.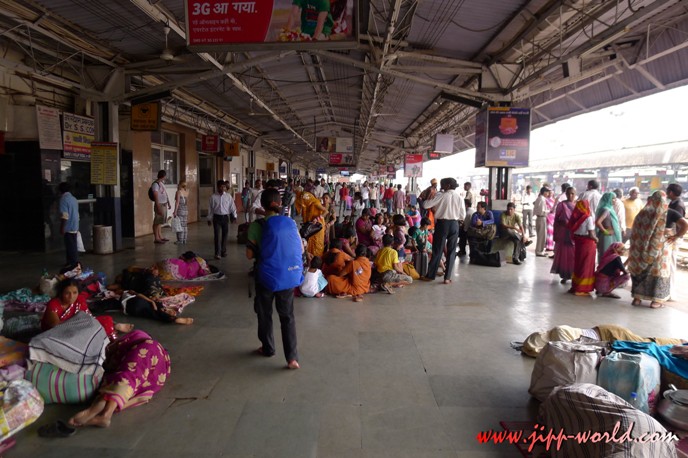 So, following the recommendation of so many forums on the internet, we set out to look for this so-called PRE-PAID taxi. And the counter from which to buy the coupon for a pre-paid taxi was nothing like how I had imagined it.  It looked more like a tiny chicken coop in the middle of a parking lot to me, only the walls were made out of tin or something metallic I could only imagine how hot it is in there when the sun is at its full force.
I had nothing but sympathy for the ticket guy who had to work inside the very little space of the room all day long. Not only he was deprived of proper ventilation because everybody seemed to cluster around at the counter, he had to deal with the intense atmosphere brought about by the ever persistent and pushy cabbies. They all want to be served first.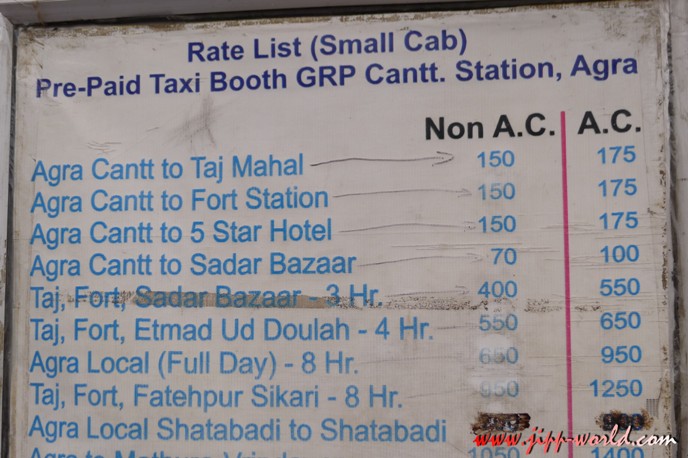 They'd be more than eager to help you buy the ticket because they don't believe in 'first come first serve basis'. They don't have that system here. Whoever catches a passenger first will get a go first.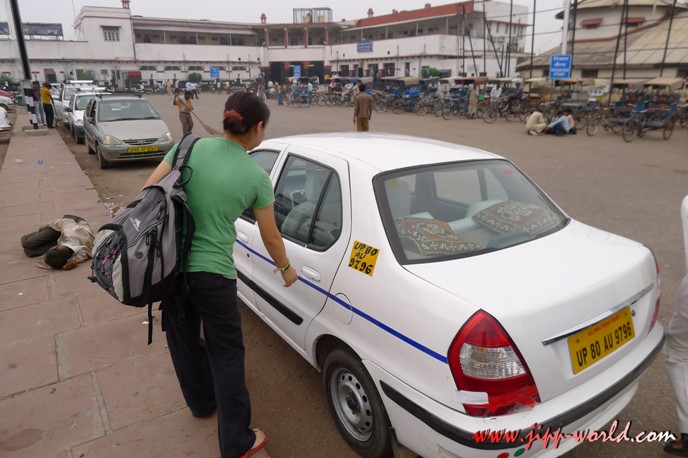 So, we hopped into a taxi whose windshield seemed to have been banged by somebody's head the night before. The driver was a Muslim and he told us how Agra is more tolerant in terms of religious practices and that they don't have those inter-religion tensions experienced by some other cities like Madras and Kashmir.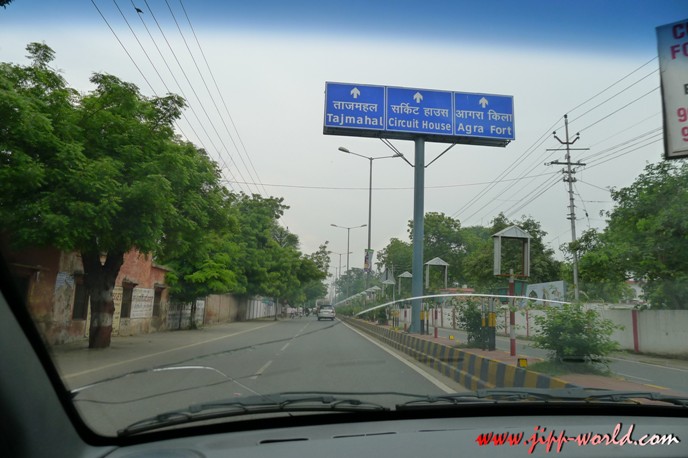 "Christians, Hindus, Muslims… We all live in the same world", he said when we told him we were Christian.
The taxi ride went smoothly and in less than 20 minutes or so, we were already in front of the Sai Palace Hotel – a hotel booked by my travel buddy Audrey. It is located very much within the walking distance from the Taj Mahal.
Sai Palace was one of the pinkest hotels that I've ever seen. It has those Mexican looks with clusters of plants hanging down from the roof and covered parts of its walls.
There were metal buckets placed on each floor to be used to splash water just in case there's fire. o.O
The rooms are actually quite spacious for 450 rupees per night but then, in a place like Agra (or probably India as a whole), you can't really expect much of a room at a budget hotel.
You can't expect your bathroom to be immaculately white or your walls and floors to be totally stain-free. Not in India my friend. Not in India. 🙂
Of course we booked for separate rooms. I paid some extra to get a room on the rooftop.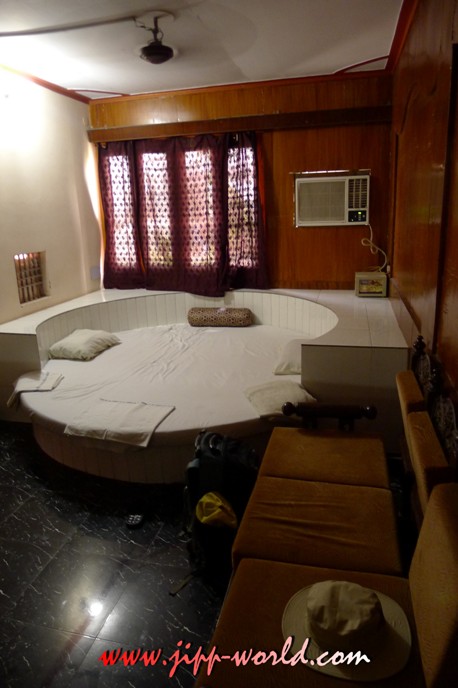 The idea of coming out into the veranda and seeing the Taj Mahal right away was just so appealing to me.
In fact, there was a little opening at the toilet that allowed me to see the Taj Mahal through the window when I was doing my business but of course that was just so ridiculous. I don't think the view of Taj Mahal would make my business go any smoothly. LOL!
It's really hard to define the town-planning in Agra unless you see it from the air – probably on the google map or something.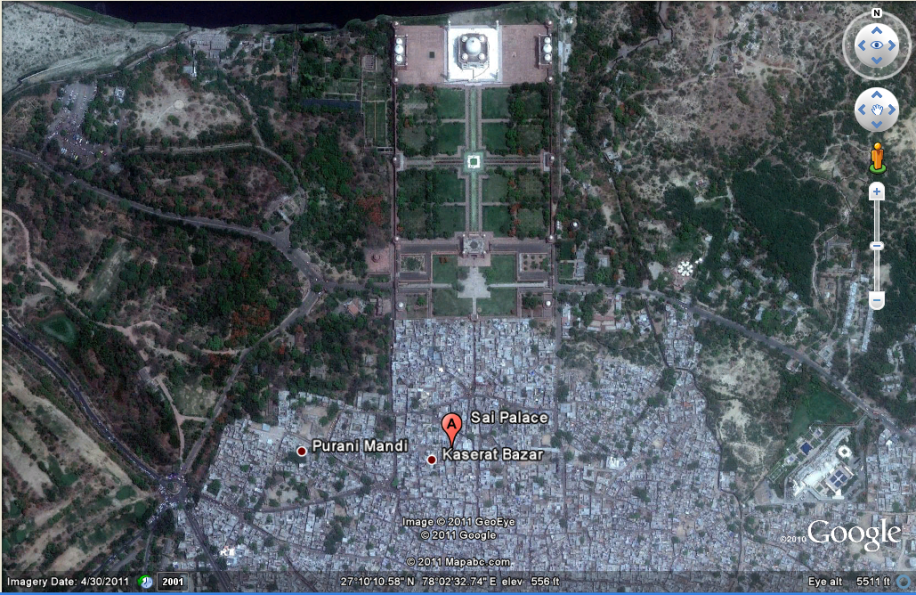 Agra for sure is a very old city and has definitely aged a lot since the Mughal era. Most of the buildings looked worn-down and weather-washed and probably in need of some extensive repainting.
I think if the Spiderman was born here, he would have died of boredom because all the buildings are only a few storey's high and they seem to be built to support one another – so dense and so packed, you can actually jump from one building to another without falling to the ground.
When I first saw the buildings in Agra, I really thought that they were still under construction because there were incomplete brick walls on most of the rooftops where the laying of bricks must have been stopped halfway for whatever reason.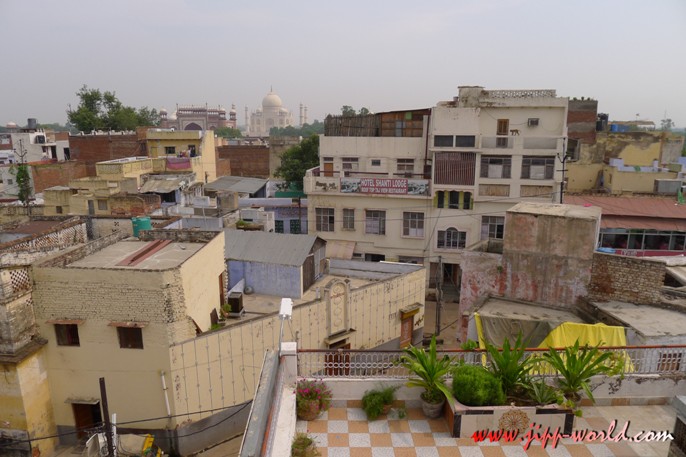 If the idea of running into an animal in the middle of a town sounds so funny to you, wait until you come to Agra where you see all kinds of animals waggling their butts off across town. Seriously, they are the most normal things to see here it's not even funny anymore.
I called these 'cows' but Audrey called them 'buffaloes'. I still can't decide.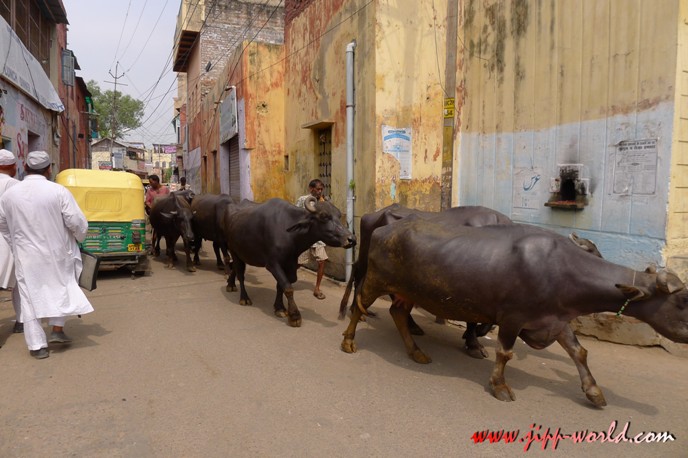 And I was about to call these 'horses' when Audrey said 'donkeys'. To tell the truth, apart from the size, I couldn't see the difference. It was my first encounter with donkeys anyway.
And – I was about to call these 'babi' when Audrey called them 'khinzir'. OK, I made that one up. Of course we both knew they were pigs.
I wasn't sure what that guy was looking for in the trash but he was obviously outnumbered. LOL!
Although the excitement of getting into Taj Mahal was tugging so violently at us, we decided to spare it for the evening when the sun would have had abated a little. Instead, we went for another attraction in Agra – the Red Fort.
The Red Fort of Agra as seen from the google map seems quite within the vicinity of Taj Mahal. THAT thought had prompted us to opt for a tricycle instead of an auto Rickshaw so that we could take a slow ride while taking in the view along the way. There are so many tricycles in Agra city all competing for the limited number of passengers so you can imagine the persistence.
Taking a tricycle instead of a Tuk Tuk had proved to be a HUGE mistake. We hopped into a rickshaw expecting a slow and steady ride while waving and flying-kissing at the ever-curious locals along the way.
The driver must have had underestimated the combination of our weights and it wasn't long before he began to show signs of acute exhaustion. He began to ramble in words we could hardly understand and shook his head profusely as if telling himself that taking us in was the biggest mistake of his life.
Oh well, looking at him so struggling like that might be painful but then the sympathy had turned into a little bit of anger because he was so insistent in taking us on in the first place. We decided stay tight and look how he was going to progress. *jahat
Then he began to stop every now and then to ask if any of the other rickshaws was willing to take us on. I guess the others could tell how struggling he was that none of them was willing to take us in or the 'transfer deal'  probably didn't sound quite good enough to them.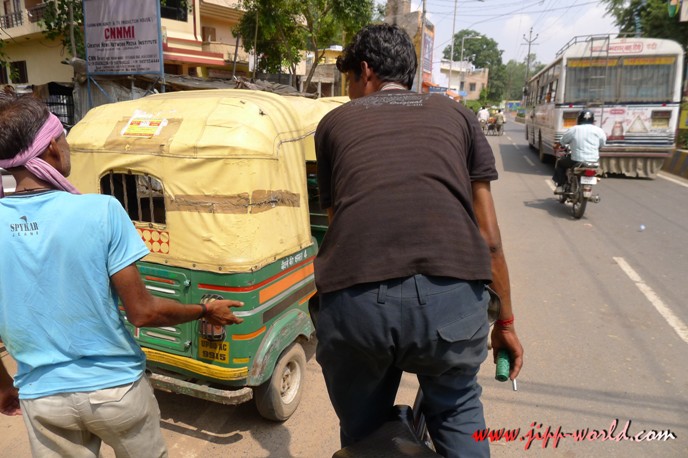 He must be on the verge of passing out when a rickshaw had finally agreed to take us from him once and for all – of course with a little bit of deal where the taker would give 20 rupees from the giver. "Don't worry. He is my father!", the taker assured as if a father-son relationship could somehow guarantee that we would be taken care of.
So – the new driver (or rider or probably paddler –whichever you like to call it) looked much younger although just as thin as his 'father'. At least he was glowing with energy and the eagerness in his facial expressions and the way he talked was much more assuring.
He told us how he likes Malaysia although I doubted if he had any idea where there hell this country called Malaysia is. He was so insistent about waiting for us to finish our tour at Agra Fort so that he could take us to our next destination – wherever it might be.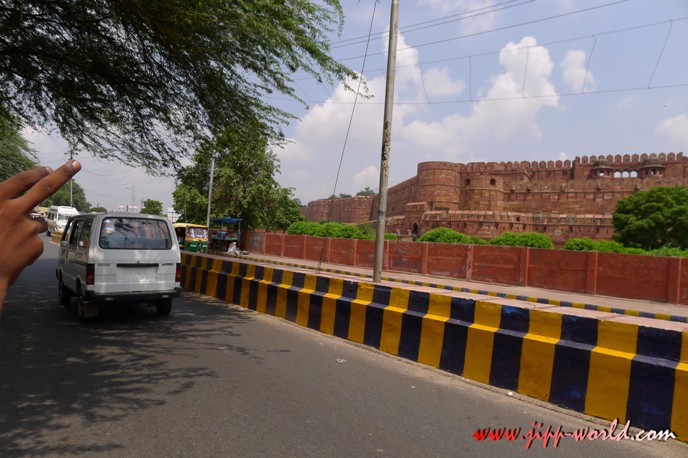 So, Agra Fort happened to be one of so many forts all over India. I'm sure there are dozens if not hundreds or probably thousands of websites that tell the story about the Red Fort of Agra so I don't think it would be necessary for me to go details about it now.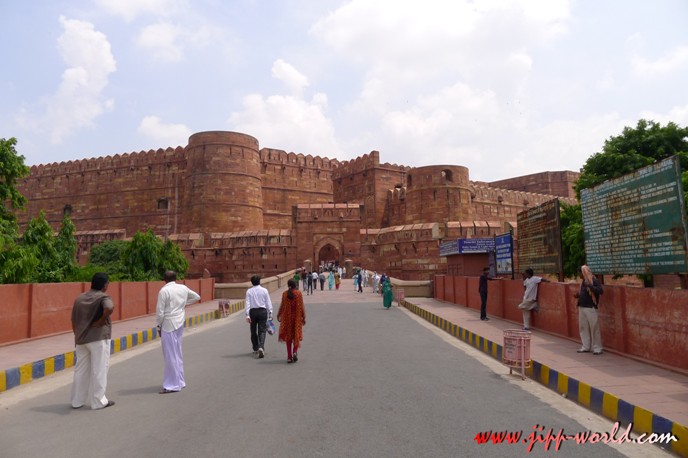 To tell the truth, I only went there because it was listed in the UNESCO World Heritage list and you know how UNESCO sites have always been in my priority list whenever I visit another country or city.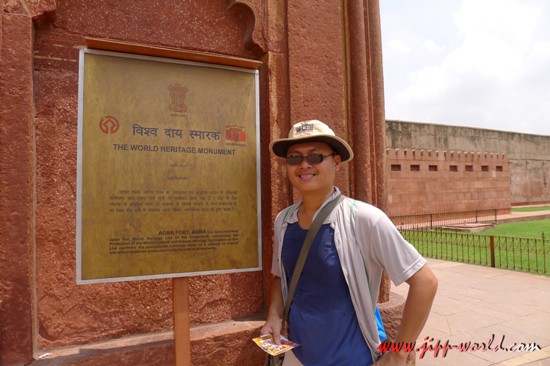 But then, one can simply see why it is in the list. Not only it has significant historical values, the buildings themselves are already so WOW to be seen even up close. It is so big and massive that its size would have made A Farmosa in Melaka look more like a public toilet or something.
Oh well, what I don't understand is that, if it was meant to be a fortress which was supposed to be the main target in times of war, I don't see why it was built so beautifully like that.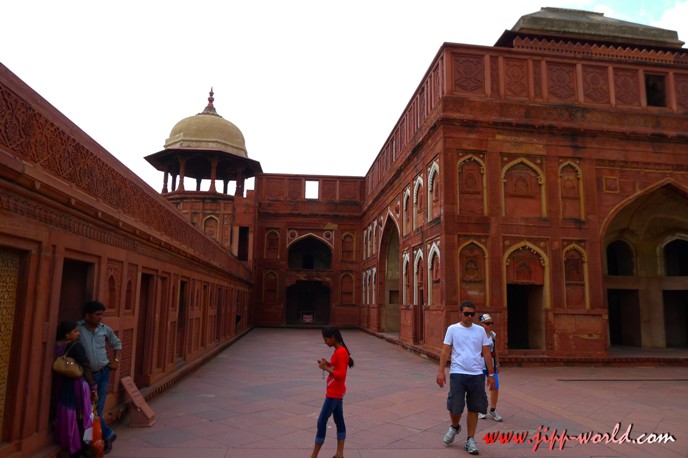 In fact, apart from the walls that surround the whole compound, it didn't look like a fortress to me at all.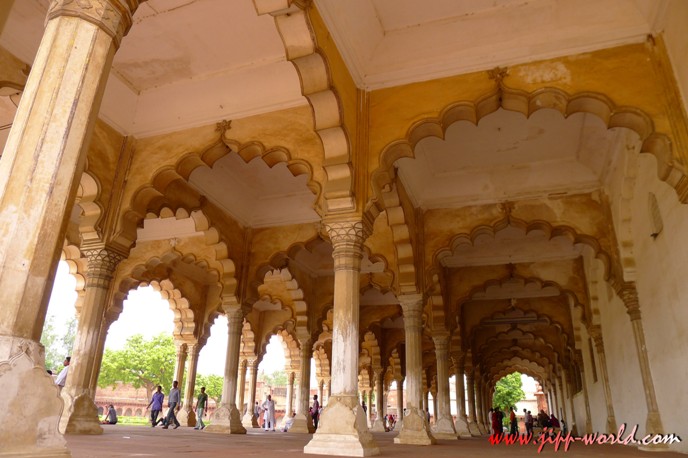 It is more like a palace – a very nice palace or probably a prison with a huge patio in the middle where the prisoners could do their daily march while being closely watched by the armed prison guards from atop the surrounding walls.
We must have spent at least an hour or so traversing the hallways and wandering from one portion of the fort to another before we made a complete circle back to the entrance.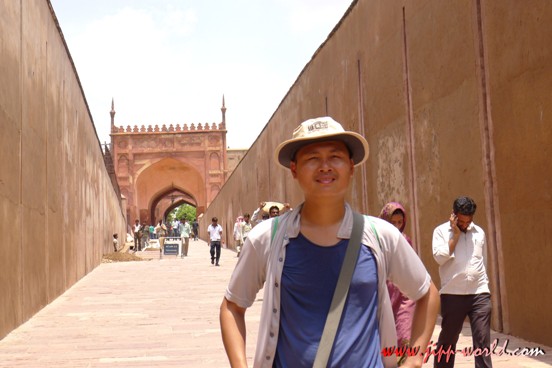 The sun was beginning to take its toll on me. It was late of July when summer has just started in the southern hemisphere. Located in the southern part of India, people in New Delhi and Agra DO get the 'smell' of summer so you might want to consider coming there when it is cooler. Of course only crazy people like us would come to India in July. Hehe.
It was so hot all I wanted was a place where I could hide from the scorching sun for awhile so we asked to be wheeled off back to the hotel.
It was then when we realized that taking a rickshaw is not always a good idea. Accepting you on-board doesn't necessarily mean that they can make it to your destination without any problem at all. It's like they HAVE to take somebody in so that they'll earn some money to survive another day or two. That's how I looked at it.
Witnessing the driver paddling the rickshaw away with all the energy that he had in that tiny little frame of his was not fun at all. I could almost hear his heart pumping way out of capacity as if it was going to explode in any minute. Seriously, once you're on it, you can't wait to get off it. It was painful to see him struggle against the slope and the fun kind of just swooshed away.
There was one time when he finally gave up his ego and ASKED us to disembark – despite his earlier assurances that he could take us on NO PROBLEM. In fact he sounded quite angry when we refused to disembark at first – just to see his reaction after all the bluffing and tembirang-ness that he had sprayed us with earlier on.  LOL!
We hopped off the damn rickshaw the moment we sensed that we were already in the hotel vicinity.
Audrey had always been the more adventurous half of the pair when it comes to food and drinks. I thought I was adventurous enough but no – I wasn't. Not quite. Apparently. Heh.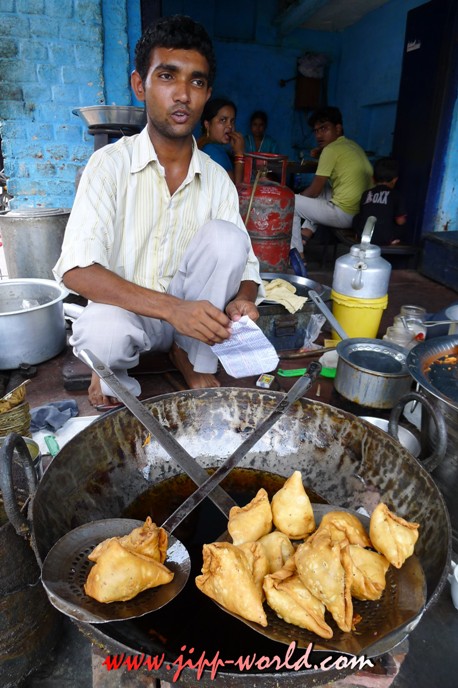 It was way past lunch time and my stomach was growling for food but I couldn't bring myself to buying any of the foods on the street of Agra and I just watched in admiration when Audrey bought some of these curry fuffs. If we were to be cast away into some remote island, I'd surely die first. LOL!
I gotta tell you that finding a good restaurant is not an easy task in Agra. They do have restaurants all over but finding one that suits all your wants might not be easy. WE had to return to this restaurant twice before we managed to get a seat.
Never mind the 'Recommended by Lonely Planet', you'll see it all over in India. The food was OK lahh by India standard but of course what we wanted most was the air-condition.
We returned to the hotel for a little bit of nap while waiting for the sun to tone down a little. But then, with the swelling excitement and curiosity and expectation and anticipation all boiling up inside me, who could get a nap when the next destination would be one of the greatest monuments in the whole world?
HOMI HOMI HOMI GOD! 😀