So I've just come back from Langkawi for a very short trip. It was my 2nd time to this island so the excitement that I had on my first visit was not quite there. Perhaps, the only excitement that I felt had come from the fact that I had not been to any vacation for quite a long time, at least not to an island.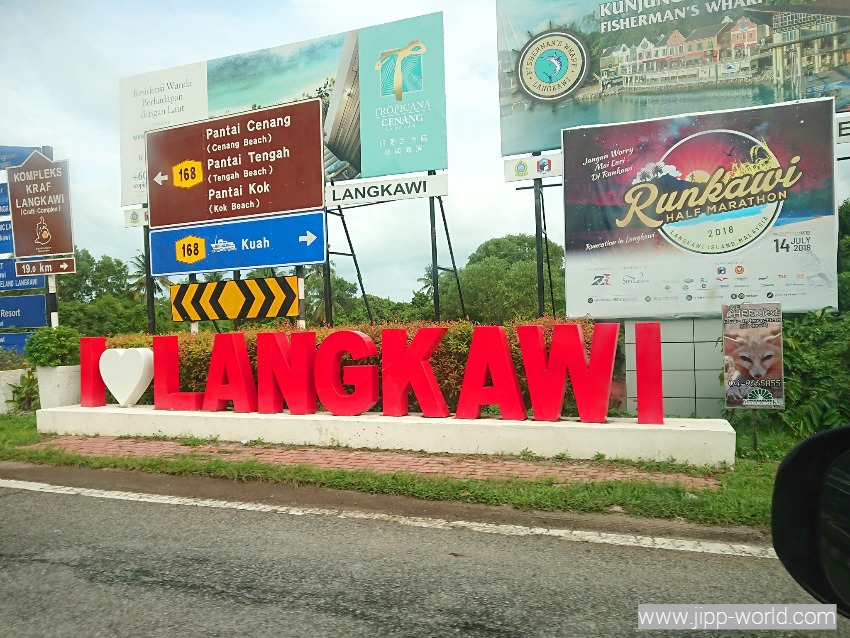 Thinking that it wasn't the peak season in Langkawi, I decided not to book any room. Instead I did a walk-in. After being dropped off on the side of the road near Cenang beach, I wandered along the beach to look for a room. I would say the hotel rooms along the beach of Cenang were quite expensive. Even when it wasn't the peak season the cheapest room that I managed to find was RM120 per night for a very basic one. I could only imagine how much the rooms would cost when it was the peak season – say – during school holidays. Looking for the right ambiance with a little bit of character, I decided to stay at a hotel called Mali Mali Beach Resort.
Quite true to its name, Mali Mali Beach Resort is located very much near to the beach. In fact I was quite sure it stood on the beach itself. The room had nothing to shout about. At least it had a window even though there was nothing to see through it but a lousy wooden fence that separated the hotel compound from the next. Luckily the air-conditioner was working well and in the end that was what I needed most to escape the humidity and the sweltering sun of Langkawi.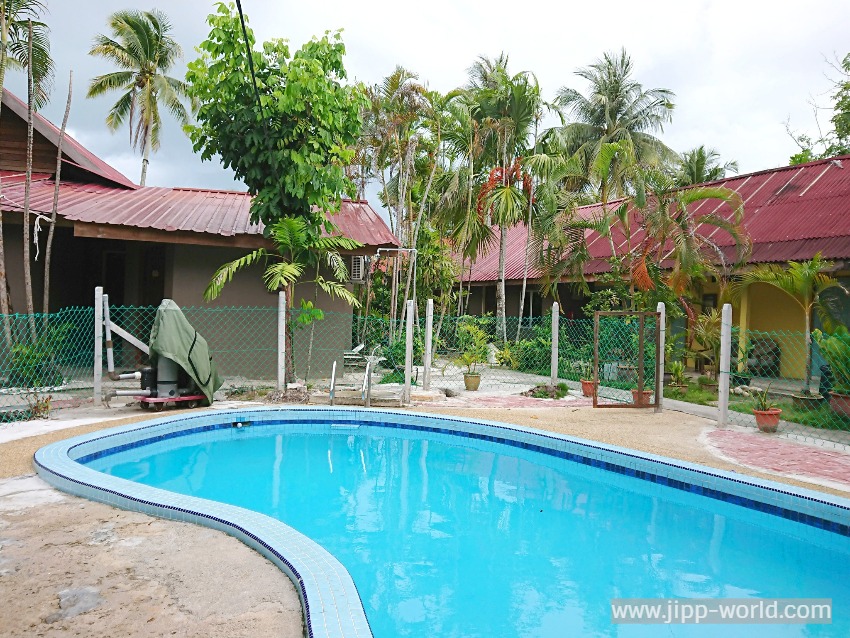 After a quick nap, I came out to the beach to take an evening stroll. To the left of the Mali Mali Beach Resort was a row of smaller hotels – probably to meet the smaller budgets. I decided to go the opposite way where all the big resorts were. That was when I realized how beautiful the beach of Cenang was. I wasn't really wowed during my previous visit, may be because it was overcrowded with people as there was some kind of huge festival going on. Now that the beach was almost deserted, I could see more things in detail.
The sand was white instead of the usual brown – may be because of its heavy content of broken seashells. There was a brick walkway along the beach so it was quite convenient for beach-goers to walk, or may be to push their wheelchairs or baby strollers along. Beautiful rows of coconut trees were lined up along the beach and beyond. There was something so relaxing about watching them swaying to the winds in unison.
I guess I haven't been to a beach for quite a long time that I almost forgot how relaxing it was to take a stroll along one. The views, the windiness, the sound of the breaking waves, the rustling sound of coconut trees (and other trees of course) and the happy faces of beach-goers – there was no way I could ever deny how the combination of all these could really made me feel relaxed and peaceful and serene both inside out. I guess that is why people are crazy about coming to a beach.
After taking a long walk along the beach, I returned to Mali Mali Beach Resort and spent the rest of the evening relaxing at the bar that co-joins (or almost) one of the hotel blocks. The bar was strategically located with perfect views of the beach and the Andaman Sea beyond it. I ordered first a small bottle of Hoegaarden but I didn't like it because it was too sweet for my taste. Then I ordered a mug of draught beer and liked it instantly. And of course a few more mugs followed until I became quite tipsy. Heh.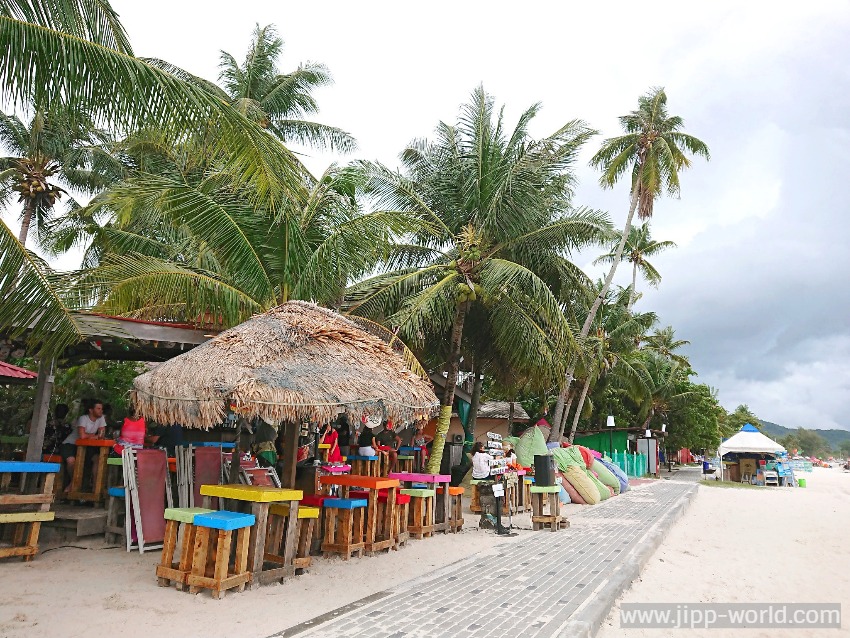 There was a series of fire performances by a group of young boys. With the now dark ocean in the background, they'd twirl the fires, sometimes throwing them high in the air and catch them expertly before they even get to touch the sandy ground. The visuals of all the juggling and twirling of fires were spectacular, almost hypnotic. The last time I watched a fire twirling performance was on a busy street of Saigon in Vietnam and I remember how I was so fascinated by it,  not only because it was visually captivating but the one who performed it was just a little kid.
I must have had at least 5 mugs of Carlsberg when I decided to call it a day. I retreated back to my room, decided that I was too sleepy to wait for the semi-final World Cup match between England and Croatia. I didn't mind who'd win but I woke up the next day finding out that Croatia beat England to a fiercely fought 2-1.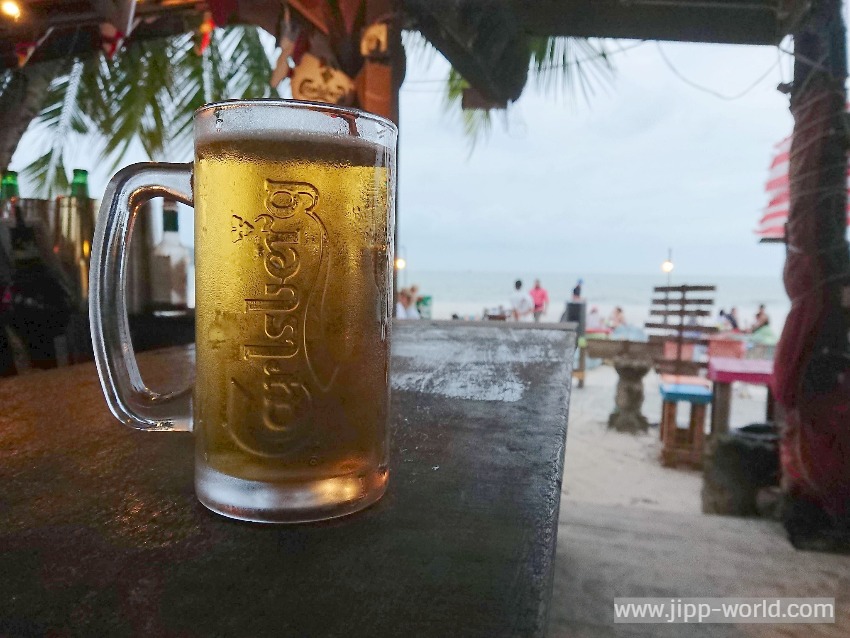 The plan was actually to wake up early in the morning, have breakfast and head out to the iconic cable car of Langkawi before catching the flight back to KL later in the afternoon. Luck wasn't on my side when I went there the first time. The weather turned ugly when I was already on the queue so the cable car was closed, and it was still closed even after two hours of waiting. I decided to go for it on my next trip to Langkawi.
Just when I thought that would materialize this time, I was told by the hotel receptionist that the cable car would be undergoing its monthly maintenance check this morning so it would only be opened at 12pm. Going there at 12pm would mean that I would only have an hour or so to queue up, get on the cable car and enjoy the view from the iconic suspended platform up there and be at the airport in time for my flight back to KL. It would be too much of a rush for me so I decided to skip it and try my luck again on my next visit. Urghh!
I spent my last few hours in Langkawi with a little bit of shopping – and eating – and I even went down to the beach to check out the views one last time. The weather would have been perfect to go on the cable car ride. Damn. I stayed at the beach until I felt the call to go to the airport and be back in KL 3 hours later. It was amazing how only a few hours ago I was surrounded by the serenity and calmness of Cenang beach and now I was suddenly back in the embrace of busy streets of KL. But then that's how life is. Every good thing has come to an end and we can only hope (and pray) that it will come back to us again, sooner or later. Heh.