I used to believe that Switzerland and New Zealand are the most beautiful countries in the world, that if there were heavens on earth, they'd be somewhere in these two countries. But of course, that was before I read about the Himalayan regions. Then I knew, I had to go there first and that Switzerland and New Zealand could wait 🙂
The Change of Plan
My trip to Nepal was actually part of my mission to climb up to the base camp of Mount Everest. Doing the trail to Everest Base Camp(EBC) was the original plan and I had put in a lot of efforts in trying to get myself prepared for the climb – or rather the trek – financially and physically for many many months in advance.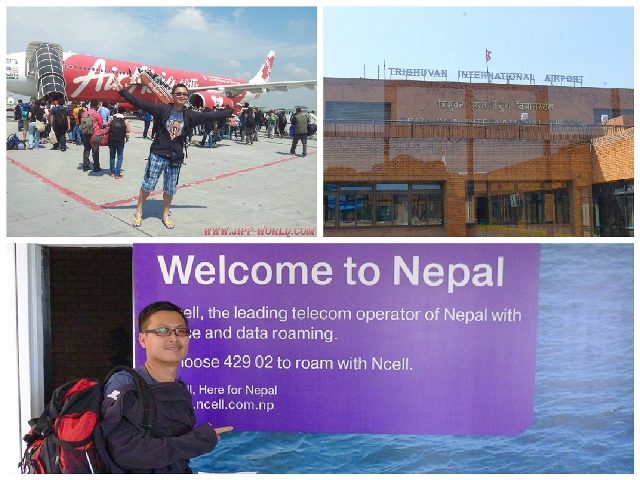 Just when I thought I was so ready to go, and that I was very much on my way to fulfilling one of my biggest dreams in life, I received the devastating news regarding an event that I had to attend – an event in which I was required to do a very important presentation on the very day when I was supposed to be a few days through the climb. Uhuks!
So, I had no choice but to cut my trip short and after taking into account the minimum number of days required to do the EBC, I knew it had to slip off my fingers this year. I had to look for another trek to suit the very limited number of days that I was going to spend in Nepal and that was when Annapurna Base Camp came to mind.
Annapurna Circuit Trek is probably the second most popular trek in Nepal after the Everest Base Camp and while an extreme level of adventure would require trekkers to trek around the Annapurna Range before ending up at ABC, me and my trekking buddies would not be in Nepal long enough to be able to do the circuit. Instead, we did the 8 days trek that required us to trek from Nayapul right to Annapurna Base Camp.
Now, I would spare Kathmandu for another post so let's just say that due to time limitations, we took a domestic flight from Kathmandu to Pokhara and that was when I had my very first glimpse of the Himalayan mountain range, which was almost visually disguised by the white cotton of clouds. The fact that I would be somewhere down there later made me jump in excitement. It almost felt surreal really.
The Ascent 
Our tour guide and porter were at the airport to welcome us and we were taken right to Nayapul – the starting point of the trek to have our lunch before embarking on what would be the adventure of a lifetime. I think it was a well-known fact that any trekker to the Annapurna Base Camp had the option of arranging the trek on his/her own without going through any of the many hundreds of tour companies all over Nepal but being lazy trekkers that we were, we didn't want to go through all the fuss of doing everything on our own so we paid a company to arrange everything for us. That's what I call an easy life. Heh.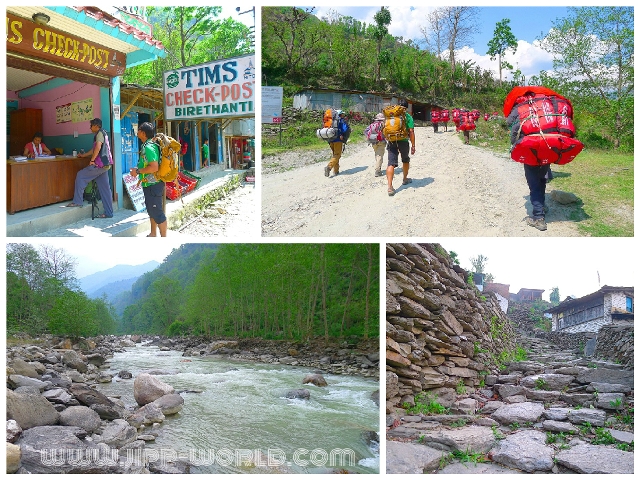 The trek took us through a grueling series of ups and downs, across some of the most beautiful villages that I've ever come across in my entire life. The terraces that they've got in Nepal made those in Bali look almost like a child playground. It made me cringe when I think of the day when I excitedly camwhored all over Tegalalang paddy terrace in Bali a few years back. Erkk! I would say it was not an easy trek but all the physical training that I had been doing prior to the trip really helped me a lot. Every now and then somebody would be airlifted from the trail simply because they couldn't go any longer.
We were actually going quite fast but of course I didn't go there to do a trail run or something so every now and then I'd stop to take photos because I knew they'd make incredible photos to add to my already bursting collection of travel photos. Heh. I always believe that it takes more distance (and usually height) to get a better visual reward when we are on a climb. That's to me is the basic principle (or rather beauty) of trekking and it rang very true when we were doing the ABC too.
The further into the mountains we trekked the more beautiful the views would be and I tried to take as much of them as I could. But then, it all came with a price. The higher we climbed, the lower the temperature became and somewhere along the trail a point was reached when it became quiet unbearable especially at night. Trekking trails in Nepal are mostly so well-paved with stones that it makes me wonder how long it took to complete paving them all. I mean, seriously, it seemed to be something that was not easy to do. But then, I'd never seen stones being so much utilized like they were in Nepal. Almost every structure was made of stones – the trail pavement, the wall fences, the roofs and even the houses are all made of stones!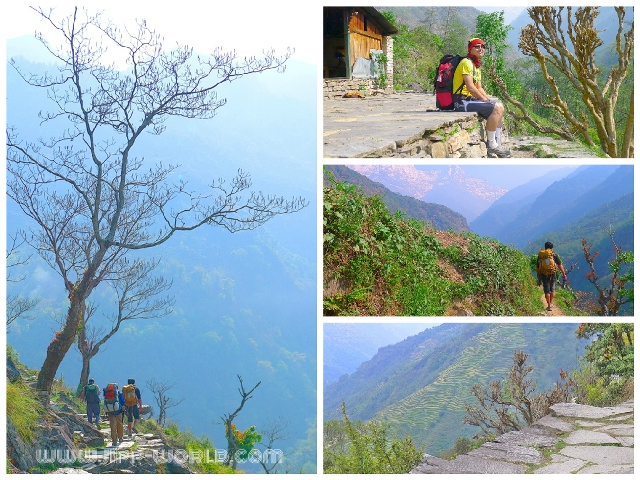 It had always been so beautiful since beginning of the trail, but it was at Chomrong when I really saw what the Annapurna trail could really offer. I mean, seriously, when I first arrived at the village, I really thought I was at a filming location of some fairy tale movie or something. I came out from the top of village so I had my mouth gaping wide open and my jaws dropped to the walkway when I looked down to see the beautiful terraced farms and medieval-looking stone houses that were inter-connected to each other with the Hobbiton-looking stone walkways. Of course to complete the whole picture postcard was the snow-peaked Annapurna Range itself and I wanted to cry at the sight of it.
Usually after a long trek which usually begins at 7.30am until 4pm, we'd stop overnight at what they call 'teahouses' that exist quite abundantly along the trail. Most of these teahouses have an attached restaurant (taking a peek at the kitchen is not recommended if you want to keep your appetite intact) so you always have the choice of ordering whatever there is on the menu.
I noticed how the menus were similar at those tea houses, probably printed by the same company or individual, only the prices differed as the food were more expensive at higher-located restaurants. I was told that Dal Baht is commonest dish at any trekking trail in Nepal and the ABC was a no exception. I did like it very much in the beginning but of course a point was reached when I had had enough.
It was the time of the year when the Rhododendron which is considered the national flower of Nepal were in full bloom. They come in a variety of colors but the most commonly sighted at least along the ABC trail was the red one.I had really wanted to take an up-close picture of them but somehow none of them was within my arm's reach. But then again, we were there when the mountain flowers were blooming all over so it really was a natural mountain landscape at their best looks.
The Unexpected Weather 
The ABC trail that I found out stretched along a beautiful river that marked the meandering contours of the beautiful valley. The excitement grew by the day as we pulled further and further into the mountains where the landscapes took on more and more unfamiliar looks.I did hope that the mountain gods would send me a lil bit of snow because I had never been in a snow before. Usually at that time of the year, it wouldn't really snow or so I was told.
I mean, I had always tried to avoid going to any of the four-seasoned countries during winter because I knew I couldn't stand the cold. Unfortunately, I knew there was no way I could avoid (the cold) at the Himalaya which is known as the roof of the world so I had all my winter clothes ready in my backpack.
But then, I should have been more careful with what I wished for. What the mountain gods sent me was a heavy snowfall. I was quite excited when a bit of snow began to fall at Deurali which marked my very first encounter of the white flake that I've heard so much about – but then the excitement was short lived. By the time we were nearing the Macchapucchre Base Camp (MBC) it was snowing so heavily and it wasn't long before the cold began to sip into my system.
To tell the truth, I didn't put on my trekking shoes so my feet had become my weakest point. Instead I had my sandals on – exactly the same sandals that I wore when I conquered the Pinnacles, Trus Madi, Mount Kinabalu and a few other mountains back in Malaysia. Of course the tour guide had a little bit of doubt in the beginning but when I asked if it really was not possible to wear those sandals to the ABC, he smiled and said "Everything is possible in Nepal". At least I can proudly say now that I've worn them up to the MBC where I had to change to trekking shoes when the cold became too unbearable. Heh.
The original plan was to stay overnight at the MBC before pushing for ABC the next morning but I guess the guide took advantage of how fast we were going so he decided to march right to ABC. I would never forget the trekking that we did from the MBC to ABC that very afternoon. It was snowing like crazy so we had to walk very closely to each other – along with other trekkers – so that nobody would stray off the trail and stepped unnecessarily into trouble.
The crunching sound of the snow as we stepped on it would stay in my ears for a very long time. Part of me was actually enjoying it but another part was worried because of the unfamiliarity to the whole surrounding. It was only 2 hours but with all the slow pace that we did in the snow, it felt more like 10 hours. I could already see the rest house of Annapurna Base Camp – the walls and the windows visible under the snow-laden roofs – but the more I walked towards it the more distant it would appear to my eyes.
But of course, the famous quote by Barry Finlay says it all, that "Every mountain top is within reach if you just keep climbing" except that it was not quite the top but the base camp. After days of trekking through ups and downs (I even lost count of the days), we finally made it to the base camp. I was overjoyed. It wasn't the EBC – alright – but the feeling was one of jubilance nevertheless.
The Sunrise 
It wasn't until the next morning when we waddled up to the point which is considered the gate to the peak. The sun appeared slowly from behind the wall of the mountains, casting its rays over Annapurna I which at 8091m is the 10th tallest mountain in the world!
It looked so close as if I could just run right to its peak but of course eyes could really cheat. Annapurna I has the highest fatality rate among all the 14 eight-thousanders with one dies for every three climbers so you might want to consider climbing Mount Everest rather than the Annapurna I.
Being surrounded by those humongous mountains all around me, I felt like a speck in the universe. Towering to the East is the beautiful Mount Macchapucchre or rather Fishtail Mountain as it is fondly called. Despite being shorter in comparison, the Fishtail Mountain has never been scaled by any climber not because nobody could do it but because it is considered too sacred to the local community.
The Descent
Quite naturally, descending was much easier than ascending but then it was a combination of both on our way back to Nayapul so it was still tough. But then again, ascending has its own difficulties when you're talking about a muddy trail due to the thawing snow. It could get very slippery which was the very reason why trekking poles were created in the first place.
After spending another two nights at the mountains, in which one of the best things had included a little detour to a hot spring, we were back to Nayapul and later back to civilization in Pokhara.
Annapurna Base Camp – done and dusted but seriously, I would never get over it – not for a very long time. I could only think of one way to heal myself from this post-Nepal withdrawal symptom and that would be to return to the Himalayan region for more.
The big question is – when? Only time will tell 😛