This was a plan that came later than sooner. I had already paid my booking fee to a friend last year when the earthquake struck and all bookings had to be canceled or postponed. Mount Kinabalu was immediately closed and those 3 months that it was not available for climbing suddenly felt like forever. But then, the eagerness of coming back to Mount Kinabalu kinda intensified when I was told that the route had to be altered from the original one. I was expecting to see new views with new scenery and probably seen from new angles. I suddenly couldn't wait.
Fast forward, the day of scaling the mountain again came faster than I thought. I flew into KK late at night so I had to stay overnight at some hotel before my climbing buddy came to pick me up at 6 in the morning the next day. Then from KK we drove off to Kinabalu National Park where another climbing buddy was waiting in eagerness. He flew in all the way from Bintulu to join us in what he described a long-overdue adventure. He told us how he had been waiting for years to get a slot. It really made me puzzled as how some people that I knew could get a slot at the flick of their fingers.
Everything seemed perfectly fine in the beginning. We started off from Timpohon Gate quite in flying colors and the weather seemed so much co-operative. But then, we must be at the second or third stop when it started to rain. I thought it was just a drizzle at first but then it started to get really heavy that I had to put my poncho on. I wouldn't even bother to put my poncho on if it was not for the cold winds because seriously they were cold enough to send me into spasm when I was drenched.
Then I began to notice something. I mean, people used to laugh at me when they saw me climbing a mountain with an umbrella. Even women wouldn't bring an umbrella to a climb. But what I noticed was that many of the mountain guides at Mount Kinabalu are now using umbrella to fend off themselves from the rain. Some of the umbrellas are so colorful they actually stand out even in the foggy rain. LOL.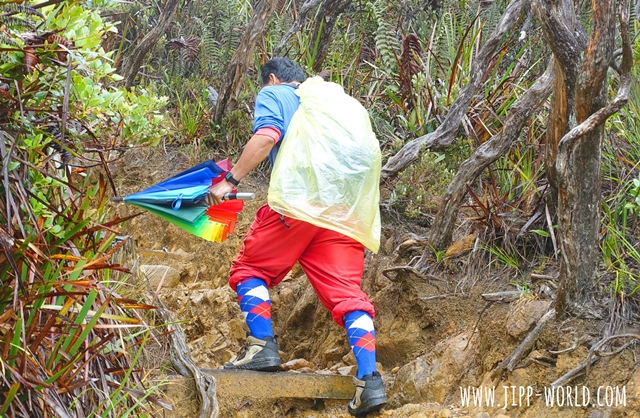 I don't know why I was so absent-minded when I went to Mount Kinabalu this time. I'd consider myself quite an experienced mountain climber. I've climbed quite a number of mountains but may be I just felt that Mount Kinabalu was – well – down there in the backyard that I forgot that it is one of the highest mountains in the whole region.
So, I went to Mount Kinabalu thinking that I got everything ready in my back pack. Then I found out that I didn't bring a trekking pole with me. Being part of a World Heritage Site, every tree at Mount Kinabalu is protected under the law so taking a trekking pole out of a tree was totally out of question.
I was usually good with just having an umbrella with me but I forgot to bring one – and since I arrived in KK at about midnight, I couldn't find a suitable umbrella that had the length and strength to play the role of a trekking pole. They do sell trekking poles at mini-market at the registration office but it was still closed when we left – which was way past the operation hours. Booooo!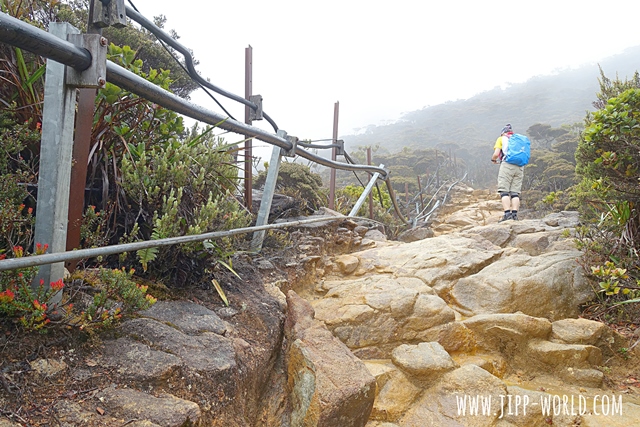 I was doing fine without a trekking pole until I arrived at Panar Laban. It was so cold and I knew right away that I did another mistake – that I didn't bring hand gloves with me. I didn't waste my time trying to look as if I did bring one when I knew right from the beginning that I didn't. LOL. When I told the guide about it, he couldn't hide his concern when he said – "then you'd have to put your hands in your pockets". And that was what I did.
Luckily, pushing for the summit didn't really require me to use my hands so I had them tucked neatly in my pockets. You know how your whole body would be cold if your hands were cold. Then I found out that I didn't bring spare socks too so when my only socks were wet I had no choice but using them again the next morning. Luckily, I was experienced enough to know that they'll warm up when I have them on while climbing.
We were placed at the brand new Lemaing Hostel – together with 3 other groups who were all female – and I was the only one who slept on the upper deck. I was told that Lemaing Hostel was the only hotel that was owned and maintained by Sabah Parks. Most – if not all the others are under Sutera Lodge Sanctuary. The hostel was far more comfortable than all the other hostels that I stayed in in my previous climbs.
They've got hot shower – although they were of almost no use because of the occasional black-outs – so taking a shower had proved to be very much challenging. In fact, I felt like being splashed with acid when I took my first shower. It sent me into a deep spasm that I actually wriggled uncontrollably for a good one minute or so. It was such a pain that I was so glad when it was finally over. LOL!
I was deeply bothered by the rain that I had to go to sleep praying that the rain would somehow pave way for a clear weather the next morning. And somehow, my prayer was answered. When I woke up, I hastily went out to see how the weather was doing – and what I saw were millions of stars scattered all over the sky and a half-full bright moon! Hallelujah!
When it was finally time to go to the summit, I made sure that I really was ready for it. But then, nothing can prepare you for something as mighty as Mount Kinabalu. I was with an ultra-marathoner and yet he appeared to be struggling too. I think the lack of oxygen was quite too obvious to ignore. My main challenge was not really the breathing but the drowsiness that sipped so adamantly into me – which I suspected was partly due to the thinning air too.
So, after pushing quite harder that I thought I would have to, I finally made it to the summit just in time to see the sunrise from atop Mount Kinabalu. It was one of those magical moments that I'd only get to experience when I go for a climb. But then, there's something extra magical about viewing the sunrise from atop this sacred mountain of Borneo. That sense of belonging – which I'd experience every time I see Mount Kinabalu even from a far distance – it all comes to me in such a wonderful feeling. It's like – this is my land, the land that I was born to and the land that I'd return to to die. Heh.
For the first time since I first climbed it back in 1992 (this is my 6th climb), I took all the time in the world to really look around and see the beauty of this majestic mountain and I couldn't help but getting a little bit emo because seriously – it is still one of the most beautiful mountains that I've ever been to. The scars left by the earthquake are still very much there but Mount Kinabalu seems to be recovering in no time. Aki Nabalu has bounced back and there are more and more people coming in to see what this beautiful mountain has to offer.
As for the new route, there's nothing much to say about it because it I think most of the trail is still maintained. I didn't see many changes from the starting point to the Panar Laban. The only changes were probably the trail going up to Sayat Sayat – which is the last stop and also the check-in point before the summit. That part when climbers have to walk in between a crevasse of rock along the edge of a cliff is no longer there. Instead, they made a dash right up to Sayat Sayat (or almost) – which is why there had to put up lots and lots of stairs because it is quite too steep.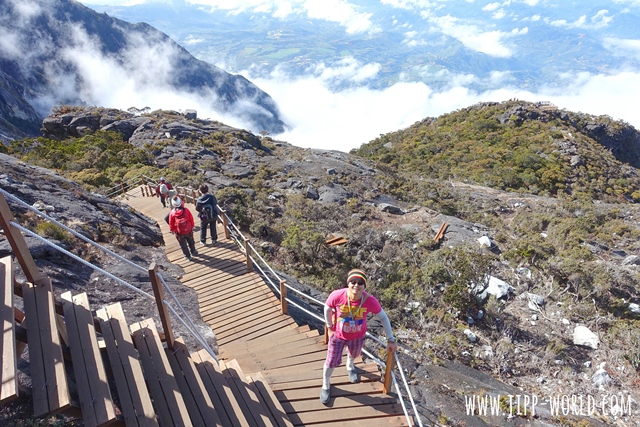 The stairs can be charming to some but not to me and many others I believe. It reminds me of the stairs at Batu Caves where you'd lose your connection with the natural setting of the landscape. It makes the climb and descent much easier – there is no doubt about it – and the steps are perfectly sized – but then climbers lose a great deal of the adventure on those stairs.
I noticed how they have built a viewing platform somewhere along the stairs – so you can take a break while looking down the mountain and taking in the breath-taking view of the whole of Ranau and beyond.  I really think it'd make a good filming set for a romantic movie.
So – that was about it. Mount Kinabalu is one of those mountains that are worth climbing over and over again because they'd never fail to impress you with their renewed charms every time. I don't mind doing my 7th climb really.