Bagan that I found out was not really ready for the influx of tourists which have increased so significantly in number over the years. Budget hotels are still very much limited (and Bagan is not really into hostels unfortunately) so coming to Bagan without a pre-booked accommodation can be either fun or disastrous – depending on how you'd take it.
If there was something that I'd learned from my visit to Bagan, it'd be to compromise on my needs and demands. I mean, a very lousy room might still make your some USD30 poorer overnight.
I shared a room with a German guy at a hotel called Glorious Bagan Hotel in New Bagan and seriously, there was nothing glorious about it at all. It was dilapidated as if whoever stayed there before me had checked out 7 months ago or so and yet we had to pay USD40 per night for it. There was a TV but it was just a blank screen probably made for decoration because there was nothing to watch on it anyway.
I did try to look for another hotel the very next day but most of the hotels were full while those that available didn't really meet my requirement for a cheaper (and probably better) room. In the end I had to stick to Glorious Bagan Hotel and with a little bit of panda face, I managed to drag the price down to USD30. Yeah, I know, that is still expensive but then I was in Bagan where I couldn't really demand much.
I spent the first day in Bagan by doing a little bit of temple-hopping with my new found friends. We rented e-bikes for USD12 each with each of me and Rohmi – the German guy – had our own share of an American girl from New York riding along on the passenger seat. Yolanda was very funny and bubbly while her friend Audra was the quieter one.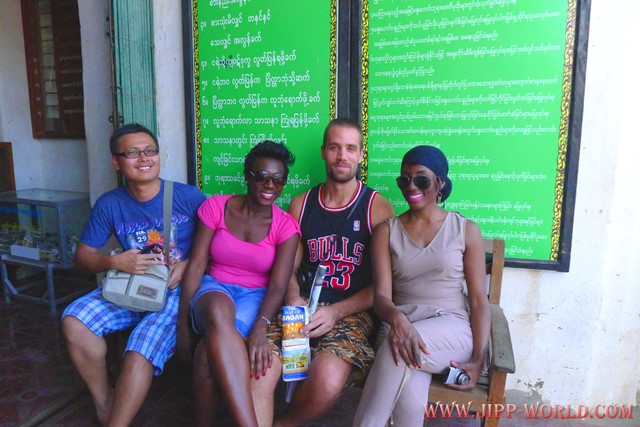 I guess black people are not really a common sight in Bagan that it was almost impossible to go anywhere without commanding too much attention from the locals. I mean, I could see how the locals would really stare at them, as if they were aliens from another planet who have lost their way and ended up in Bagan somehow. Those with cameras would come to ask to take pictures with them. Of course they'd look at me – the only Asian in the bunch – probably thinking that I was  their local tour guide or something so I was spared from all the fuss. Phew!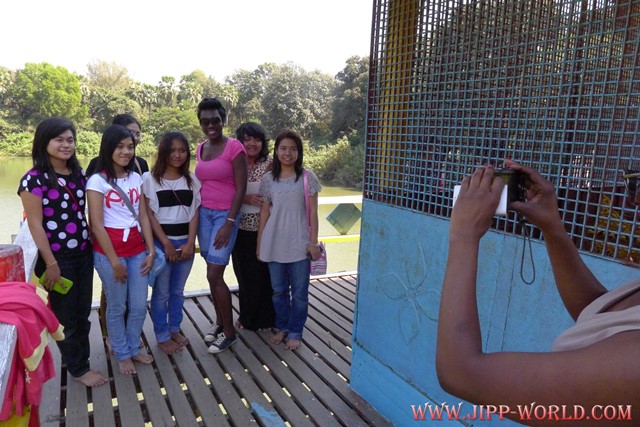 I think they eventually got tired of being asked where they came from because that was usually the opening line when they wanted you to buy something from them so Yolanda would quickly say "I am from Africa and I am very poor". I had to grit my teeth so that I wouldn't burst out laughing. Americans really are as funny and humorous as they are portrayed on TV.
I had never seen so many temples scattered in one area like I had in Bagan. There were so many of them that I could imagine how much money and workforce needed to maintain them all. It still baffled me how it was not inscribed on the UNESCO World Heritage Sites list yet even though the Myanmar Government had applied for it since 1996. I guess it has something to do with the sanction imposed on the country not so many years ago.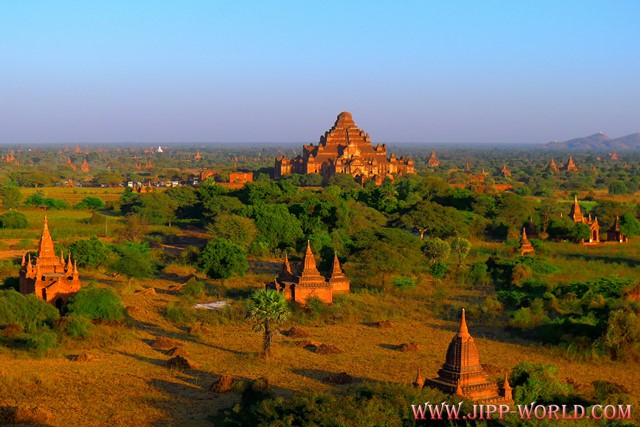 But then, the historical values and the magnificence of the temples speak the volume more than the list itself. The temples are still very much active places of worship – compared to the temples in Angkor Wat which are now nothing more than just a cluster of dead monuments. You are still required to take off your footwear whenever you're entering any of the temples so it's always advisable to wear sandals unless taking off your shoes every now and then is your favorite thing to do.
Of course there's no way you can go to all the temples especially when your stay is quite brief like mine, but there are a few temples of great significance such as the Ananda Temple and Lawkananda Phayar on the riverbank of Ayeyarwady River (or part of).
Ananda Temple was great but it was Lawkananda Temple that made me realize how beautiful Bagan really is. I started off from there with my impromptu travel buddies and it was there that I ended my days in Bagan where I got to see one of the most beautiful sunsets that I have ever seen in my entire life.
Speaking of sunset-watching, there are some places from where you can watch the sun setting itself behind the beautiful silhouettes of the temples but there's one particular temple where people seem to flock in in hordes to catch the moment. There were more people there than I remember it was when I did the sunset-watching in Angkor Wat.
We went there quiet early but there was no way we could escape the crowd especially when everybody wanted to squeeze in. I had to hang on to one of the pillars to get a good view but I still couldn't save myself from being hit by one of the so many camera lens all pointing at the same direction. I had to give him one of my most ferocious looks to make him back off and it actually worked! LOLz.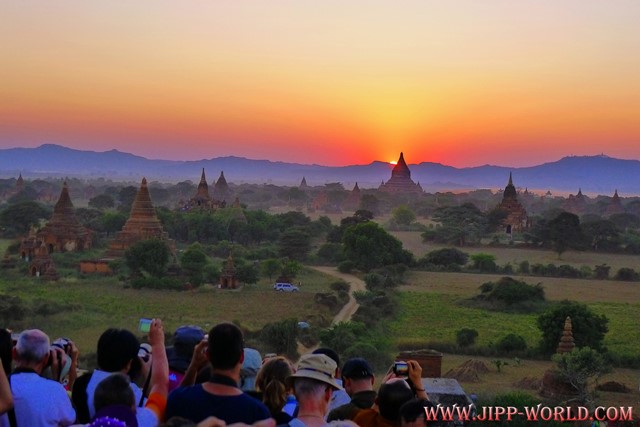 One thing I quickly realized about Bagan was the thick dust in its air. Bagan is so damn dusty it can choke you to death. But then, I'd rather look at it as part of the beauty of Bagan. I was so tempted to wear a mask but then people didn't seem to mind the dust at all so I didn't want to create too much attention by wearing one.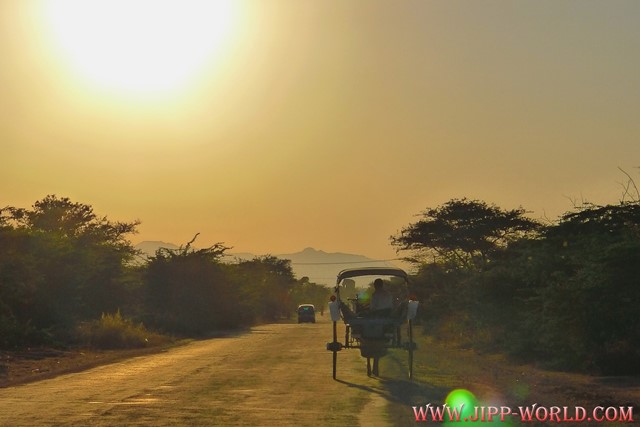 The truth is, I didn't find any place that I could buy a mask from. Heh. One thing I gotta tell you about Bagan is that – it can get quite cold at night so you might want to bring your thick cloth. Don't say I didn't warn you. 🙂
Food in Bagan is not really an issue except for the time it'd take to have your food served. It really commands a lot of patience but then you are in Bagan where everything is so slow including its internet connection which is a complete joke.
There are so many restaurants around to cater the needs of the booming tourism industry. I love to see the variety of dishes that they put on the menu. Malaysia seems to have solidified its name in the Burmese culinary industry because every now and then I'd see foods 'cooked the Malaysian style' on the menus at some of the restaurants that I went to.  Of course Thai and Chinese foods still top the list in terms of the number of foods available.
Just like most of the countries in South East Asia, Myanmar too has its own local beers. The most commonly seen are the Myanmar Beer and Mandalay Beer. I'd say Myanmar Beer is the better pick between these two. There was something about the smell in the Mandalay beer that I did not quite like.
But still, it is much better than our beers in Malaysia (and we don't even have our own brand anyway). One of my best discoveries in Myanmar came from Rohmi – the German guy – who mixed beer with Sprite. I really thought it was a joke at first, that this German fler wanted to test our sense of humor, but then when I was convinced to have a taste; it was so damn good I had to order another bottle!
I really had fun with the guys but I knew I had to disengage from them because that was what traveling solo was all about – to travel on my own. They had a little bit of row with the hotel owner so they decided to check out the next day. I think it was more like a problem with Western tourists. They'd come to places like Bagan expecting the cheapest of things.
They don't even bother to do any research pending their trip so whatever price presented upon them is considered a rip-off. I did do a little bit of research before coming to Myanmar so I already knew what to expect – the range of prices etc – so I wasn't really surprised. I think a big chuck of the profit of every business in Myanmar would go to the government hence the steep price of accommodation. Of course that is nothing more than my own theory.
I'd consider the people of Bagan are still very much genuine and sincere, and the influx of tourists has not really spoiled them – at least for now. But of course, countries like Vietnam and Indonesia where rip-offs are quite common have made tourists and travelers become more suspicious of anything than they should be. I have no blame for them at all though. I have had my own share of rip-off encounters.
Somehow it felt good to be on my own again on my second day in Bagan. I rented an e-bike to take me to places – without any specific itinerary in hand – except for a place called Mount Popa which I really wanted to go to. Of course I was very stupid to even think about going there on an e-bike in the evening, considering the distance and how the bike is solar-powered. I might be able to reach Mount Popa but coming back when it is already dark is not a good idea at all. Getting stuck in the middle of some foreign land at night was not something that I wanted to experience in Myanmar.
So, seeing no chances of going to Mount Popa (uhuks!) when I had to fly to Inlay the very next morning, I decided to just take a ride to wherever I felt like going. I rode to the Old Bagan, all the way to the riverbank where I was instantly mobbed by a group of kids all trying to get a pinch at me before their mother came shooing them away with her high-pitched yelling. LOL.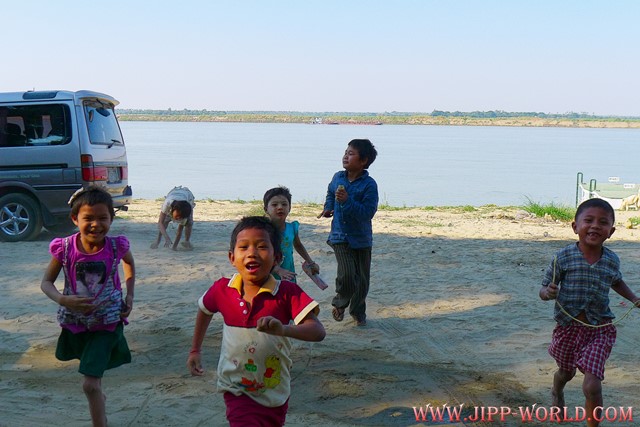 It must have been so long since the last time I traveled solo that I stupidly forgot to bring something quite vital to any solo traveler – a tripod. Bagan that I found out lies in a very sparsely populated area so every now and then I'd find myself having the place all to myself which was very good but then it took somebody to take a picture for me – a role that a tripod would have happily played for me. I had to be creative in putting my camera where it could stand and click on its own – on a fence, a rock or even on the passenger seat of the e-bike. Damn. LOL.
I would never forget my moments in Bagan. That place is very relaxing and spiritual and you'd see how the people there seem to go on their own pace without much care of the world. You'd see a horse cart stomping by, a shepherd herding his/her sheep, or people having coffee and playing chess under a tree.
I ended my days in Bagan by coming to the riverbank of Ayeyarwady River and watched the sun setting itself behind the wall of the mountains. It really was a beautiful moment – and somehow emotional. I stayed until it was too dark to stay around.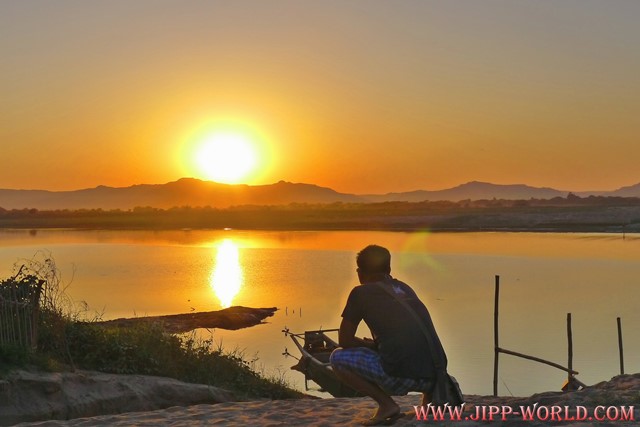 What a perfect ending to my very beautiful trip to Bagan. I don't mind coming back for more at all.