Perak seems to be a state of so much interest to me of late ever since I went to Taiping and later Lenggong and finally Ipoh where I discovered so many amazing things whose existence I had had no idea of before.
I had long heard about rafting and caving activities in Perak but I didn't really give them a serious thought probably because I knew I was going to be here in the Malaysian peninsular for a loooooooooooooooooooooooooooooong long time. LOL.
The opportunity of going there seemed to have found its way over to me when I received a message from a friend asking if I was interested in joining him and some other friends to do rafting and caving in Kampar, Perak.
He actually found a good deal at groupon.my which is something of a craze among Malaysians since recently. Without giving much thought, I gave him a big YES.
With all the technologies that we have nowadays, it wasn't hard to find Gopeng. One of the rafting staffs was there waiting for us just after we made it past the Gopeng toll plaza. I could not believe my ears when he first opened a conversation with me in Dusun. I mean, they really are all over nowadays, aren't they? 😀 
He led the way for us through a long and winding journey across farming villages, oil palm and rubber plantations. When we finally arrived, it was like we were in the middle of nowhere. He led us to a hostel room consisting of at least half a dozen bed bunks with one super-spacious bath room.
It wasn't until the next day that we found out how beautiful the place is. Located on the riverside of Kampar River, the fact that you're surrounded by lush greenery makes you feel like you really is like in the middle of nowhere.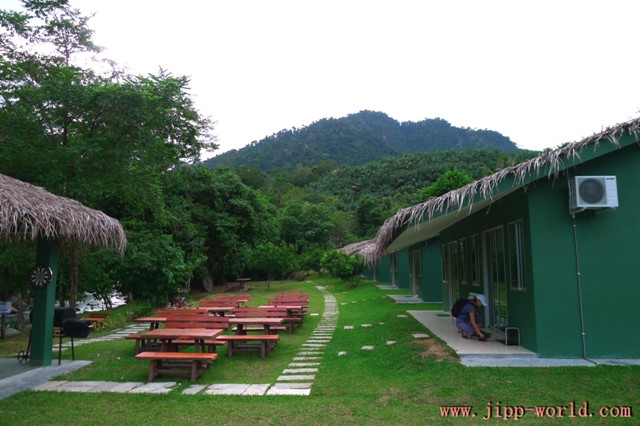 Our stay at the hostel was inclusive of breakfast and we could not believe our eyes when we were served with a big spread of dishes all for nobody but the five of us. The breakfast was far better than those lame breakfasts that I'd usually get served with whenever I go backpacking.
So, we started the day by getting on a bus ride to Gua Tempurung. It felt so good to be riding across green plantations and some outback areas. People were already piling up when we arrived at the entrance to the cave. In fact there were so many of them that they had to be separated into groups with different entry times so that the cave would not be overly crowded.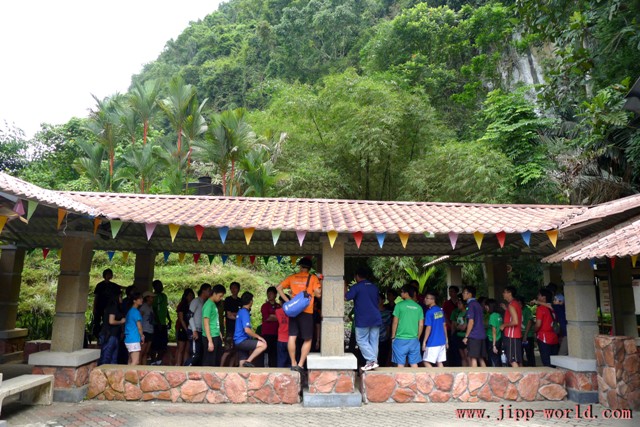 There are four different tours with different level of difficulties and prices to choose from. Our tour was pre-determined to fit well with our schedule since we had to do the rafting later in the day. It was all in the groupon. I had come to find out that you can actually just drive up there, pay for the entrance free and join the tour without having to book first. It was even much more doable if you have your own car.
Gua Tempurung had certainly amazed me from the very first step that I took into the cave right to the last before going out into the open again. It is so big that you'll be engulfed in its massiveness in no time at all if you don't have somebody to guide you around.
We were placed in the same group as a bunch of colleagues whose hilarity made our caving so much fun and exciting. They were multi-racial but the team work that they showed was so reflective to how a 1-Malaysia society should be.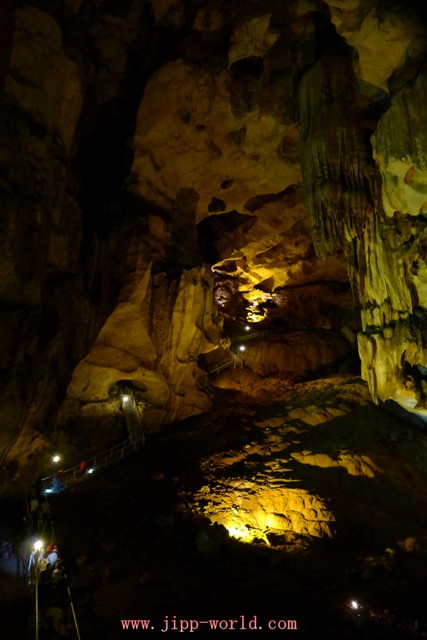 We shouldn't have let them know that we were from Sabah. The moment they knew, they began to ask us to do each of the challenges before they did which they claimed was 'a sign of respect for the people from the far'. At first I enjoyed it but when they seemed to enjoy experimenting each of the challenges on us, I began to loathe it.
The caving begins with an easy walk on a concrete walkway that takes you deep into the cave, past amazing rock formations – both stalactites and stalagmites alike – and just like in any other caving tour the guide would tell you stories out of the rock formations to spice up the tour.
Of course what amazed me most were the ages of the rock formations. It takes hundreds of years for a few inches of growth so imagine how long did it take for the pillars to take form into meters of length as they are nowadays.
The end of the easy walk marked the beginning of the real adventure. We were led on to a series of challenges which among others had included sliding 20 feet down a rock with not-so-smooth surface. I was so glad that I didn't put on a tracksuit which was what I had in mind when I changed earlier at the hostel. Phew!
The challenges were actually not really that difficult but the fact that we were surrounded by an overly concerned bunch of people made the challenges more challenging than they actually were. I mean, you could just jump down but they wouldn't allow you to which I later suspected was a set-up intended to make the caving more adventurous than it actually was. LOL.
But it was fun and hilarious really. There were times when we had to duck down and crawled our way off while totally immersed in the water. The fact that I had a camera with me made it quite tiring because I had to make sure that it wouldn't touch the water, which was almost impossible to do.
I gotta tell you that caving at Gua Tempurung is a very wet activity so you really don't want to risk your camera (or anything electronic) by going there and expect your camera to be safe and intact. There's no way you can protect it from the water when the activity includes so much crawling in the water and even swimming at certain points.
You have to be really really in the water to make your way forward because the ceiling is so low it only allows a little bit of space for you to breathe.
And you really don't want to hit the ceiling with your head because there are so many sharp rocks jotting down from it so ready to rip your head apart if you are not being careful enough.
I couldn't help but getting annoyed when some of the group members kept yelling "Mind your head!" every now and then when my stomach also needed to be minded on. Whenever you think of the best outfit to wear when you are going for caving at Gua Tempurung, always bear in mind that your stomach needs to be protected as well. By the time I came out into the open again, my stomach was horribly bruised. Damn!
Now that was what a real caving meant, and not just jaywalking inside a cave with bright lights and wide walkways. By then it was already way past lunchtime so we decided to have lunch at the only restaurant there so that we could store in more calories for our next adventure – water rafting ! Yippie!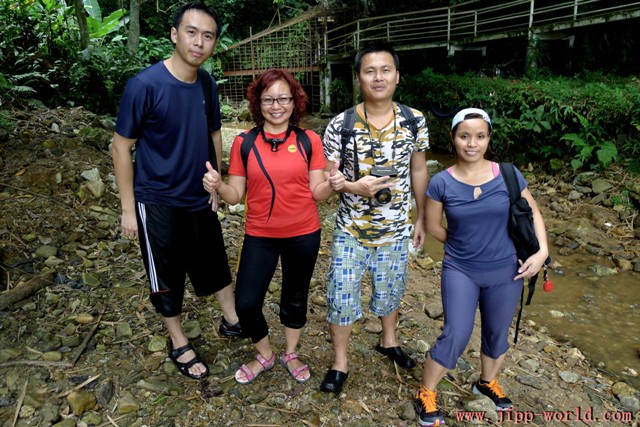 A little bit of guidelines on caving at Gua Tempurung
Bring a torch light with you, you really need it. You don't want to tag too closely behind somebody's ass to keep track of the group. It's best that you've got a waterproof one since it really is a very wet activity.
Be in the right outfit. You may want to wear something like the LGBT type so that it won't fold up and expose your stomach with the coarse pieces of stones while skimming in the water.
Be in the best outfit. For Christ's sake, avoid wearing tracksuit at all cost. It involves skimming down not-so-smooth rock surfaces so you really don't want to end up ripping your pants off and become the laughing subject of the whole entourage.  You might want to wear something like Jeans or khakis at least.
Don't be stupid to bring your DSLR unless you've got a 100% water protection. I had my camera air-tighted with some Korean-made waterproof protector and yet I was still so afraid that water would still find a way to sip through it somehow. Thanks God it didn't. But the pictures didn't go out quite well.
There are restaurants there at the mouth of the cave but you gotta bear with the limited choice of dishes.  Else you can drive up to Gopeng town where restaurants are aplenty.