So I went to Chiang Mai in Northern Thailand last week. I had always wanted to go there for so long but somehow I felt that the flight tickets to this part of Thailand were always too expensive (at least for a 2-hour flight). As fate would have it, a lazy browse through the Air Asia's website had led me to a return flight ticket at a very affordable price so I just grabbed the opportunity of purchasing it before it went away again.
The reason of the low price is probably because July is considered the low season in Northern Thailand due to monsoon season. But based on my experiences in the past the world climate has changed a lot over the years and quite so many times have I found out that what is predicted to the monsoon season would turn out to be a dry one. Global warming really is taking a toll on the world climate.
I stayed at Chana Place, a beautiful hotel located in the Old City. The room is very spacious, clean and comfortable and it really is value for money.  It is tucked away in a quite corner but not so far from Samlarn Road which is one of the main roads in the Old City.
I landed in Chiang Mai just in time to catch the Sunday market. The market is so big it actually takes up at least half of the streets in the Old City. It was so big (and super crowded!) that I turned back and returned to my hotel when I had hardly covered even half of it. But then if truth is to be told, I was not really impressed by the things that they sell at the Sunday market. Most of them are more like souvenir stuffs and I just felt that it was too early to buy souvenirs.
The need to look for a currency exchange store at night had led me to the night market which is located outside of the Old City. I was not really interested in buying anything so early so I ended up eating and drinking beer at one of so many eateries in the area. I think the night market is a little bit better than the Sunday market in terms of variety and material quality. It is here that I bumped into the Hard Rock Café of Chiang Mai which I did not even know existed.
While my idea of exploring an old and historic city like the one in Chiang Mai is by walking on foot, I think walking from one place to another would waste too much time considering the fact that I may have to walk on the same streets over and over again (the old city is quite small). Besides July in Chiang Mai is so damn hot I would be badly battered by the sun and probably melt away before I reached the first temple – which is just around the corner from my hotel anyway.
I mean, I've been to quite a number of places where the sun is extraordinarily intense – and even in Jaipur where I thought the sun could never get any hotter – but seriously, the sun in Chiang Mai that I had experienced was just too hot and pierce.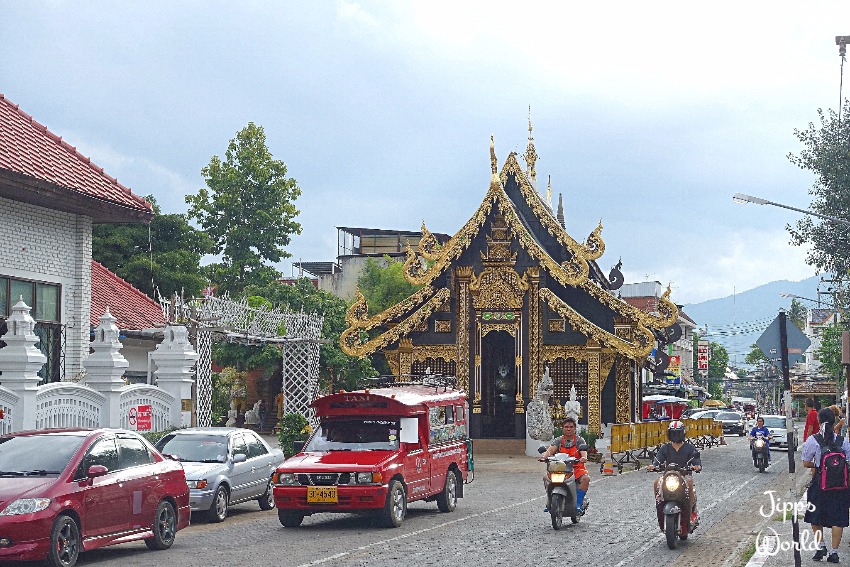 So I rented a motorbike for 200 baht per day (MYR25!) which is probably one of the cheapest rental rates for a motorbike that I had ever come upon in all my years of traveling in South East Asian countries. A valid license was required, and I did not mind telling the renter that I did not have one.
"Oh, don't worry. You can always pay the police 4000 baht and they'll let you go" he said with a grin.
Chiang Mai is probably the only city in South East Asia where you'd bump into a roadblock every now and then. I bumped into one once and was flagged down so quite on an impulse I showed the police my Malaysian driving license and for a moment he looked at it very very closely and took it to his superior when he was not sure.
I actually expected that I'd be asked to go to the counter where a big crowd of traffic offenders were already lined up. Instead they let me go, probably because they did not really understand what was written on the driving license. Perhaps, it is good that most of the people in Thailand still can't understand English after all.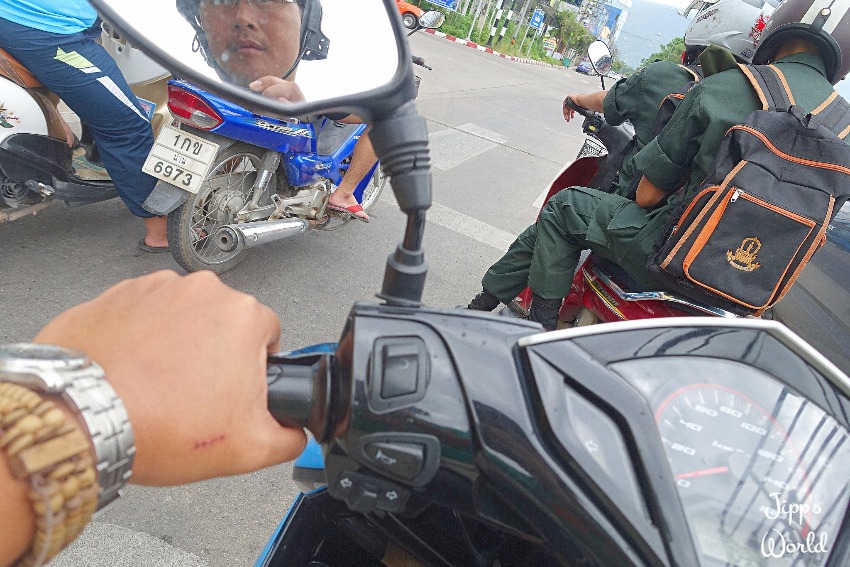 Chiang Mai is mostly about temples. There are so many of them all over the Old City and beyond. Most of them look quite similar to those temples in Laos may be because there were once ruled by the same emperor. I went to the better-known ones, from Wat Phra Singh to Wat U Mong then to Wat Chiang Man which is oldest temple in Chiang Mai. It is also my favorite among them all. Looking at how good the conditions still are despite the fact that it was built some 700 years ago, it's hard to imagine how it had stood the test of time.
I ended my temple tour by riding the bike up to Wat Phrathat Doi Suthep which is located high on the hill that overlooks the city of Chiang Mai and beyond. Just like most other roads in Chiang Mai and probably Thailand as a whole, the road surface to Wat Phrathat Doi Suthep is very smooth; in fact it was so smooth there were times when I really feared I might skid off.
The fact that it was quite a zig zag did not help at all. People were still flocking in and out when I arrived at the entrance to the temple quite late in the afternoon. I tip-toed my way up on the long stairs and it was quite of a struggle before I managed to reach the temple at the other end of it.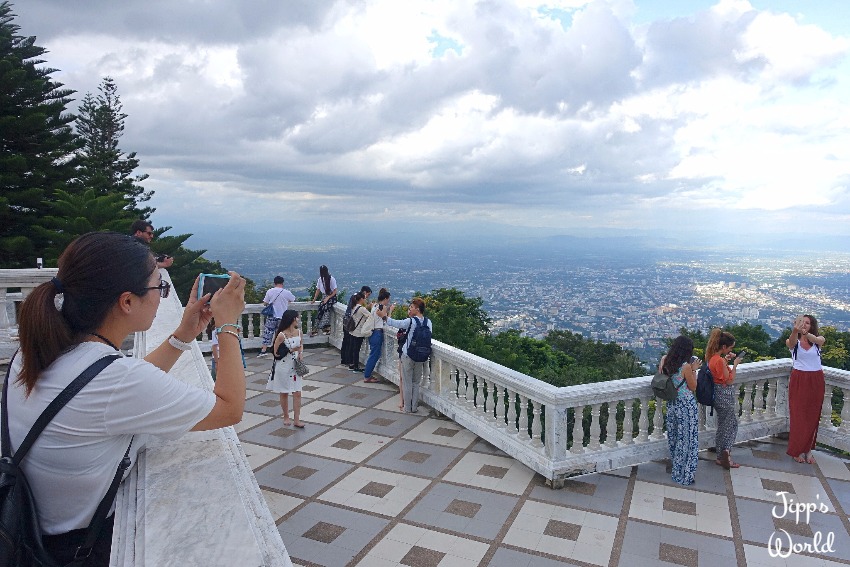 The temple itself is quite impressive but the view of Chiang Mai from there did not really wow me. I mean, Chiang Mai is not really a beautiful city to be seen from a distance. Although Chiang Mai is like the 2nd or probably the 3rd biggest city in Thailand, the gap between Chiang Mai and Bangkok is very distinctive. Bangkok for me has one of the most beautiful cityscapes in South East Asia.
The Old City is a square area bordered by canals that separate it from the outer Chiang Mai. The streets can be quite confusing and although I had a full access to Google Map while on the go, I'd still find myself trailing behind my own tail (which I didn't have of course). It is here in the Old City where most of the attractions are.
I also had a couple of museums in the list – but Chiang Mai National Museum that I really wanted to go to was close when I arrived there. I had first questioned what kind of museums is closed on Mondays and Tuesdays but then when I come to think of the fact that it is open on weekends, I think it is quite justified. I mean, the museum staff surely needs some rest too.
Luckily the Lanna Folklife Museum was open so I had the best of time learning more about the traditions and cultures of the people in the North of Thailand when it was still part of Lanna Kingdom. It was quite obvious to me how Buddhism took a very big role in influencing their ways of life may be because the Kingdom itself took form when Buddhism had long established itself in the region.
I spent my last day in Chiang Mai by joining a day tour to the Doi Inthangon National Park. I paid 1200 baht for the tour which I booked via the hotel. I could have made a cheaper deal if I booked it directly to the company but I guess it was one of those times that I did not mind paying a little bit more to save me from all the fuss of booking it myself. Somebody in the tour told me that he only paid 1000 baht so I guess the hotel took 200 baht off the deal which was alright to me because nothing is free nowadays.
The tour took us to a couple of waterfalls but having been to the land of thousands waterfalls earlier this year it is no longer easy to impress me when it comes to waterfalls. After going to a small village whose residents plant and grow their own coffee, and weave their own clothes, the van took us to the highest peak in Thailand. So just like that I found myself standing at the highest point in all of Thailand. I have never been to the highest point of a country without even breaking a sweat before so it was quite an experience to me. LOL.
The tour also took us to the famous pagodas which would have been one of the highlights of the whole tour if not for the bad weather. It was very foggy and windy when we got there and visibility was almost zero. I did not get to see what would have been a very beautiful garden that surrounded the pagodas but at least I could always tell everybody that I have already been there. Heh.
I spent my last evening in Chiang Mai by taking a seat at one of the food stalls near my hotel. I ordered a big plate of grilled pork intestines and a bottle of Lao Beer to begin with. It was such a perfect combination I actually ended up ordering another plate of grilled pork intestines – and a few more bottles of Lao beer.  By the time I finished the last bottle, I was all tipsy. I tip-toed my way to an adjacent massage parlor where I paid for 2 hours of Thai massage. I really think it was too long though. And I did not really enjoy it.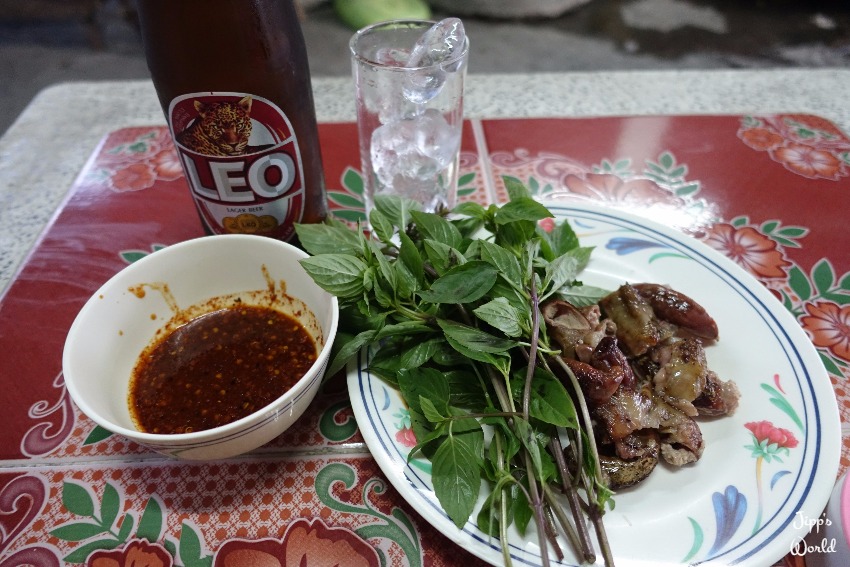 So, that's about it. Chiang Mai might be considered the more beautiful sister of Bangkok, just like how people consider Melbourne the more beautiful sister of Sydney but somehow I like Bangkok and Sydney more. If I were to come to Chiang Mai again, I'd probably go further North – say – Chiang Rai and the infamous Golden Triangle.