Climbing up to the crater of Mount Ijen – the active volcano in the farthest east of Java island – was certainly one of our top priorities when we traveled to the Indonesian island of East Java. To make things easier for us, we asked the guest house – the Arabica Guest House – to arrange the transportation to the foothill of the mountain and it turned out to be so hassle-free. We left very early, at 1.30 am so that we could climb up to the crater in time to catch the famous Blue Fire, the fire that gushes out from the rock crevasses at the crater which can only be visibly seen when it is still dark. We requested for the hotel to prepare a little bit of meal for us so that we'd have some energy to do the climbing.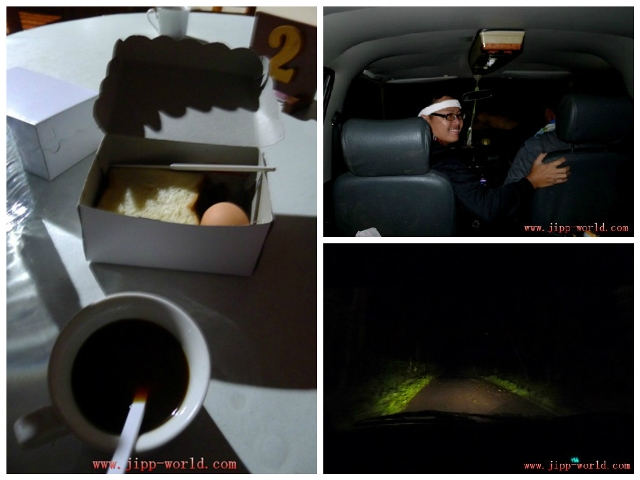 We arrived at the starting point of the trail to Ijen Crater when it was still very dark and not a single human was at sight. Our driver had to knock on the door like a hundred times, running from one house to another before somebody actually responded. Ijen was out of any phone coverage so doing a pre-arrangement with any of the tour guides at the foothill of the mountain was not quite possible. The guides had to be prepared all the time just in case somebody suddenly turned up with a bunch of climbers like we did.
Our guide had Agus for a name. He was cruelly woken up when he was still deeply asleep. He immediately jumped off the veranda dashed off right away in a very brisk walk so we had to half-run our way to keep up with him. We could only talk to him but we could not really see his face because it was still so dark. It really was like talking to a moving shadow or something. I couldn't help but trying to imagine how his face was like based on his voice – and smiled at myself when it turned out to be so wrong. He was much younger that I thought. LOL.
It wasn't really the toughest trail but it did require some stamina. We were going quite fast because we didn't want to miss the Blue Fire so there was a lot of heavy breathing going on. Our guide despite his heavyset seemed to do it without much difficulty. He gave us some tips on how to make climbing much easier by doing the right breathing techniques. Every now and then we'd bump into a sulfur collector who was marching his way up to the crater to collect sulfur in the wee hours when the smoke had not really spread out and it was still relatively safe to breath the air.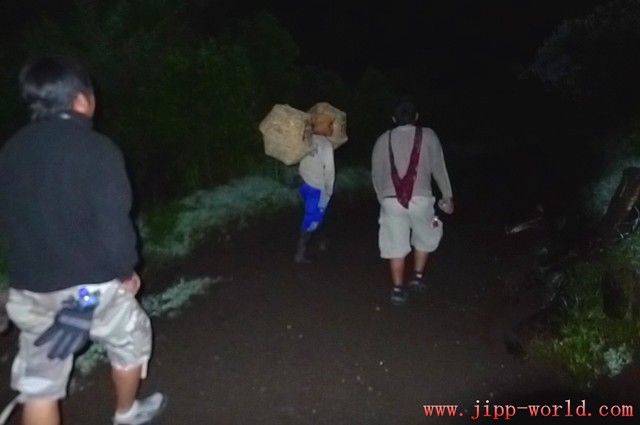 Ijen is one of the biggest producers of natural sulfur in Indonesia. Despite being in operation for so many years which is said to date back to the colonial time, the collection of sulfur still maintains its very traditional by way of carrying them on the shoulder. The job requires each sulfur collector to carry an average of 70kg (some up to 90kg!) of sulfur up to the rim of the crater and later down the mountain where it would be weighed and paid for accordingly.
The job is so tough that it was once considered the worst job in the world. With such a rough working condition, one would expect them to be in all the seriousness of the world but no. Instead, they were so friendly, even joking among themselves and giving us words of encouragement to keep us going. It was so unbelievable really.
It was still dark when we arrived at the rim of the crater. Looking down, we couldn't really see much. We had to descend down to the bottom of the crater to take a closer look at how the whole process of collecting the sulfur was carried out. I gotta say it was quite exciting but then it was quite dangerous too.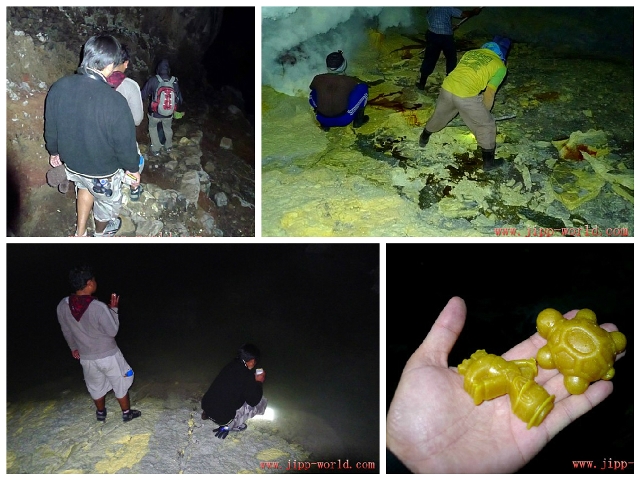 We had to be very careful not to stray off the trail and put ourselves in danger. Agus told us about incidences in the past when tourists strayed off and fell right to their death. Looking at those jagged rocks down there, it was not at all surprising. Getting closer to the bottom of the crater where the workers were doing their job in the most arduous conditions,  I couldn't help but feeling overwhelmed by it all. Everything looked so surreal to me. The smoke was choking and smothering so we had to cover our mouths so that we would not inhale too much of the smoke which is heavily laden with sulfur (it's highly detrimental to health!).
The whole process of collecting the sulfur was brisk and fast. Some of the workers would break the sulfur into pieces, some would collect and put them into the row of baskets while the rest would carry them down to the foothill of the mountain. I noticed how one of the workers was working over something somewhere in the corner. I came to take a closer look to find out that he was pouring hot liquid sulfur into metal molds which would then solidify into a variety of shapes. I bought some of them to be brought back to Malaysia as souvenirs. I mean, how often do you get to get something so fresh from the crater of an active volcano? Not so often for sure. I was for a moment worried if it was legal to bring them back to Malaysia but apparently they went through the scan check at the airport without any problem at all. Yippies!
Agus led us further down the crater, towards the sulfur-laden lake. The water was quite warm but very much touchable. I wish I could do a little bit of skin-dipping right there but of course that was not quite in the agenda. LOL!
We had to climb back to the rim of the crater because the smoke was thickening and spreading out as the dawn was nearing. I could already feel my throat itching because of the highly sulfuric smoke so I didn't want to be there longer than necessary. As we ascended back to the rim, the sun was beginning to show up from behind the mountains. It wasn't long before the golden sun-rays came illuminating through the thickness of the morning mist, revealing the spectacular view of Ijen that would stay in my head for a very long time. It really was different from any of the places that I went to anywhere else before. It felt like being in another planet or something.
The morning mist was still thick but every now and then the winds would blow them away and reveal the gorgeous blue lake beneath. The cotton-like patches of clouds that spread out for as long as my eyes could see and the magnificent mountain that jotted out over them made the whole combination such a perfect picture for a postcard.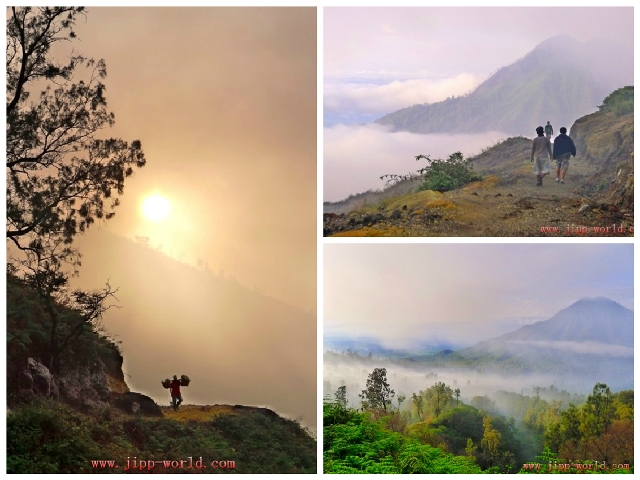 We must have spent at least a couple of hours taking in the view from the rim of the crater before we decided to descend. Of course the amazing view was still there, revealing more and more of its beauty as the sun rose higher and higher up over the horizon.  Descending was quite easy because we didn't really have anything to catch up with.
Back at the foothill of the mountain later, we rewarded ourselves with a pack of Indo-mee, my favorite instant noodles in the whole whole world and of course a cup of hot coffee. Me and Frank were both smiling knowing that we had accomplished all of our missions in the East Java. Yippie!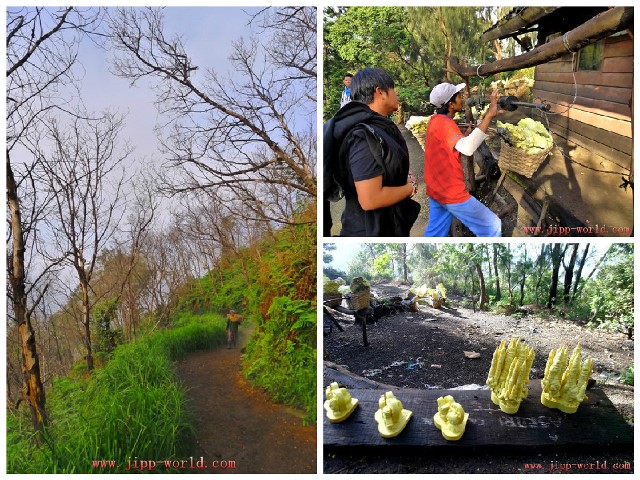 Despite the beauty of Ijen Crater, the biggest surprises actually came to us later. The driver suggested a little bit of detour to a waterfall and later to a hot spring – of course with a little bit of additional fee to which we happily agreed to pay for.
We continued to drive along a heavily graveled road that took us further into the plantation area, past beautiful villages on hillsides and beautiful valleys with spectacular view and picturesque surroundings. Being in the middle of nowhere gave me such an overwhelming feeling that I can't even put in words. I imagined myself as Ian Wright in World Trekker or probably Anthony Bourdain in No Reservations, only without the existence of a camera set – a rolling one – to film my every movement. Ahaks! *blushing*
After such a rough and grueling ride, the car stopped at the end of the road. The driver led us to a trail that took us across farms and bushes. I could not believe my eyes when he pointed at a hot spring which appeared to be streaming right out from under the trunk of a strangular fig! I had never seen anything like it ever before.
But the waterfall surprised me even more. Before I went there, I really thought it was going to be a waste of our time knowing that we also had plenty of waterfalls back in Malaysia. But the waterfall that they've got there is nothing like any of our waterfalls in Malaysia. It's like a big river whose flow was suddenly cut short at the edge of a cliff sending the whole of it galloping down the ravine in such a maddening intensity.
I was so amazed at the sight of it that for a moment I was just standing there with my mouth gaping open. The intensity of the river and the amount of energy that it must be bringing with it made me shiver in amazement. It wasn't the kind of waterfalls that I could just poke my head into like how I'd usually do whenever I come to a waterfall. I'd get my head instantly chopped off if I did that there. LOL! Despite all the fuss of going there, my encounter with the waterfall turned out to be such a worthwhile experience.
We left from there with a reassurance that East Java really does offer so many amazing things if we are willing to dig deeper. Of course what the driver had brought us to later completed the whole journey and experience. What is supposed to be a very rare encounter back in Malaysia is a thing of abundance in East Java.
Indonesia is probably one of the countries with the most number of hot springs in the world. It is such a privilege to have one of them all to ourselves. Nothing can be more perfect for an ending to an amazing journey to Ijen Crater than skin-dipping (literally) in the warmth of a hot spring with the howling sound of a river lullabying me into a much needed nap. Seriously, I could stay right there forever. 😛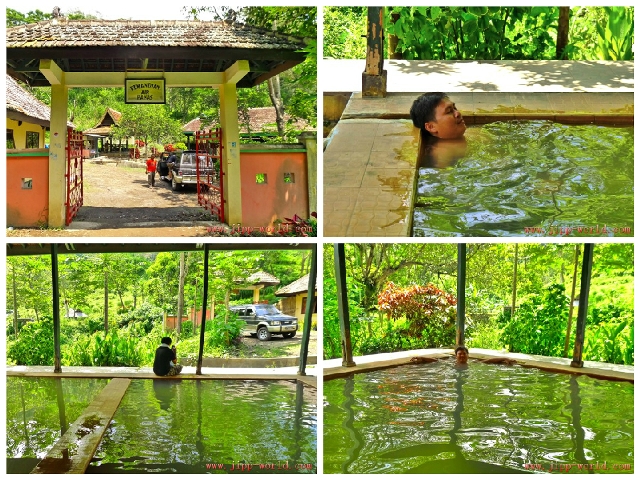 But of course, we had to go back to where we came from. We returned to Arabica Guest House to pack up and get ready to leave. We actually had the option of taking a van to go back to Bondowoso but there seemed to be a lot of uncertainties regarding the departure time and all. There was no assurance that a van was going to turn up at all so we decided to fish some 350 rupiah out of our pockets to pay for a transport back to Bondowoso.
It was hard to finally have to say good bye to the staff of Arabica Guest House. They were so friendly that it was so easy to be connected with them in such a brotherly (or sisterly) way. As usual, I promised to come back to Ijen again although there was no way of knowing if I could ever come back again especially when I still had hundreds of places in my bucket list all waiting to be ticked off. Uhuks!
But seriously, Ijen had turned out to be such a pleasant surprise. It was there that the magical phrase 'off the beaten track' was best defined.
I would never look at Indonesia like the way I did before I went to Ijen.