So, I have just returned from Indonesia to tick something off the bucketlist – this time to the West of Sumatra, an island just on the other side of the Strait of Malacca from the Malaysian Peninsular. With over 130 active volcanoes scattered all over the country, Indonesia has the most number of volcanoes than any other country in the world. Of course, nothing can be more satisfying than conquering the highest and mightiest of them all – the one and only Mount Kerinci!
We landed at Minangkabau International Airport, amid the haze which was surprisingly not so bad compared how it was back in Malaysia. Sumatra might be the source of the haze but then it will be blown away to other parts of the region and almost more than not the receiving end would be Singapore and Malaysia. It's been a never-ending problem that plaques the region for many many years now and there seems to be no solution to it – yet. Grrrrrr!
We were welcomed by our tour guide at the airport. He had Rapani for a name and I actually found out about him on TripAdvisor. Being a sailor who spent quite a bit of his time sailing from one country to another when he was younger, I found him to be quite an amazing guy who seems to know how make our trip a very enjoyable one.
It took us about 7 hours to travel from Padang to Kersik Tuo at the foothill of Mount Kerinci with a stop at the lake of Twin Lakes (Danau Kembar) to have lunch. It might be a long ride but the beautiful scenery along the way made the time pass by quite unnoticed. Of course, it's always good to have Nasi Padang at its very own origin and no matter how famous Nasi Padang is even in Malaysia, nothing can beat the original. Heh.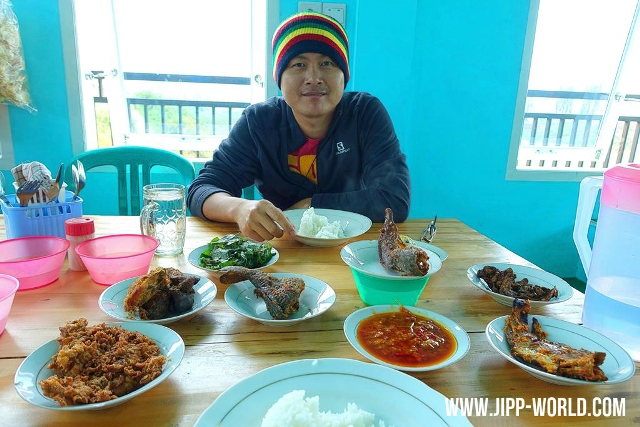 We stayed at a guest house called Wisma Gunung Tujuh Homestay and Resto at one of the villages in Kersik Tuo. The host was a lovely pair of husband and wife and their son who is a student at some college in Padang but was back in Kersik Tuo for the Adha holiday. Kersik Tuo that I found out is a beautiful farm village with most of its population depends so much on agriculture. Much of the areas around the mountain are dominated by expansive tea plantation which was inherited from the Dutch that once ruled much of Indonesian archipelagos for more than 3 centuries.
We took a little bit of time to take a walk around and being strangers in a community who seems to know each, we couldn't avoid the attention. They'd smile, wave their hands and those who were driving past would even honk their cars in a very welcoming gesture. We'd stop every now and then to have a conversation with some of them and they were so delighted to have us around. Some even offered to stay at their place. "Tinggal aja di rumah. Ngak perlu bayar apa-apa" said one of the ladies. Again – I was so overwhelmed by the warmth and welcoming manners of the local people in Kersik Tuo.
Without wasting too much time since we only had a few days in Indonesia, we went to climb the mountain the very next morning.  After a very fuss-free registration at the foothill of the mountain, we were all set to do the climb. One thing about Mount Kerinci that I found out about was that it is part of Kerinci Seblat National Park – a UNESCO World Heritage Site so it really was like shooting two birds with one stone. I've always been a big fan of UNESCO Sites and they've been my main deciding factors in choosing my destinations whenever I go traveling. But then, it is also home to a large number of Sumatran Tigers which made the climb quite a nerve-wrecking one.
The beginning of the trail was quite easy. I mean, it's always like that. We started off by walking across a farm and the lush greenery only started after we made it past the gate called Pintu Rimba. I would say the forest that welcomed us at the foothills was very beautiful. Trees jotted out among thick layers of vegetation on the grounds that I could almost imagine what creatures that they have crawling and slithering beneath those layers.
There were a few stops along the way and we stopped at what was called Shelter 2 to enjoy our lunch pack which was prepared by the kind lady at the guesthouse. The real challenge actually started from there. The clouds started to turn grey and it wasn't long before the rain came pouring and turning the trail into muddy dirt. In a way, I was quite worried that it'd make our trekking more difficult but in another I was hoping that it would drive the haze away so that we'd get a clear view of everything especially when we go for the summit the very next day.
It was quite slippery that we had to use all the skills that we had picked up from years of trekking in other parts of the world. With an umbrella at hand, I'd usually use it to protect myself from the rain and avoid getting drenched but at Mount Kerinci it didn't work quite the way I wanted it to. Apparently, climbing Kerinci involved a lot of reaching out to small trees and roots for clambering supports or else I'd stumble back to the ground and probably hurt myself.
The rain had stopped by time we reached the camping site at Shelter 3 and our guide and porter had already set up the tent for us. I noticed how there were only three groups of climbers there were that day which was very much in contrast to the camping site at Rinjani when the porters and guides had to compete in getting the best camping spot because there were just too many group of climbers camping all at one time. Needless to say, we were the only foreigners while the rest were locals.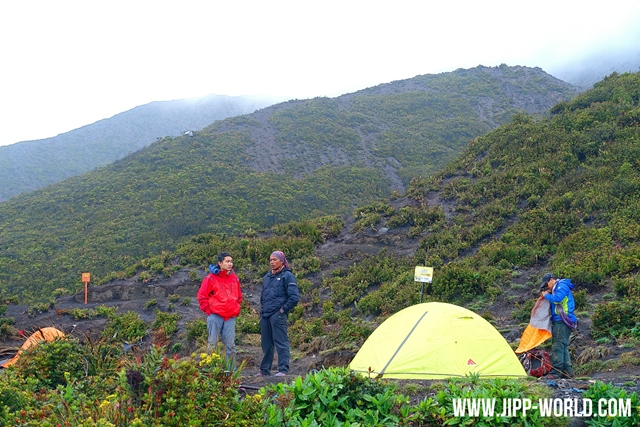 I'd usually take a little bit of time to take a walk around and enjoy the scenery and evening view at the camping site but then it was heavily misty so there was nothing much to see anyway. Even the peak was totally obliterated by the mist so I had nothing much to do but slipping into the tent and waiting for dinner to be served. Then the rain returned, lullabying me into a deep sleep. I'd get woken up every now and then by the loud conversation from the other tent – and their radio of course – but still I was totally at peace with the surrounding. Morning came faster that I wanted it to and before I knew we were ready for the summit attack.
The guide served us with a stack of roasted breads and a cup of hot tea to come with it. They tasted so good that I actually ate them much more quickly than I had intended to.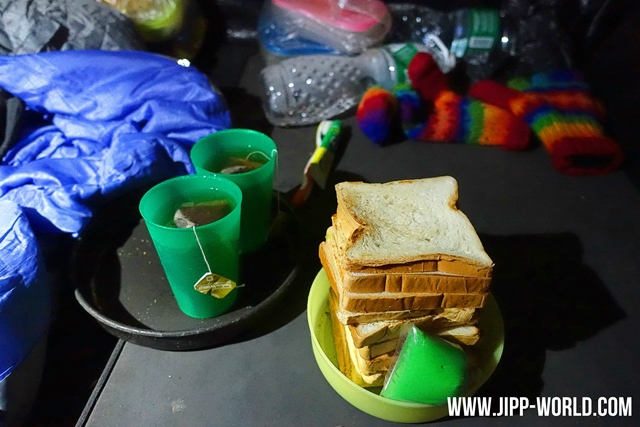 We started off at 4.30am and things didn't quite go well in beginning for both of us. I mean, the situation in which you get a call from the nature is the last thing you want to be at 3000 meters above the sea level when the temperature is freezing cold. May be it was the sambal that we had the night before – which was quite too spicy even to my Dusun tongue – but very much excusable since it was so delicious anyway.
With the air thinning as we climbed further and further up, my breath was so heavy that I had to stop every now to summon up more oxygen into my lungs. It started with a little bit of sandy trail which was still tacky from the rain the night before then it turned into a rocky one but it was full of buried stones that it was quite difficult to ascertain if they were safe to step on or not. We were moving very slowly which reminds me very much of our ascending journey to the Annapurna Base Camp when we had to waggle our way in the snow – except that there was no snow but more like sand and dirt and loose rocks.
By the time we reached the peak, the other two groups were already there taking pictures and enjoying the 360 degrees of panoramic view from the mountain top. We had reached the top of the highest volcano in Indonesia!
The main challenge to be up there was actually the cold temperature. It was very cold that I could almost feel my saliva freeze in my mouth and I almost couldn't talk. It was very windy and you know how cold the winds can be at the top of a mountain. It was worsened by the fact that the whole mountain top was clouded in heavy mist so the sun couldn't get to us. We were on the rim of a huge crater but we couldn't really see the bottom of it because there was a mound that obstructed a direct view.
The smokes actually come out from behind that mound. The view from the top of Mount Kerinci would have been more amazing if it wasn't for the thick mist. I was told how we could actually see the lake of Danau Gunung Tujuh which is said to be the highest lake in South East Asia right from where we were standing on – which was the mountain top of Kerinci. But still it was amazing. The mist gives some kind of mystical look to the whole surrounding. I was blown away.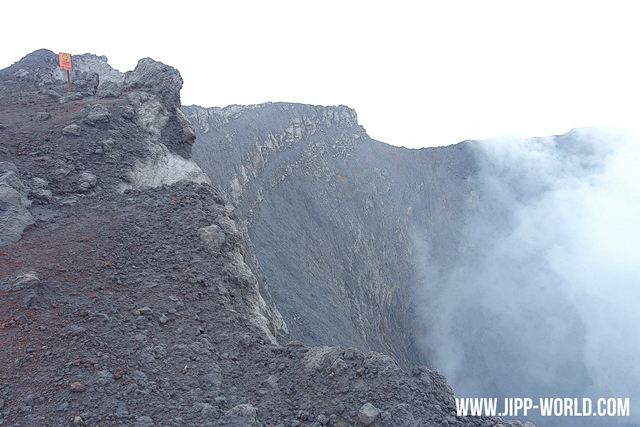 The other group had brought some cooking facility so that they could boil water and make coffee. They handed a cup to me and it gave a little bit of relief to my mouth which felt so numb now due to the cold. Seriously, hot coffee never tasted so good.
I wish we could stay there longer but it really was cold and I was shivering despite the thick Columbia jacket that I had on. After taking photos which include among others me holding up a Sabah's state flag – something that I didn't even plan to do –  we started our descending journey back to the camping site. The other groups had already made their way down earlier so it really felt like we had the mountain all to ourselves.  Mr Rapani our guide explained to us why the rocks look the way they are. He also showed us the memorial plaques that were set up in memory of those who were killed at the mountains. Some of them had never been found.
After another round of breakfast – we packed our things and returned to our descending journey.  Descending has never been my favorite part of any mount-climbing EVER so I had a little bit of hard time trying not to break my legs while doing it. It was when my umbrella had to play the vital role. The decent felt like there was no end to it and I couldn't help but asking every now and then – how in the world did even I manage to make it to the peak?
After quite a number of stops, we finally managed to make it back to the gate and later to the waiting car. Looking back at the mountain which was now clear of clouds and mists, I couldn't believe that only a few hours ago we were up there standing right on top of it. I could say anything to describe the self-satisfaction that I felt while I was there looking up at the mountain but then – it is best to be experienced and not merely described by use of words because seriously, no words can really describe it.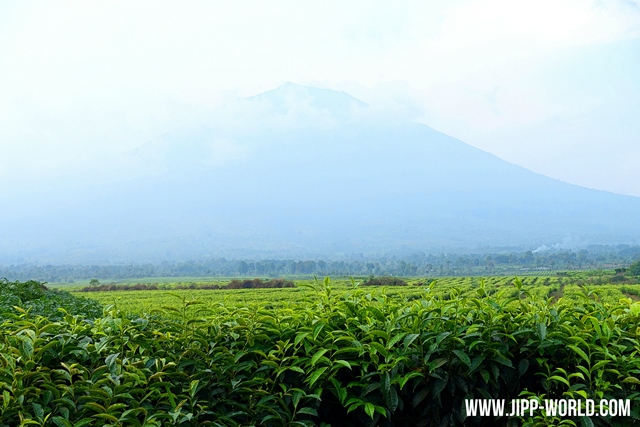 As to which mountain that I'd be heading to next – I haven't really decided yet. Semeru might be calling but a dozen other mountains have been craning their heads up, waiting for me to come over. We'll see.