I had always wanted to climb Mount Trus Madi. I grew up looking at it every morning since it could be clearly seen from the village that I grew up in. One day – I said to myself – I am going to be standing up there and tell the world that I am a man of his words. 😛
Being the 2nd tallest mountain in Malaysia, surpassed only by the over-rated Mount Kinabalu, conquering Mount Trus Madi has proved to be not an easy task. I could easily say that it was by far the toughest climb that I have ever done in my life.
Mount Trus Madi could be accessed from either Tambunan or Sook's side. Since the one via Tambunan was still closed to pave way for some upgrading of road, we were left with no choice but going via Sook which was unfortunately the tougher trail between those two. Much much tougher actually.
But I had to be happy with the choice that me were obliged to take because it gave me the opportunity to go to some of the last parts of Sabah that I had never been to yet. So ironically, they were also some of the least developed.
Thanks to the upcoming general election, the access road was undergoing some extensive upgrading when we went there. I got to see villages that I had heard so much about but never got the chance of coming to. After about 2 hours of riding on a heavily under construction road, we arrived at a village called Kg Sinua. We would be spending a night there before starting our climb early the next morning.
We were warmly welcomed at the homestay by a middle-age man named Laiman who was ironically sporting the red Air Asia's T-shirt. He was one of the pioneers of the trail from the Sook's side so he had to be just the right person to talk to before starting the ascent.
The homestay had actually surprised me. It was so accommodating and comfortable – a complete contrast to the all-basic camp that we would then be obliged to live in for the next two nights up at the mountain.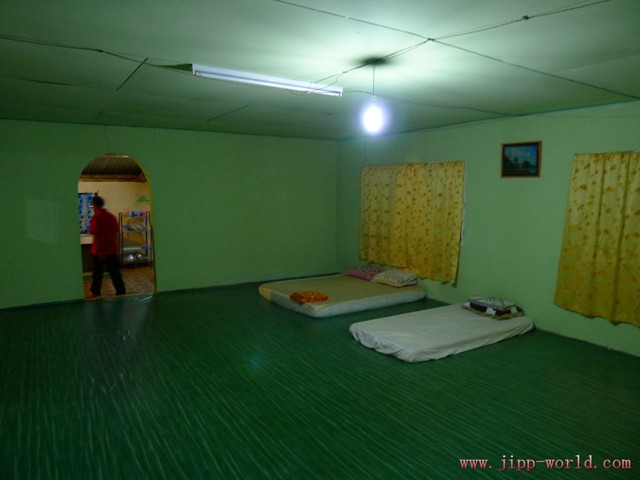 Everything was basically there. There are rooms for those who really need privacy but of course, knowing that we would be camping out in the open for the next three days, we didn't really see why we needed any.
Electricity hasn't reached that part of the world yet (despite having electricity cables wtf)  so the host has to be content with using a generator as the only source of electricity. It will be cut off before midnight though so you might need a torch light to do whatever activity that you want to do after that.
The kitchen was complete. The cutlery was good for at least 8 people. Of course the ladies were fast to do what they were there to do. LOL!
It was so good to be waking up to the sound of chirping birds and walking out into the fresh and cool air of Kampung Sinua the next morning. The clucking sound of hens and the long mooing of cows – they all seemed so welcoming to me. I was a damn happy man.  😀
It wasn't long before the sun showed itself from behind the mountain, casting its golden rays over the countryside to mark the starting of another beautiful day. A horde of buffaloes was making their way past the guest house towards wherever they were heading to. It was the most beautiful feeling to be standing there and watching the morning glory come into full bloom.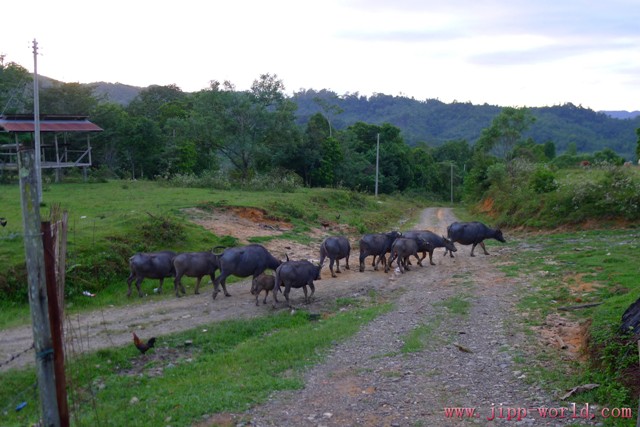 Our local villagers-turned-porters turned up early. We laid our stuff out and discussed among ourselves to determine which to bring and which not. It was going to be a very tough climb because we had to bring just about everything on our own – all the things that we might need to survive through the two nights up at the mountain. A lot of things needed to be considered especially the possibility of rain and cold temperature at such a high elevation.
So after deciding which to bring on our own and which to be brought by the porters, we were all set to go. We drove for another few kilometers to the foothill of the mountain where we did our very last preparation (last chance to dump whatever we wanted to dump) before starting our way up the mountain.
Welcoming us was a beautiful river roaring its way down as if warning us that "we were up there and it was rough and cold and unpleasant".  What it didn't tell us was the fact that we wouldn't see any of them up there so there would be no shower for us at all for the next 2 nights. Grrrr! LOL.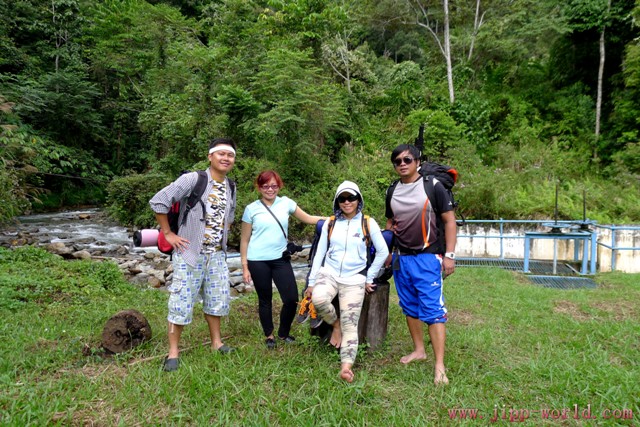 The first few kilometers of the trail were a combination of ups and downs. We crossed a river (which I suspected was the same river) a few times so we had to be extra careful with anything digital and batteried. As usual, I intended to do lots and lots of camwhoring up there so I was of course most concerned about my camera. My LX3 was not waterproofed so I knew how disastrous it would be if I dropped it into the water and said "whoops!". 😛
It took me quite a while before I realized that we were actually trailing on a road or what was once a road. It was obviously used to transport logging harvests out of the forest of Trus Madi so what we were seeing now was just the left-over of what was once a rich trench of Tropical forest in this part of state.
I don't know what the state of Sabah did in the past to let the logging tow-kays mow just about everything away leaving us with nothing much to see but half-dead secondary forests. Of course after all the stupidity we could not expect to see much of wild animals so it really was such a huge disappointment to me.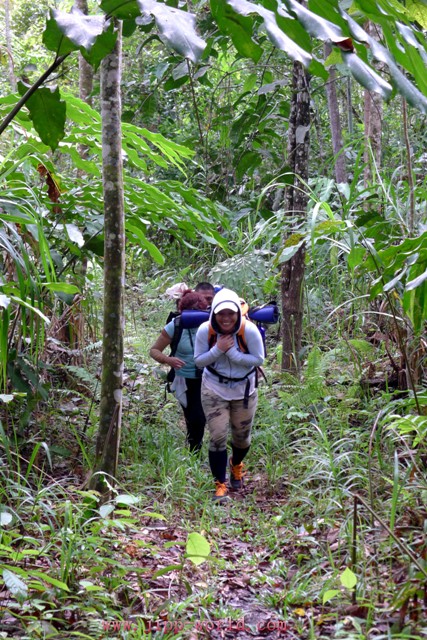 Well, if there was one thing that that we could at least consider wild, it would be the leeches. They were so many of them that it was almost impossible to walk across their territory without waking some of them up. It was the rainy season of the year so they really were everywhere waiting to launch their attack on every living thing with two legs that they found trespassing into their territory.
One thing that I quickly noticed about them was that some of them were so beautifully colored. I've never seen leeches that were so colorful and beautiful and actually so cute that I actually had the urge of kissing and smooching over them. LOL.
7 km was the distance from the foothill to the camping ground. It would have been a peanut if we did the distance on a run or something but it was not a race against time but more of a race against gravity and altitude so it was so tough. I had at least 10kg strapped to my body so it was not a cat-walk really. In fact it got heavier as we got higher but of course we didn't go there to give up or so I kept saying to myself.
The last 700 feet was the toughest to do at least on that part of the trail. By then it was way past lunch time so we were exhausted and starving. I had used up most of I energy so it was very challenging that even crossing over a boulder (o rather a log) took so much effort. Seriously, when you are energy-less and hungry, 700 feet wouldn't feel like 700 feet at all. It felt like forever.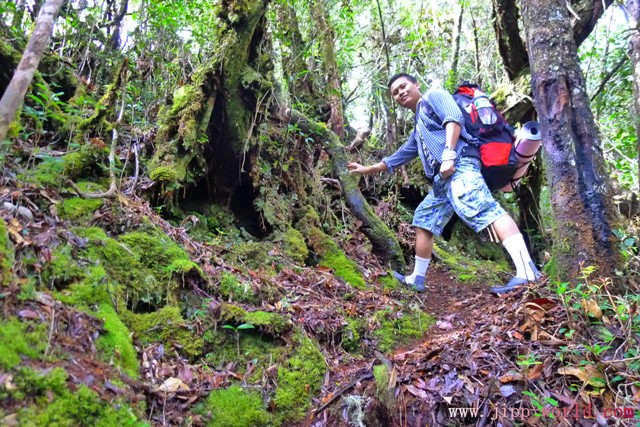 Of course after pushing my way though with all my might and using the last ounce of energy that I had left, I finally arrived at the camping ground. It was a temporary relief but very much needed at that point of time. We took a breather, taking in the beautiful view of the mountainous terrains that spread out for as far as the eye could see. It was around three in the evening so the white cloud was shrouding most part of the mountain range, serving us with such a majestic view to indulge over.
I was simply blown away. It almost felt like floating or something. There was one time when the wind blew the cloud away and for a moment we were looking at the tip of the peak – our ultimate destination, mocking us with such a tantalizing sarcasm. I could see there were at least a few other lower peaks that separated us from the highest point of Trus Madi –  but of course at 2642 m it stood out prominently somewhere at the back. It would not be an easy climb.
After regaining some strength, we set up our tents and put everything in place to prepare ourselves for our first night up at the mountain. They had already prepared a canvas to provide you with some kind of roofing system (which you need to set up yourselves) and all you need to do is to set up you tents under it and you should be good. I mean, you can simply sleep under the canvas but it needs a higher level of survivability considering the cold wind and low temperature especially at night.
Talking about survivability, I don't think it really was a survival test for us. For one we had brought a mobile stove so we actually spared ourselves from all the hassles of setting up a fire to do our cooking. A fire came on at the click of a finger so cooking was really hassle-free. Seriously, at such a high elevation whose access requires a 7-km of uphill (and a little downhill) trekking, what the ladies prepared seemed more like a banquet to me. Oh well, women. 😛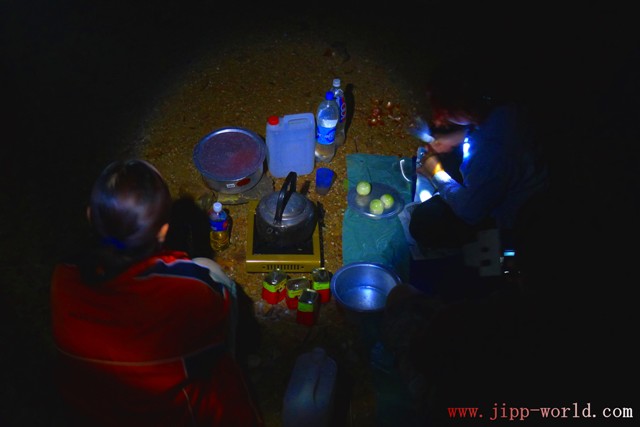 It had been a very long time since the last time I slept in a tent. I had tweeted so many times how I missed camping but camping some 2000 m from the sea level was not something that I had not expected of doing and I enjoyed every moment of it. I felt so much close the nature. I looked up at the sky and see thousands of stars sparkling in the universe. I've never seen so many stars, not for quite some time.
The air was getting cold as the night drifted to midnight but once inside the tent, it was surprisingly warm. In fact it was too warm that I had to kick myself out of the sleeping bag and even let a little bit of opening to let some of the cold air in. What I did not expect was that it would also provide some opening for water to sip in when rain poured down sometime in the middle of the night. It wasn't really a good first night.
There'll be a bigger challenge waiting for us the next day. We'll be heading up to the peak.