I am not quite done with Sri Lanka yet. There was one place that we went to before we wrapped up our trip in the beautiful island country. It's called Galle (feel free to pronounce it however you like. LOL) – a place that I never heard of before until my travel buddy Audrey told me about it. Quite surprisingly, it's a UNESCO World Heritage site so I knew it was gonna be great!
And it was. We disembarked from the bus that we took from Mirissa and we were instantly swamped by a horde of Tuk Tuk drivers all eager to bring us to a hotel from which they would probably get some commission if they managed to get us checked in. Again – it wasn't easy for us. Most of the decent (budget) hotels in Galle seemed to be fully booked – and there was one time that we were taken to a room on the attic of a guest house. Another one was like a living room which – if we took it – might require us to compromise our privacy. After checking out a few places, we finally said yes to a hotel – which was more like a very old guesthouse – called Shoba. Everything seemed to be ancient and I didn't even want to look out the window because there was something so scary about whatever it was out there. LOL!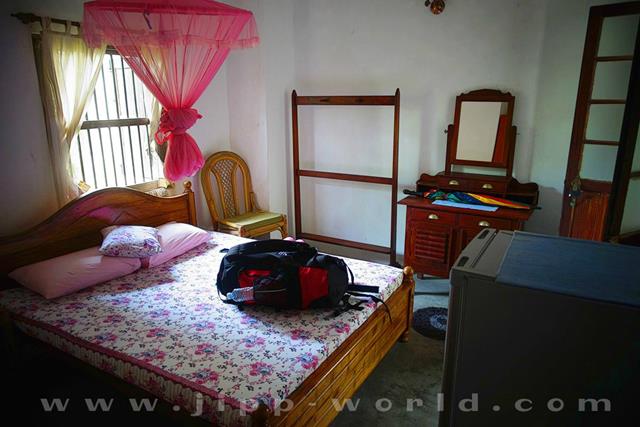 Galle reminded me very much of Malacca back in my country Malaysia which was a no surprise because they both shared almost a similar history. Just like Malacca, Galle was first colonized by the Portuguese before it was handed over to the Dutch which then turned Galle into a fortified city. It was then taken over by the British up until the independence of Sri Lanka (dominion) back in 1948. The forts are still very much there as a reminder of the city's colonial past.
Audrey and I had a very relaxing time sauntering up along the fort that overlooks the Laccadive Sea. Of course further off was the vast Indian Ocean – an ocean that is so familiar to most Malaysians now since the disappearance of an aircraft sometime last year. It's amazing how the forts are still very much intact despite the continuous pounding by the strong waves from the ocean. It even survived through the massive tsunami in 2004 during which Galle was very badly damaged and thousands of people were killed in the city alone.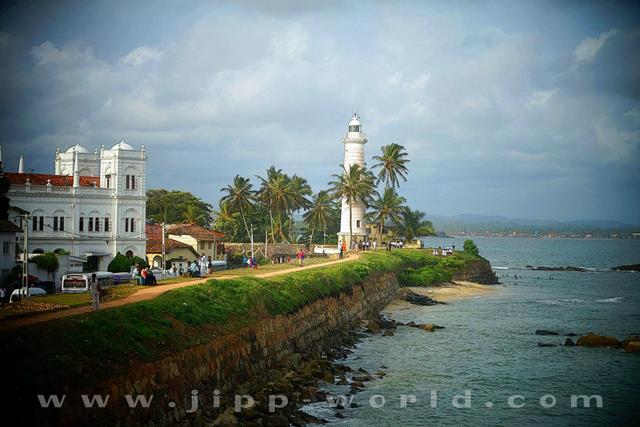 The highlight of the fort is of course the light house which makes the view on the coast of Galle looks more like a picture postcard. On the other end of the fort is a clock tower from which you can see the Cricket stadium of Galle. The national cricket stadium of Galle is said to be one of the most beautiful cricket grounds in the world although I'm not quite sure in what sense. LOL.
Thinking that it might be faster to explore the town on a bicycle, Audrey and I decided to rent one for each. Galle might be a small town but it's quite easy to lose in the maze of its streets. Either I was going too slow(ly) or she was going too fast, I actually lost sight of her after awhile. But then, Galle is not big enough to tick off any possibility of bumping into each other again later – if you keep moving of course. And true enough, she caught me having a piece of cake at a tiny restaurant on the side of a road that separates the town from the forts. It was certainly one of the best cakes that I've ever had in my entire life. Nyums!
Galle really is an amazing place to explore. There's always something to see somewhere in the corner. You gotta dig further into the back alleys if you want to see more of its beauty and that was what I did. Galle might no longer be a fully-functioning town and its existence relies mostly on its tourism but still there seems to be everything that a decent town would need (to be fully functioning). There are at least a few churches that I saw, a mosque, a post office and even a cricket field where I had the chance to watch a group of teenagers playing.
The highlight of my stay in Galle is of course my brief drop-in at the Galle National Museum. It might be just a small museum, but there seems to be lot of things to see and learn from there. It was there that I learned more about Zheng He, or Cheng Ho as many history books call him – the Chinese version of Marco Polo who had traveled half way around the world to learn more about the outside world so that he could report back to the Emperor during the China's early Ming Dynasty.
He's been mentioned several times even in our history books in Malaysia because it was him that opened up the relationship between the Sultan of Malacca and the Ming Emperor of China. Of course, the relationship had eventually resulted in a princess named Hang Li Po coming to Malacca and marrying the sultan. It was mentioned in history books that most of the 500 members of her entourage had decided to settle in Malacca, married local girls and created the descendants now known as the Paranakan (fondly known as Baba and Nyonya).
Galle might be interesting to visit but one or two days are enough to explore everything there is to explore. There seemed to be no bars or night clubs to keep the nights going so it'd turn into a dead town once the sun has set. But then night life is not really a Sri Lankan thing but I was perfectly alright with it and before we knew it, it was time to say good bye to the beautiful fortress of Galle and headed for Colombo on a train.
After spending quite a bit of time up at the mountains and later at the coastal towns of Mirissa and Galle, we knew we needed to splurge a lil bit of money on a decent room in Colombo to wrap our trip in Sri Lanka with. I hate to say this but there seems to be nothing much to see and do in Colombo. It gets quite dark at night which is actually good because I think we in Malaysia waste too much of our electricity by letting the lights on all night long – on the streets and at the buildings – and for nothing.
You know – I came to Sri Lanka without expecting much. It had always been in my #bucketlist but I didn't want to expect too much of this country because I thought – what could I really expect from an island?  I was very wrong – apparently. There is so much to see and do in Sri Lanka that I actually wish I had put in a few more days in my itinerary so that I could see more of what it has to offer.
So guys, next time if you think that you might die before you can even explore the whole of India, think of that lil island down there on the South of it. It's always worth to put it into your wise considerations. Hell ya, it is 🙂