HELL SHIT. Things had been swirling around me lately and everything was going so fast I didn't even have time to flush the toilet after using one or even washing my fingers after taking a pee or something. OK, you know that isn't true. Of course I've always got time to flush the toilet and wash my fingers after touching that tiny little brother of mine. LOLZ. Stop imagining, you filthy dirty head. 😛
So, September had witnessed one of the biggest upsets in my traveling schedule this year. Thanks to the no-refund policy by the smart-assed Air Asia X, the flight ticket to London that I had purchased earlier this year had gone up in smoke just like that – together with all the plan of celebrating my XXrd birthday with thousands of fellow beer-lovers and surrounded by sexy hot blondes with smothering boobs at the Oktoberfest this year. 🙁
So was the fulfillment of my childhood dream of walking in the middle of a cattle field in the wee hours in Switzerland – ALL IN THE NAME OF JOB. If that is not called a work commitment, I don't know what else is. Uhuks.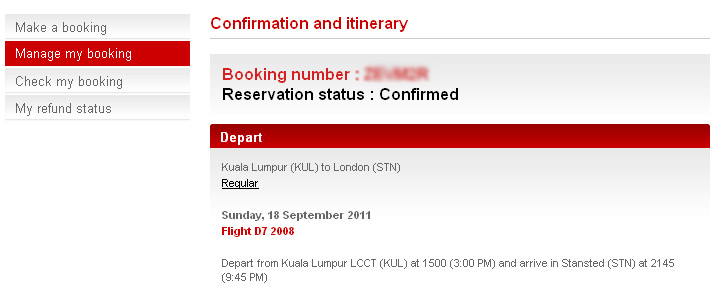 But then, I'm sure Munich and Switzerland and Alps won't go anywhere anytime soon so I am sure a plan for another trip can wait at least for now.  I was actually assigned to organize a trip to the North of Malaysia, to a place that I had grown so fond of ever since I visited it for the first time sometime last year, the one and only ………. PENANG!
It wouldn't be my first visit there for sure, not even my second but it was definitely going to be different this time because I was going to drive halfway across Peninsular Malaysia and pass through at least three different states all in one trip. The furthest north that I had gone to was Cameron Highland and that was like ten plus plus years ago when I still didn't have a license to drive on my own so – imagine the excitement!
Oh well, since my mom was still with me here in KL, it wouldn't feel right if went on the trip and left her staring at the walls all day long without getting to do much around the house. Besides, having her on board would actually make time pass by much faster compared to when I was driving alone.  We have this rare mother-n-son ability of talking to each other for many many hours on end.
The most convenient and probably the only way of getting to Penang from KL that I knew is of course via the North-South PLUS Highway and you know how anything convenient will always cost you some fortune nowadays.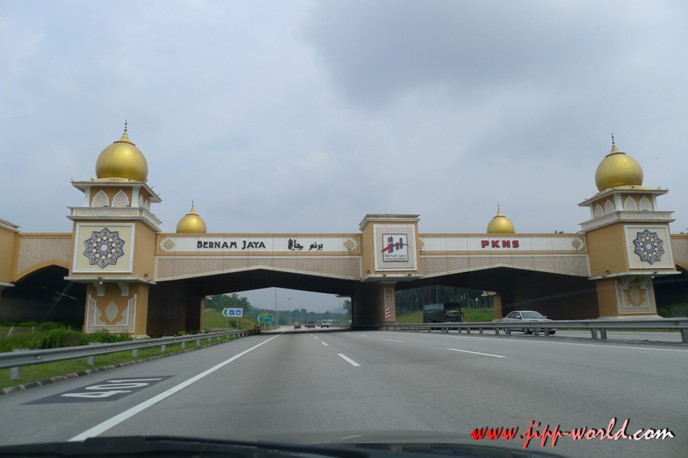 One-way trip to Penang would cost you around RM45 on toll alone and a return would cost you around RM90 so taking into the equation all the expenses you spend on fuel and all, a trip to Penang is actually quite an expensive business. It's not like you can just go there with an empty wallet or something. Hell, no.  Bring sufficient $$ with you and you'll be alright.
Driving northbound for the first time, I couldn't help but getting amazed by almost all the things that I got to see along the way. I mean, I did know for sure that Malaysia is full of mountains and hills and all but what I didn't expect to see them in such rare shapes like these.
Ipoh especially seems to be a city surrounded by beautiful mounds of hills in peculiar shapes and formations. Some of them have those kinds of rocks that would surely bring hardcore wall climbers to the brink of a hard-on or something.
But yeah, Ipoh and Perak as a whole that I saw was full of beautiful hills although I wasn't sure how long would it take before they all get mowed away by the persistent demands of this so-called development.
I expected PLUS Highway to bring me right across township areas so that I could take a peek at how the development in those areas was progressing but no. Apart from Ipoh, PLUS Highway seems to have been planned out not to run across any of the major towns or cities in Perak and Kedah, probably to avoid excessive cost on land acquisition when it was about to be built or something.
I could see the exit ramps and all but the towns to where they were leading to were nowhere to be seen around so I'd say, apart from the yawning views of the unending stretches of Oil Palm Plantation along the way, there was nothing much to see after having made it past Ipoh really.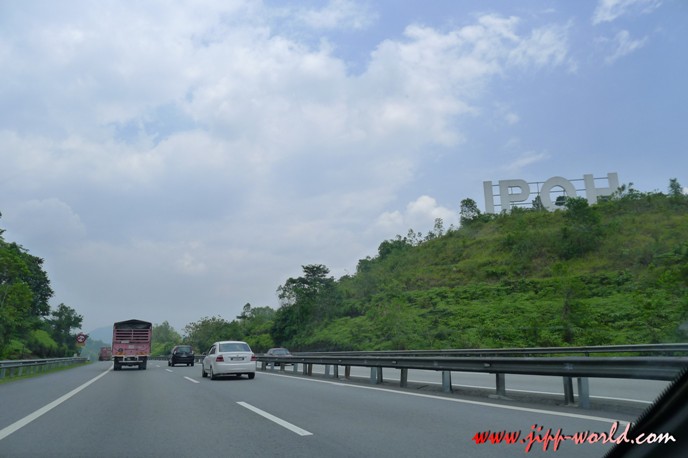 Oh well, one of the good things about driving on the PLUS Highway apart from the smoothness of the road is the availability of quite a number of rest stations along the way.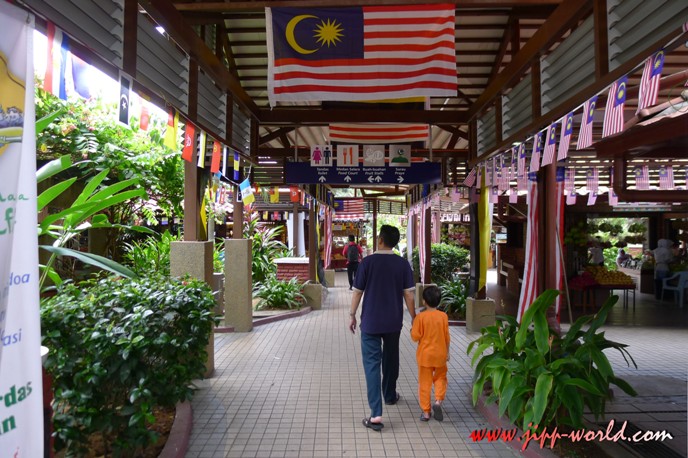 There are plenty of them you'd never get hungry or come up with any excuse of peeing in your pants just because you can't get wait to get to the next stop.
You'll always find something to munch over while making it to the rest of your journey.
So – fast forward, we arrived in Penang almost undeterred although there was a slight fear in me that we might miss the exit to Penang and end up driving all the way to Thailand. Although the excitement of driving into Thailand had been in me for such a long long time, I'd rather save it for another trip.
Following the instructions given by the map on my humble SG S2, I finally managed to locate the hotel that I had pre-booked in the very last minute, a hotel called The Pearl View. Oh well, there was nothing worth mentioning about the hotel apart from the view of Butterworth that it offers through its over-sized window.
My previous two visits had required me to stay in George Town so Butterworth was totally a new place to me. Since most of the attractions are located within and around George Town area, Butterworth had to swallow the bitter fact that it has nothing much to offer compared to its sister city so it is less favored by tourists and hoteliers and all.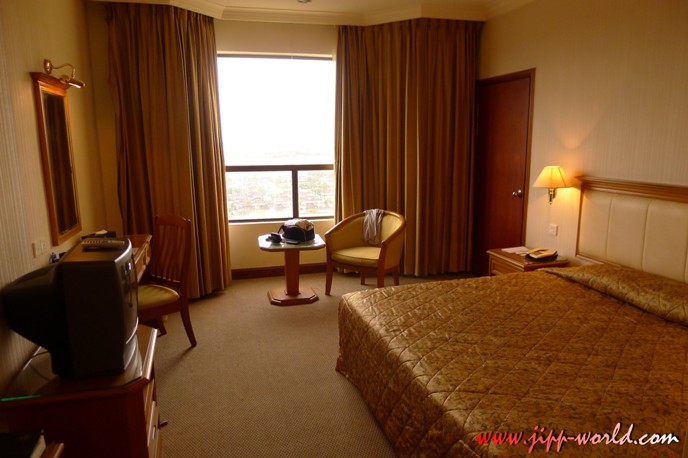 We still had a few hours before the night falls so we wouldn't want to let them pass by just like that considering the fact that we only had at least 2 nights in Penang.
I had no idea where to head to at first but there was one place that my mom had been telling me so much about – a place that she had first come to with her group of (church) friends a few years ago and intended to keep coming to whenever she could afford. I was actually trying to think of a place where I could go for a little run when she suggested that we went there so off to St. Anne's Church we went.
St Anne in Bukit Mertajam has over the years gained popularity among Catholic pilgrims all over the country and beyond as a place dedicated to St. Anne and a celebration or a feast or whatever you call it is actually held there every year to commemorate her life and her significance to the Christian world.
Oh well, I wouldn't go into details on how significant this place is to the Catholic parishioners especially within the locality because it might sound too religious and this is not even a religious site. Feel free to warn me if I'm beginning to sound a bit too religious would ya? He.
But then St Anne Church for sure is such a beautiful place to be. The beautiful shrine of St Anne is set on the foothill of Bukit Mertajam (or part of it) and the greenery of the hill gives such a beautiful backdrop to it as viewed from its front yard.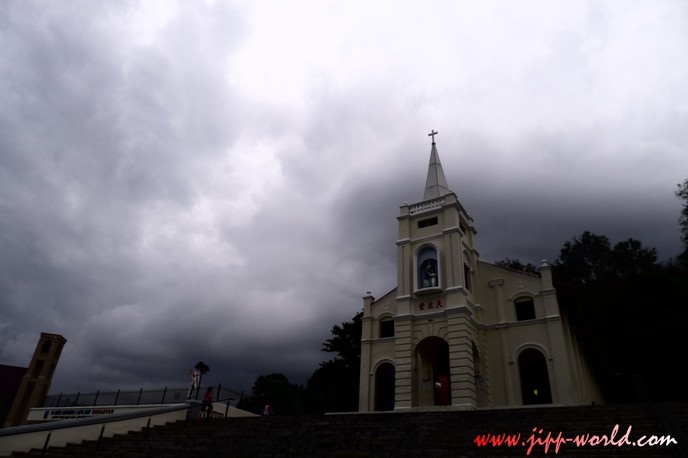 Being there alone was already a blessing of some kind to me and it was especially so that my mom was there with me.
It has always been such a joyful moment to bring her to a place that she is so fond of and nothing could make her happier than bringing her to a place like St Anne. You know, (whispering) for spiritual reasons. 😀
I heard from somewhere that childless couples come to St Anne to pray for miracle and sure enough I could see quite a number of couples turned up at the St Anne Church even in the very short span of time that I was there.
And yeah, I'm one of those people who believe in miracles, that the sperms might be short of energy and with a little bit of help and endorsement by St Anne, God would give them additional energy to swim all the way to the ovary or something. Don't get offended but that's just the way I imagine it to be.
At the back of the church is a concrete stair that leads a little bit up the hill where part of the procession during the feast of St Anne is held.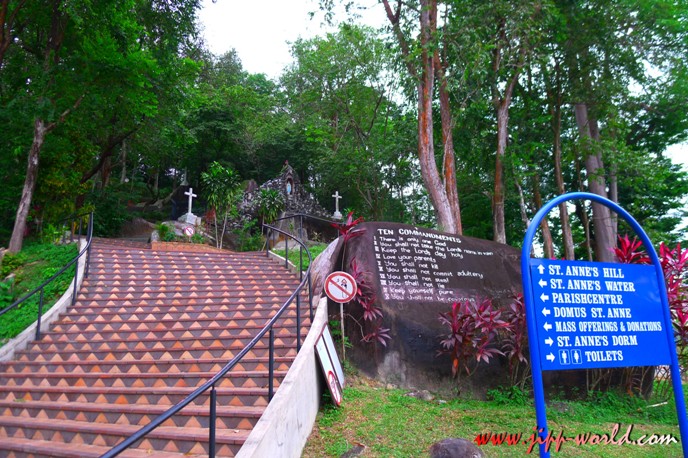 Crosses had been erected on top of rocks here and there along the way, probably to indicate the stopping points during the procession of Stations of The Cross (feel free to google).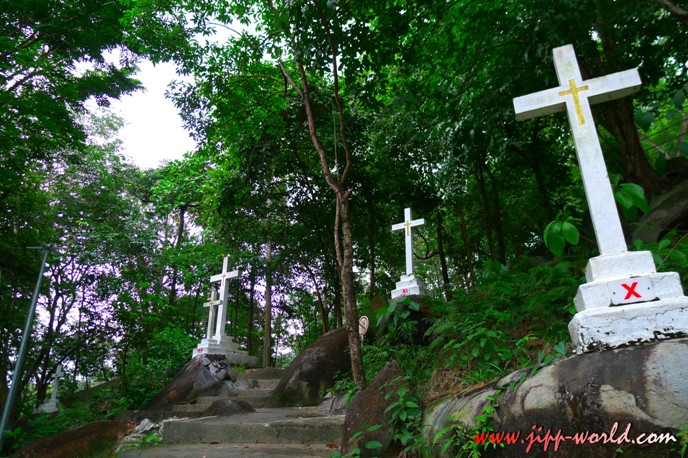 The stairs would 'ultimately' lead you to another shrine where a statue of Jesus on a cross had been erected – probably to indicate where the procession should end.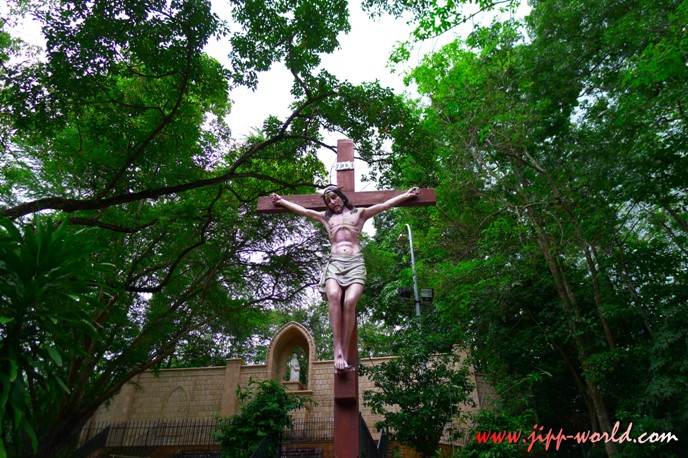 Oh well, I'm not really a religious person but there was something about the place that made me weak and cold and a little bit unwell all at the same time when I was there. The place for sure is so spiritual I could almost feel it.
Not quite far from the there is the new St Anne Church and I gotta say it was one of the most beautiful churches that I had ever seen in the country thus far and the existence of the lush greenery of Bukit Mertajam hill in the background makes it look even more scenic and beautiful.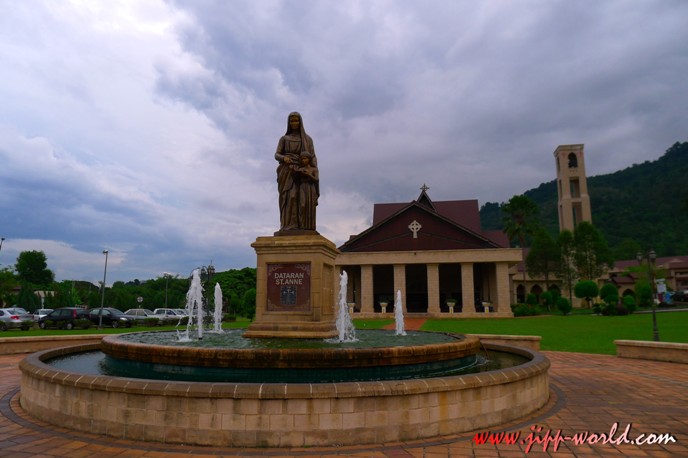 The church was not open when we were there but it didn't stop us from peeking through the grills and see for ourselves how beautiful the interior is.
I mean, who would have expected to see a church like this here in Malaysia where getting a fund from the government to build one is next to impossible?
My favorite feature of the church was the bell tower. Standing exceptionally tall over the rest, it really gives the church the look of a – errr – church. LOL.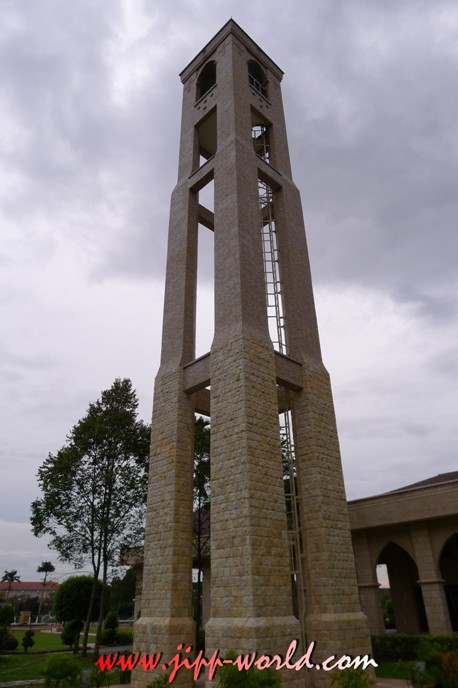 But seriously, I really liked it.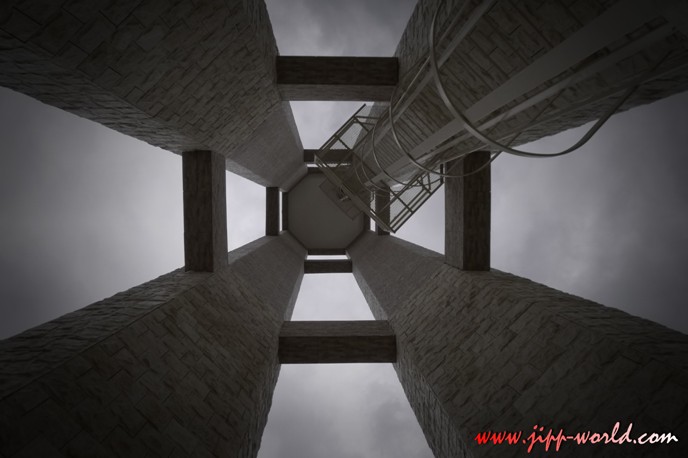 I'm not really good in architecture but St Anne Church for sure has a good one. It is heavily Spanish with some blends of local elements in it and being on a quiet part of the town, St Anne Church is certainly a perfect place for pilgrimage activities and all.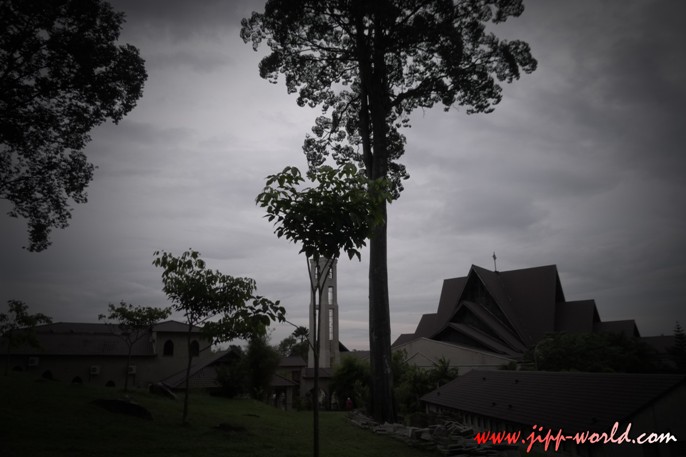 It gives me some idea of where to head to for a pre-wedding photo shoot if New Zealand is too expensive to afford. Oh gosh, another case of TMI here. LOL.
Oh well, if you're a Catholic and believe in Holy Water, bringing a bottle or two might be a good idea although I'm not really sure what does anybody keep holy water for. I know! I know! I'm such a lousy Catholic. 😛
So – St Anne was certainly a perfect place to spend our first evening in Penang at.  Butterworth that I had come to discover is nothing short of food variety so all the talks that it has nothing much to offer is certainly not true at all.
Located within a very walking distance from the Pearl View Hotel, I was delighted to find this place when we walked aimlessly in the vicinity to look for something to eat. I had the tastiest Char Kuey Teow here I really felt like crying the moment I finished the last spoonful off.
The weather had not been nice to us on our second day in Penang. Due to the heavy rain, I wouldn't say our trip had really been a successful one. It was heavily hampered by the downpour and our program had to be cut short long before it was supposed to roll to its scheduled end.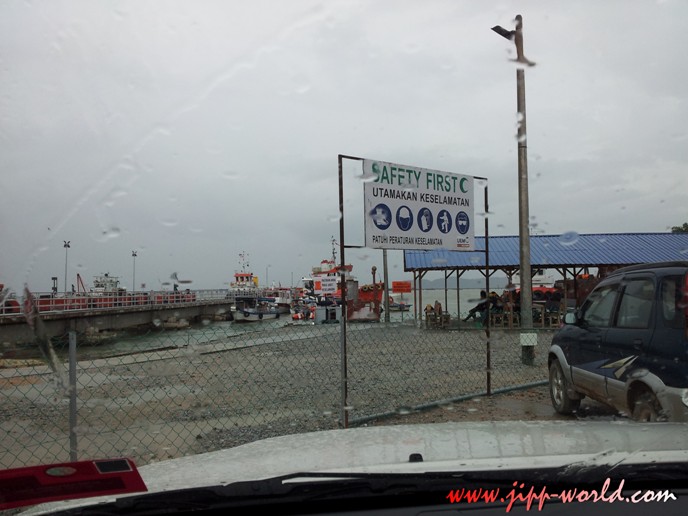 On the hindsight, it gave me a chance to go to the island earlier that I had intended and I couldn't content my excitement as I drove out into the iconic bridge of Penang.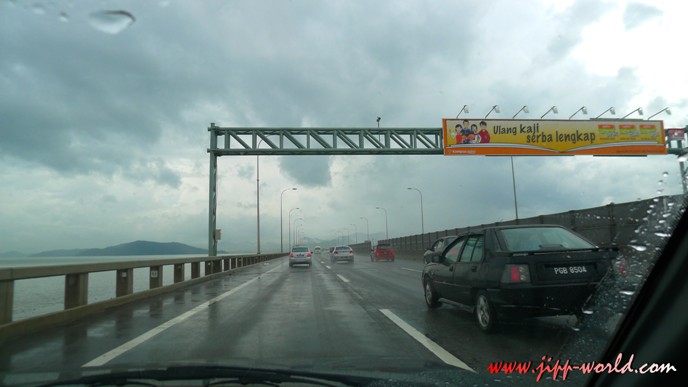 My camera was all ready to capture the moment but of course I'd save it for another post. :=)