It would be our third (full) day in New Zealand, and we had so far covered Auckland all the way to Taupo before driving further south to Wellington the capital city. From Wellington we crossed the beautiful Cook Strait to Picton from where we drove over to Murchison to spend our first night on the South Island of New Zealand.
Murchison was great, but we had to move on. It was a long long way to our next destination – Christchurch. We bought two cups of take-away Cappuccino at one of the cafes in town and drank it with bread that we had bought from a supermarket back in Marlborough the day before.
Our first destination of the day was Maruia Falls. Located somewhere along the way from Murchison to Christchurch (much more towards Murchison of course), we had to do a little bit of hiking to the viewing point and further down the hill to see it more clearly from the river itself.
Maruia Falls was created by an earthquake back in 1929 so I'd still categorize it as natural and not man-made because its formation was a work of nature. Traces of massive earth shifting as a result of the earthquake were still very much visible and I sat there looking in awe at the long cliff along the river – as if the whole land was totally dislocated in a perfect straight line. I had never seen anything like that before.
We drove on towards Christchurch – across beautiful forest reserves where the trees had black trunks and branches, and across small towns and villages and of course the seemingly endless stretches of grassland. Every now and then we'd stop to take pictures or just take in the view. One of the first things that I noticed when I first landed in New Zealand was that – New Zealand was very yellow. It's like the grass has all turned into golden yellow, probably because of the dry weather. But of course it has its own beauty and charms.
The hills were beginning to turn more dramatic as we dashed further towards the South. They were all blanketed in yellow grass which got me thinking if they were forest in the past or it had always been like how it is now since the beginning of time. If they were forests in the past, then I'd say New Zealand has probably undergone an unprecedented extensiveness of deforestation just like so many other countries in the world.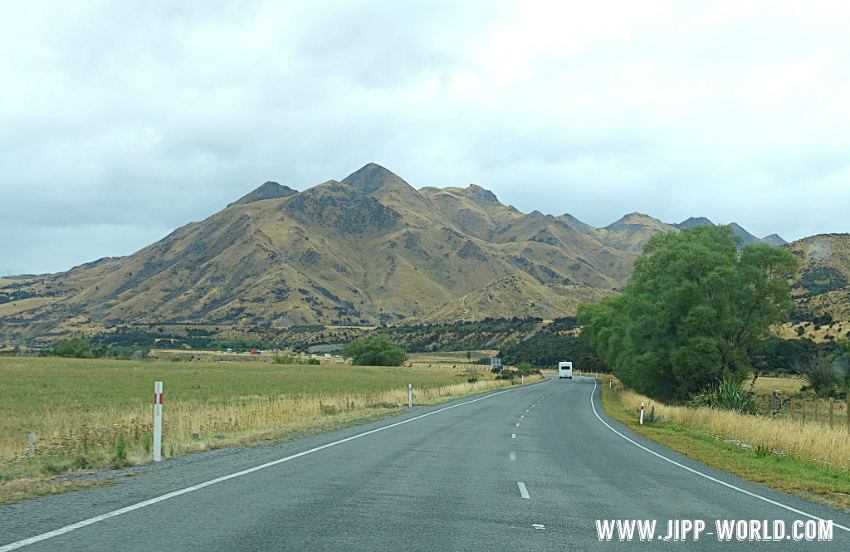 After a brief stop at Waipara Hills (a winery that allows wine tasting), we finally rolled into Christchurch, the biggest city in South Island. We checked in at a hotel called Jailhouse – which was a real jail before it was turned into one of the most iconic hostels in Christchurch. I liked it instantly, but my travel buddy Frankie was not quite fond of it. He always associates jailhouses with ghosts – for some reason – and he could not wait to get out of there. It was probably my very first time getting into a jailhouse – and it really is how I had imagined it was.
The hostel has long verandas on each floor and a shared indoor patio in the middle, probably the place where the prisoners used to do their daily assembly and be checked and counted by the prison guards.
It reminds me of the movie The Green Mile about a prisoner who had the ability to perform miracles on sick people but was eventually prosecuted for a crime he did not commit.
Having heard so much about Christchurch, I was quite surprised to see how different it was from what I had imagined. The city is still very much undergoing a major recovery from the 2011 earthquake. The whole city seems to be under restoration works with the roads were still being stitched and many of the buildings were still heavy with scaffolding and construction equipment.
People there seemed to be a little bit rough with a little bit of discipline issue when it comes to driving. I had almost bumped into another car which was stopped way beyond the stop line at a traffic light. And there was a lot of other reckless driving that we saw when we drove around Christchurch.
We walked across the Hagley Park South, towards the iconic Christchurch cathedral. Too bad it was still undergoing major reconstruction and was still closed to public. We briefly entered the Botanical Garden which was beautiful but we did not have enough energy to cover the whole piece of garden. Instead, we walked on, aiming to look for something to eat before we passed out.
Christchurch that I found out was not really a place for the foodie. It was not easy to find a place to eat, or maybe we were in the wrong area of the city. We did however bump into a food festival dedicated to South East Asian cuisine (organized by Singapore Airlines, no less). We immediately walked towards The Philippines food stall, past the almost deserted Malaysian food stall.
The Filipino food stall was the only stall with a long queue of people, probably because it was the only stall that has aromatic smokes billowing out of its grill set. It was very inviting. We went ecstatic but not before we found out how expensive it was. I wanted to pull out, despite the long queuing that we already did, but my travel buddy pushed on so there we were, spending some NZD20 each, over a rice and some stupid barbequed pieces of meat.
Having swallowed those stupid pieces of meat almost in one go (they were very small anyway), we wheeled off towards Cashmere Hills where we could view the city from a high standing point. The road to the Cashmere Hills was very much of a zig zag and we had to be very careful while negotiating the sharp curbs, the narrow lanes and passing vehicles from the opposite direction. I was not really wowed by the view but I still found it relaxing to be up there and looked at the city that I had heard so much about.
The view from the Sugarloaf Scenic Reserve that we bumped into by accident was something to die for though. I took a little bit of hike along the crater rim walkway as it is called and let myself be blown away by the seaside view of Governors Bay. It really was breath-taking. We stayed there at the Cashmere Hills long enough to witness the beautiful sunset over Christchurch.
We returned to Jailhouse to do some cooking for dinner and I really liked the kitchen. It is quite huge and probably can accommodate at least a few people cooking all at the same time.
I went to bed thinking about what was lying ahead for us. We would be driving from Christchurch to Queenstown the next day and this road would take us across some of the most beautiful landscapes in New Zealand. The names of all the world famous lakes such as Tekapo and Pukaki suddenly came into mind. Just the mere thought of them made me go so excited I almost could not sleep that night.