It would be my second time to the Philippines – or rather Manila – and somehow I was so excited about the trip probably because I hadn't really traveled anywhere this year apart from my weekend getaway to Brunei and later Singapore (which I don't really consider a travel trip because I went there for a marathon).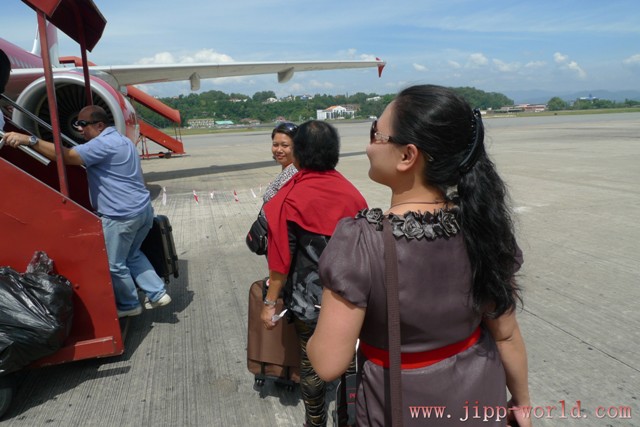 It would be totally a different experience for me because I was going to travel with my family members for the first time. I knew, it would not be easy and I had to let myself be prepared for the worst since they themselves had never crossed any international border ever before except for my elder sister who went to Medan on a tour package last year.
And mind to tell you that traveling on a tour package is very different from traveling on your own because you have to do all the planning yourself – from the details of your itinerary to your budgeting – unlike in a tour package where you've got the tour agent to arrange everything for you.
And true enough, I was faced with challenges right from the beginning of the trip.  Although I was totally in for the idea that language barrier doesn't really hinder anybody from traveling into a country with a totally different language, I have to admit now that it isn't easy when you are traveling with three persons who do not understand any language other than their own.
I mean, I had to fill up the immigration and custom forms for all of them and you guys know how I hate filling out forms.
With all the time taken to fill out the forms, we were the last persons to proceed to the immigration counter and later the custom check. In fact the officers had all left their seats when we approached them and they had to return to the counter to have our passport and custom checks cleared.
Then I had to advise them on changing our RMs to local pesos and later counted the money for them so that they'd give the right amount to pay for the bus fare.
With all the hassles and fusses that we had to go through, it didn't surprise me that we were the very last persons to get on board of the Philatranco bus that would then take us to Manila.
What I didn't know was, the bus was actually waiting for us before they could get the hell out of there so imagine the faces of the other passengers when we coyly entered the bus and waggled our way to our seats somewhere at the back. LOL
So, things were pretty much the same as they were when I came to Manila for the first time 2 years ago. The only difference was probably the increase in the bus fare – which is now 450 pesos (RM35) compared to 350 pesos that I remember it was back then.
We hit into Manila when it was peak hour so we had to cope up with the turtle-slow movement of the bus which was further worsened by its constant dragging and braking as it moved along with the bumper-to-bumper traffic in the metro city of Manila.
My mom was the one who suffered most. She did not have breakfast to begin the day with back at home in Keningau and by the time she arrived at the LCCT of Kota Kinabalu two and half hours later, it was too late to have lunch.
Coming on board with an empty stomach has never been advisable to any traveler so she really learned a very important lesson that day. Her stomach was too upset to eat on board of the flight so with that so little energy that she had left in her, all the physical difficulties began to knock in on her.
She vomited at least once on the flight alone and later twice on the bus to Manila and another last one when we arrived at the hotel room. Poor her.
The bus stopped at SM Megamall and later at Pasay Bus Terminal as its final destination. It was there that we disembarked and took a cab to our hotel for 400 pesos.
By the time we got on the taxi, my mom had already declared that she was not going to travel ever again.
But of course I knew that was going to change. Every time I climbed Mount Kinabalu, I'd say to myself that it was going to be my very last climb but I'd find myself doing another climb a few years later. LOL
So, despite many people's belief, I actually stayed at Ermita Tune Hotels in Mabini Street and not at Hyatt Hotel as me myself would have liked to believe. LOL.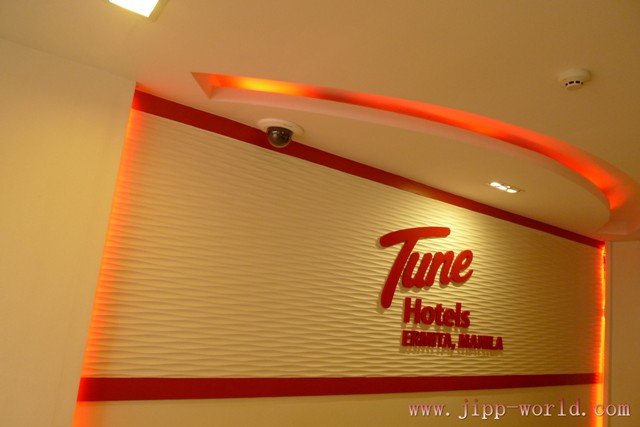 One thing you gotta know about Manila is the fact that hotels and accommodation are quite expensive so when I checked out the Tune Hotels Website and found out that I only needed to pay RM550 for 2 twin-beds for 5 nights, I jumped at the deal and immediately wired in my full payment.
RM550 for a 5-night accommodation and good for 4 persons in Manila ! Are you kidding me??! 😀
Of course each of us had to fish out a few more bucks to pay for towel, shower gel and shampoo but having stayed in Tune Hotels quite several times in the past; I didn't die of heart attack because of that.
Rooms at Tune Hotels are pretty much comfortable despite their small sizes. Everything is basically there except for all the things that you need to pay extra for if you really really need them. That is just how businesses are being run at Tune Hotels.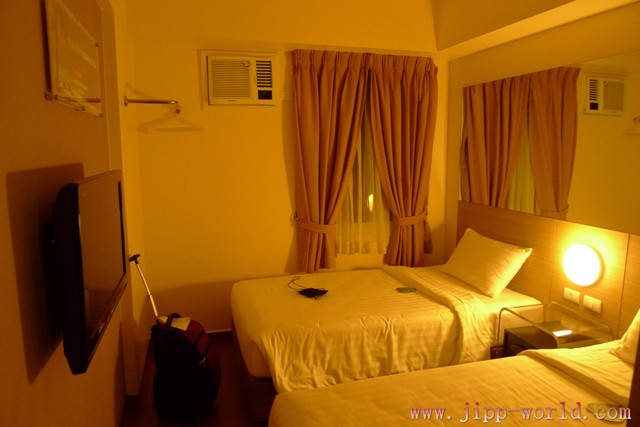 The only problem with Tune Hotels is the absence of water heater (for drink, not the one in the shower WTF!) . It would have been alright if it wasn't for my mom who was in constant need of warm water to drink her medication with.
Buying a water heater would have been a good idea but somehow it wasn't easy to find at least a supermarket around the area of Mabini Street. There were 7 Eleven outlets and some other convenience stores but not a supermarket that we could possibly buy some simple and cheap water heater from.
In the end we had to get hot water from the 7 Eleven outlet at the ground floor of the hotel and it actually cost us quite a lot because they'd charge the cup and not the coffee – meaning – they'd charge you of the same price even if you only take an empty cup. I'd usually let mom take a cup of warm water and when she's done with her medication, I'd go get coffee by using the same cup. Clever me.
So, Mabini Street that I found out is a street of heavy night life and entertainment so I had to grit my teeth as we walked past groups of girls in skimpy dresses all competing to lure the passersby into their dark nests. I was especially worried and excited at the same time to see my mom's reaction at the sight of them. How was it? I'd tell you in another post. 😀
Food has always been a problem to me right from the first day I arrived in Manila until the very last day.
My mom is pretty much obsessed with hygiene. In fact, that was the thing that worried me most before I came up with the idea of bringing her to Manila. She's the kind of person who looks at every inch of the restaurant and most especially the person who serves the food before she actually eats it.
Disastrous it was. She would never eat anything from the road-side stalls. The only time she ate something from a stall was at promenade of Mall of Asia when we were there to watch the sunset. She only ate the corn bought by my sister when she saw the boiling water in which the corn was tossed to cook. One time and that's it.
So in the end, we had to eat at proper restaurants, the ones with air-con and clean wash room – from Jollibee to Goldilocks, McDonald's to KFC  – you name it. Without doubt, foods at those restaurants had cost us quite a lot.
But then, I think I did highlight it before that food in Manila is quite expensive compared to our food here in KL (apple to apple). In fact, food contributed quite so much to my overall expenses all throughout my stay in Manila.
I wouldn't say that foods in Manila are bad but they just don't go well with my appetite. Quite every time I come upon a meal, it'd be either too dry or too salty or combination of both. I think that is just the way the locals like it so I have nothing much to complain. I'm pretty sure they've got their own complains about our foods here in Malaysia as well.
But then I can always complain about the prices. The simplest dish of food would easily cost you some 80 pesos or 100 pesos if you want something more edible.
We had the most difficult of time trying to choose the most edible-looking foods from the dishes on display at the food court of Robinson Place on our first day in Manila.
After wandering back and forth several times until the restaurants staffers got tired of waving at us, we finally ended up having these on our table.
I swear to God, I would never pay 447 pesos (RM34) for these kinds of dishes if I were in KL. Never.
More pics of our foods in Manila here.
We walked back to the hotel amid the heavy traffic of human along the street of Mabini. There were advertisement boards plastered all over which among others read "NEW GIRLS FOR 945 PESOS!".
No thanks.  For now. He. The first day was over but the story hasn't really started yet.