So, another country has been ticked off the bucket list and that country is called Myanmar (previously called Burma). I was there not only as part of my mission to visit all the countries in South East Asia but there was something about the country that I found very alluring especially now that they have just opened their doors to the outside world.
Visa
Opening their doors – yes – but they still seem to struggle in giving their trust to outsiders. Visas are still required to enter the country which is now fast becoming a tourist magnate in the region. I must be very stupid when I drove right over to their embassy in KL to apply for the visa only to be choked with hordes of people who were there to renew their working permits.
Somebody in the crowd who was chewing betel (an early sign!) gave me a pamphlet showing the location of the tour company to which the application of all visas to Myanmar in Malaysia has been outsourced. With all the fusses of looking for a parking space around the embassy, I almost shouted in frustration when I found out that company was only a few LRT stations away from my office. Grrrr!
Money-Changing Issue
One of the things that worried me most pending my trip to Myanmar was the issue with money-changing. Based on all the reading that I did about traveling to Myanmar, money changers in Myanmar would want your dollars to be in a very good condition. Some even describe them to be 'clean and crispy' but just how clean or crispy it was – I had no idea. A little bit of bend and dot of ink would make your dollars face a possible rejection by the money changers – or so I was told.
It worried me so much that I had to walk from one money changer to another to ask for the 'cleanest and crispiest' notes that they've got in store. None of them could guarantee that their dollars would not be rejected in Myanmar and they did know the issue about money changing there too.
A little bit of assurance I got from a money changer at LCCT who rubbished the fact – saying that there's no way that they could keep the dollars in a clean and crisp condition since they are produced in the US and they had to be handed over from one hand to another before they made it to the Malaysian shores.
To which I agreed. So I just said WTH and changed my Malaysian Ringgits to Dollars and hoped for the best. Carrying the dollars to maintain their good condition can be quite a challenge. You wouldn't want to put them into your wallet because they might crumple up. After coming up with a few options in mind, I decided to put them in between pages of a small book and put the book into a hard-covered folder.
For the record, I did not really encounter much problem changing my money in Myanmar.
Traveling Solo – again
I was most excited about coming to Myanmar because it would be my very first solo trip since the last time I did it to Australia. I had been wondering how much I have changed as a solo traveler.
So, to Myanmar I went, landed at the brand new Yangon Airport. First thing I realized was the presence of so many men in sarongs. Then I had come to find out that it was their national attire. It didn't take me long to realize that I have changed so much since the first time I first traveled alone when I had to negotiate over just about EVERYTHING.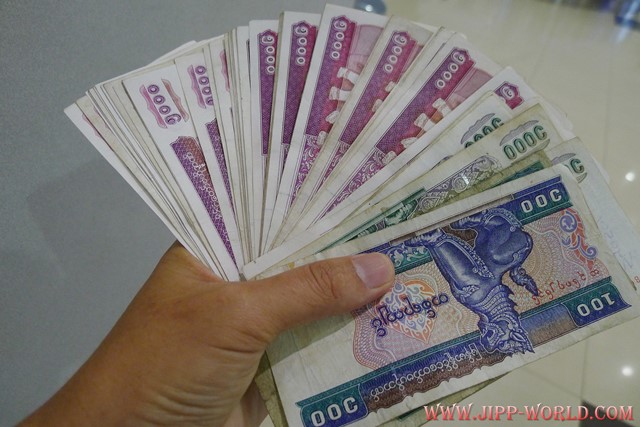 I was not going to stay overnight in Yangon (not even on my last day in Myanmar) so I decided to hire a cab to take me to places – something that I'd never do back then. I remember how I'd walk many kilometers away just to save a dollar or two over transport. Heh.
Getting Around
Finding somebody who speaks English is not an easy task in Yangon – or probably in Myanmar as a whole so it was more like wining a jackpot when I bumped into one. He seemed like quite an aggressive person, but I needed his English so I just said 'what the hell, let's go'.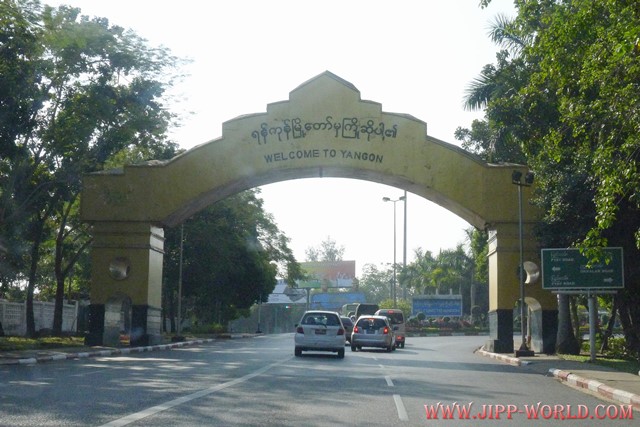 He took me first to a bus ticketing agent because I needed to buy a ticket to Bagan. It was quite a short trip so I had everything planned out to details, so getting stuck in Yangon was going to ruin my plan – literally. Quite true to what I had heard, bus tickets to Bagan could run out quite fast. The ticketing agent had to contact a few bus companies before she got a seat for me. Phew!
The plan was then to go to the Mandalay Air office in Yangon – apparently the only place where you can collect the ticket that you have booked online (boooo!). It was a very humble office for such a government-owned aviator company like Mandalay Air. It was more like a bungalow with only one counter (or two) to get your businesses done at.
I heard how many travelers boycotted the company as a sign of protest against the bad record of the Myanmar government in term of human rights. To me, it's either you take it or leave it and I decided to take it because what they do is none of my business. My government is not really that good either.
With a bus and a flight ticket in hand, I was free to roam the city of Yangon. For me, Yangon is doing quite well as the capital of a country which was put in a sanction for many many years.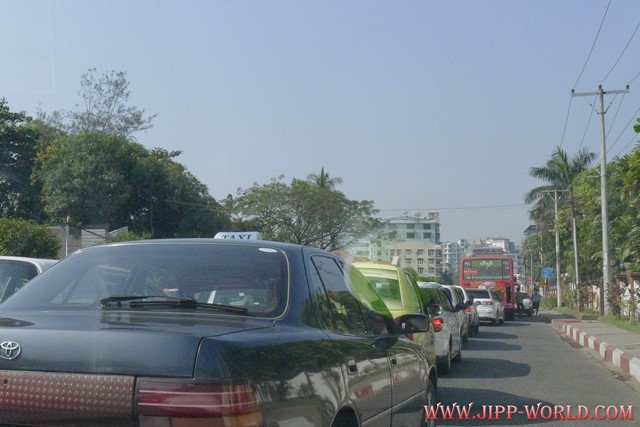 The roads are quite well-paved and the buildings are well-maintained too. What I didn't know was the fact that it is inhabited by some 6 million people, which is 3.75 times more than the population of KL! The traffic can get quite bad so leaving early is always advisable especially if you've got a flight or even a bus to catch.
I was both amused and admired by how they'd turn off their engines whenever they are made to stop due to a bad traffic jam or even while waiting for traffic light to turn green. Some of the passengers would even disembark from the bus to have a puff or two before returning back to their seats just in time for the bus to move on.
I mean, seriously, we in Malaysia should do that too considering how a little bit of price hike would send the whole nation into an uproar.
The People
The people of Yangon are a combination of friendliness, shyness and curiosity. I remember how I asked for directions to the Bogyoke Market and before I knew I was already surrounded by people all offering their best descriptions of directions to Bogyoke Market. I had to thank them and went hurriedly away before I created more attention than I deserved. LOL!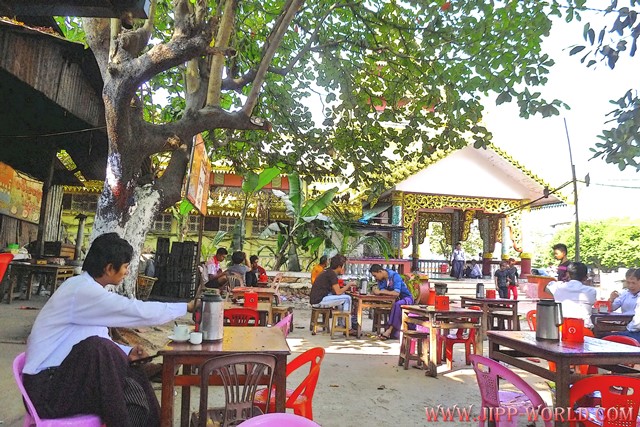 Places of Interest
Shwedagon Pagoda was quite impressive. It was a huge complex of temples with the towering golden pagoda itself as the highlight right in the center. I could not believe when I was told that it is made of pure gold (or probably partially) and the umbrella part is heavily studded with gold and all kinds of jewelry.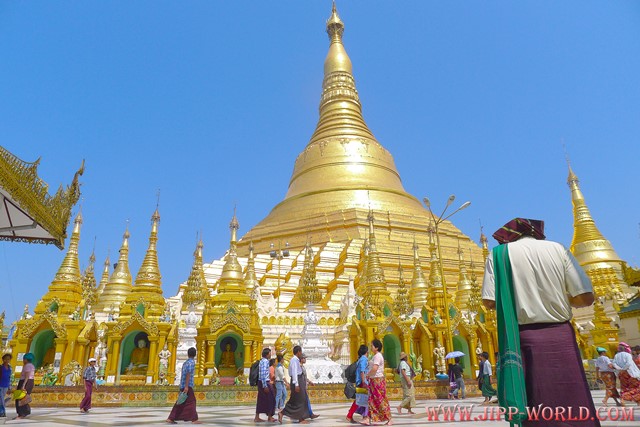 I wondered if Buddha really wanted such an extravagance knowing that so many people are still very much stricken with poverty in Yangon and even Myanmar as a whole. Again, it was none of my business. But the, looking at it from the positive side, it does contribute to the economy of Myanmar at least through the money brought in by the incoming tourists.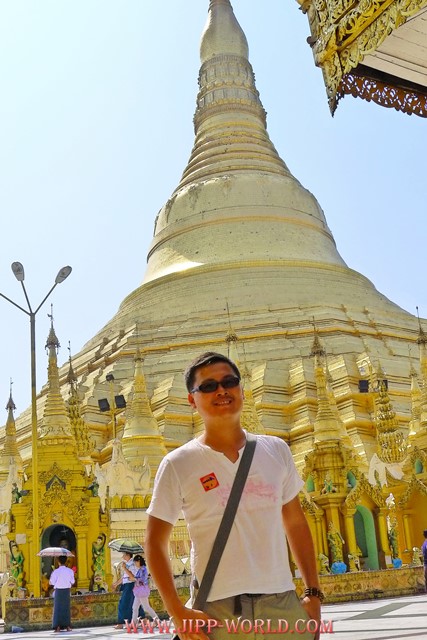 As a Buddhist country, Yangon is full of temples. The taxi driver took me to a reclining Buddha which is probably the biggest reclining Buddha that I've ever seen so far in my life. I couldn't help but comparing it with the one in Bangkok. They are both beautiful but for sure this one that they've got in Yangon has a bigger space for himself. I took quite long there then I had intended to. I just couldn't get enough of its grandeur.
Of course he took me to a few more other places – mostly temples  whose names I can't quite recall now – but they all made me realize how religious Myanmar is as a Buddhist country. I was taken to a place in the middle of a huge garden which I can simply say now was my favorite temple among all the temples that I was taken to in Yangon. Looking at it from a distance was already a wow but it was the interior that made me gaze in an amazement. It is so perfectly symmetrical that you wouldn't even know which angle you are looking from once you have stepped in.
Mind to tell you that all the temples in Yangon are mostly active places of worship where people do still come to pray so you are required to take anything off your feet before stepping onto their compounds. But seriously, sometimes it's very difficult to tell if you're already in a temple compound because there is no apparent marking so you might end up being yelled at if you are not being careful enough.
Kidding. They wouldn't really yell but they'd just say something in Burmese while pointing at your feet so retreating back while making an apologetic face would usually make them break into a smile. I was actually quiet upset when the taxi driver kept insisting that I should go to Shwedagon Pagoda before lunch and not after as I wanted it since my stomach was already groaning in protest, but that was before I found out how damn hot the floors were at the temple – if fact they were so hot they could cook my feet and even have them ready to be eaten for lunch. Erkkk!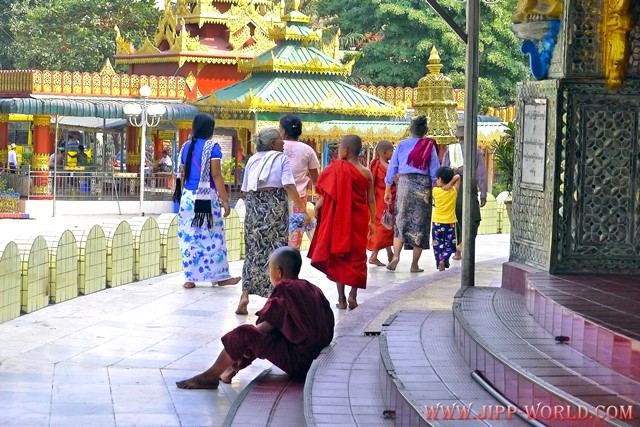 Point is, the earlier in the morning you go to the temples, the better. The sun in Yangon can be quite unbearable.
Food
Food in Yangon is quite aplenty. It's only up to you if you can trust the hygiene which is something that I have always a problem with whenever I go traveling.  I had come to find out that local dishes in Myanmar are heavily curried – something that they probably got from their geographical location which is quite near to India and a neighbor to Bangladesh.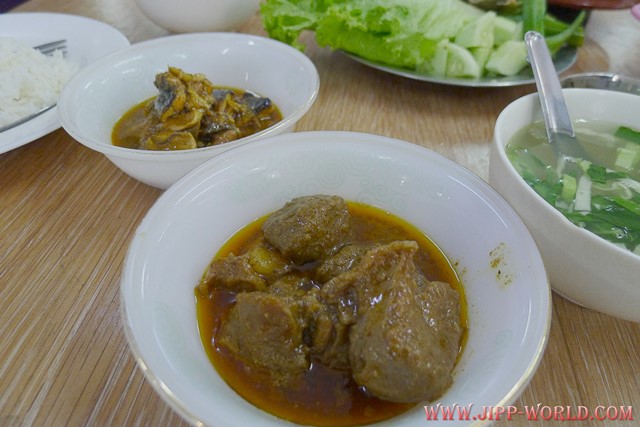 But then, one of the most famous descriptions of Myanmar at least among travelers is that it is where India meets China. I see a mixed influence of both the giant countries to Myanmar – not only the culture but also in the people. Some of them look Indian and some look Chinese or a combination of both. That applies quite heavily on their food too. You always have the privilege of choosing between ordering a Chinese-ish or Indian-ish dish.
Post – SEA Games
I had the opportunity of spending my last very last day in Myanmar in Yangon. Instead of taking a cab, I decided to just walk as any real traveler would do despite the heavy sack on my back. Exploring Yangon on foot had given me the opportunity to uncover quite a great deal of things in the city which is still heavy with the recently concluded SEA Games promotional boards.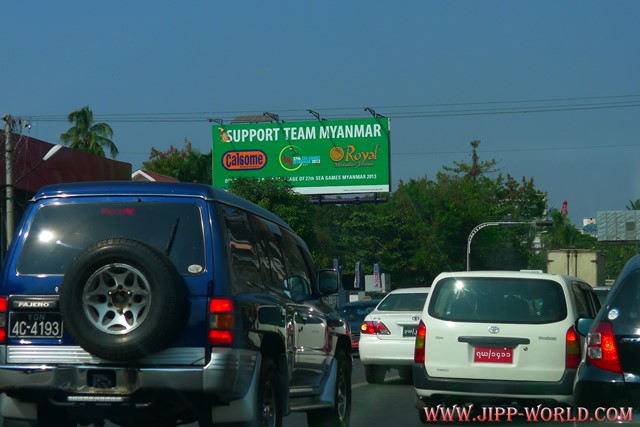 I really love how they describe the games. I mean, they would ask you if you have watched the SEA Games and then they'd tell you that Thailand had won it. Of course that's their indirect way of telling that they won the second place – a fact that they seem to be so proud of. I mean, I find that quite cute really.
Internet Connection
If you want to experience how it feels like to be totally disconnected from the outside world then Myanmar is just the right place for you. You'll see signs of free wi-fi just about everywhere and quite more than not your phone does actually detect the signal, even gives you the temporary excitement by showing 'connected' on your mobile phone before frustrating you with the blank page when you try to browse in.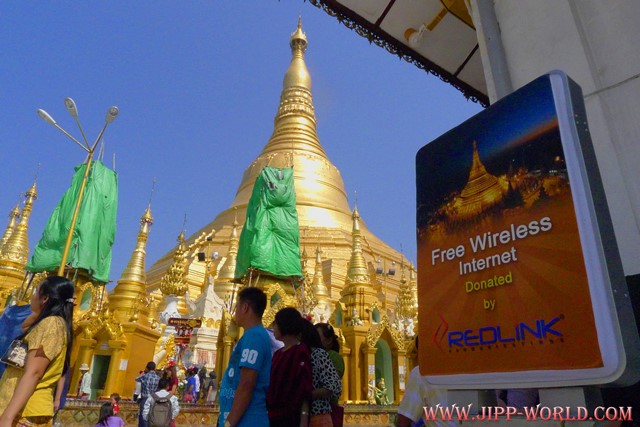 It can be quite frustrating at first but then I found myself being OK with it after some time. In fact, it gave me the opportunity to really focus on my trip and became totally aware of the surrounding – a bliss that hardly comes by when you have a working phone in your hands.
Well, Yangon was quite alright but it didn't really excite me as much as my next destination did. I mean, seriously, the idea of walking through ruins of temples whose existence is timeless has never failed to excite me.
NEVER.