So after more than a year break from traveling, with the last trip was to Chiang Mai in October of 2017, I decided to return to it (traveling) this year and decided to go somewhere for Chinese New Year public holiday. So when I saw that a return ticket to Lake Toba would only cost me RM225, I immediately went 'why not?' I was even more exhilarated when I found out that a room at Bagus Bay Homestay – which is like one of the top lodges on Samosir island – would only cost me about RM160 for 6 damn nights. In the end I only changed some RM600 to rupiah, which made my trip to Lake Toba one of the cheapest travel trips thus far!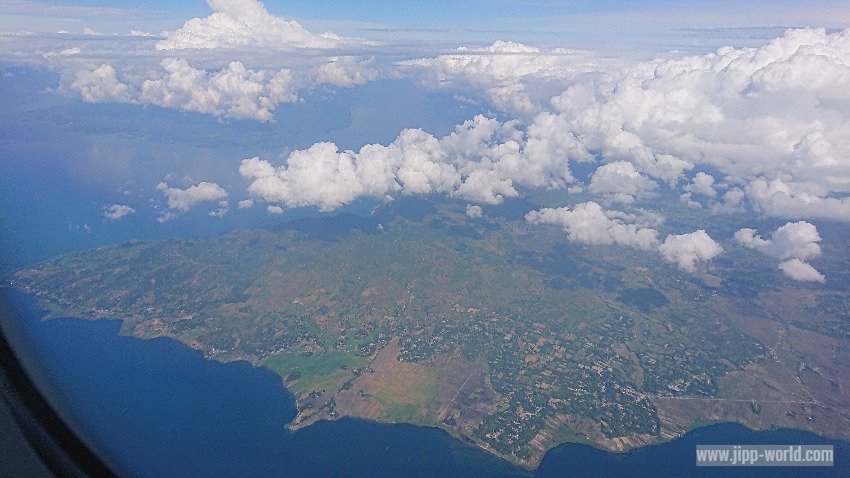 So I flew directly from KL to Silangit Airport near Lake Toba – instead of flying to Medan like most travelers had to do before this new airport was opened. I have heard so much about gruesome experiences that travelers had to go through going on the ride from Medan to Lake Toba so I was glad that I didn't have to do it. From Silangit Airport, I took the free ride offered by a bus called Damri which dropped me off near the Tiga Raja jetty in Parapat from where I would be taking a boat to the lake island of Samosir.
Parapat that I found out is a very nice lakeside town. I checked myself in at a budget hotel called Hotel Bagus Inn – which is probably the nearest hotel to Tiga Raja jetty. At IDR100,000 per night (MYR30), the room was very basic but it would do me just fine for the night. I really like that the room has a veranda from where I could get a sweeping view of the Tiga Raja market and also the jetty and what there was beyond.
But of course being near to the market means you have to know how to shut yourself down to all the noises from the market and the traffic. The people in Parapat (and probably the whole of Indonesia) honk their cars and motorbikes a lot so you gotta make yourself get used to it or you'll go crazy before long. Then the Batak people – which dominate the population – are quite loud too. They joke a lot and they talk at the top of their lungs. But I really like them. They are so friendly and welcoming to outsiders.
So from Parapat I went on a 40-minute boat ride to a place called Tuk Tuk on Samosir Island. The most amazing thing is, the boat would drop passengers off at the jetty nearest to their respective hotels so it really was so hassle-free. Once I landed ashore at the jetty, I was at Bagus Bay Homestay in less than 10 minutes. Talking about convenience!
I liked Bagus Bay Homestay almost instantly when I got there. It is very green and I feel like being so close to nature. The restaurant is probably one of the best in Tuk Tuk and it has all kinds of foods and drinks and the great ambiance was a big plus. The pork rendang was definitely my favorite among all the meals that they offered – or at least among those that I had ordered. The combination of curry and coconut just clicked at the right spot of my appetite I actually found myself ordering it over and over again – even to the very last day of my stay at Bagus Bay Homestay.
The room is very basic – it has the bed, a little wooden rack where I put my stuff on – and that's it. There was one power socket, but I had to be creative with fitting in my hand phone charger because the universal adapter that I took with me would easily slip off the socket under the weight of its bulkiness.
There is a mosquito net which I never got to use anyway because I think the mosquitoes were bearable even without the net. They did not provide towel and shower stuff but thanks God I've been traveling quite extensively for the past few years (except for last year of course) that I already knew how to be prepared when going on a budget trip such as this one.
The only downside is probably the rooms being far from sound-proof so it is quite a problem for those who have a sensitive pair of ears. I mean, I was not surprised when the American guy who stayed next door when I first came in moved to another room on the next day. I remember how somebody came nudging at my back in the middle of the night when I and my friend Frank joined a hiking package in New Zealand a couple of years ago.
I would have been more prepared this time if he came to me but he never did. He did not even say anything when I bumped into him several times all throughout my stay at Bagus Bay Homestay so I just went with the flow and pretended like nothing ever happened at all. LOL.
My favorite part of the whole homestay is the lounging area at the lakeside.  I really like to go there and take in the moment and everything that comes with it – the beautiful view, the serenity of the lake, the relaxing ambiance, the cooling atmosphere – everything. I could spend hours just lounging idly on one of the wooden chairs and watch the world go by – usually until it was too cold or dark to stay outside, then I'd return to my room and do whatever there was to do for the night. I certainly had no specific plan and my trip this time was intended to be such.
For me there is something so relaxing about being on Samosir island. It is so peaceful and for one I felt so glad that there were not many tourists around when I was there. Lake Toba was once a top tourist destination in the region but somehow it had diminished down for reasons that I am still trying to apprehend. When I was there, people would compare it with Bali, which remains the top tourist destination in Indonesia for so many years now.
Lake Toba has all it takes – and one of the locals insisted that Lake Toba is even more beautiful than Bali. I had to agree with him. The fact that Lake Toba is a fresh water lake makes it stand out from the rest (counting in the size of the lake of course). The weather is cool and it doesn't have the saltiness and tackiness that you'll get from the air at sea beaches.
But then he was fast to admit that the people around Lake Toba have mostly embraced the modern cultures brought about by Westerners (or may be the more modern people from other regions) so they are losing the cultural appeals that the people in Bali still very much retain.
One of the very first things that struck me when I first arrived at Lake Toba was the existence of so many churches. I mean, churches of all sizes and designs can be found all over the island of Samosir and beyond. It's like every village has at least a couple of churches – probably one for the Catholics and the other for Protestants. Samosir for one is so Christian – it is even more Christian than most places that I've to in the Philippines.
I did make my time attending the Sunday mass at the Catholic Church near to Bagus Bay Homestay. Although the mass was run in Batak language, I had no problem aligning myself to it because Catholic masses are pretty much standard everywhere in the world. One thing I immediately noticed was the dresses of the locals at the mass. They were so dressed up I actually spent most of my time at the mass gazing at their beautiful dresses. I felt so out-of-place dressed in a simple hiking trousers with a tattered round-neck T-shirt but then that was all I had – or rather the best I had on this trip. Heh.
I did do a little bit of hiking to some of the hills near Tuk Tuk and the views were simply amazing. The sweeping view of Tuk Tuk and the rolling hills and the blue lake all around – then the surrounding caldera – they just come straight out of a picture postcard. I saw buffaloes in muddy pools – something that I used to see a lot when I was a kid but not quite anymore – not in  a very long time but this. Being an animal lover now, I can't bear looking at their roped noses though, something that seemed so normal when I was a kid. I can imagine myself being roped in the nose all the time – the difficulty in breathing and all. It must be so choking for them.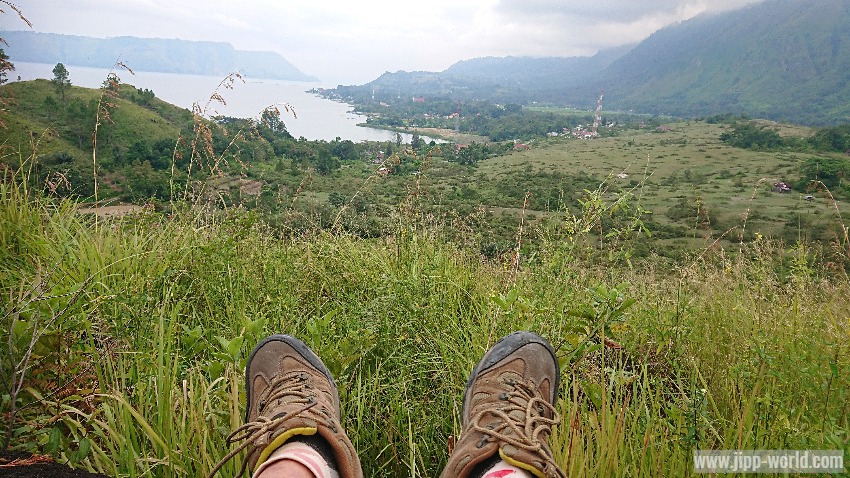 Nights at Tuk Tuk can be deafeningly silent. The travelers at Bagus Bay Homestay would go to the restaurant and spend their time chatting up til late at night – usually over beers. I did join them a couple of times, but somehow I did not really feel like engaging myself with other travelers this time. I did however get on quite well with somebody by the name of Loh from Klang in Malaysia, who at 70 years plus is still very much actively roaming the world. The most amazing thing is, he'd usually go on his own!
He told me about his epic journey in the US, where he did a hike with a Japanese in Grand Canyon but had to turn back after awhile because he just couldn't keep up with him. Then how he had to disembark from a bus full of Mexicans because the bus had entered Mexico without going through any immigration check (he ran back to the US side and walked back into Mexico the proper way) then how he was detained at Honduran border check because he was suspected of being a Chinese dissident in light of the student massacre on Tienanmen Square in 1989.
He was quite of a story-teller and I have to admit I enjoyed listening to him and his stories but some of his thoughts are quite too traditional for me. He might have traveled the world but I think a big chuck of his minds is still very much stuck right where it was before he started traveling and arguing back would have been a waste of time because I know it is not easy to change something that's been developed in one's head – probably for half a century in his case.
In the end I would just nod to whatever he had to say. I think he enjoyed being listened to quite too much that he decided to come with me when I crossed back over to Parapat the day before I was set to return to KL. But then, I did find quite a big chuck of inspiration in him too. For me, an old man is like a library. You have to read as much of its books as possible while it – the library – is still there.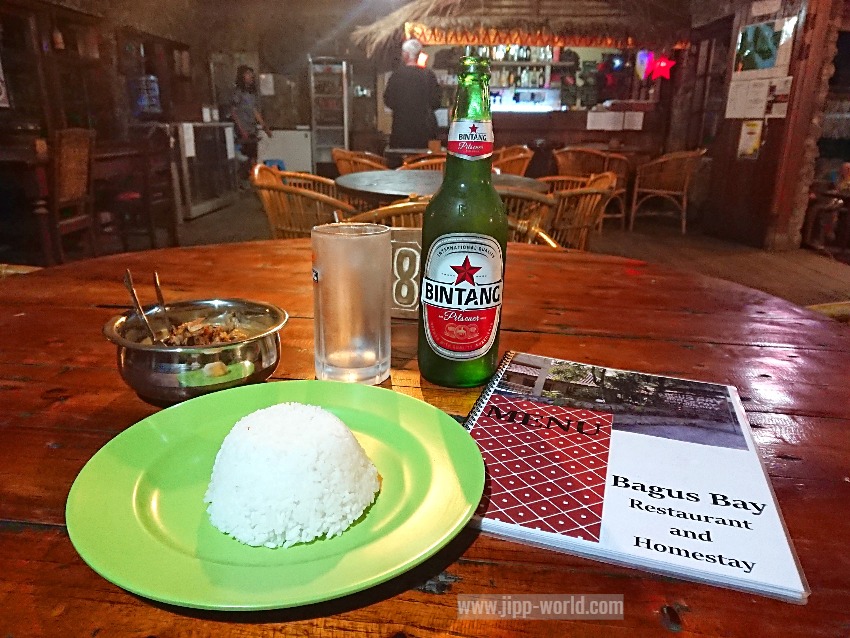 One of the highlights of my trip to Lake Toba is my motorbike ride around the island of Samosir. It really gave me the opportunity to explore more of this island and see for myself why Lake Toba was once considered the top tourist destination in the region. But of course I would have to spare that for another post.