One of the things that I did in Manila when I went there earlier this year was to find Barong Tagalog, the Filipino's formal costume for men. It was actually a colleague of mine who asked if I could buy a pair of it for him and I readily agreed thinking that I was going to spend 5 days in Manila. When you are spending that long in a city like Manila, anything that creates a little bit of activity is welcome especially when it involves something like shopping.
I actually received a few suggestions on twitter and facebook on where to find Barong Tagalog in Manila. Quite most of them had suggested that I go to Tutuban Mall to find the most of choice. Located quiet nearby to the Divasoria market which is infamous for its notorious pick-pockets, I didn't go there without much risk especially when I had the ladies tagging along behind me.
In fact the taxi driver that took us there had warned us and so was the driver of taxi that we took back to the hotel from there. "It's not worth the risk. You shouldn't have gone there. There are other places that are safer to go", he said.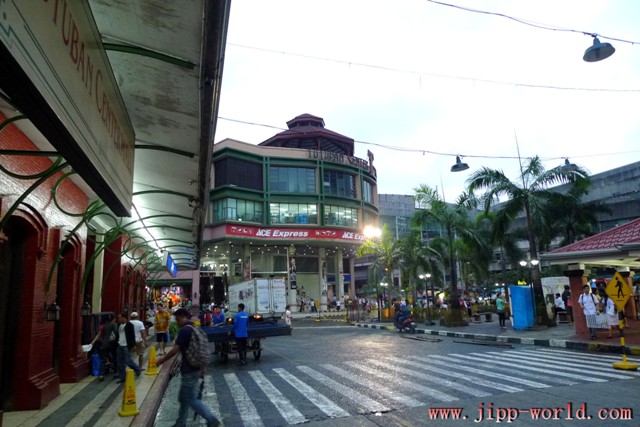 Thanks God I already went there on my first visit to Manila so I was quite prepared. We just needed to be a little bit alert and do all the precautions and we should be alright. Besides, that part of the city is the best place to go on a shopping spree for me – not to say culturally rich and colorful and full of characters.
The mall was much bigger than we had expected so we had to ask around before we managed to find the part of the mall sells Barong Tagalog. I didn't really do much research on the costume so it took me quite a while before I could decide which ones to buy.
I had come to learn that there are two types of Barong Tagalog (at least at the Tutuban Mall) namely Pina Kukun and Pina Jusi (I might have heard them wrongly). I don't exactly remember which one is more expensive over the other but the more expensive one is priced around PHP1800 onwards (down to PHP1500 if lucky) while the less expensive is PHP1000 (down to PHP800 if lucky) onwards – depending on your negotiation skills.
Of course each type has its own variety of  patterns and designs and they come with or without collar (mandarin collar). The fabric is quite thin and transparent so it has to be worn with an undershirt.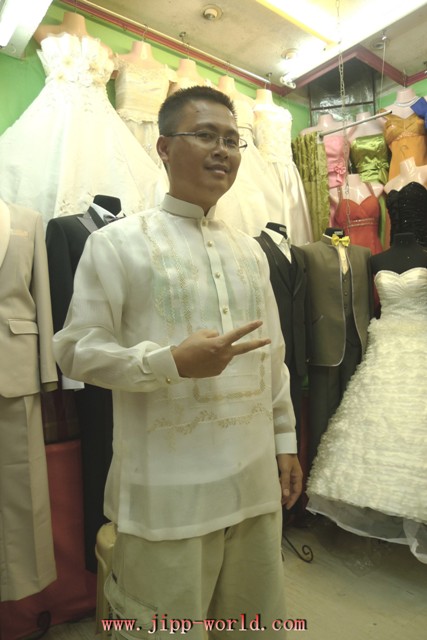 After spending a couple of hours surveying around and negotiating and all, I finally decided to buy a pair for my colleague and another for my own. I'm still waiting for the best time to wear it though. He.
Apparently, that part of the mall was not all about Barong Tagalog alone. I've never seen so many wedding dresses at one single place like I have at the Tutuban Mall. They come in different designs and colors and I wondered if it would make a good business to buy the dresses at Tutuban Mall and sell them back in Malaysia where wedding dresses are known to cost anybody a bomb.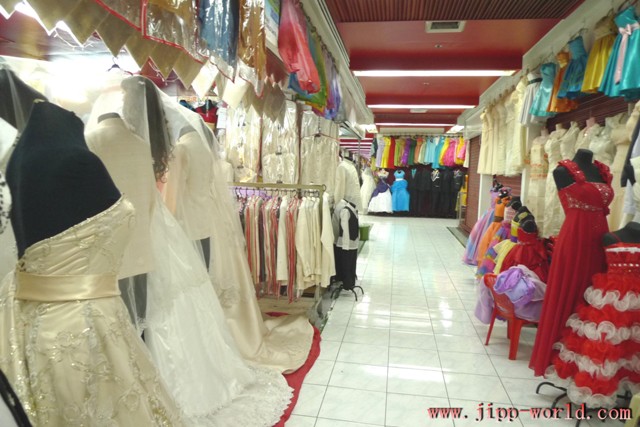 Needless to say, with the ladies with me, we spent the whole day at Tutuban Mall, right from breakfast until the shops were closing their doors. In fact, my sister had to be asked to leave because she was still so busy browsing through the clothes when the door was already half rolled down. Haha!