One of the reasons why I picked Jati Home Stay & Gallery among quite a number of hostels in Ubud area alone was probably its closeness to a paddy field. I like the idea of waking up and walking straight out onto the veranda to see the spread of beautiful paddy field when it is still misty in the morning.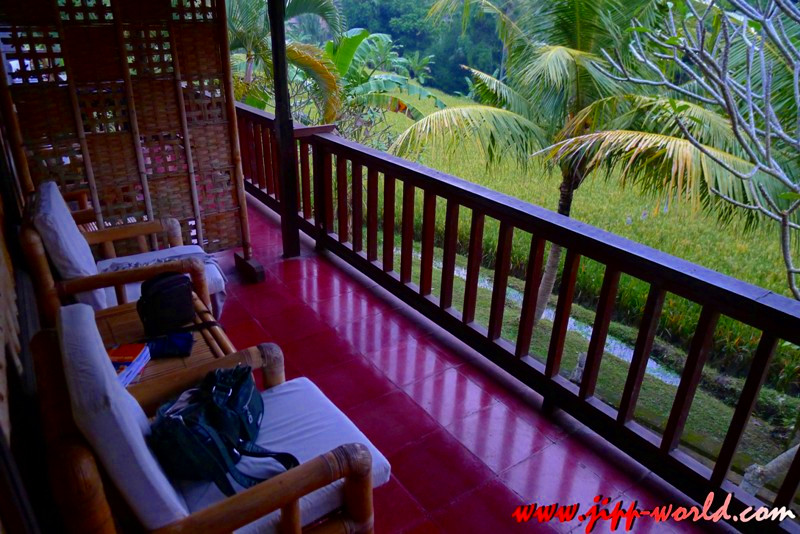 That was almost certainly in our bags until we were led to the room and found out that it was …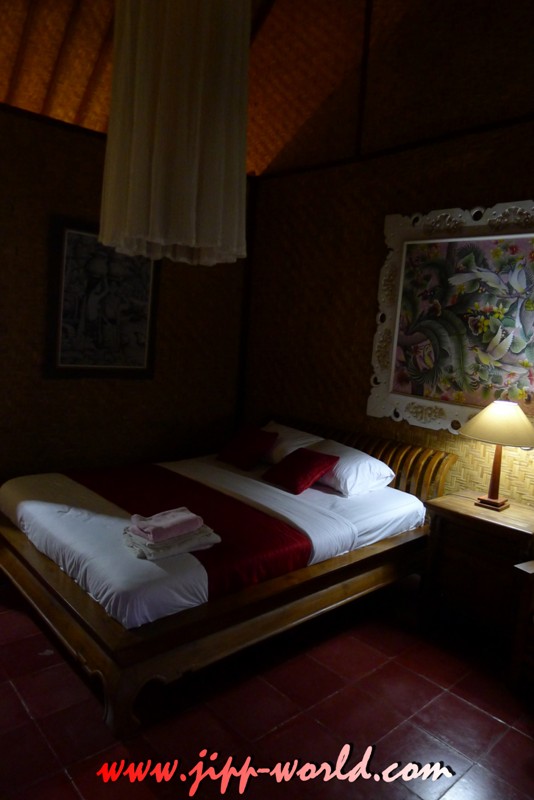 … a double bed!
"This is the only room that we have left for tonight", the homestay care-taker explained as if nothing was wrong about that. She then shot us with a mischievous smile and even laughed a little when I told her  that me an my travel partner Ulai were just friends and that it wasn't right to share a bed.
"Ngak apa-apa..", she said in between her chuckles and I didn't find it was funny at all. Oh well, in fact I did. But then, what do you expect from somebody who was born (and raised) in a conservative Catholic family? I didn't even want to think what was gonna happen if I shared
I was the one who booked the room so I had to convince Ulai that I did not intentionally book a double-bed! It was stated in the website that they had a double-bed and a single placed in one room (under amenities) so that was what I had booked for. In fact, I did email to them to make sure but they never replied so while it wasn't entirely unexpected, it still didn't feel good when it finally happened (double bed). 😛
I felt so guilty I actually offered to sleep on the cold concrete floor, at least for the night. Uhuks! Poor me. 
One thing I gotta tell you about Ubud is that it is very gloomy and dark and silent at night, probably too silent that you can hear when somebody is coughing a few houses away. A friend of mine described Bali as 'very spiritual'.
"Everything around you is just so spiritual there", I remember her saying. Coming to Bali for myself, or at least in Ubud on my very first night there, I assumed her definition of being spiritual was then a combination of darkness and silence.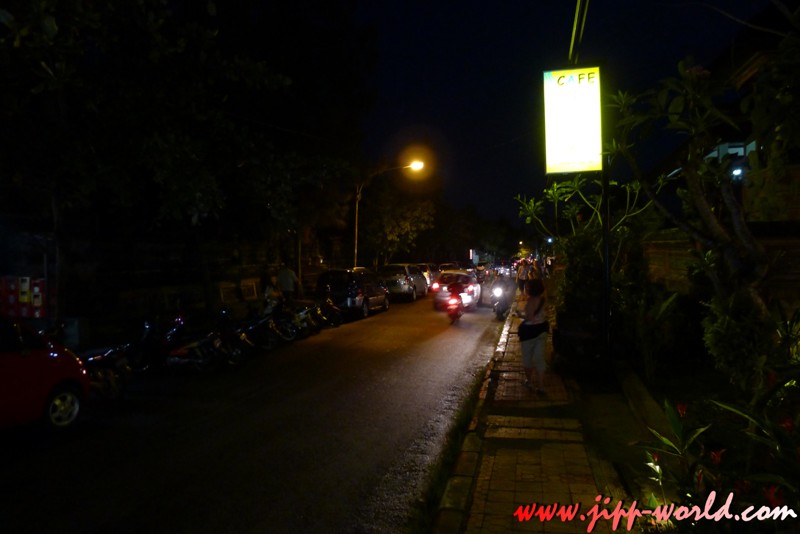 Even the rooms and the bathrooms were bleak and gloomy and the lights were dim I had push my face very close to the mirror every time I wanted to put my contact lenses on.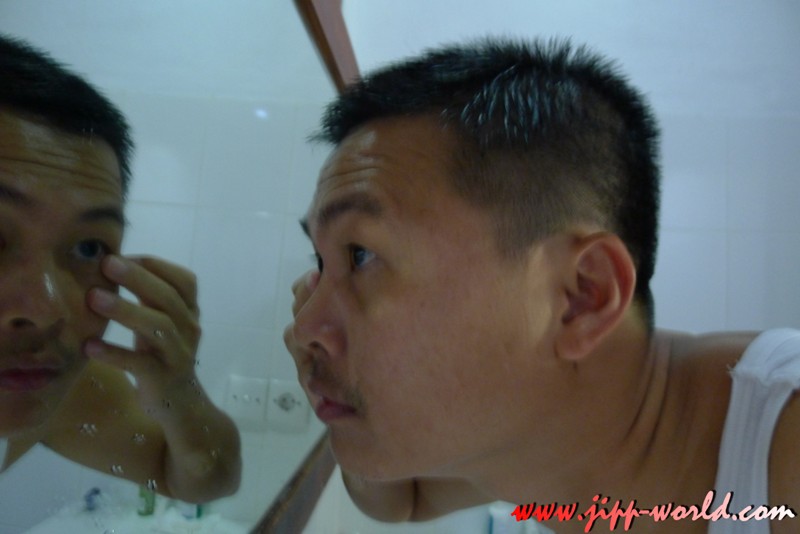 So – our first dinner (and meal) in Bali happened right here. It is located just a stone's throw away from Jati Homestay.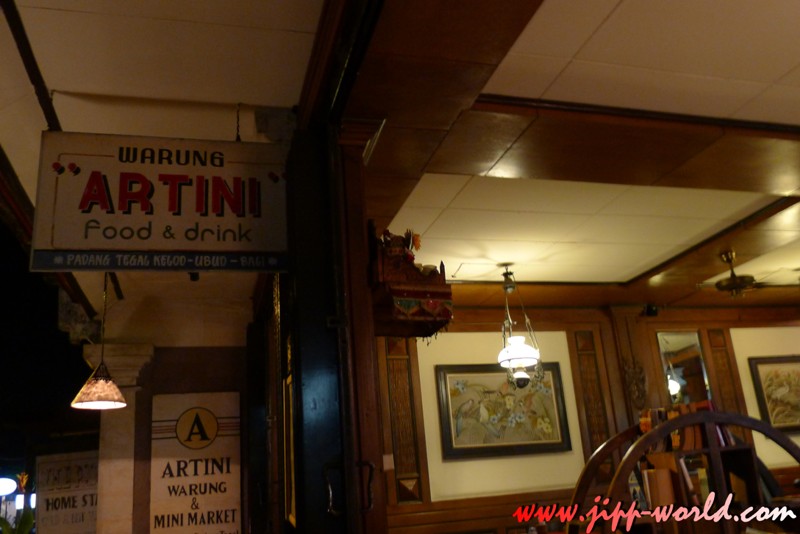 I don't know what I was thinking when I ordered Spaghetti Bolognaise. It was so 'un-Bali'. Spaghetti for sure was not really their cup of tea. It was quite bland to my tongue I'd rather wish they had served me Maggie noodles.
Whether it was the price or may be I was  just being plain hungry – I finished it off nevertheless.
Ulai on the other hand had been smarter by ordering a local delicacy called Cap Cai – A Chinese style fried mix vegetables in thick broth. She actually made a big mistake by offering me to have a spoonful. It was so delicious I couldn't stop prodding my spoon into her dish and for a moment I had almost forgotten it was hers and not mine. It was a little bit spicy but that was what made it even more delicious to my tongue.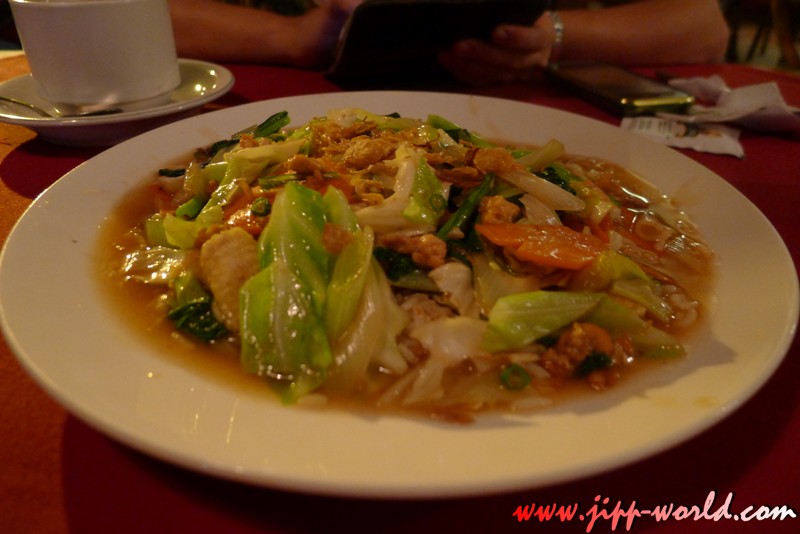 We also had our very first taste of Bali Coffee. I think Ulai was a bit exaggerating when she said SEDAPPPPPPPPP (delicious) in such an elongated pronunciation.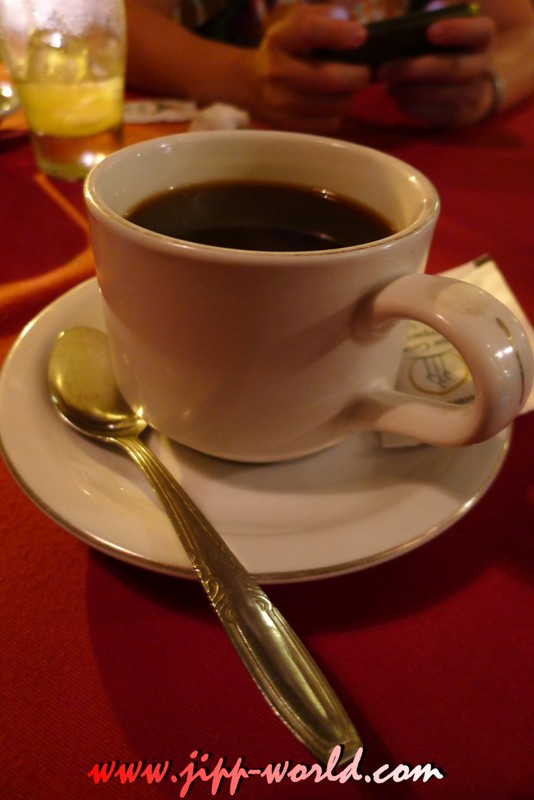 To my normally caffeinated tongue, it tasted more or less like Kopi Tenom – our very own local coffee that is widely sold at a few bucks per packet in the North Borneo. 
Located in the Hanoman Street that stretches across one of the most touristic areas in Ubud, one has to expect the prices of food here to be a little bit over the average. A proper meal might cost you around USD4 (MYR12) if drink is to be included.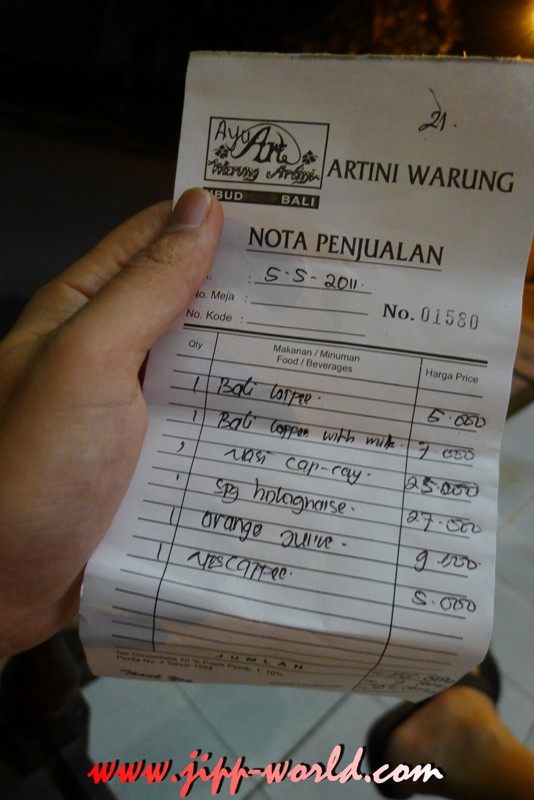 Back at Jati Homestay later, I was preparing to sleep on the cold concrete floor in the cold night air of Ubud when the home stay caretaker came to my rescue.
"There is a vacant room downstairs ready for use now if you still want a twin-bed", she said, and to that I jumped in delight.
Moving into the new room, I couldn't content my excitement. The room fitted perfectly well with how I wanted my room in Ubud to be.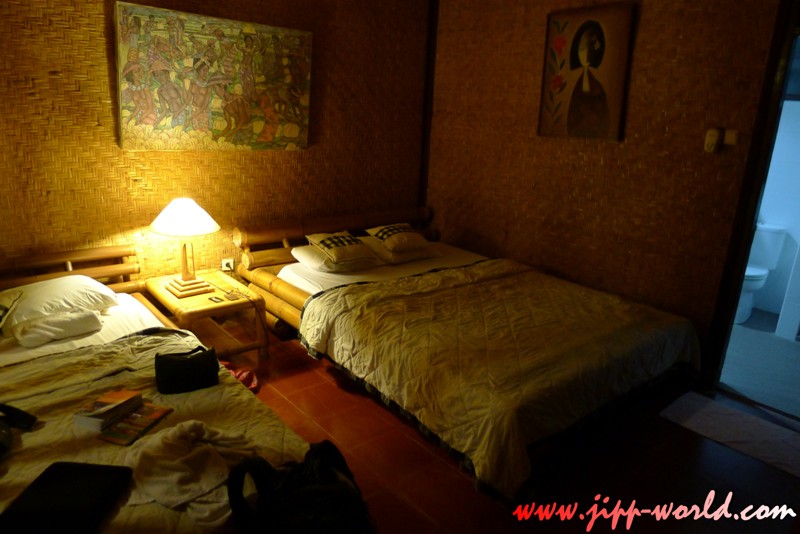 Almost everything in the room was made out of bamboo – the walls, beds, coffee tables and even the cupboard are all made of bamboo, bringing in the 'nature' looks in the whole room.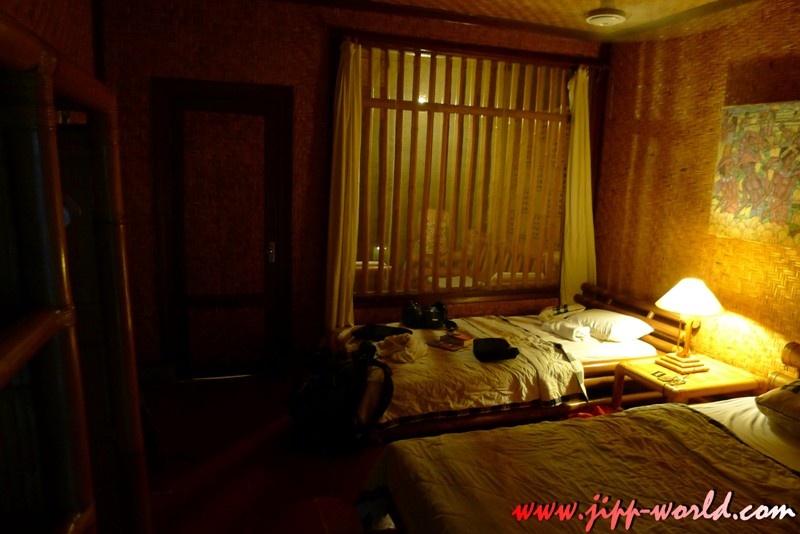 It had two beds, one was a double and the other was single. Quite naturally, Ulai went for the single, and I for the double. I was then free to be a babi guling (rolling pig?) all night long, totally unobstructed by any living thing. 😀
I was quite sure I heard Ulai scream in excitement when she saw this.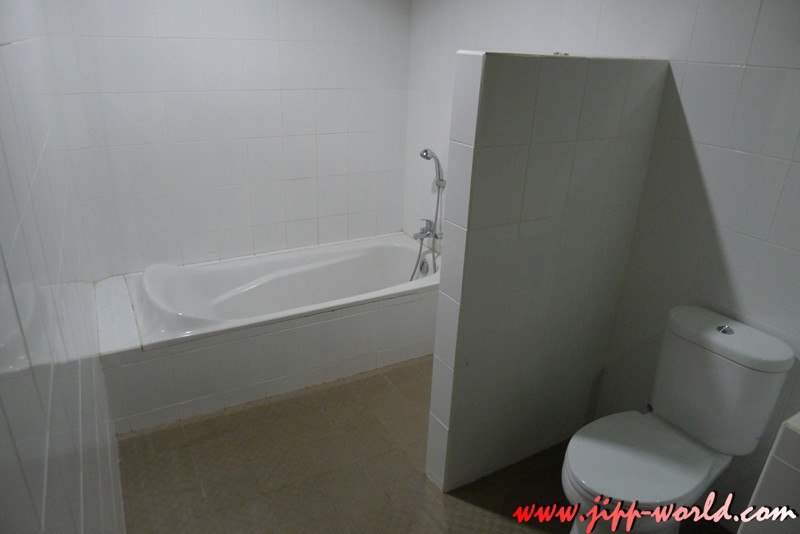 A bath tub. It's quite easy to please Ulai. Just throw her into a room with a bath tub and she'll be a happy girl. You can even lock her up in the bathroom many many hours on end and she wouldn't mind at all. This travel partner of mine really is a tub type of girl.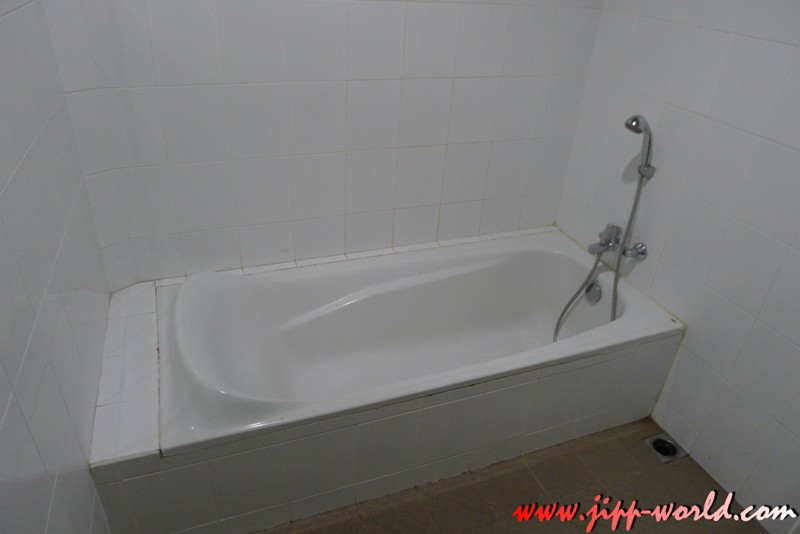 If you feel like breathing the fresh air of Ubud out in the open, the veranda would be more than ready to serve you with just that.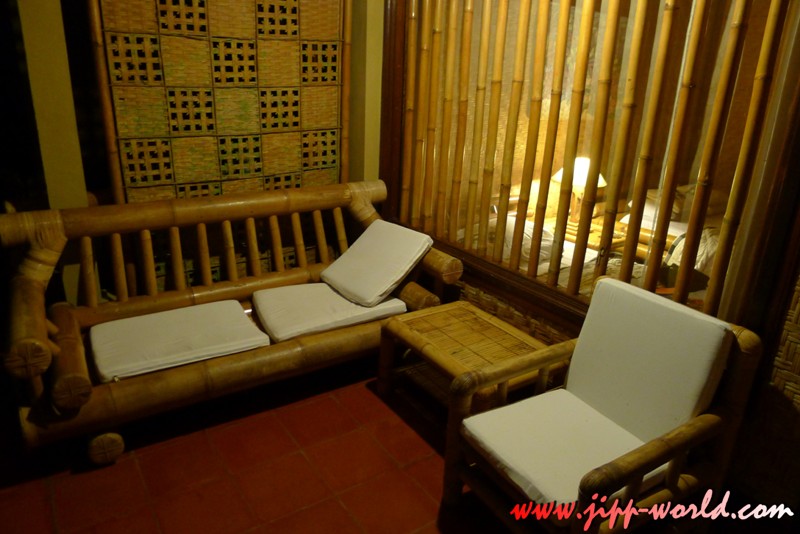 Something I gotta tell you about Bali is that most of the hostels there provide you with free wireless internet connection and wireless in Bali is certainly over the top, even better that most free wi-fi's that I usually encounter here in KL. Just look at my happy face as I get connected with my friends back in Malaysia – smooth and totally uninterrupted. Yippie!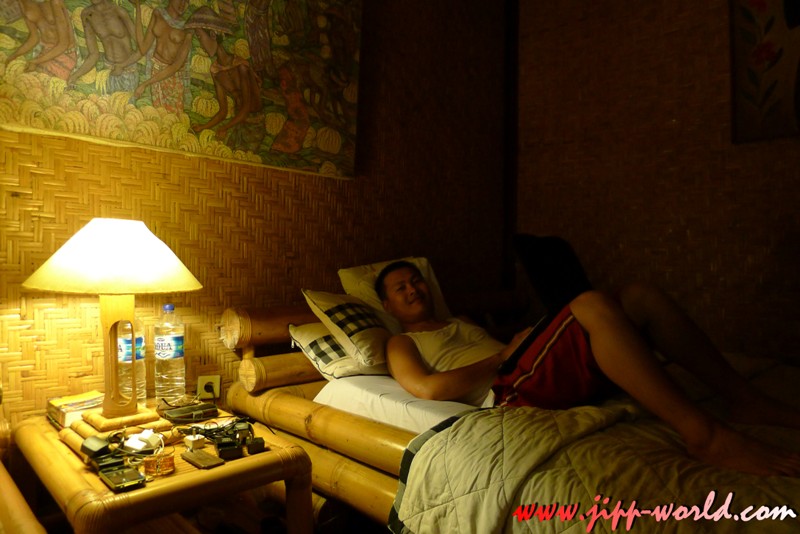 So – waking up the morning, I was instantly captivated by the serenity and beauty of Ubud at the break of dawn. The freshness of the air, the greenery that surrounded me, the blossoming flowers, the mist that was about to evaporate off the paddy field when the sun cast its rays on them – everything about mornings in Ubud was just so wonderful.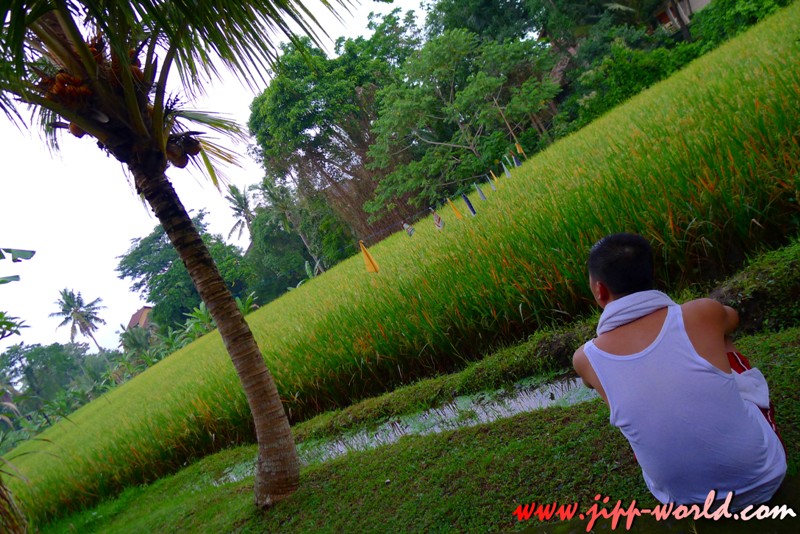 The coming of morning doesn't immediately break the silence of Ubud, or at least around the area that we were staying in.
The only sound that I heard was coming from this a lady who appeared to shoo away the birds with her high-pitched hollering.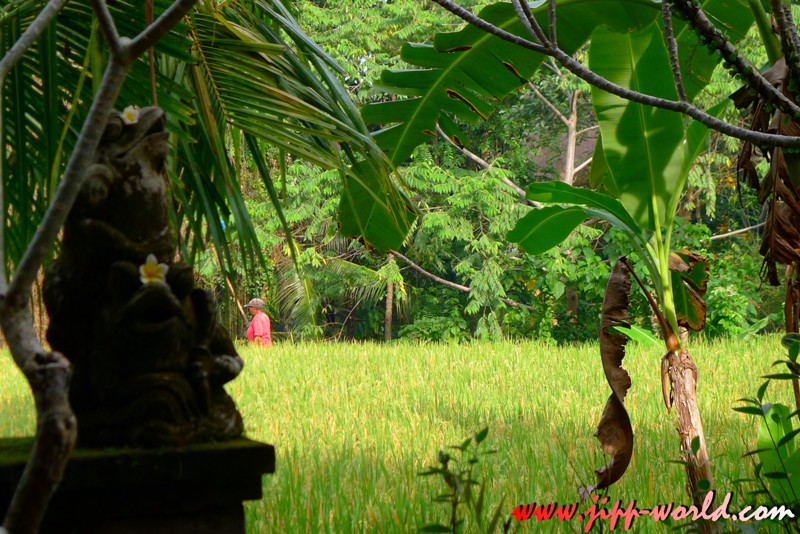 And the lullaby-ing sound of this small creek that provides constant supply of water to the rice fields. I'd rather call it the stream of  life. It keeps the paddy growing and the paddy keeps the people alive. Being an Asian, or rather South East Asian, I don't think I can ever survive without rice myself.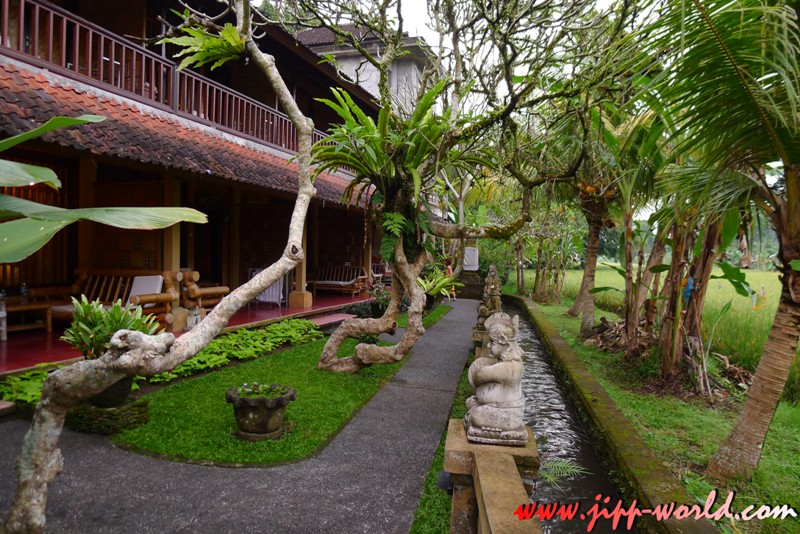 There is a saying that the beauty of a girl is best judged when she has just woken up in the morning. Apparently, Ulai refused to let me prove that here so I'll leave that one up to your imagination.  He.
Breakfast set at Jati Homestay was nothing like I've ever seen before. I gotta agree with Ulai that while it was probably too small a portion for our foodie stomachs, it really was so…. what do you call it? Yummilicious? Yummilicious may be it is and I can't even find it in the dictionary. LOL.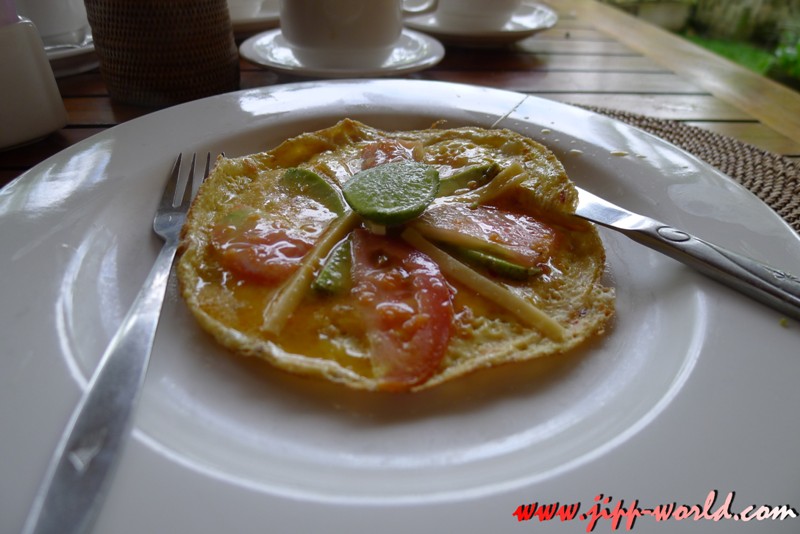 They even came with a simple assortment of freshly-sliced fruit to complete a perfect breakfast for us all throughout our stay in Ubud. (They serve the same thing every day I think).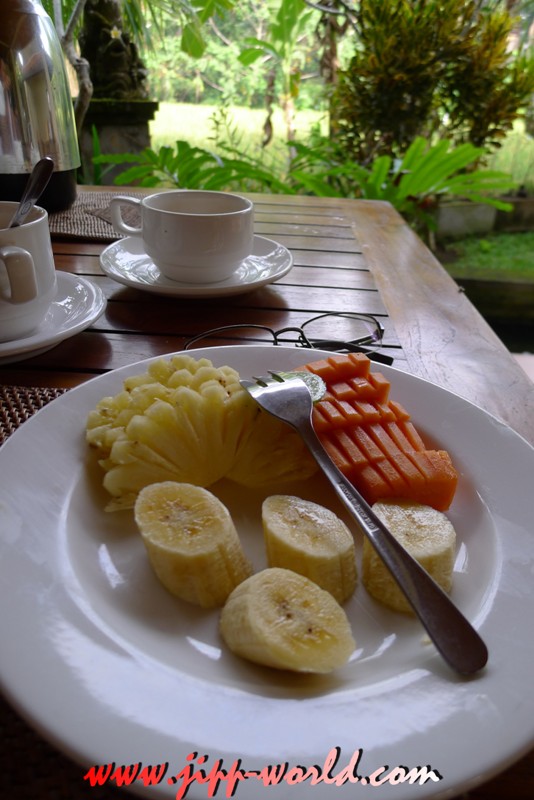 So, I had to give my toss to a beautiful morning and a great stay at Jati Homestay and hopefully, a great day ahead.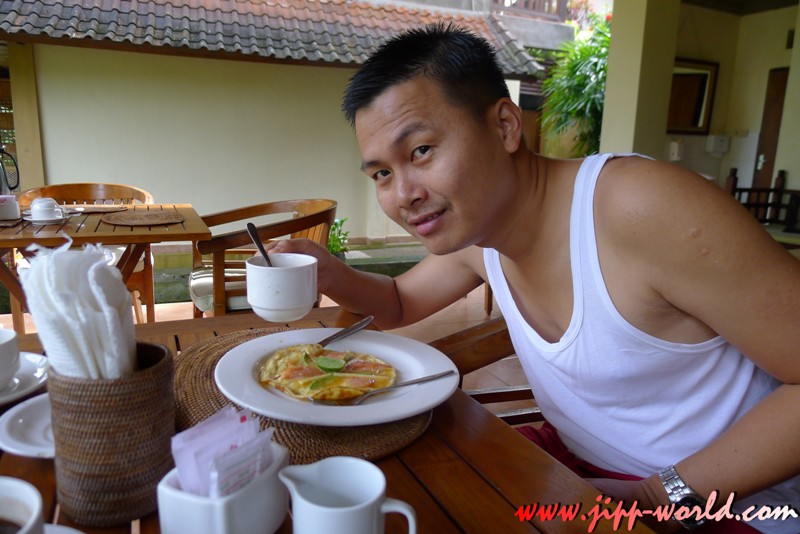 Of course, the real adventure was just about to begin. 🙂
Info
Jati Home Stay & Gallery
Hanoman Street, Padang Tegal, Ubud, Gianyar, Bali, Indonesia
Tel:   +62 0361 977701 , Email:  asa_dewa2000@yahoo.com
Hostel World
Booking a hostel via Hostel World is easy peasy. I've done it quite a number of times and never encountered any problem so far. All you need is of course an active credit card with sufficient balance. You'll be asked to pay a deposit of 10% of the total fee of your whole stay at the hostel and the other 90%  to be paid upon arrival. Take note that you gotta INFORM the hostel that you've booked via Hostel World and that you've already paid the 10% deposit so that they wouldn't include that 10% in your bill.