Our exploration of Perak continued by heading East towards Kuala Kangsar before turning south towards Lenggong Valley. Now, Lenggong Valley might have surprised a lot of people when it became the only fourth UNESCO World Heritage Site in Malaysia after Mount Kinabalu, Mulu, Malacca and George Town.
Whenever I come to a country for the first time, I'd usually search for its UNESCO World Heritage sites knowing that it's going to be worthwhile to visit every one of them. I mean, everybody knows that to be getting inscribed on the list is not easy. A place has to be extraordinarily unique and highly significant and historically invaluable to humankind to be even considered in the run for a place in the list of UNESCO World Heritage sites.
When I first heard about the inscription of Lenggong Valley, I couldn't help but having a big question mark in my head as to what there were in Lenggong that made it so ordinary and eventually qualified it to be a UNESCO World Heritage site. I intended to be one of the first to find out at least among all the people that I knew. LOL
So off to Lenggong Valley we went, defying the exhaustion and muscle-aches that we rightfully earned from running at the Taiping International Marathon. Again, it was always exciting to come to a place for the very first time because we didn't really know what to expect.
Apparently, Lenggong Valley was not hard to find. If there was one place that we would go to first, we knew it'd be the Lenggong Archaeological Museum. Trusting the Papago to lead the way for us, we found it in the least expected place, surrounded by nothingness but palm-oil plantation.
Archaeological excavations have been done quite extensively in Lenggong Valley for the past few years with a lot of findings including it's most remarkable and treasured finding – the Perak Man.
Most of the findings are now on the display at the museum but I gotta warn you – you have to look at them through the eye of an archaeologist only then you'll see their true values to human history. Otherwise you'd only see them as nothing more than merely pieces of rock. LOL!
But seriously, when I looked at them more closely, I was amazed by how people used them to do all kinds of things in the past when metal tools were not even known to exist. It gave me a little bit of idea on how the phrase 'go back to the cave' came about.
The museum seemed to be undergoing extensive refurbishment with many of its sections were still closed. I guess being suddenly in the spotlight had prompted the management to do a lot of things to make Lenggong Museum look at least up to its standard as a new UNESCO World Heritage site.
I was quite disappointed that the original Perak Man was not there. I was told that it is now kept at the National Museum in KL so what they have now at Lenggong Archaeological museum was just a replica.
I think it was about time that they should consider bringing him back to where he belongs. After all, Lenggong Archaeological Museum seems all set to have him back with the beautiful glass casing and all.
After spending a couple of hours at the museum (of which we spent most of it camwhoring LOLOL), we decided it was time to see the real thing so we asked one of the janitors on where to find the excavation sites.
He told us that the excavation works had been done in many places all over the valley but he specifically recommended a village called Kampung Gelok as one of the most easily accessible ones.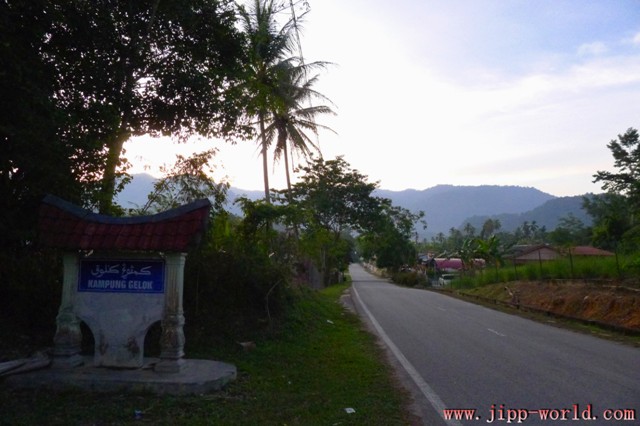 We drove past the beautiful town of Lenggong itself before turning to a junction that seemed to lead us directly to the hills. Of course we had to stop and ask for directions before we managed to find our way and drove right to the mouth of one of the caves totally unobstructed.
The condition of the cave was not one to impress. A barrier tape had been used to seal the place but I don't think it was enough to hinder people from entering the cave area. We ourselves encountered no problem ducking in and found ourselves inside the cave almost in no time.
Judging from the availability of facilities such as resting huts and info boards and walkways to connect one cave to another, the caves seemed to be a place of high interest in the past but somehow lost its appeal probably due to its bad maintenance and lack of promotion. The walk-boards are still very much in good condition but the resting huts seem to be in dire need of maintenance.
I think it's just a matter of time before the UNESCO people find out about how badly maintained the sites are and believe me, if they do, Perak and Malaysia as a whole is going to be so sorry to be stripped of one of the most sought after world recognition in the form of UNESCO World Heritage site.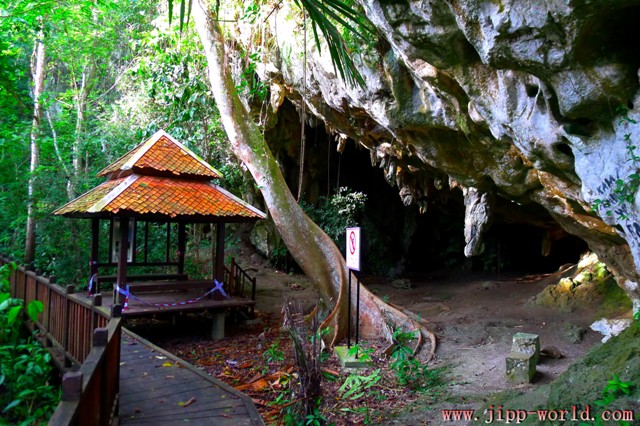 But seriously, the caves in Lenggong really have all the potential of being a top tourist destination at least among archeology enthusiasts. In addition to its UNESCO title, I think the authority only needs to do a little bit of promotional efforts in making the beautiful valley shine brighter on the map.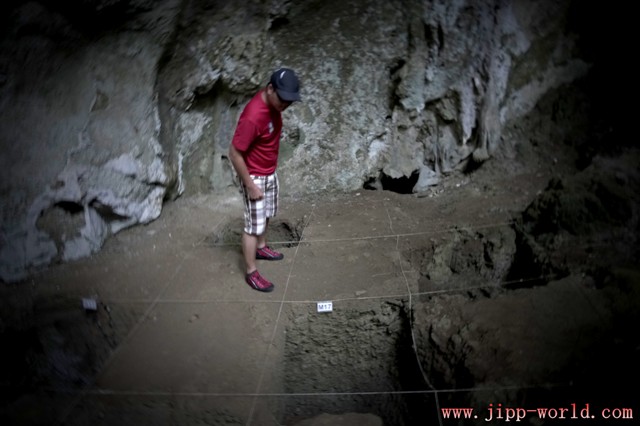 I just hope that we'll come back to Lenggong Valley in its better form, when everybody agrees that it certainly deserves the UNESCO site title. For now, I don't really see it. Not yet.
But at least my mission of going there was accomplished. My next (and last) destination in Perak had kept me dancing in excitement as my travel buddy-cum-driver drove the car nearer and nearer to the place that I had always wanted to go to for a very long time – IPOH. Yippie !