Previously on my trip to Bali, I wrote about our experiences of watching Barong Dance in Batubulan.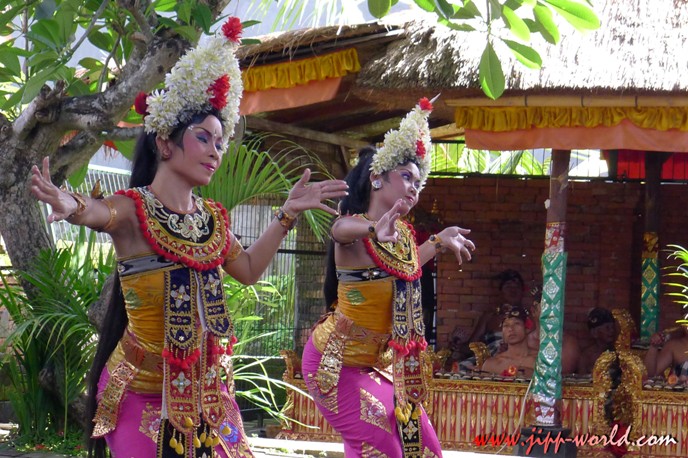 Then we headed off to Kintamani – the mountainous area on the North East part the island which is famous for its beautiful volcano and lake view.
Look, you can't really tell for sure if somebody is honest or not in Bali because they really know how to convince you that they are (honest). The driver looked so honest, I mean, he probably was – depending on how you define 'honesty' in a person.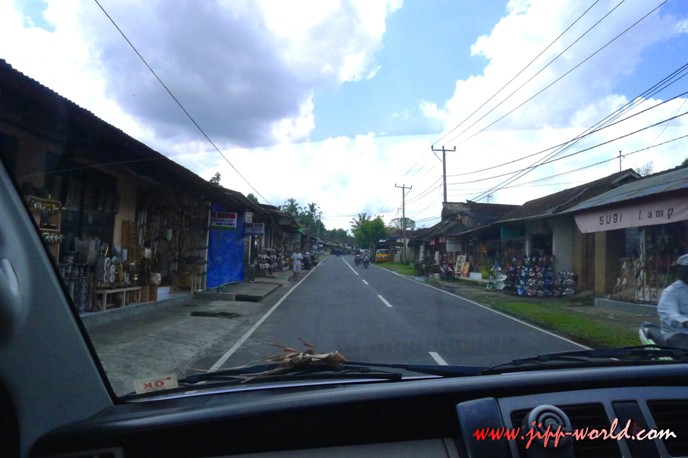 I think it's pretty common in most SEA countries where tour guides would bring you to places that you might not really be interested in. The tour bus that took me to Halong Bay had stopped at least at two different souvenir shops on the way to Halong Bay and another different stop on the way back to Hanoi.
Apart from profiteering from car-renting as their core business, tour guides also gain some profit by bringing tourists to certain places – usually souvenir shops- where they'll get certain percentage of commission from all the stuff bought by the tourists from those places.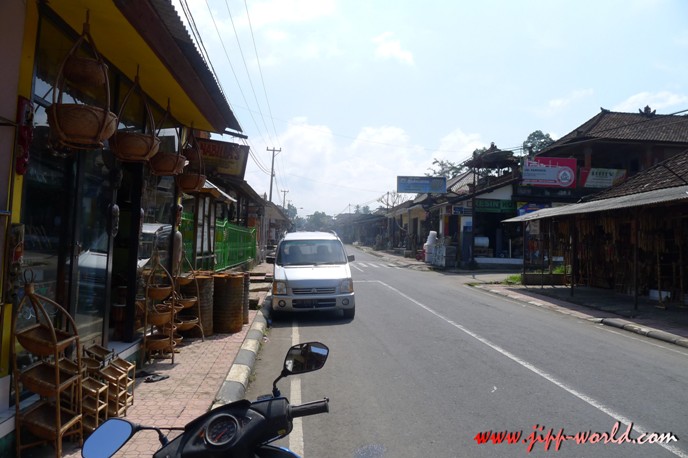 I did know for sure the existence of such 'scheme' from my past experiences in other countries especially Vietnam so I kept saying no when the driver asked if we were interested in stopping by a textile factory and a silver shop –which he described as 'the best in Bali'.
NO matter how he convinced us that it was worth to stop by at the silver shop, I found myself saying NO may be because I've never been interested in jewelery, be it silver or gold or even diamonds – unless of course, if they were given to me for free. Heeee!
Last time I tried out a  celup-looking silver bracelet at Ubud Market, the makcik had asked how much I was willing to pay for it. In all the honesty I said 30,000 rupees and she instantly grabbed it away and shouted 'Why not 5 rupees??!' and shoved it back on to the table. I could still hear her nagging even when I was already many shops away.
Oh well, of course I was not being selfish to my travel partner Ulai The Borneo Trekker. I did ask her if she was interested in checking the silver shop out and she was fast to say 'NO'. I even re-confirm by saying 'I thought all girls are interested in jewelery?'. To that, she was fast to say 'I am not really a girl. I am – different'.
LOL! Wokey.
But then, 15 years being in the business Made sure knew how to turn the trick. He told me how we would be required to wear a FULL Balinese costume to enter Mount Agung temple.
"But of course you can buy them at the temple but they might be much more expensive", he assured us. That seemed to have done the trick for him. Before we knew, we were already at a textile shop rummaging through the vast variety of batik costumes sold at a wide range of prices and qualities of course.
Made seemed to be eye-ing our every move with intent, probably silently praying that we would pick up the most expensive clothes from the store. He couldn't hide his disappointment when we came up with the most basic of dresses – just enough to get us accepted into the temple – if it was necessary at all.
Then something else that I saw made me almost puke in disgust.
A girl who had scooped up quite a bundle of clothes and brought it to the counter to do the payment – she probably had no idea of the commission thingy.
The problem was, whoever brought here there was nowhere to be seen around. Then the girl must have forgotten something else so she rushed back to the back of the shop while the girl at the counter continued to key in the prices.
Made jumped at the opportunity by moving forward and asked the girl at the counter to put the stuffs under his name and went hurriedly off before the girl (the buyer) returned. I remember him saying -unashamedly – 'She's with me'. ERkkk.
It was totally wrong to do and part of me wanted to protest but I had to consider how awkward it would be to be traveling in a car driven with somebody I had just caught cheating (and complained about it).
You see, you can't really be sure if anybody in the business is honest enough. Soft-spoken and well-mannered as he was, I had to pull my guards up after seeing what he had done. And yes – he did talk about how Balinese people believe in Karma. Hmmm.
Our next part of the journey required us to drive across Ubud – probably our last sighting of the place where we had spent our first 3 days in Bali in. While we didn't really make any effort to look for Ketut Liyer's residence in those three days in Ubud, I could still hear Ulai let out a gasp of excitement when she saw the signboard to his house. It was apparently very much within the vicinity of Jati Guesthouse and Gallery that we had previously stayed in. Damn!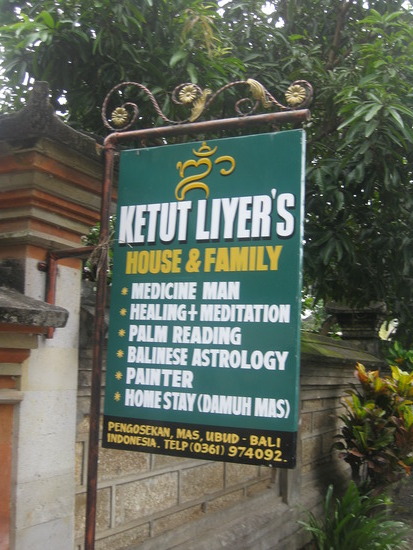 Driving on towards Kintamani and past Tegalalang (the place with terraced paddy fields), it was truly a sight-seeing session for me this time. The experience was different because you had somebody to watch out on the road for you. Riding a motorbike required a little bit of extra care because you know you have another soul riding with you. It was such a big burden responsibility. 😀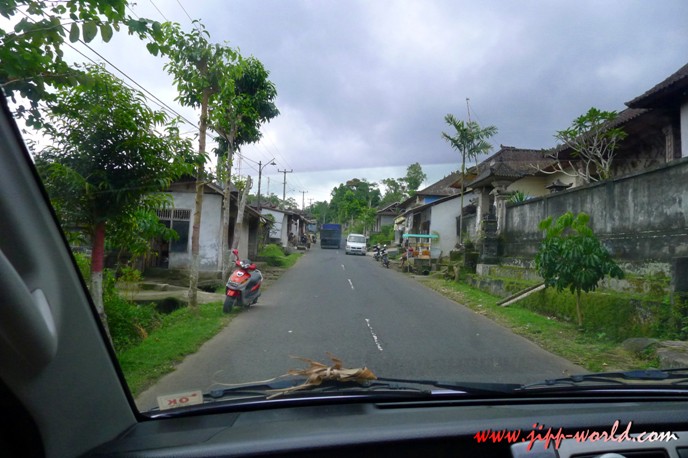 So – Having somebody to drive for us, I took the time to just lie down on my back and enjoy the view of the country side that loomed up and past as we moved.
The enjoyment was temporarily disrupted when we bumped into a roadblock somewhere along the way. Although the driver told me that roadblocks are pretty common especially on the roads leading up to tourist spots like Kintamani, he still got jumpy when we finally bumped into one.
Why should he be jumpy? He told us that he had no license to bring international tourists – and he wanted us to say that we were Indonesian from Jakarta (and not Malaysian – which is our real nationality) if the police started questioning our nationality.
The thought of getting caught lying to a police officer was making me nervous because who knows what trouble that little lie could put us into? In a country like Indonesia (or, to be fair, any 3rd World country for that matter), anything can happen.
It was not the best 15-minute experience. Just listening to Made's stories about police corruption and misconduct  in Bali made me quite uneasy whenever I was put in a situation where I had to deal first-handedly with them.  My encounter with the corrupt immigration officer at the Bali Airport had taught me quite enough – of the bitter reality on how government officers in Bali could not be trusted.
A group of tourists was ordered to disembark from the van that they had earlier been riding on. They brought along with them their backpacks and stuffs and everything. It didn't look good to me. Tourists didn't seem to have any privilege in the eyes of the cops.
After parking his car on the side of the road, Made disembarked from the driver seat and walked towards the group of cops. He returned later with one of them and that was when I began to feel nerves building up inside me. I could already hear the cop ask 'Where are you from?' even before he actually asked it.
I was in a dilemma. Should I lie or tell the truth? Malaysia or Jakarta? Jail or not jail?
………
As I saw Made ushering one of the police officers right towards us, my heart was pumping hard and my mind was racing yet indecisive about whether to the truth or not.
OK, I wouldn't make this sound more dramatic than necessary but Made and the police officer walked right past us, glanced a little but didn't stop to ask us anything. With Made tagging closely behind him, the cop walked right to the back of the car and returned to his fellow officers about 10 minutes later.
Made still appeared to be shaky when he returned to the car and drove away. In fact he was so shaky that we had to stop at a coffee farm so that he could cool down a little before we continued our journey to Kintamani.
He later recounted how he lost some 20,000 rupiah to the corrupt officer. That might only be seven bucks if converted into Malaysian Ringgits but for a tour-guiding (or rather tour driver) business in which most of the profits would go to the tour company, that seven bucks lost means he had just lost a big meal for his family.
Another friend of his, who joined us at the farm later, was even more unlucky. "I lost 60,000 rupiah to the cop", he said with a bitter face.
Amazingly though, despite the money lost, they can still joke and laugh about it.
I guess they are so used to it now. It must be in the culture.