The beautiful farming village of Sempol, the last stop before Ijen. It is surrounded by coffee and strawberry plantation. 
 Indo-mee was our most regular meal while traveling in East Java. Here, we were having a dish of it while looking out at the beautiful plantation with volcanoes in the distance.
The starting point of the hiking trail to Ijen Crater. It was actually declared closed (and still is) due to conflicting reasons. Some say the volcano is showing signs of erupting but many say there is an issue about who should collect the tax or something. Still tourists keep coming in in hordes and the authority wouldn't really stop them. After all, dozens of sulfur collectors depend on the crater for a living.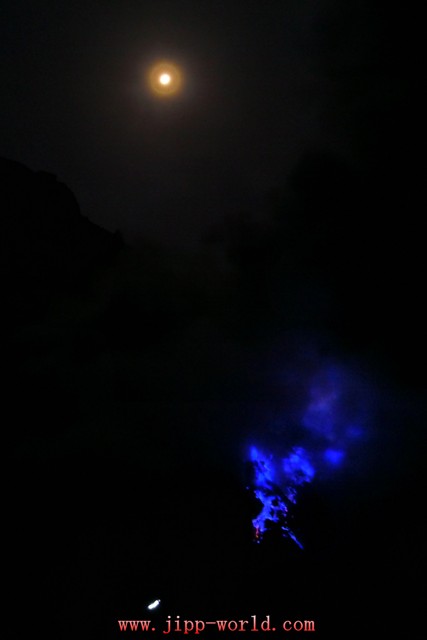 The famous blue fire gushing out from earth openings at Ijen Crater. You gotta climb up very early in the morning (2-3pm) so that you'll reach the crater in time to catch a glimpse of it. You will not be able to see it when the sunlight comes.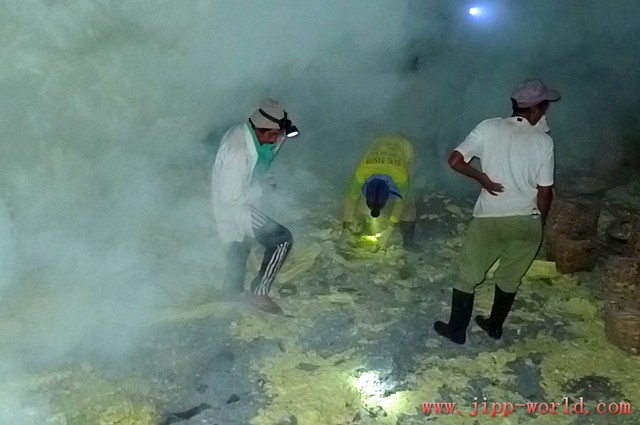 Sulfur collectors are doing their laborious job in the smothering sulfuric smoke at Ijen Crater. I actually had a terrible itch down my throat even when I had only been there for less than an hour. It certainly is a high-risk job health-wise.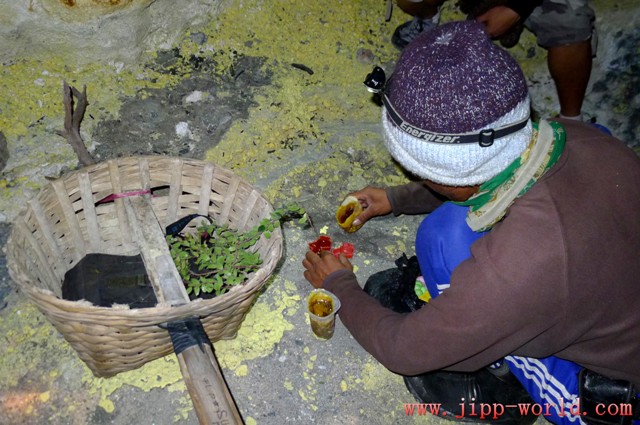 One of the workers is pouring hot liquid of sulfur into molds which would then solidify into a variety of shapes. They would then be sold as souvenirs.
 A photographer is taking picture of a sulfur collector as he is making his way down to the mountain at sunrise.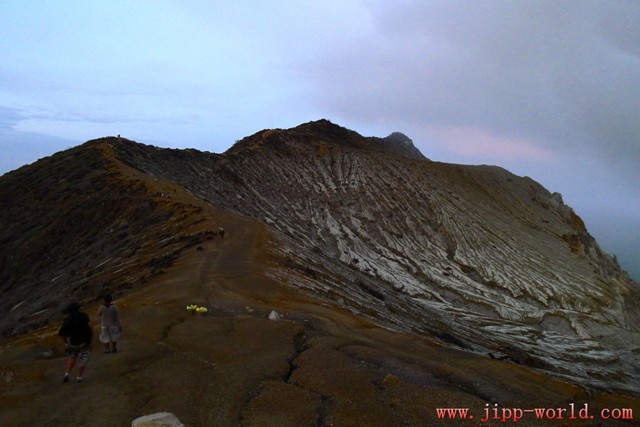 The beautiful rim of Ijen Crater revealing itself as the sun rises and cast its rays over the mountain.
 Collecting the sulfur at Ijen crater was once considered the worse job in the world. I ventured lifting a pair of baskets fully loaded with sulfur. It wouldn't even move. I later found out that it had weighed some 90kg. Damn. How he could bring it up to the rim of the crater and later down the mountain is beyond my thinking.
 Our guide is taking his final glimpse before saying goodbye to Ijen Crater.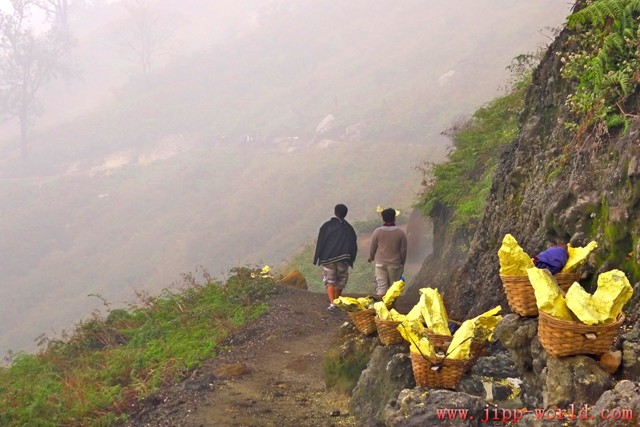 One of the most beautiful trails that I've ever walked on so far. Baskets of sulfur are left abandoned on the side of the trail probably to be collected later.
 A sulfur collector is taking the baskets of sulfur down the mountain while the sun is rising up behind him.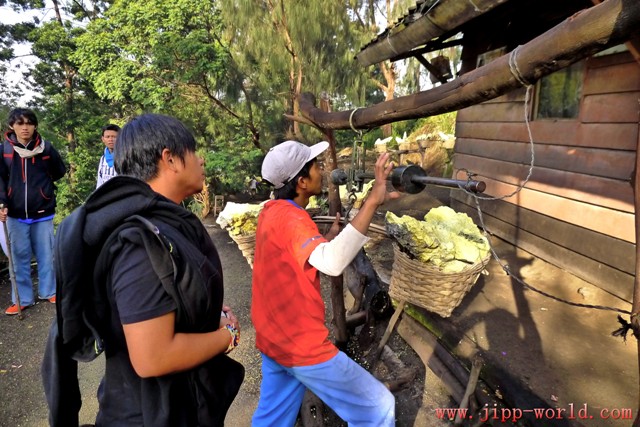 One of the sulfur collectors is having his sulfur weighed while my travel buddy looks on curiously.
The laborious work of collecting the sulfur at Ijen Crater is known to cause a lot of physical complications to the workers in a long term.
A variety of souvenirs made of sulfur at Ijen. I actually ventured taking some of them back to Malaysia despite my worries that they were not going to make it past the security check at the airport. Surprisingly they did and I've got them right here with me in KL now. Yippie!
 Amazing how something so rare in Malaysia exists in abundance in Indonesia. Here, a hot spring is flowing right out from under a strangular fig tree. What a bliss 🙂
 One of the most amazing things that I've seen in Ijen and probably in East Java as a whole is this roaring waterfall that plunges right into an abyss.
 One of so many hot springs that are scattered all over Java Island. Located in the middle of nowhere, we had this one all to ourselves. Another bliss.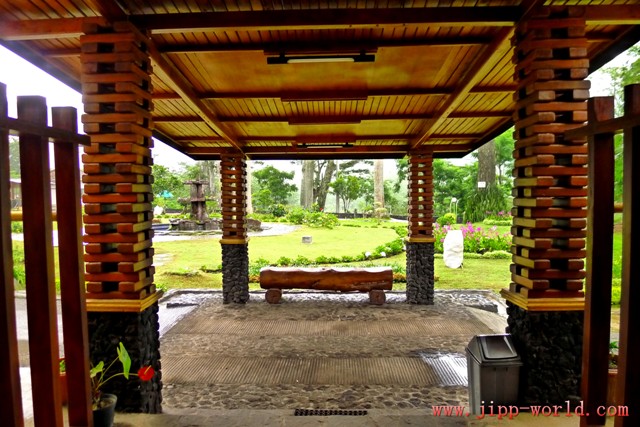 The beautiful garden at Arabica Guest House in Sempol. Surrounded by serene and beautiful coffee plantation, I could stay right here forever. 🙂
Get the full story of my adventure to Ijen Crater right here. 🙂