So I was in Kuching last last weekend to attend a friend's wedding. Seeing an opportunity, I decided to take something off my long standing bucketlist by climbing up to Mount Santubong – one of the most famous natural landmarks in Kuching and probably Sarawak as a whole. I knew that the beauty if it when visualized from at a distance has long enticed people to come to it but surprisingly not so many people that I know in Kuching have actually climbed to its peak.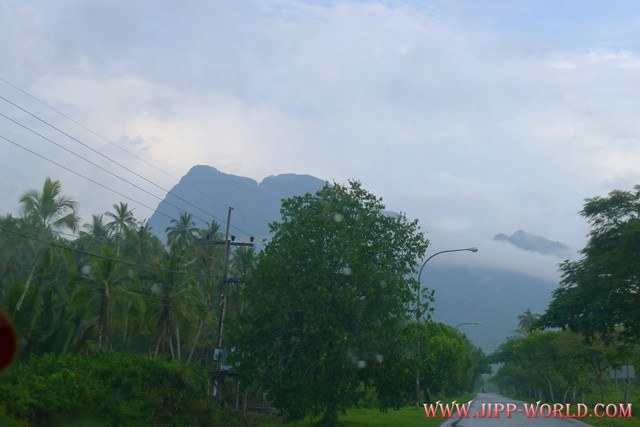 I was accompanied by 5 young ladies from France who happened to be in Kuching for a holiday. Well, of course, being the only batang in the group, I had my manhood at stake to prove that I really, well, had it. Ngeee!
I didn't know quite much of it nor did I do much googling to see how it was gonna be up there. All I knew was that there are two entrances to two different trails that eventually merge to a single which leads climbers right to the peak. We decided to take off from the Bukit Puteri entrance gate because, well, we found it first before the other and we were too excited to get started.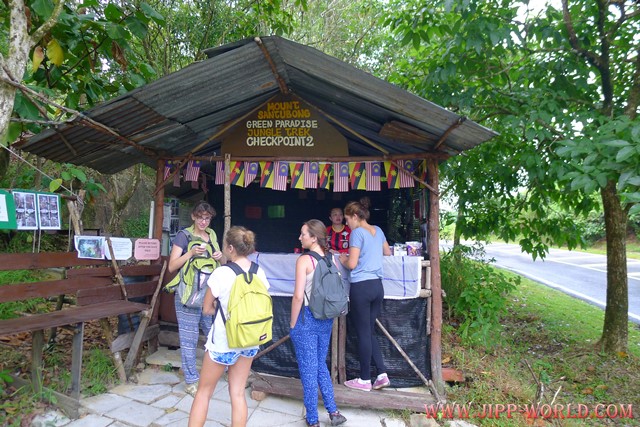 After registering ourselves at the counter and letting go of RM8 each (Malaysian or not Malaysian), we took off with boiling excitement in us. To tell the truth, I didn't really expect much of Mount Santubong but mannn, it didn't take long for me to find out how beautiful it was! The forest really was a real forest and not merely a patch of some leftover from logging activities which have long threatened to mow away just about every inch of forest in Sarawak.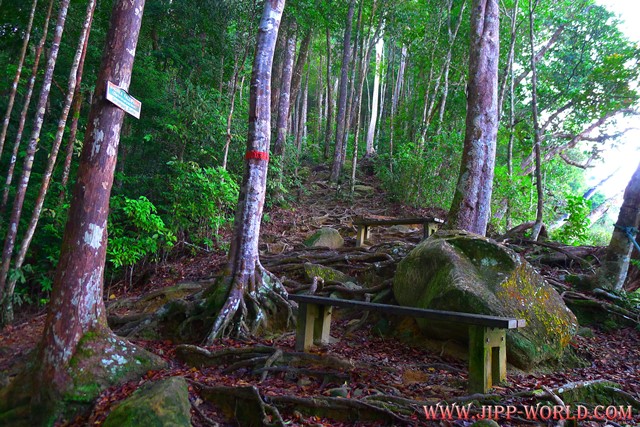 The trees were beautiful and some of them were even labelled so it was a trail with some biology lesson or something. As much as I wanted to show to them how fit I was, and what a real man I was, I could not believe that I was actually struggling with my steps and breathe even only after a few hundred meters from the starting point. It was so unlikely for somebody who has just returned from – well, climbing a bit of the Himalayas – so couldn't help but cursing myself for being overly confident.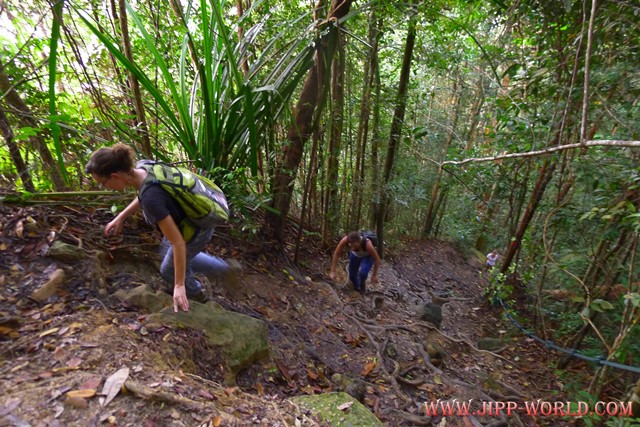 The thing is, I underestimated Mount Santubong. Looking at the height, which is only a lil bit over 800 meters, I really thought it would be an easy walk, that it'd be a piece of cake that I could simply swallow in one go but of course as always, I was so damn wrong. I really thought I was just warming up, that all the heavy breathing would eventually go away as I gained more altitude.When it refused to go away even after awhile, I was beginning to get quite worried. I mean, where the hell had all my stamina gone to?
To make things worse, the French girls were all going quite strong as if they've been climbing mountains all their lives. I had some problem trying to catch up with them but of course I didn't have much choice. I wasn't ready to trade my manly ego. And things began to take a worse turn when we came upon this.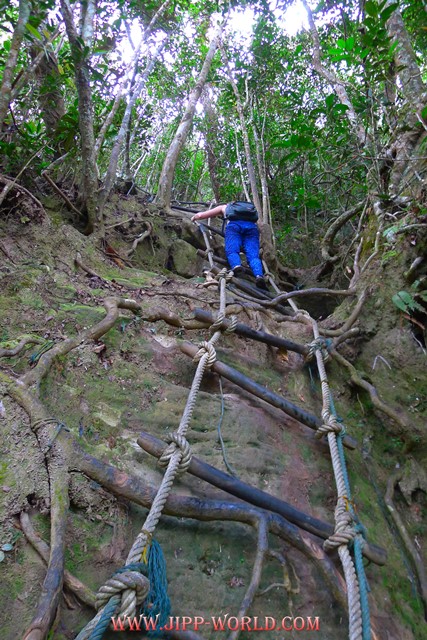 It was quite a struggle, I mean, I like the element of wall climbing in it but I was quite exhausted so I'd rather be doing it somewhere else when  the ladies were not around. And just I thought the worst part was past, we came upon another ladder – a hanging one – and another, and another and another. We did have fun, alright, but it's only that I didn't quite expect we'd go through something THAT challenging at Mount Santubong.
Of course, after about 2.5 hours of climbing which is actually 30 minutes faster than the average 3 hours that most climbers would take, we found ourselves climbing no more because there was no more to climb.  We have reached the peak!
Well, it was quite hazy so visibility was quite limited so there is nothing much to say about the view from the top of Mount Santubong. I just don't understand what a plastic hut, or rather a rest hut wrapped up in plastic would do at such a secluded location – not to mention 800 meter above the sea level. They wrapped up the hut to make it look more like a secret hideaway for them to perform whatever ritual or activities that they didn't want anybody to see them doing.
I really have nothing against silat because it really is a great sport, a form of martial art that deserves recognition, but some people take it a little bit too far by turning it into some kind of religious thingy. It reminded of those stupid shows that they put up during sport events at school when all these silat guys in their black attire would break things – bricks etc – at the field just to show what they could do with their hands and feet.
The guru would be there to lead the show with his hand yielding up a keris and his mouth muttering whatever mantra to give him and his followers some kind of wizardly power. Even as a kid I didn't see where those damn shows would bring them to. Last time I heard the guru had turned mental which most people could only assume was an after-effect.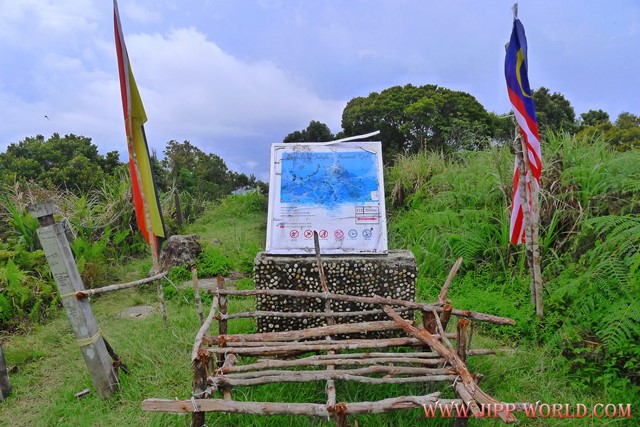 I managed to catch up with some other climbers at the peak and most of them were actually there as part of their preparatory training before hitting into the mother of all mountains in Malaysia – Mount Kinabalu.
Having scaled that mountain 5 times, I was quite sure that whoever made it up to the peak of Mount Santubong would make it up to the peak of Mount Kinabalu. They might struggle a bit but they'll make it and that's what I told them. Mount Kinabalu is one of the easiest mountains to scale in Malaysia now that I've been to quite a number of other mountains 😛
I really thought descending would be easy peasy, that all we needed to do was a little bit of sliding on the ass. How wrong I was. I knew for sure that descending was always tough but it was further worsened by a very heavy downpour that turned the trail into a very dangerous playground.
In fact, it took much longer for us to descend than to ascend and I had to grit my teeth thinking of all the bad things that might happen if something went horribly wrong. I couldn't help but praying within. I mean, seriously, as a real man among a group of ladies, I felt the responsibility of being worried. Heh.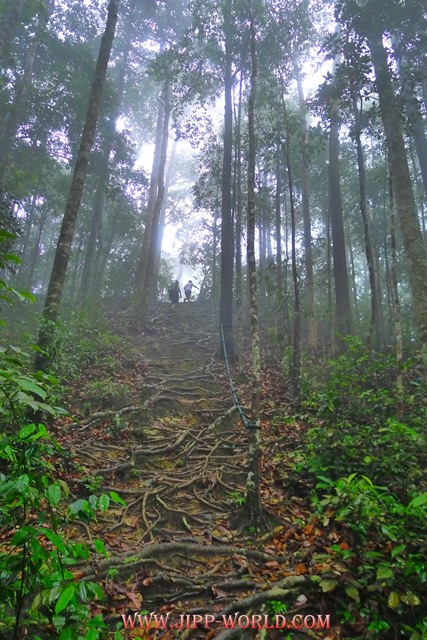 There was a big sigh of relief when we finally managed to descend past all the damn hanging stairs. The rain had stopped by then and it was replaced by heavy fog. I let all the ladies go in their own pace and it wasn't long before I got wayyy left behind.
It must be a little bit over 2pm but it was quite dark and all the fog and the silence really spooked me out and I had to turn to look back every now and then just in case something was coming after me. It could be the princess of Santubong or her nemesis Sejinjang but still I felt the urge of looking back just in case they had a set of sharp teeth. Ahaks!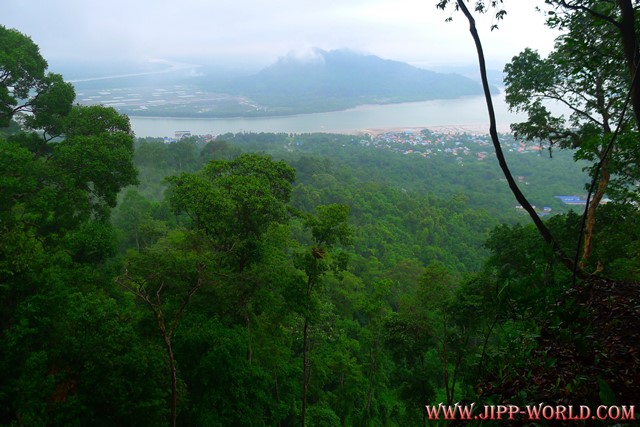 The ladies were waiting when I finally made it back to the entrance gate. All were wet and cold and hungry but of course everybody was happy. It was always good to accomplish something and most importantly, at least to me personally, I manage to strike something off my bucketlist. Back in the city later, I rewarded myself with a bowl Kolo Mee and a cup of HOT coffee! NOM NOM!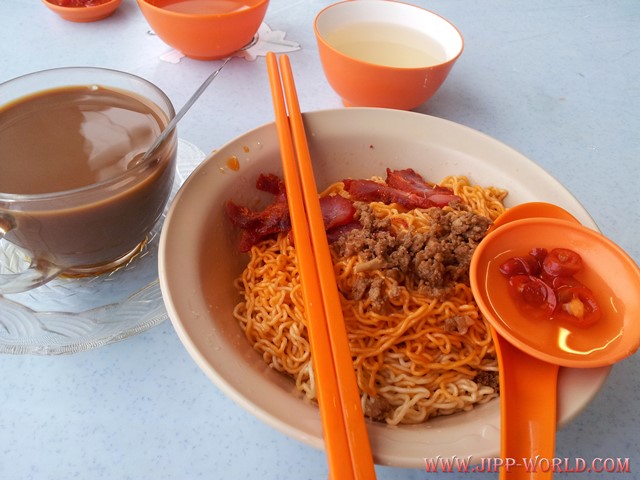 But of course they were just a starter 😛