The trail from the camping site to the peak of  Mount Trus Madi was much tougher that we had all expected. It was so hard that we were so glad that we didn't have to bring our backpacks since we were going back down to the camping site instead of camping at the peak like most climbers would (used to) do.
But it was also one of the most beautiful forests that I've ever been to really. We were there during the rainy season of the year when all the plants were in full bloom. Most of the ground and the tree trunks were covered in thick green carpet-like mosses so we really were trekking through such a beautiful surrounding.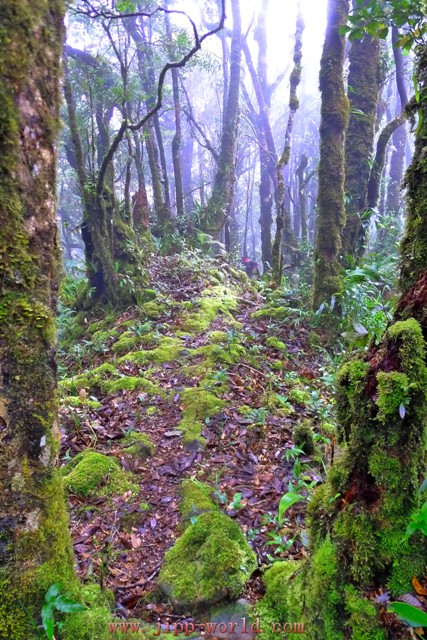 The forest was so thick and mysterious and sometimes engulfed in thick fog which made the whole surrounding look even more mystical. Whoever it was who had first found the trail must be a genius. I don't think I'd survive through 24 hours if I were to be thrown into the forest back then when the trail was not even there yet.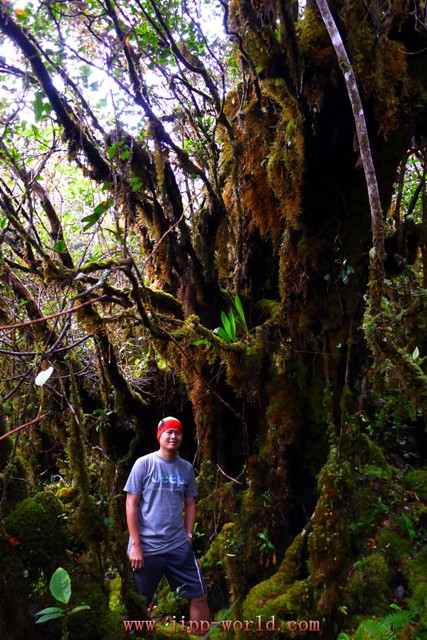 It was so beautiful that I felt like I was walking in the middle of some movie set for The Lord of the Ring or something and half of me actually expected that the trees would 'wake up' and move in on me any time any minute. Whatever they'd do to me doesn't matter. I just wanted to embrace it all. LOL.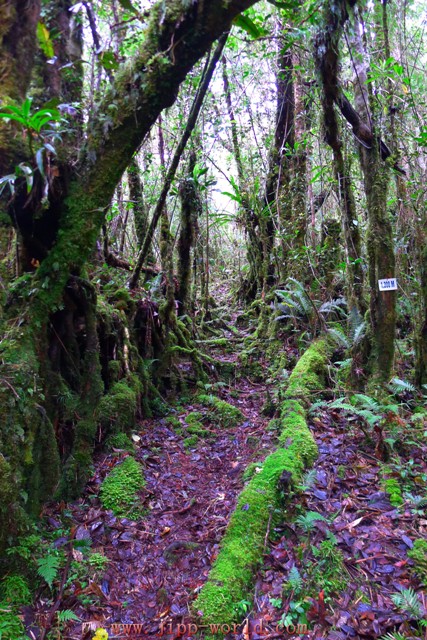 One thing that I could not help noticing was the existence of so many beautiful orchids and pitcher plants (Nepenthes) that grow (and die) so abundantly all over along the way. They come in different species and sizes and some of them are even bigger than my wrist.  The porters told us that they could be of great use if we ran out of drinking water provided that they were still sealed and the water inside them was still intact.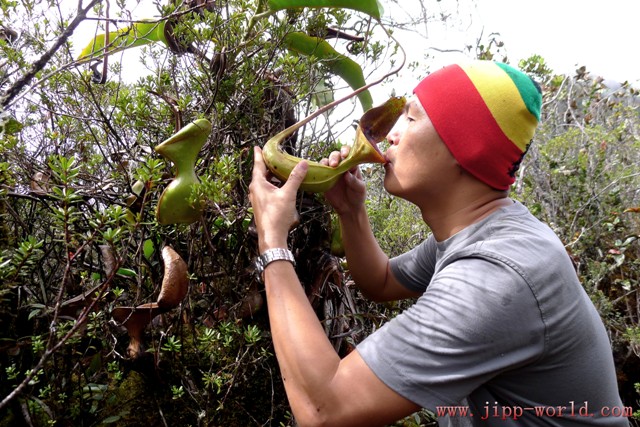 After such a grueling uphill and downhill trekking, which among others involved ducking through tree trunks, balancing on a log and wall-climbing with the help of a rope, we finally managed to reach the peak – all of us. It was by then half an hour past midday so the whole of Trus Madi was ensnared in thick cloud and hence visibility was limited.
There was nothing much to see at the peak but then again it really wasn't all about the destination but more on the journey itself. Just to think that we were at the top of the second tallest mountain in Malaysia made the whole experience so much rewarding. I was told that we could actually see Mount Kinabalu if the view was clear.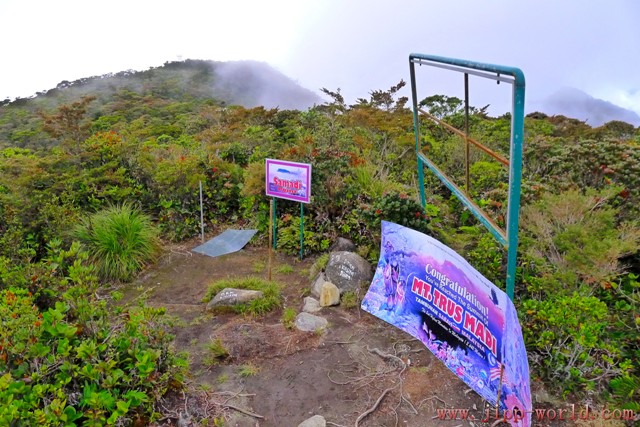 After having our meal at the peak, we trekked back to the camp, expecting a mo man tai descending journey. But again we were surprised to find out that it wasn't that easy either. The fact that it was rainy season made the trail so muddy and slippery and each of us had in the end had our own share of ass-bumping experiences. I myself slipped three times – at least. Ouch! HAHA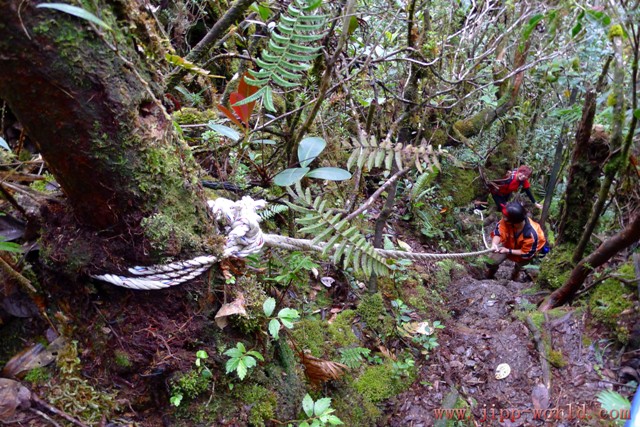 There is no doubt that we had actually underestimated the trail to the peak. The porters told us that we should be back at the tent from the peak before lunch time. Instead, we arrived at the peak PAST lunch time and returned to the camping site just before nightfall.
In fact the ladies, whom I left behind with one of the porters, arrived when it was already dark. Thanks God one of them had brought a torch light so with that very little source of light that they had, they managed to fumble their way back to the camp but not before going through so much difficulty – or so it appeared.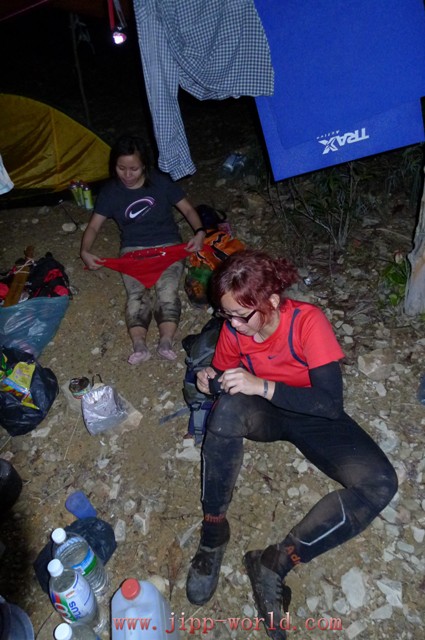 Dr Anisah, who was the most struggling one in the ascent, even shouted at herself "Never again! Why am I doing here anyway? I shouldn't have come here!". I have however heard that a lot of times not just from her but from so many people with whom I went trekking before so I wasn't surprised when the next morning she asked "About your plan to Mount Tombuyukon, when was it again?". He he he.
So, we all settled for the night with so much satisfaction knowing that we had already achieved our goal of reaching the second highest peak in Malaysia. We woke up the next morning with so much exhilaration.
After packing up, we descended to the base, this time without much difficulty. In fact I felt like dancing my way down. The thought of getting a shower after 3 days without one kept driving us forward and when we finally found a river, I unstrapped my backpack and gleefully ran into the waiting waterfall.
It felt so heavenly. It's like eating an ice-cream on a hot summer day or getting a foot-massage after a long and grueling marathon. It was so relieving in a way that made me almost ejaculate right there. Kidding 😛
It was good to have another thing ticked off the list of 'been there, done that'. But of course, I've still got a long list of mountains to conquer.
2013 is gonna be a very interesting year to do just that. ^_^