Why a Road Trip?
I'm not going to argue much about this. For me there are always pros and cons to everything and this is no exception. The best thing about going on a road trip (where you rent a car) is the chance to plan your own routes. When you are in charge of the wheel, you can always stop whenever you want to, probably to take pictures or buy food. Then you can always make a detour just in case there's a last-minute change of plan. Besides, the facilities are there so why not utilize them to make the best of your trip? There are times in other countries when I wish I was in charge of the wheel but I couldn't because the facility is not there or it is simply not allowed by the law. Then a road trip also allows you to travel at your own pace so you know it when you need to rush or simply taking all the time in the world.
Choose your Season – Autumn, Winter, Spring or Summer?
This is certainly one of the most important decisions to make when you travel to New Zealand for a road trip. Based on most travel reviews that I read, doing a road trip during winter is not recommended because most of the roads might be covered in snow so they are not easy to ride on. To tell the truth, I would have preferred going there during Spring when it is much greener but then our main intention of going to New Zealand was to do the Milford Track and the best time to do it is during summer. Besides, the longer days during summer would allow us to cover more distances in a day.
Decide your Travel Period
Well, it actually depends on how much of New Zealand that you want to see and experience. The longer you are there the more places that you can go to but of course the more money you would have to let go.
We were there for about 2 weeks, just enough time to drive from Auckland on the North Island all the way to Te Anau on the South Island where we trekked the Milford Track for 4 days and drove back to Christchurch from where we took a domestic flight back to Auckland. I would say we had quite an ample time to cover places that we wanted to go, even deciding to do a little bit of detour to Wanaka when somebody recommended it to me on fb at the very last minute.
Buy your Tickets
Well, of course, when you have decided when to go you can proceed to buying your flight tickets. Of course for some people budget is the priority so they'll buy the cheapest tickets that they can get (regardless of when). I personally don't encourage this because seriously, you don't want to go there when all the beauty is buried under the snow unless snow is your thing.
Of course in our case the deciding factor is the hike at Milford Track where the date (or at least the period during which trekking is encouraged or allowed) had already been fixed. We allowed for our time to reach Auckland and drove all the way to Te Anau (the nearest town to Milford Track) with a few overnight stops along the way – then to drive back to Christchurch where we would catch a domestic flight back to Auckland. We decided to take a domestic flight back to Auckland to shorten our travel period. Besides we did not want to drive back on the same route that we already took or the trip would become boring.
Choose your Routes
The route that you are going to take has to be in tandem with your travel period. Longer days during summer (and probably spring) allow you to cover more distances when the sun is up. Of course you don't want to drive in the dark and miss most of the beauty. I would say we covered an average of 380km each day and yet we had enough time to stop several times along the way.
I would like to emphasize that it's very important that you check the latest updates on the routes that you are planning to take in New Zealand. This country is prone to earthquakes and other natural disasters so they might be a closure of road here and there. They usually suggest an alternative route on the website. Seriously, you don't what to book your accommodation at a town only to find out that you can't reach that town without making a very long detour. The road connecting Picton and Christchurch on the east coast was still not passable when we were there so we had to use the alternative road via Murchison as suggested in the NZ official tourism website.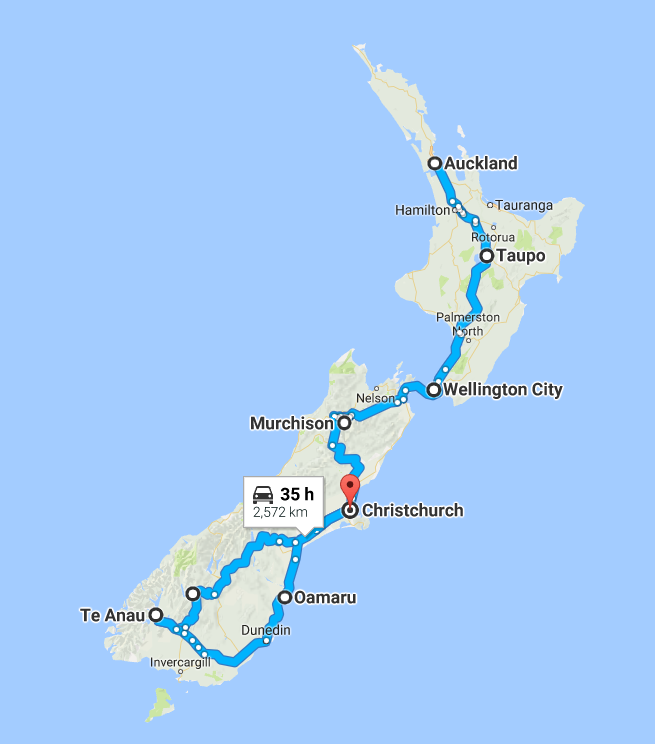 Before deciding the route, you may want to list down the places that you want to go. It is also advisable to make a priority list. One of the things that inspired me to go to New Zealand was the movie trilogy LOTR (and later the Hobbit) so I wanted to see as many of the filming locations as possible. But then I had come to find out that most of these filming locations are in private lands which are off-limit to visitors. Some of them can be reached by tour but then you may want to consider the worthiness since most of them are not that cheap. I decided that if there was one filming location of LOTR that I must go to, it had to be the Hobbiton. The rest – well, depends. We would decide as we went.
If doing the inter-island ferry ride is part of your itinerary then you have to make sure that you arrive at Wellington (or Picton if you are from the other side) in time for your crossover. There are a few companies offering crossover services. You may want to check out the schedule of departure and arrival to suit with your itinerary. We took the morning ride because we wanted to reach Picton on the other side of the channel early at noon so that we've got ample time to drive all the way to Murchison before nightfall.
Choose your Vehicle
Well, every time you think of doing a road trip across New Zealand, a motorhome would come to mind. But I gotta tell you that motorhomes are very very expensive (but of course this is subjective. I'm putting through the perspective of a budget traveler that I am). It's not quite worth it if you are traveling in a very small group, say 2 or 3 people. To me it is only worth it if you are traveling in a large group, probably 5 and above which is why it is usually the top choice among families. It saves quite a bit on accommodation but then you still need to pay for the space that you occupy at most of the campsites. The fees can be more expensive than the money you spend on a room at a budget hotel. Some of them are free – usually with very limited facilities though – and you can check the availability and fees on the New Zealand tourism site.
If you are in a small group, I think it's better to rent a car and stay at hotels that are usually available in most major towns along the way. It's still cheaper compared to renting a motorhome.
Choose your Type of Accommodation
If you choose a motorhome or a caravan than you only need to find designated areas for motorhomes (campsites as they are called). You cannot just park your car overnight or you might end up having to pay a hefty fine. Good news is, the campsites are scattered all along the roads all over New Zealand. On the other hand, if you choose to use a car like we did then you may want to book for accommodation depending on availability and budget. Mind to tell you though that budget hotels in New Zealand are very limited and they run out pretty fast. It's always advisable to book well in advance. Some of the days we did not book for accommodation so we ended up paying extra for an expensive room because all of the budget hotels were full.
Renting a Car and What to Consider 
When you google, you'll find out that only a handful of well-established and recognizable companies offer rental vehicles in New Zealand while the rest are privately-run, usually by families or individuals. Usually the private-run companies offer cheaper rental rates but there is no way we can ever be assured of their services. Those well-established companies offer more convincing services and they have branches in major towns so they can reach you faster in case your car breaks down or something.
The vehicles for rent in New Zealand generally consist of cars, caravans and motorhomes. The cars usually do not have any bed while caravans have 2-3 beds. Some of these caravans are modified from cars, usually by putting in beds at the back and equipped with simple cooking utilities. Motorhomes on the other hand have beds, kitchens and just about everything for a self-sufficient road trip.
Usually in most cases, the older cars are cheaper while the newer are more expensive. But do not be fooled by the age of a car. I put my trust in how New Zealand is very strict when it comes to the conditions of cars that they allow moving on their roads (on the engine part, at least). When I first saw the car that we were going to drive for the next 2 weeks or so, I was quite worried. It looked quite old and I was already imagining all kind of shits that the car was going to put us through. But then, we encountered no problem at all. It all went very smoothly right from the beginning to the end. Apparently, I was fooled by the looks.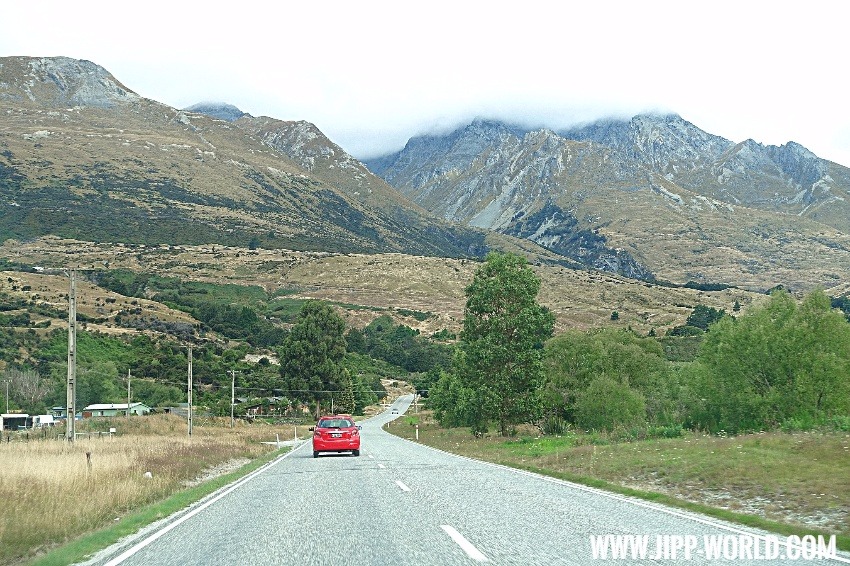 After much thought, I decided to rent a car from one of the more established companies in New Zealand. I chose Jucy Rentals which is actually an international company offering rental services in New Zealand, Australia and USA. Well, I know, it kind of scares you if you look at some of the reviews because not all of them are nice reviews but then you can never find a company with a 100% good record based on the reviews. Besides, different people have different expectations. What is not OK to some people may actually be OK to you and vise versa.
So considering the budget and the fact that we were going to travel light because we were going to stay at budget hotels/hostels along the way anyway, we decided to rent El-Chepo – the smallest car (and also the most popular) that they offer. The idea of traveling around New Zealand on a motorhome sounded so appealing but after taking into account the cost and everything we just decided that it was not worth it.
Jucy Rentals also offers the inter-islander ticket on their website so you can pay for the car and the ticket in one package. You gotta pay for a passenger fare and a car fare. Usually the car care fare depends on the size of the car. The bigger the car, the more expensive the car fare is. Usually you can buy the ticket first and confirm the date and time of your crossover with the rental company later. Mind to tell you that Jucy Rentals does not really respond to your email (they only responded once to me and never again after that) so you gotta reach them by phone (which is easy peasy to do anyway).
Another main factor as to why we took Jucy Rentals is the availability of their office in Christchurch where we could return our rental car without having to drive it back all the way to Auckland again.
Picking up and Dropping Off the Car
One of the best things about renting a vehicle from Jucy Rentals (or probably other well-established rental companies) is the fact that you can pick up the car in Auckland on the North Island and return it in Christchurch on the South Island or vise versa. Some extra fee may applies (said to be the charge to bring it back to Auckland, although I heard they'd offer travelers to bring back cars to Auckland or vise versa for free) but at least you don't have to drive all the way back to Auckland to return it. When we returned the car at their garage near the Christchurch airport (after sending it for a quick wash at a gas station), they did a quick check and that was it. We were free to go (but of course they can always charge you through your credit card if they found any damage later as part of the agreement that they made you sign when you confirmed your booking).
Driving License Requirement
I'm not sure about other countries but they do accept Malaysian license when renting a car in New Zealand. If you and you travel buddy are taking turns to be in charge of the wheel, you gotta tell the management so that they'll put it in the record too. If memory serves me right, an amount of fee applies for an extra driver.
Daily Car Insurance – to take or not to take?
Well, we never know what's gonna happen so you can actually put down much of the worries by purchasing the car insurance. We took the full insurance or the 'stress-free' as they call it just for a little bit of assurance and peace of mind. Most of the insurance, full or not full, does not cover damages on tyres and roof (usually damaged when the car overturns) so you still need to be careful. Mind to tell you too that the car insurance is charged based on daily basis so it really depends on the daily rate and number of days that you are going to use the car for.
The GPS
Mind to tell you that the GPS is rented on a daily basis. You can always find your way on the google map on your phone but GPS will tell you about each town that you drive past and alert you of places of interest that happen to be in the vicinity as you drive. For me, when you are driving across so many small towns it is always good to know about each town especially on their historical side. GPS goes hand in hand with the fact that you are driving a car so you can always make a little bit of detour to a place that may interest you as mentioned in the GPS.
The Road Conditions
Generally, the roads in New Zealand are mostly OK. If you've been to Sabah you'll see how the roads there are more of a zig-zag than those in New Zealand. You may encounter reckless drivers especially in big cities like Christchurch (the worst) and probably Auckland (I didn't get to drive there). There was one time when I almost bumped into a car which was driven way beyond the white line at a traffic light. Good thing about roads in New Zealand is the in-existence of tolls (at least along the routes that we took, which was all over anyway).
Gas
The price of fuel differs from town to town. Prepare to spend an average of NZD50 (may be more for bigger cars) to travel some 400 KM a day. Usually each town has one gas station and you'll find these towns all along the way so you should not run out of fuel.
The Food
Food is not really a problem when doing a road trip in New Zealand (unless of course you are a Muslim). Every now and then you'll drive upon a little town with restaurants and cafes. In bigger towns you'll find McDonald's, KFC, Burger King and of course Subway and just like in any most developed country, food at this fast food restaurants is actually cheaper compared to those that they serve at standard restaurants. This is quite contrary to how it is in most developing countries such as Malaysia and Thailand where fast food is considered as expensive meals. A cheaper option for food would be to buy packaged food such as sandwiches and breads from the supermarkets.
Thanks to the existence of so many Asians in New Zealand, Asian food is quite readily available in many of the little towns that we drove across. Every now and they we'd come upon a small restaurant that offers take-away Chinese food. Amazingly most of them are usually operated by a lone cooker. He does everything – from cooking, packaging and even running the cash register. It was there that I realized how restaurants in Malaysia are so overstaffed.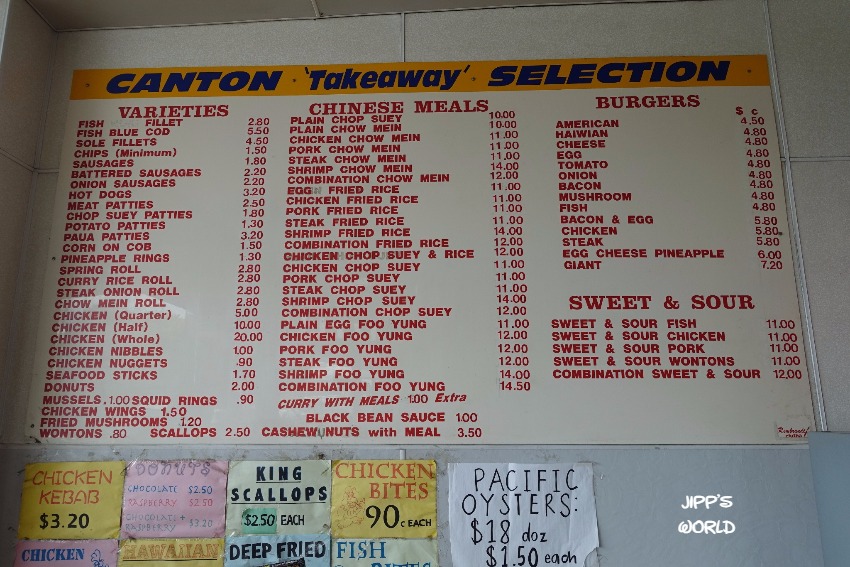 To tell the truth, I spent quite a lot on food while I was in New Zealand. I wouldn't really consider this trip a budget one so we'd usually go to the first restaurant that we came upon especially if it was one that served Asian food. Unfortunately, Asian food in New Zealand is not that cheap. All in all you need to spend at least NZD10 for a single proper meal and a few more dollars on drink. I actually spent just as much on coffee because seriously, the weather in New Zealand can be very dry and chilly even during summer so it really really hit me hard in terms of my need for caffeine. I'd usually go for Cappuccino and each cup of Cappuccino in New Zealand costs about NZD5 and we are talking about 3-4 cups per day so in the end I had to fork out some NZD20 on coffee like every fucking day! Urghh.
The Inter-island Crossover
Most of the established rental companies actually offer to include the inter-island crossover in their packages. It's like you pay to them and they'll help you buy the ticket. Of course if you are bringing the car to cross over like how we did, you'd have to pay for the passenger ticket and for the car transfer. Some people would prefer to drive the car to Wellington (if they are driving from the North) and get another car on the other side so that they can avoid paying for the car transfer which is actually quite expensive. The idea of having to clear the car off and bring all our stuff to the other side did not sound quite appealing to us so we decided to bring the same car to cross over. At least we could just leave our stuff inside the car without any care in the world.
When you have paid the ticket to your rental company – and you have confirmed with them the date and time of your cross-over (you can check the complete schedule on their website), they'll email a confirmation slip to you. All you need to do is print out this slip and bring it to the ferry. Hand it over to the officer at the gate (while queuing up of course) and they'll give you a proper ticket. You will remain in the car until you have your car safely parked in the ferry by following instructions by the personnel on duty.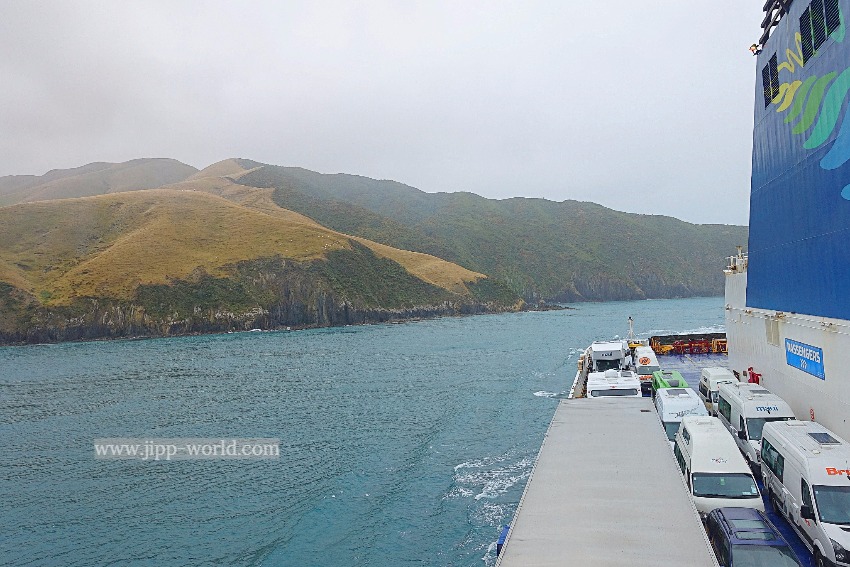 This crossover takes about 3 hours so there's no way that you're just gonna stay in the car so you should join the others to go up to the passenger area in the top deck (there is a playground for kids at the lower deck). Besides the Cook Channel that separates the South and North Island of New Zealand offers some of the most beautiful sea views in the world so you should not miss it.
The passenger area is so huge and it consists of different partitions where cafes are available in some of them. There is even a live band performance to keep you entertained. You are allowed to go down to the open-air veranda to take in the view without the obstruction of the glass wall but it can get very very cold. Once the ship has arrived on the other side of the channel, you'll be called to go back to your car and drive out. It's very hassle free.
Stay Connected
We were lucky because nothing (bad) happened to us when we were there. But then I think it is advisable to stay connected because we never know what's gonna happen along the way. New Zealand is quite a big country at least by land area and it only has some 4 million people of population so chances are, you're not gonna bump into a single soul while driving across the countryside. All the goats and cows are not going to offer you any help in case your car breaks down or something – although they may offer you their irritating and curious looks.
My point being –  it's quite advisable that you buy a local sim-card (unless you are rich enough to afford the exorbitant roaming charges) so that you can always call the rental car service provider just in case you ram into something in the middle of nowhere. Companies like Juice Rentals provide 24-hours assistance where they'd come to you when you get into any trouble with your vehicle. We didn't get to have to use it so I can't really tell much about how this thing works.
Just go for it!
Doing a road trip in New Zealand is actually pretty much easy. I'd laugh when I think how I was worried too much pending the trip. Their roads are actually quite easy to drive on compared to so many roads that I've been to in Asia, even in my home country Malaysia. Of course you just need to be a little bit careful but I think this applies whenever you are driving anywhere in the world.
It was not cheap – I gotta say – but for me it was something that I gotta do at least once in a life time.
So if somebody would ask if it was worth it I'd most definitely say yes. But if somebody asked if it really really was it, I may want to give it a deeper thought. But I'll write more about this in some other post.