The ferry did one or two stops before it arrived at Air Batang Chalet or ABC as it is fondly called by the locals. Now the reason I chose to come to ABC instead of other beaches is that – I wanted something that was laid back and not so crowded but not too silent either. ABC was a perfect choice because it is a real village and people are so kind and friendly and it is not heavily riddled with tourists. Most of the tourists are backpackers traveling on a budget so they were more open-minded and easy to have a conversation with and probably a little bit of loose screws in the heads which I was completely fine with.
I remember when we first arrived at the jetty of ABC, got off the ferry and was instantly captivated by the greenery of Tioman island. It is so green and they've got real forests and towering hills and mountains and I was told that one of the mountains is more than 1000m high. Now that is a real mountain!
We didn't book any room so after walking from one chalet to another; we finally found rooms that suited our needs and budget. The room that I took was an air-con one with two beds, with one I had to leave vacant because my travel buddy took another room of his own. The room was originally priced at RM135 (normal prices of rooms at ABC are RM100 onwards) but after a little bit of negotiation the room keeper agreed to let me off with RM85. That was probably one of the most successful negotiations that I've ever pulled off, at least for a room. My friend settled for RM50 after it was originally priced at RM85 for an air-con-less room. It was a happy beginning for our little island escapade to Tioman. Heh.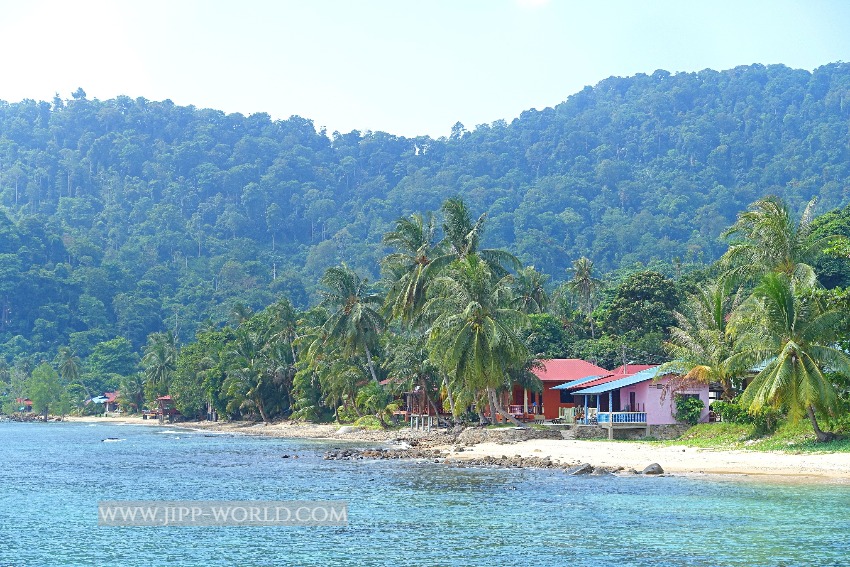 The veranda overlooked the beach, except that the view was blocked by a bunch of trees. But then may be, just may be, the trees are there for a reason, probably to ward off the winds from hitting directly at the chalet because seriously, the winds can get quite nasty when you are on an island. There was one time when the winds suddenly decided to go down on us and I felt like the chalet was shaking and the roof was going off but it did not happen. I guess I worried too much.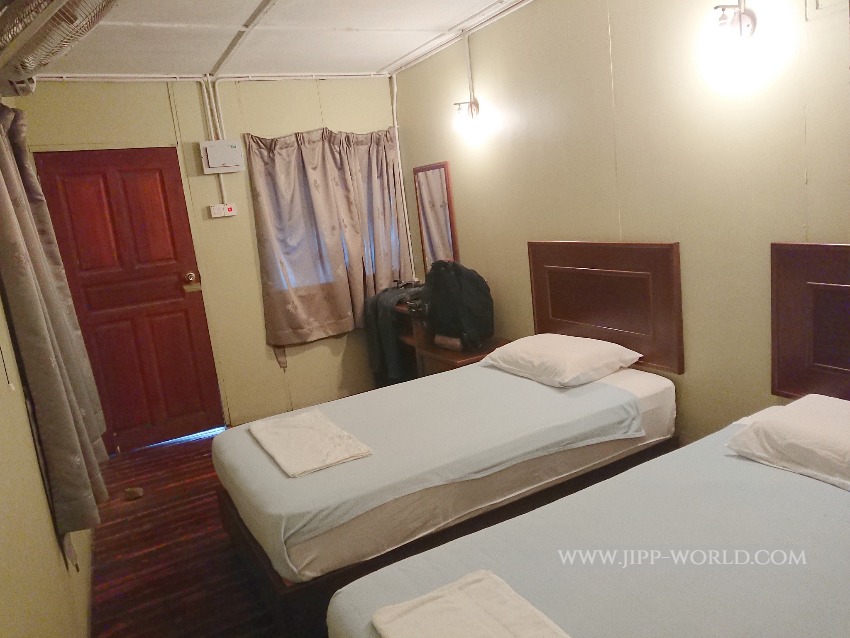 ABC that I found out really is a nice place to be. The beach is not really a beach, at least not a sandy one but more of a rocky coastal plain that offers some unique views to its visitors. ABC itself is very much walkable, with a long concrete walkway stretching all along the shore, all the way to Tekek which is probably the only real town on the island of Tioman. If walking is not really your thing, then you can always hop onto any of the'taxis' which are more like a motorbike but modified to form some kind Tuk Tuk – probably the Tioman version – that can accommodate up to 4 people at once.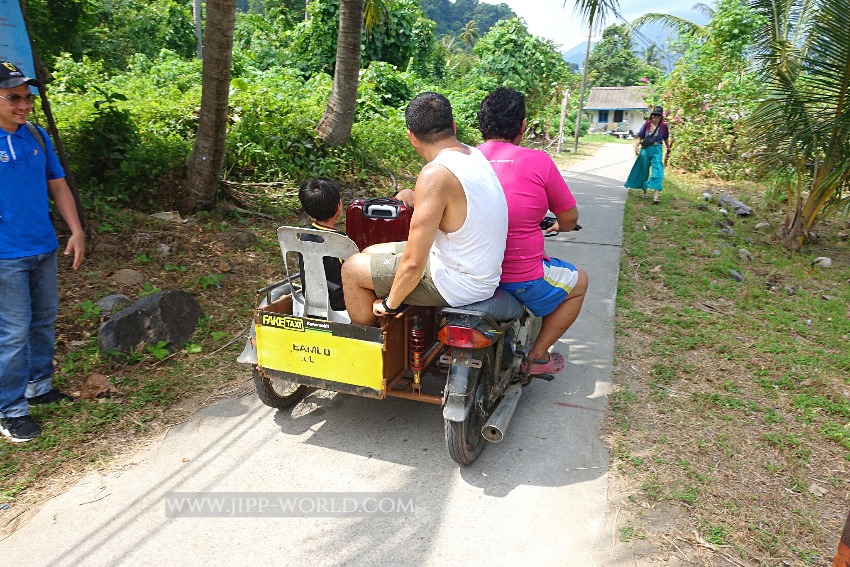 Getting something to eat is very easy because they've got quite a number of restaurants all over ABC and beyond. The food is OK, but of course you gotta know where to find them (the good ones). We were actually so stuck with a place called Fiqthya Shop Enterprise (a combination of a restaurant, a tour dealer and a chalet. We also booked our snorkeling package here) because the food was not only good but also affordable. I especially liked their Nasi Goreng Kampung despite the spiciness. I tried to order a Western dish once but it sux so I returned to Nasi Goreng Kampung. LOL.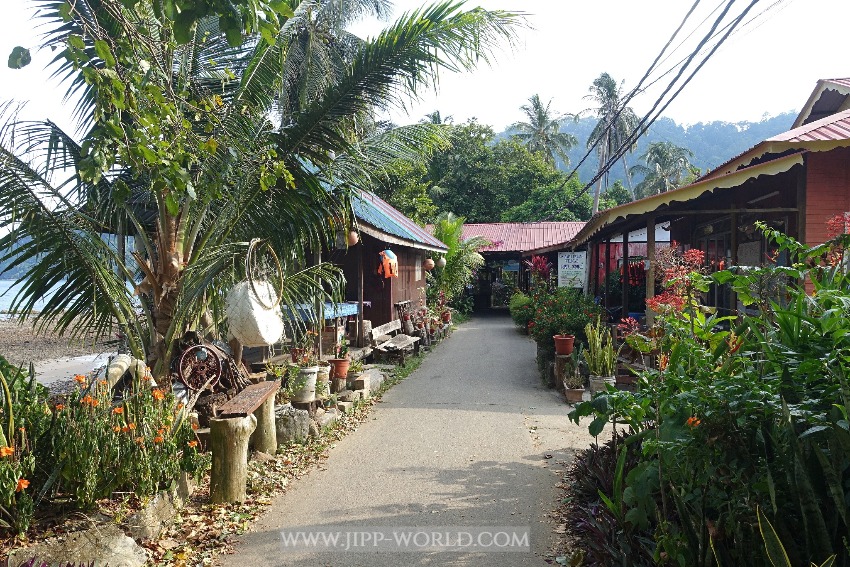 As I have previously mentioned, ABC is more like a backpacker's area, and thus very welcoming because you wouldn't see any fancy resorts with restricted compounds that you probably see at many other beaches in the country so you can always walk freely without any obstruction in the form of 'Private Property' signboards. After all it is a real village with real local residents so it's like walking in any other village in Malaysia where you can just walk around freely and unobstructed.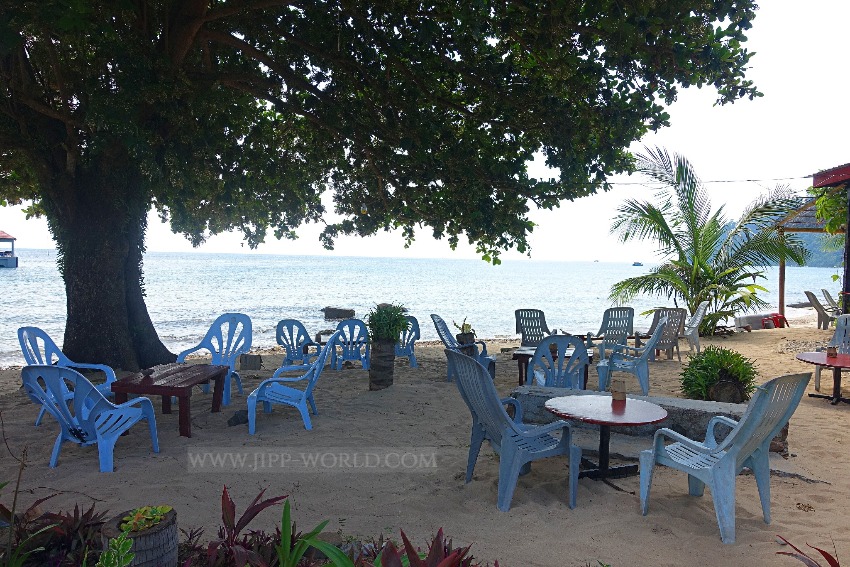 The plan was to go to Juara beach which was located on the other side of the island and is said to be the most beautiful beach among all the beaches on Tioman Island but we decided to reserve that for another trip. Instead, we joined a snorkeling trip to a nearby island and a few other spots in between. We were bundled with a family group from France and we started off by dashing off to a neighboring island called Tulai. It was a short boat ride from ABC, but it was probably the roughest boat ride that I've ever been on.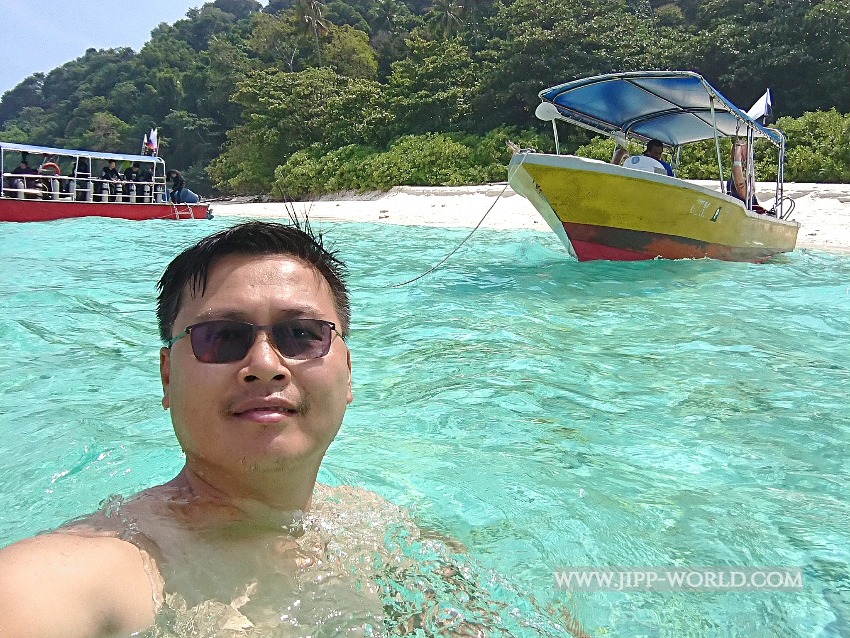 We were bouncing up and down and I had to use all my might to stay put. I tightened my grip every time the boat bounces and the boat man seems to be enjoying watching us gritting our teeth in anticipation of an upcoming back-breaking bounce. In the end I decided to just let go and see what was gonna happen but nothing happened. I found myself much more relaxed when I let my hands free. I think the trick was not to resist the force. LOL.
So after what appeared to be a very long ride, we finally arrived at a beautiful beach on Tulai island. The water was crystal blue and was very inviting. Once the boat was docked, I grabbed my snorkeling gear and disembarked myself slowly into the water.  After futile attempts to put on the goggles with my glasses on (note to self: always bring contact lenses to a snorkeling trip) I decided to toss it back into the boat and headed for the beach instead.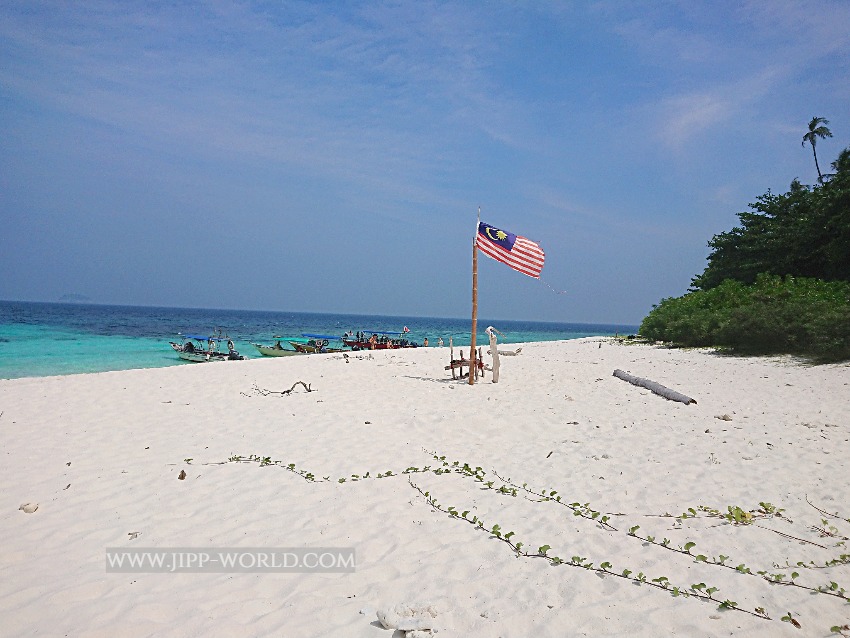 The beach was really really beautiful. The sand was so white and powdery and I just couldn't get enough of it. I walked from one end to the other and for a moment I forgot that I was burning myself under the hot sun. The boatman told me how the people of Tioman and the management of the island are very much into sustainability whereby they control the development so that the island will not be ruined by overdevelopment and "turned it into another Langkawi" as he described it.
I'd also like to believe that they also control the number of tourists that goes to the snorkeling trip every day. There were not many people snorkeling when we were there, unlike in Perhentian and Phi Phi island where I had to endure the suffocation of being surrounded by too many people. I felt like we had plenty of space to move around and there was one time when we had the place all to ourselves. Looking for fish to watch was very easy, because they were plentiful. They even came to me and I could almost touch them even though I didn't have my goggles on.
We did a lunch stop at Salang beach which was more like a resort beach. The waiting time was crazy long but we weren't rushing either so I managed to keep my cool despite the burning hot sun. Besides, there were nice views to be enjoyed around so I did not mind waiting at all. LOL.
We went to a place called Monkey Bay before calling it a day. In the eagerness to do one last swim I jumped into the water, forgetting that I had my glasses on with me. It wasn't until I returned on-board when I realized that I had lost my glasses. Just when I thought I had lost it forever (it was quite new) the boatman seemed to have a different idea. He asked my travel buddy to scan around using his goggles so that he could swim in to get the glasses once it was located.
I really thought it was going to be futile because the water was quite deep, probably 15 feet high and it had zero chances to be spotted but I forgot that he was the boatman with years and years of boating experience. The islands and the sea were his playgrounds. He must have by now had hundreds of snorkeling trips under his belt and he surely had encountered such a similar occurrence before.
I could not believe it when my travel buddy told us that he had spotted the glasses. Then the boatman was fast to get undressed, jumped into the water and returned with my glasses in his hands all under a couple of minutes! I couldn't thank him enough. I returned to ABC light-heartedly. Heh.
One thing I noticed about the people in Tioman is that – they really put their thoughts in their conversations. Even their choice of words was very specific. We usually just want to get the message across to the person that we are having a conversation with but the people of Tioman are quite different in this sense.
They are so eager to have a conversation with you as if it really is important that you understand what they are talking about and vice versa. I mean, I could only imagine that they have to meet and deal with hundreds of tourists week by week so I would not be interested to know too much about any of these tourists if I were them. The redundancy of info and things that I'd get from these tourists would kill me.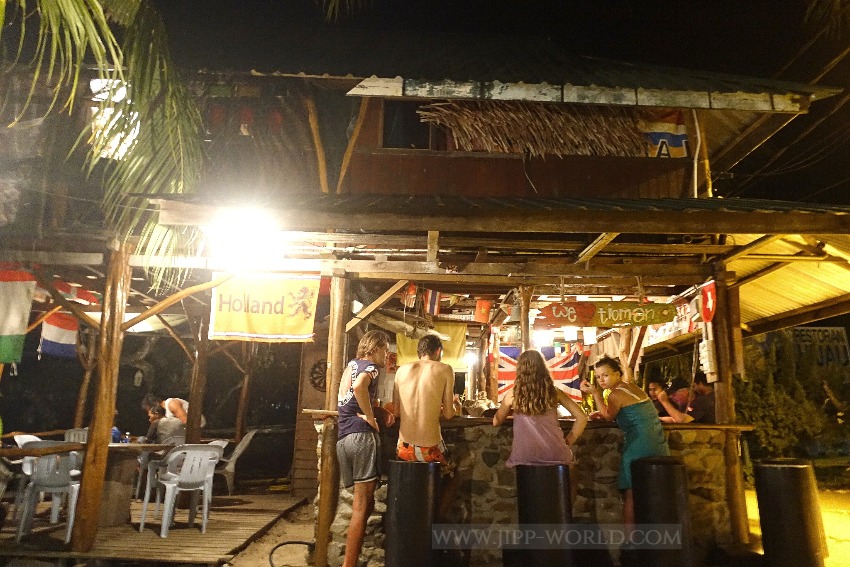 But that was not quite the case. I remember on the second night when we were having a drink at one of the bars at ABC and there were a few locals with us and they'd ask me questions that I thought I would not ask to a visitor if I were them. I should have found it annoying but it was not because you really see their eagerness and sincerity in wanting to know the answers and wanting to have a conversation with you.
Even the boatman told me in details about the boat system – the engines, the body composition, the mechanism – and how it is repaired and where they buy the spare parts when any of the parts needed a replacement. To put it simply, the beauty of Tioman not only lies in its beaches, greenery, marine life and all but also very much in its people. In fact, now that I'm back in the city I'm beginning to miss the people at ABC.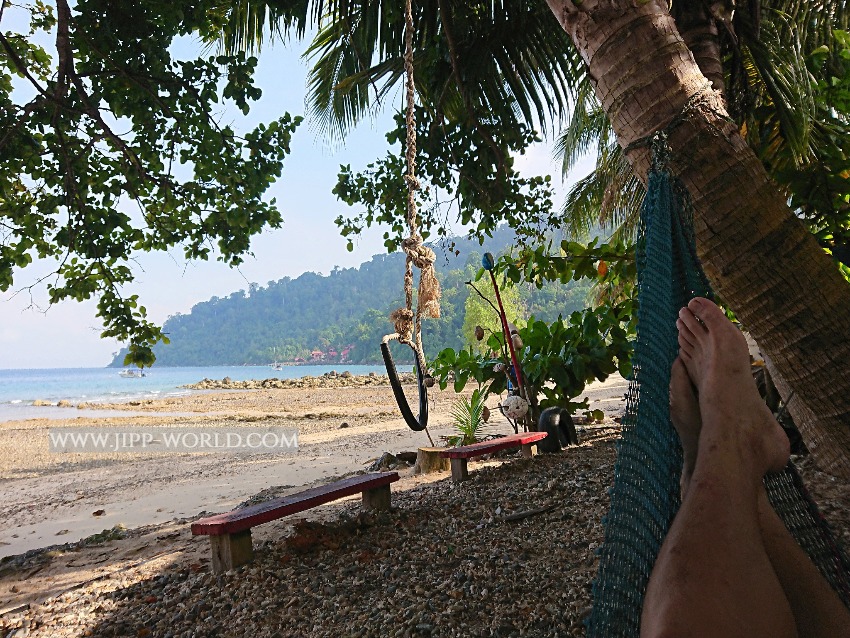 We spent our last morning in Tioman by renting a bicycle and wheeled off to Tekek, the only town on this island. It was very cheap at RM5 per hour so each of us only had to pay RM15 for 3 hours' worth of rent. It was an easy ride, probably about 7km long but the views along the way were breath-taking.  We arrived at the small town of Tekek in about 1 hour and had some roti pisang (damn expensive) for breakfast before wheeling off back to ABC.
I didn't see anything special about Tekek apart from the fact that it has an ATM from which you can withdraw money if you're running low on cash or you just need a top-up. Ohh, and also it has an airport. I haven't checked any flight tickets to Tioman from KL but it looks like a better choice compared to having to spend 5 hours behind the wheel.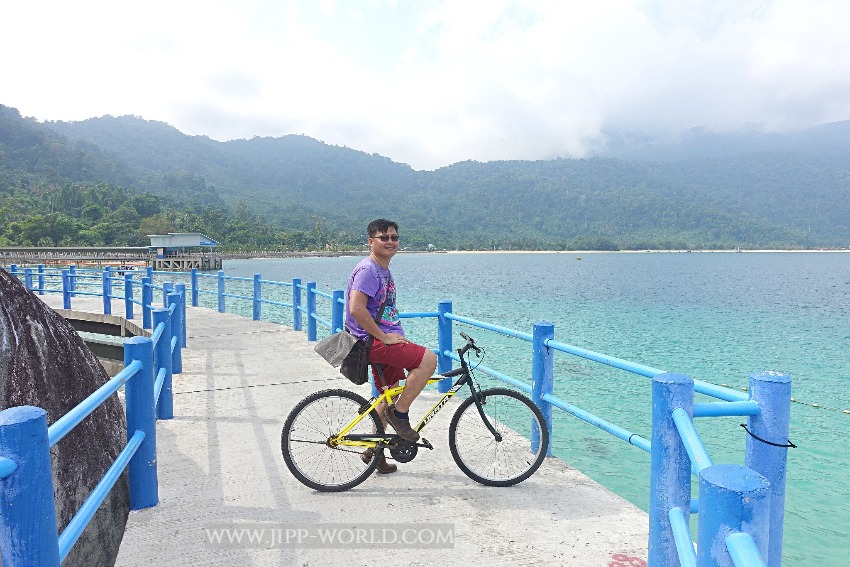 We stopped briefly at the famous Marine Park and watched the fish swimming in hordes from the jetty. Then we returned to ABC to pack up because we needed to be at the jetty before 12pm or we'd miss the ferry back to Mersing.
It really is easy to fall in love with Tioman island. I remember having a little conversation with a Caucasian woman that we met while looking for a room when we first arrived. She told me that she is from the UK and that she's been in Tioman for the past 30 years. When I asked what made her decide to stay in Tioman for so long, she was fast to answer "When you fall in love with a place, you don't decide. You just stay". I guess that little answer tells a lot about Tioman.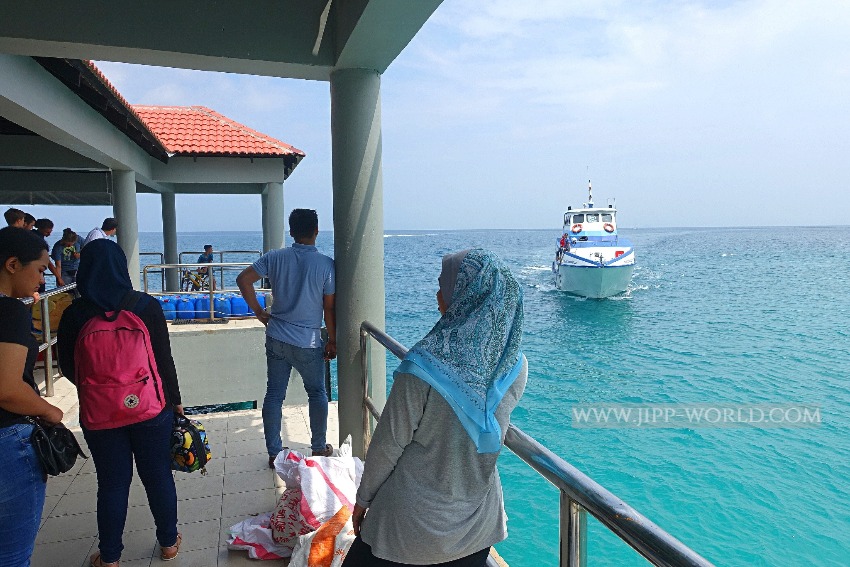 I intend to come back for more.