Back at those times when Air Asia was not even anywhere in the picture of our aviation industry (in my country Malaysia), New Zealand felt like far far away and beyond reach. I remember somebody told me how he had to fork out some MYR7000 (around USD1500 by current exchange rate, probably around USD2000 back then) when he went to New Zealand and that was on the flight tickets alone. I couldn't imagine myself coming to this country because well – I wouldn't spend such a big amount of money to go to a country. It was just too much for me.
When Air Asia X announced that it was going to start flying to New Zealand – at that time to Christchurch on the South Island, I went ecstatic. New Zealand was suddenly within reach and a trip to what is considered one of the most beautiful countries on earth suddenly felt quite realistic. I was so ready to buy a ticket and spend some money over what I liked to believe a trip of a lifetime.
I gotta admit that the excitement in me was further spurred when I watched the Lord of The Ring trilogy and later the Hobbit. I had never been so driven to do a trip to a foreign country due to a movie that I watched.
But then, somewhere along the way I missed the flight to New Zealand when Air Asia announced that it would stop flying to Christchurch. I began to look at other options, probably flying to Australia before taking another non-Air Asia flight to New Zealand. I waited for the right time to do just that. An announcement by Air Asia that it was going to start flying to New Zealand again – this time to Auckland – came as good news. I knew I gotta grab the opportunity before it drifted away from me again.
To tell the truth, I did not plan to go all over New Zealand on a single trip. I already put Mildford Track in my bucketlist so it was going to be my top priority. But then booking a slot for that world-renowned hike was not an easy task, as I had come to find out. I had to book a year or so in advance so I only bought the flight tickets and all after I managed to get a slot (for Milford Track). Only then plans for other things followed.
Since the flight would take us to Auckland, we decided to drive from Auckland on the North Island all the way to Milford Sound in the far south of South Island before flying back to Auckland on a domestic flight from Christchurch. From Christchurch we'd catch a flight back to Malaysia. The trip would take us on a very long drive, covering some 2572 km (but of course it is much more than this) with a ferry cruise across the Cook channel. I knew it was going to be the adventure of a life time.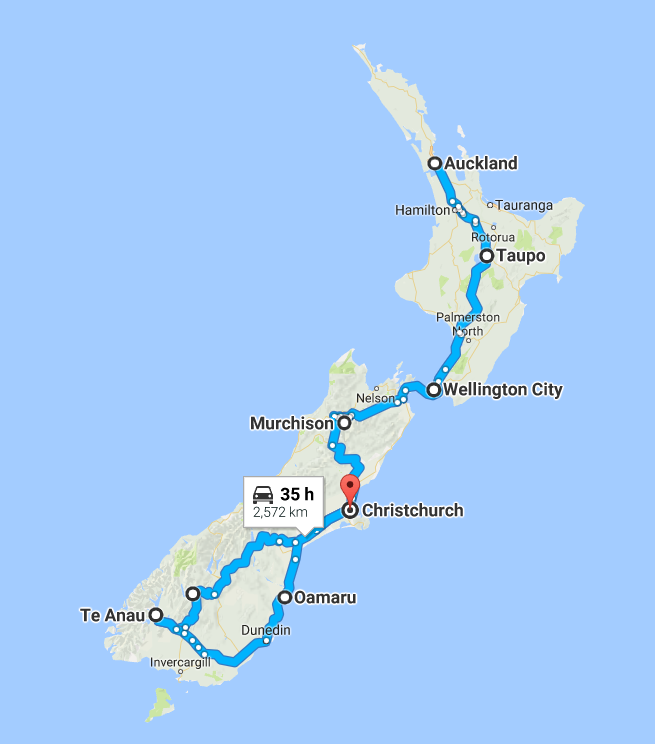 Planning for a trip to New Zealand had proved to be not an easy task. Being a first timer to this foreign country, I was overwhelmed by a lot of worries and uncertainties. I had first wanted to rent a motorhome (a fully self-sufficient vehicle with kitchen, sleeping facilities etc.) – but then changed my mind when I looked at the rental rate. Motorhome seems to be made for at least a bunch of people where you can share the rental cost among the group members. In my case, there were only two of us so it did not seem economical to rent a motor-home.
I did look at the possibility of renting a campervan (a car with sleeping accommodation, more compact compared to a motorhome)  but then again the cost of renting a (proper) campervan where you can sleep in the car still exceeds the cost of renting a car and staying at budget hotels along the way (or at least about the same). Besides, it's not like you can just park your campervan anywhere you like for the night – let alone set up your tent. New Zealand has a strict rule against camping or parking a campervan outside of the designated areas so I did not want to mess with the rule. After all, New Zealand is known for its hefty fines so I had to be really really careful.
So, after considering everything including the cost and convenience, I decided to rent a car and stay at budget hostels/hotels along the way. At least we would be assured of a comfortable bed and a decent night sleep which is very much needed after spending long hours on the road.
I think the most challenging part of planning a road trip to New Zealand is on the transportation. I mean, we already decided that we would drive but then choosing the right rental company needed a lot of considerations. It is especially harder when you go there during summer when tourists come to New Zealand in hordes, mostly to escape the cold winter in the Northern Hemisphere.
One thing that I instantly found out was the fact that the car-renting businesses in New Zealand are run by only a handful of rental companies so your choices actually circulate among these companies.
I did come upon quite a number of privately owned companies that rented out cars at much cheaper rates but then I had to consider the services that they had to offer. I wanted a company that provides round the clock services that can come to our rescue if anything happens. We surely did not want to get stuck in the middle of nowhere with a broken car and nobody would come to our rescue or we had to fork out a lot of money to get things done.
So, after considering a few options, we decided to take Jucy Rentals – which is one of the most renowned car rental companies that operate in New Zealand. It is also an international company that is known to operate in a few other countries including USA and Australia. Booking a car was not that difficult probably because they had a lot of cars in their store.
The confirmation of availability returned to me almost instantly and I secured the booking without any problem at all. Inquiring had proved to be a little bit of a problem because they would not return my emails. But then one single phone call settled everything and my worries were finally put to a rest. We were ready to march into New Zealand.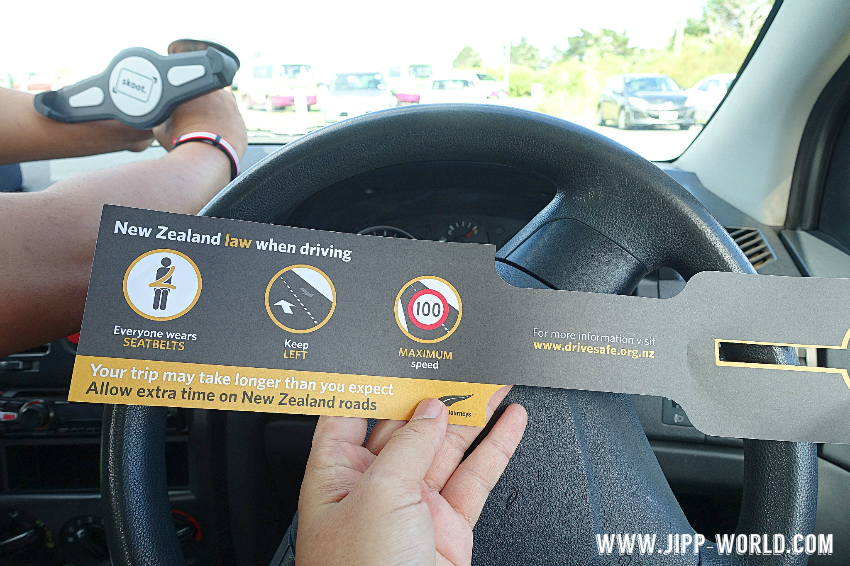 We started our journey in Auckland. We arrived there late in the afternoon and stayed at a budget hostel nearby the airport. We only went to pick up the car from the nearby Jucy Rentals office the next morning. I was not really impressed by the outlooks of the car at first. It looked quite old and I began to doubt if it would even bring us up to halfway through our journey.
But then, it turned out to be such a fantastic car and it did not give us any problem all throughout our journey at all. The only problem we encountered was probably when it would not start after we left it parked in Te Anau for 4 days while we went to trek the Milford Track. But that was all. The gardener at the hostel that we stayed came with a type of power bank and he started the car back to life again and everything went smoothly again from there on.
From Auckland we went to The Hobbiton Movie Set, famous for being one of the primary filming locations of LOTR and The Hobbit. We had come to find out that it was located in a private land and going to the Hobbiton requires visitors to buy a ticket and go on a 2-hour tour. It's not a place that you can just drive in and take photos etc.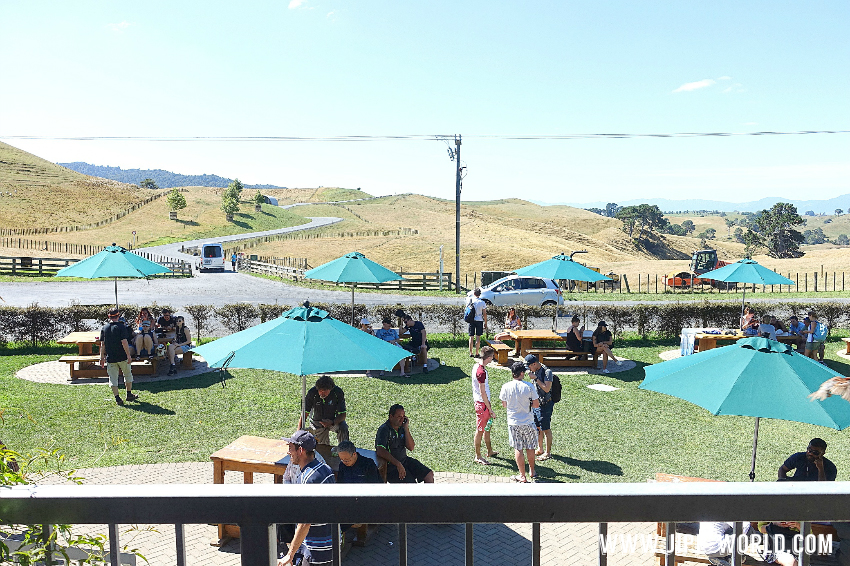 In fact, the place itself is quite a distance from the entrance so you don't even see it from the entrance. Quite up to its reputation as one of the top tourist destinations in New Zealand, it was almost fully booked when we got there. In fact, we had to wait for 2 and half hours before we managed to get a slot.
Hobbiton Movie Set that I found out was quite up to my expectations. I was actually surprised when I was told that there are at least 43 Hobitton houses all built for filming purposes so it really was a village.
I would have been surprised if I didn't know beforehand that the houses were not actually houses but more like facades of houses with no interiors. I was surprised though that most of the visitors did not even watch the movie and that they went there as part of a tour package. As a big fan of LOTR and The Hobbit, I enjoyed the sight-seeing at Hobbiton quite tremendously.
From Hobbiton we drove off further to the South and stayed overnight at Taupo. Taupo is known for the Lake of Taupo which is the largest lake in New Zealand. I had come to find out that it is quite a party town but the municipal is quite strict about the closing time so all went quite just before midnight. We did manage to take a little bit of walk on the lake side and watched the sunset before it got dark. But of course we only managed to check out more of Taupo the next day.