I have always been a super big fan of Guns n' Roses. I'm not sure how exactly it started, but their songs were like all around me when I was at the university. I remember buying their famous Use Your Illusion posters and putting them on the wall of my tiny hostel room. Then I'd buy their albums, back then in cassettes, and I'd listen to their songs on my earphones over and over and over again until my ears hurt, usually while preparing for my upcoming exams. From their most upbeat songs such as Welcome to the Jungle and Sweet Child O Mine to the mellow(er) November Rain, Patience, Don't Cry – you name it. They were super big back then and they definitely still are to certain extent.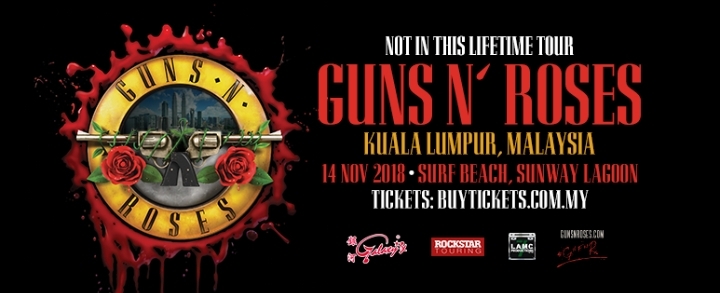 I had always wished that someday I'll have the chance to attend one of their concerts – be it in Malaysia or anywhere else. I would say, my biggest influences in music came from three rock bands – which were all super big back in the 90's – namely Bon Jovi, Metallica and Guns n Roses. I was very very lucky when the first two came to KL, but of course I needed the last one to come so that I could complete the list.
My lifelong dream was almost shattered to pieces when two of the most iconic figures in the band – Slash the main guitarist who is known for his iconic hair that leaves his face to anyone's guess, and Axl Rose the singer itself – fell out with each other in what was considered one of the most famous fallouts in the history of rock music world. They went separate ways, breaking the hearts of so many fans across the globe including me, and I had to come to term with the probability of – well – putting my dream of attending their concert behind and moving on with my life.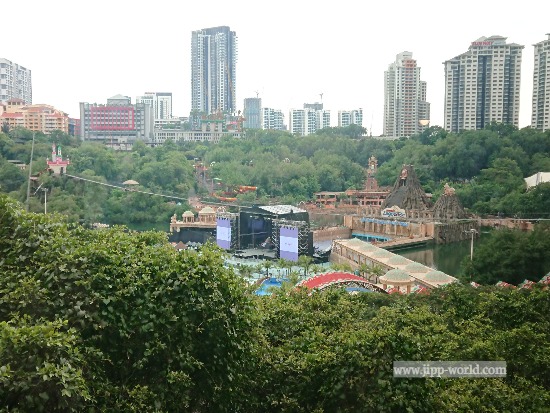 But when the news that they were reuniting on a world tour broke, I almost cried in relief. And when KL was listed in their tour schedule, I was ecstatic. I mean, who would have thought that something that I had almost completely given up on returned to me in a form of reality? It was almost too good to be true.
So November 14, 2018 was the day. The venue was Sunway Lagoon, which was opposed by quite so many people for reason that I myself could not quite understand. A friend of mine that I was supposed to go to the concert with decided not to come in the end, reasoning that it would not be worth it because we'd be too far from the stage, unless we bought tickets for the front rows, which would cost us a few times over. What he didn't know was that – the lagoon is very wide and it gives a lot of space for the crowds to spread out and maintain a good distance from the stage. Even better was that, the ground is quiet slopey so it gives the audience a good view of the stage, even for later-comers who had to stay at the far back.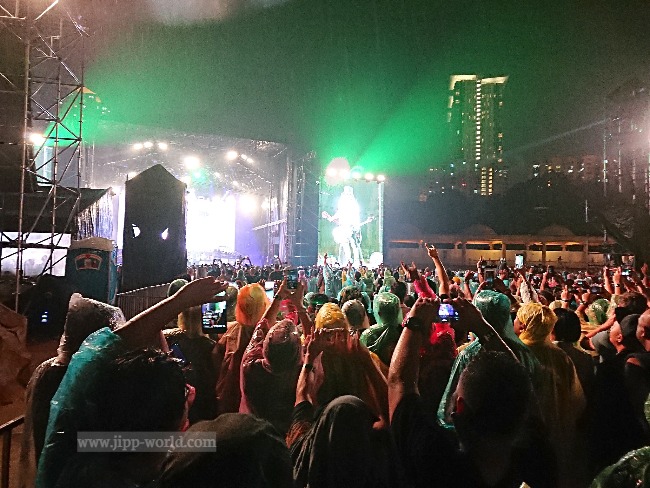 My only complaint was probably the way they handled the entry of the concert-goers. The queues were crazy long and Malaysians being Malaysians some of them would sneak in and jump the queue, dragging the queuing to even longer. Setting up more entrances would have significantly cut down the queuing time. Once inside, it was still quite a long walk towards the venue and quite true to one of their biggest hits, November Rain came pouring down even before the concert started. I decided to embrace the rain with open arms and I actually began to enjoy it before long.
Being there watching one of the groups that were so much a big part of my life perform, it was such a magical moment for me and the rain just made it even more dramatic. To tell the truth, it was my first time attending a concert on my own without any companion, and quite to my surprise I actually enjoyed it very much. I guess all the solo trips that I did in my years of travelling had resonated so well in me now that I am beginning to enjoy coming to a place or event on my own. I found myself smiling and singing along with Axl who at 56 still very much got it (my gawd!). Slash of course still shimmers with his amazing skills around his guitar so much so that one of the strings actually snapped off while playing an instrumental.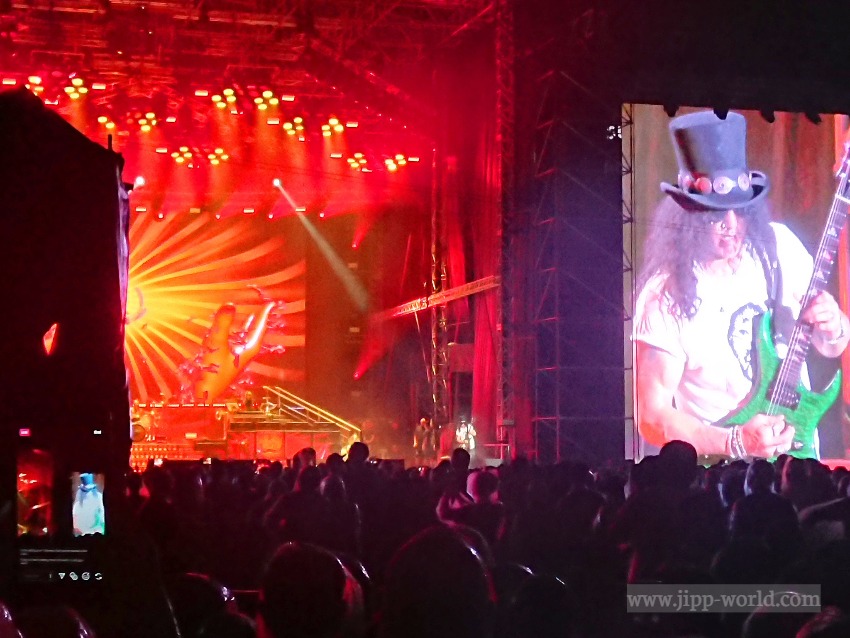 My only regret was probably my phone, which was not functioning well in the rain despite being so-called water-resistant. I was recording the moment when Slash was doing the (main) theme song for the movie The Godfather which happened to be my favorite movie of all time, and my heart was exploding in excitement because never had I ever thought that I'd get to see Slash perform the song, definitely NOT IN THIS LIFETIME but there he was, pulling it off right up there on the stage and in my presence! It was so damn surreal.
But then my phone suddenly restarted by itself, probably because it was confused with all the touches imposed by the rain on the screen. When I tried to play it again after the concert, the file was still there but it would not play. It was probably corrupted and damaged by the sudden restart. But then, I wouldn't kill myself for that. Of course somebody must have recorded and posted in on youtube by now but just to think that I was there watching it live makes me cringe in sheer elation every time.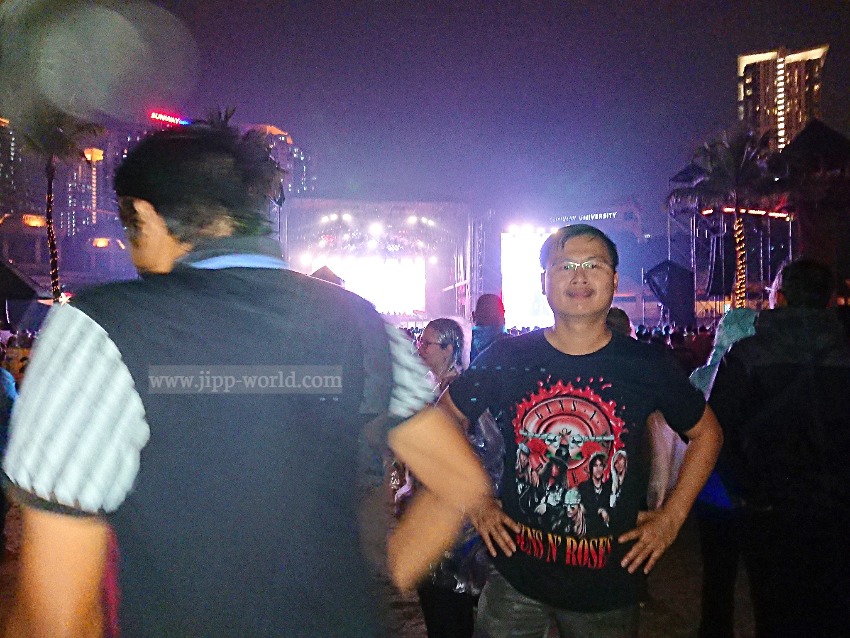 Despite enjoying the concert so much, I actually didn't stay to the last song. It was a weekday so getting stuck in the jam and reaching home at 2 in the morning when I had to be at work early the next morning was definitely the last thing that I wanted to be. Guns n Roses definitely did not disappoint me. They performed most of their big hits and what amazed me most was that they did not even take a break, not a single one. It was the most continuous concert that I've ever been to and I really wonder where they got all the energy from when all but the drummer was well over 50.
I would say – without any prejudice – that it was the best concert that I've ever been to so far, probably rivalled only by the one by Linkin Park (the one in 2003, not in 2013 which I didn't quite enjoy somehow). I loved every moment of it and most of all I've finally completed the list of attending the concerts of the three mega rock bands, namely Bon Jovi, Metallica and Guns n' Roses, my biggest music influences in life. I think I can finally die in peace. Heh.