Ahh, it's been awhile since the last time I dropped in something over here. After coming back to the 8-5 routine early last year, I find it quite hard to get into or even going towards it (blogging). The time is always there – as I am a firm believer that there is always time for anything, and that busy is an overrated word – but I think my mind takes in quite a bit more that it used to last time, so by the time I am physically ready to blog, my mind will usually be not (ready). Or may be it is just me.
So I have just remembered. I haven't blogged about the part of my trip to India where I went to Kolkata.
Flying in from Varanasi on an Indigo flight, I touched down at the Kolkata airport at about dusk, and took a pre-paid taxi to a hotel called Hotel Heaven on A.J.C. Bose Road. Just by looking at the taxis, I knew Kolkata was going to be very interesting for me. The taxi reminded me of the Bollywood movies that I used to watch a lot when I was a kid. They really fit perfectly well with the word 'classic' because they really are that – classic.
I picked Heaven Hotel due to its very close proximity to Mother Teresa's house, which was my main place of interest in Kolkata. I booked the room for INR3750 (about RM226) for two nights via booking.com, and subsequently booked for another 2 nights – not because I liked the hotel, but because I wanted to avoid the fuss of having to find another hotel.
The room was OK though. It was spacious, and the air-con worked wonderfully, so I wouldn't really ask for more. There was a functioning TV, although I didn't really watch. The best thing about the hotel has to be the restaurant at the ground floor. They do send food to the room but of course I was desperate to be anywhere else but the room so I'd rather go down to it and have my feast. The food was fantastic, but as I stayed longer in Kolkata, I had come to find out that good food in Kolkata is quite plentiful, a far cry from most other parts of India that I had been to before.
Kolkata that I found out is a melting pot of different cultures and religions. It's a mixture of Hindus as the majority, and a significant number of Moslems, Christians and probably Sikhs and others. I am still baffled as to how I did not see many temples while I was there, while I saw mosques and churches of all sizes in almost every corner of the city – or at least in those that I went to.
Hotel Heaven, despite being so near to the Mother Teresa's Missionary House, is actually located in a Moslem-majority area. I was there during the first day of Eid al-Fitr, so I got to see them going to the mosques for the Eid al-Fitr opening prayers. Amazingly, they opened their shops later in the afternoon and they were quickly back in business. Perhaps, it is their being hardworking is the reason why they look better-off than the majority of non-Muslims in Kolkata.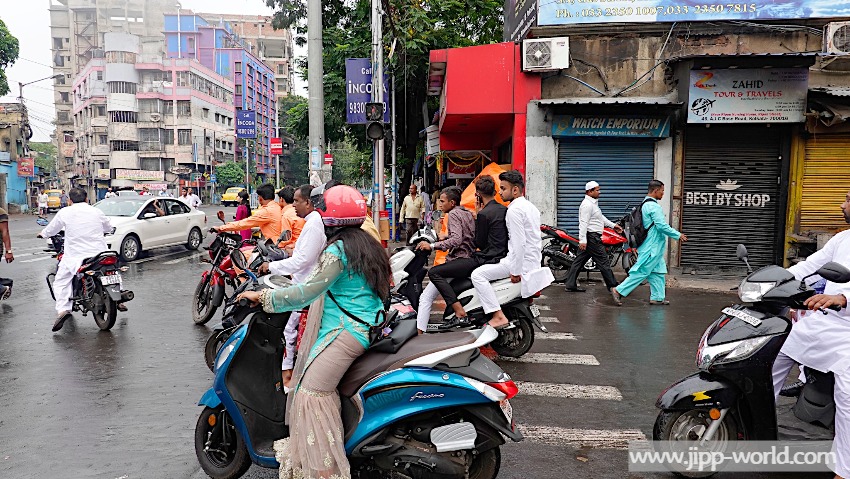 Of course the very first place that I went to was Mother Teresa's Missionaries of Charity House – or sometimes simply referred to as Mother Teresa's house. It was located just next to Heaven Hotel where I stayed in, so I actually spent most of my days going back and forth between these two.
I spent the first day going all over the displays on the museum, which mostly depicted the life of Mother Teresa and how she first answered the vocation, or at least made the efforts to, which was growing too large for her to ignore in the end. The museum was very small, but it was full of info about Mother Teresa's charity works and I really really took the time to read just about every detail there was on the display. It took me almost one whole day to finish going through everything there was.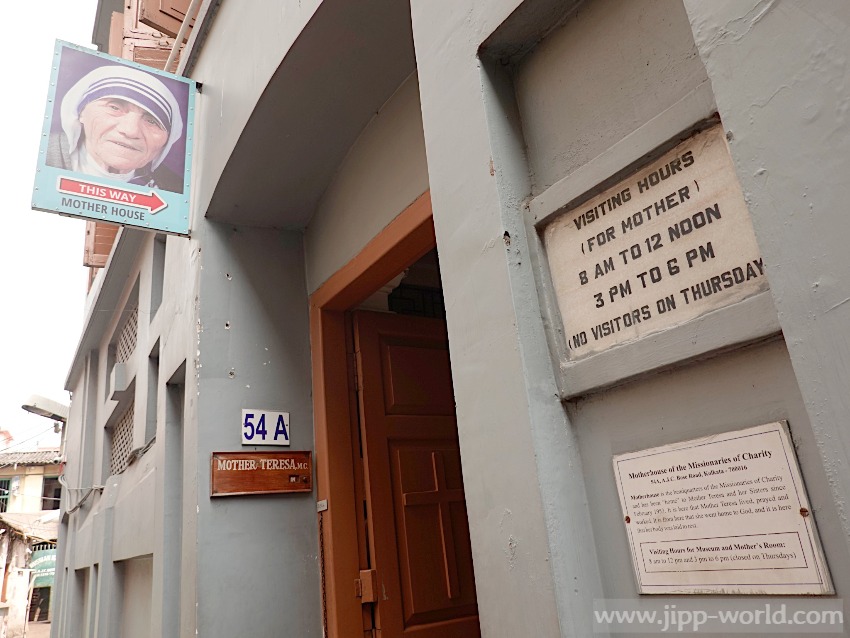 I have always been a big fan of Mother Teresa and her charity works, and the more I read about her the more I admired her courage to do all the charity works. Her efforts did not all go in flying colours, in fact they were full of obstacles. Of course it would have been impossible to stay doing all the things that she did until her death, with all the obstacles and all, and it definitely involved some kind of divine intervention. Otherwise, she would have flopped before long (I am a Catholic BTW).
And she definitely had the brains. In fact, she was a genius. I absolutely have no doubt about it.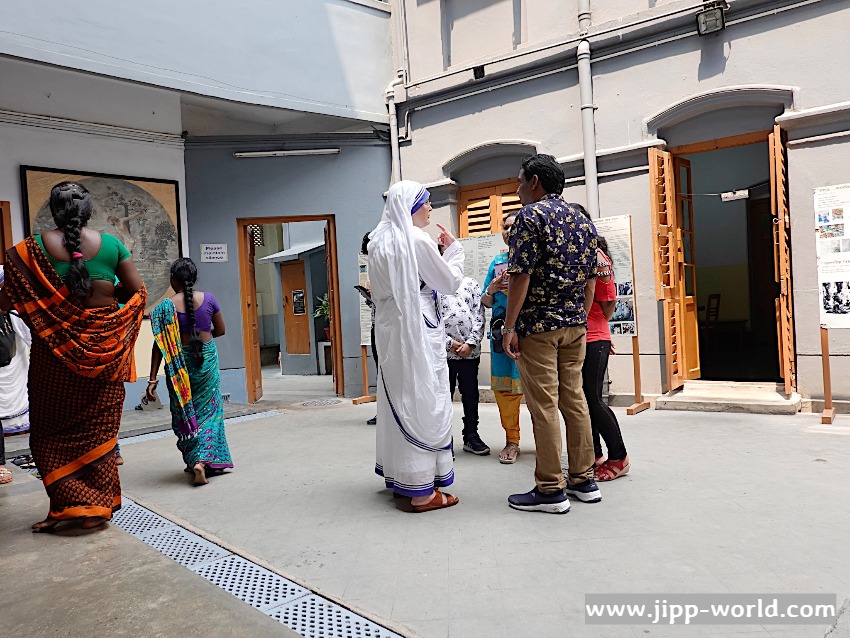 By the time I was done going through just about every stuff in the museum, I felt like I've known Mother Teresa all my life. And my admiration just grew.
By the time I went to the next room where her body was laid to rest, I was quite choked with emotion. I quietly took a seat at one corner of the room, which was more like a chapel, and I visualized her saying goodbye to her family in Albania at the age of 18, and headed for Ireland where she joined the Sisters of Loretto. That would be her very last goodbye to her mother and sisters, and she never met them ever again (if I understood it correctly).
She wasn't there for long, as she travelled to Darjeeling in India the year after where she stayed at a convent and taught at a school nearby. She would travel between Darjeeling and Kolkata for an annual retreat, and it was on one of these trips when she experienced what she described as 'a call within call'. Well, some people may question this, but in that call, she was ordered to leave the convent and help the poor, and even stay among them. And she did just that.
She helped the poorest of the poor in Kolkata, while staying with them, literally. I was so fascinated by how she silently slipped out of the convent compound and went to see the poor on the streets of Kolkata. So starting from scratch, she began to gather fund, for which she sometimes had to beg, and she set up a team of young women to help her out when it was too much to do on her own.
The rest, as they say, is history. With more recognition, fund started to flow in, and she eventually managed to gather fund to set up a school and a hospice, all for the poor. I really was fascinated by how she managed – through negotiation of course – to convert an abandoned temple into a hospital for the dying. The intention was to give a dignified funeral to those who had spent their lives in the abandonment and being uncared for.
So, it really was a long way for Mother Teresa before she managed to get the recognition she deserved, starting from the community level, to the national and finally the international level. Her efforts inspired the opening of more facilities targeting to help the poorest of the poor in many countries all over the world. The climax of it all was of course when she was awarded the Nobel Peace Prize in 1979.
I cringed when I read her acceptance speech at the museum, as it was too 'Catholic' for the audience that came from different faiths and religions, but then at least she was not being hypocritical. After all she was being true about what kept her and her team driving into doing what they did despite all the obstacles. It was their faith for God as Catholics.
But then despite all the recognition, Mother Teresa's House of Missionaries of Charity seemed to have maintained its humbleness. It was only a small stack of 3-storey buildings, all inter-connected with each other and the only real space they have is the small lawn in the middle.
I remember going to the toilet and unintentionally overhead a conversation between a young couple and one of the nuns. Apparently, the young couple was there to seek advice and counselling from the nun, hoping to find a peaceful solution to their seemingly troubled marriage. There was a fierce argument, but I did not stay long enough in the toilet to hear what the nun had to say to them in the end. But I bumped into the couple walking hand in hand later so I guess the counselling must have had worked, at least for the time being. Heh.
As a big admirer of Mother Teresa and her charity works during her lifetime, coming to the very place where it all began really was a dream-comes-true to me.