Day 1   
KL – Lombok International Airport                               Air Asia                  MYR 740 (return)
Lombok International Airport – Senaru                       Taxi                         IDR 550 K
Checked in at Pondok Indah                                                                       IDR 330 K
Day 2  
Senaru – Sembalun                                                     3D2N Package       IDR 2mil
Sembalun – Plawangan Sembalun
Camping Night 1
Day 3        
Plawangan – Summit
Summit – Plawangan Sembalun
Plawangan Sembalun – Lake
Lake – Plawangan Senaru
Camping Night 2
Day 4  
Plawangan Senaru – Senaru
Senaru – Senggigi
Checked in at Sunset Hotel                                                                             IDR 800K
Day 5  
Senggigi – airport                                                                                             IDR 250K
Lombok Airport – KL
The Airport
The airport is quiet far from Rinjani . You'll need another 3 hours to travel from the airport to Senaru – the starting point of the trek to Rinjani. You can take a taxi if you want to go directly to Senaru (about IDR 800,000 or less for an airport cab, may be lesser for street taxis – we managed to get IDR 550,000) or you can take a bus to Senggigi – and save a few dollars – and take a taxi from there to Senaru. If you haven't changed your money to local currency, you better do it at the airport. I found it quite difficult to find a money changer – except at Senggigi where I saw some.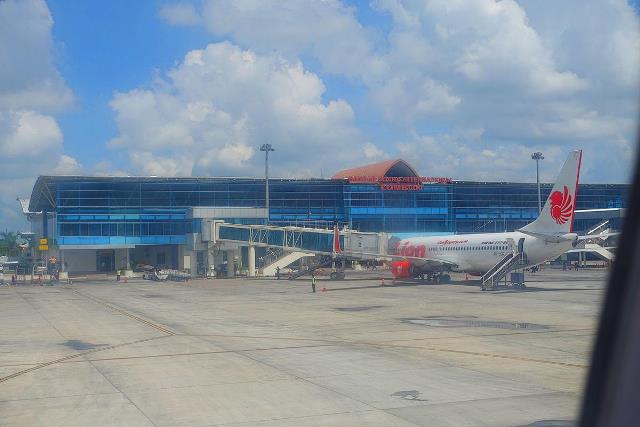 The Packages
There are 1D1N, 3D2N and 4D3N packages up for grab. WE took the most popular one, the 3D2N package. A pick-up took us from Senaru to Semalun (both at the foothill of Rinjani but on different sides) from where we trekked to the rim on the Semalun's side to camp for one night before climbing up to the peak at 2 in the morning then returning to the camp before descending to the lake and up to the 2nd camping site at the rim on Senaru's side. From there we descended back to Senaru before being transported to Senggigi where we spent our last night in Lombok before returning to Malaysia the next morning.
I can think of 3 options in booking for a package to Rinjani based on my observation there.
                             Option 1 – Book online
I wouldn't touch on the reliability of websites because seriously, I am not quite sure. But still a lot of people book online to make things much easier for them. If you book online, you can include in the package your pick-up transfer from the airport all the way to Senaru, then your 1-night accommodation at Senaru before scaling that damn mountain the next day. You can even include your transport to any 'desired destination' in Lombok from Senaru – even to the airport as I was told. It sounds quite hassle-free actually.
                           Option 2 – Go to Senggigi and book for a package from there
Senggigi is quite a big town about 1 hour away from the airport and 2 hours from Rinjani. It is quite a touristy area so you'll find plenty of companies offering you climbing packages at a varying price range. Senggigi is reachable by bus from the airport so you can save a little bit of money on the cab. But then from Senggigi to Senaru (Rinjani) you still have to take a taxi – which is probably arranged by the company that you chose. The problem is, you might have to depart very early from Senggigi so that you can reach the starting point of the trek in time for you to reach the camping site before it is too dark (and cold).
                            Option 3 – Go directly to Senaru and arrange everything there
Senaru is located at the foothill of Mount Rinjani. It is 3 hours away from the airport so you might have to spend quite a bit of money on the taxi. There is no direct public transport from the airport to Rinjani – or so I was told. Upon reaching there, you can easily find a company to arrange for your climb – there are always ready even at the very last minute. They can provide you a night's accommodation at Senaru or you can just check into any of the chalets (plenty) and ask the company for a discount (because you pay for your own accommodation).
The good thing about this option is that, the money will go directly to the people at Rinjani. I was told that 90% of the people there do a job that is related in one way or another to the tourism at Rinjani. Then you can open the table for negotiation on the prices too. You'd see that these 'little enterprises' that arrange for the climb to Mount Rinjani don't even have a proper office but rest assured – they really know what they are doing. You won't believe how hassle-free your hiking trip will turn out to be.
Each package usually includes your food and drink for the whole trip and the basic comfort of accommodation (sleeping in a tent). They might help you bring some of your personal belongings but of course you can't really demand much. I see how most people go up to Rinjani without a single shit of luggage on them but I'd rather bring (most of) my own things in my backpack. It'll look good in my pictures 😛
The Prices
I'd say the range of prices of the packages from one company to another are about the same actually. Some companies would offer you what is called 'deluxe' package which among others give you luxury of drinking Bintang – Indonesia's most revered local beer – up at the mountain. Then they might give you a thicker mattress for a better comfort.
What we paid for was probably a normal package – but seriously, I wouldn't have asked for more then what they had offered to us.
The Food
My gosh, how I underestimated the porters and the tour guide. Despite their looks (kidding) they really know how to cook! I was told that ability to cook is one of the requirements to be a porter and a guide at Mount Rinjani. They cooked different dishes every time so we always found ourselves excited about finding out what the next dishes would be!
Trekking Gear
First and foremost, it is recommended that that you bring your own trekking gear. You wouldn't find any shops that sell trekking gear at Senaru, may be you would, but I didn't see any when I was there. Even if there were, I'm sure the number of choices would be very limited. I managed to buy a rather dilapidated umbrella there to serve for my protection from the rain and also as my hiking pole.  It worked really well – at least for me because I'm quite used to using umbrella instead of wrapping myself up with a rain coat whenever I go hiking.
Money Changer
No, there is no money changer at Senaru. It is a just a village. If you want to change your money to local currency, do it at the airport, or probably Senggigi. The locals there don't even know the exchange rate which is one of the reasons why they are not quite fond of being paid in any currency then their own (rupiah).