So, I went to India for the second time recently – this time to the Uttarakhand region in the far North of India. Due to the location which is so far into the Himalayan region and hundreds of kilometers from New Delhi where we landed, it had proved to be one of the most difficult travel trips that I've ever had to plan thus far.
We took a bus from the Inter State Bus Terminal in New Delhi all the way to Rishikesh at the foothill of Himalayas. It was quite a long ride – not because of the distance but more of the slow traffic. We arrived in Rishikesh to a heavy rain so we had to run around looking for a hotel in the rain. I stayed at a super budget hotel called Hotel Digvijay near the bus station while the ladies stayed at some not-so-budget hotel called Amaris further away from there.
Rishikesh that I found out is quite a big town. Due to its strategic location and connectivity, it is more like the getaway to the Himalayan region from the Indian side.
The plan was to stay there overnight and took an early-morning bus across the lower mountains of Himalayas to a little town called Joshimath which would take us much nearer to all the intended destinations – namely Badrinath and Govinghat. Govinghat is the starting point of our trek to Hemkund Sahib and of course – the much anticipated Valley of Flowers.
But to our horror, news of terrible landslides near the town of Chamoli came to us like a burning splash of acid. Big chunks of the road to Joshimath had chipped off and fell straight down to the roaring Ganges due to the incessant monsoon rains which made the road temporarily impassable. It was all over the news and it really worried us – thinking how we had come that far towards what was supposed to be an epic adventure. But then, I looked at it all as part of the adventure.
I found myself constantly following the development of the restoration works through social media. It was one of those times when social media came in so handy and useful. I even sent a series of tweets to some of the people that were trapped and could not get out of Joshimath due to the landslides. We decided to stay back at Rishikesh for another night while closely following the development of the restoration works on site.
Well, our trip into the Himalayas might have to be delayed but in hindsight it gave us a chance to tour around Rishikesh and see what this beautiful town had to offer.
Rishikesh has over the years gained its title as the Yoga Capital of the World. They are so many Yoga activities going on in this town and people actually come from all around the world to learn more about Yoga there. Yoga has also become a billion-dollar business in Rishikesh with so many Yoga schools and Yoga-associated retreat centers (ashrams) springing up here and there. Of course hotels – both luxury and budget alike – keep increasing in number to accommodate for the needs of more and more pilgrims who come to Rishikesh every year.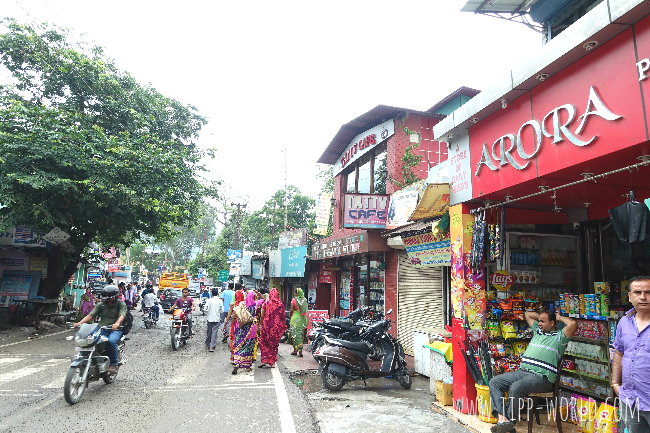 The members of English rock band The Beatles are said to have spent quite a bit of their time to learn about meditation in Rishikesh. Perhaps, it was how it first gained its worldwide recognition.  They even wrote quite a number of songs while they were there.
We made our time to check out the famous hanging bridges of Rishikesh. We joined so many hundreds others to walk from one bridge to the other while taking in the beauty of the Ganges riverside view. It really was a very relaxing walk with so many things to see along the way.
To tell the truth, it was my very first close encounter with world-famous Ganges River – a river that I've heard so much about which is considered a holy river in Hinduism. I was always imagining that I'd see it for the first time in Varanasi but of course God always had His own plans for me. Ganges river is quite smaller than I had imagined. But then, it is also known to be so unpredictable. The water level can rise up so suddenly without warning and a lot of people had fallen victim to this unpredictability.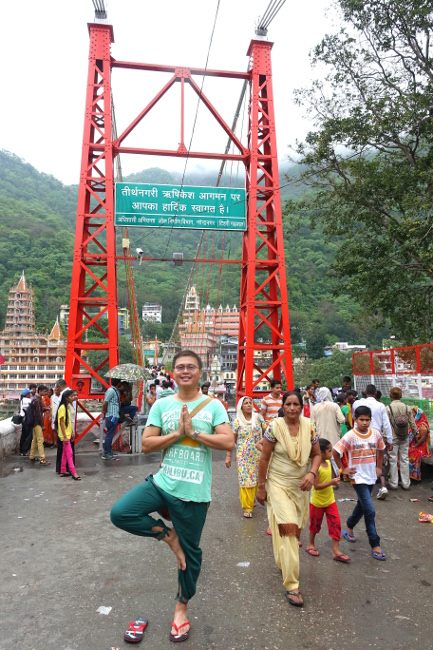 We wrapped up the day by walking from the second bridge to a restaurant called Bistro Nirvana. The restaurant served both local and international dishes. Quite true to most of the reviews about Bistro Nirvana that I read on Trip Advisor, the food was marvelous (at least the one that I ordered). But I think what made Bistro Nirvana special is the ambiance and surrounding which is very much relaxing, away from the noisy streets of Rishikesh. We ended up spending a few hours there.
Quite in tandem with its status as a holy city, Rishikesh has long been declared as a meat and alcohol free city. But of course where there is demand there will be supply. It is not easy to implement when the demand is still there. A friendly local guy that I had seated next to on the bus cheekily told me where I could find beer in Rishikesh. "The cops might come up to arrest you but you can always give them money and they'll go away" he said before bursting into a reverberating laugh.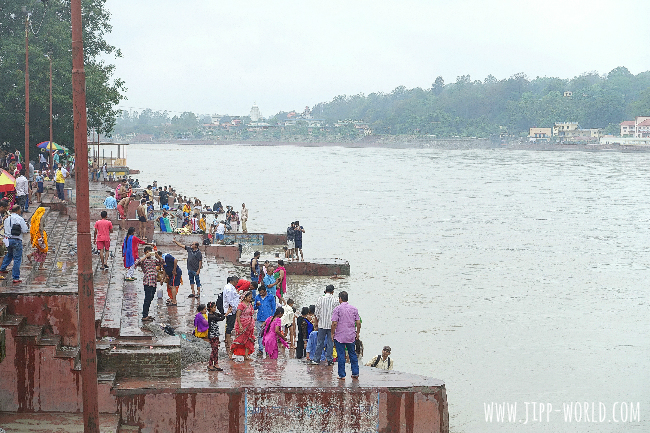 And so is the case for the vegetarian status. One of the Tuk Tuk drivers (or whatever it is called in India. I'm quite sure they call it Tuk Tuk too) took us to a non-vegetarian restaurant not too far from the hotel that I stayed in. They foods are quite expensive but they come in big portions so the prices are quite justifiable. Their chicken curry turned out to be one of the tastiest foods that I've had while I was in India.
But then – thanks to the vegetarian status, I could see how animals roam happily and freely all over Rishikesh without having to worry about being netted in and slaughtered. I mean, I was queuing up to buy bus tickets to Joshimath literally with a bunch of pigs. They'd come and smell at my feet as if there was something for them in my shoes. Damn. LoL.
When there was no sign of the road to be restored any time soon, we decided to just go and see how things would be for us along the way. Our mission was to reach Joshimath before anything else. But of course with the restoration works still ongoing, there was no way of telling if we could even accomplish that. Even worse, we might be stranded up there in the middle of nowhere – and getting stranded in the Himalayas was the last thing that we wanted to experience in the North India.