One of the things that excited me most about visiting Sri Langka was the idea of climbing up to the Adam's Peak or Sri Pada as it is locally known. We took a train from Kandi to Hatton and that was when we had our first glimpse of the beautiful highland of the country. I mean, the scenery was so stunning and beautiful and viewing them from a moving train was such an amazing experience.
But then, the train ride itself was quite an experience. I would say it was quite comfortable and I had no problem at all. I happened to be seated next to a family from Hong Kong and a lone traveler from France who is currently serving as a member of the French army in Saudi Arabia. He told me how the people in Saudi Arabia are some of the most hypocrite people he has ever come upon, and how they always play holier than thou in front of everybody when in reality they are nothing but wicked people.
He even told me about an island where all the rich Arabs would go to to have sex, drink alcohol and get wild during weekends and return to their families as holy men on weekdays. Oh well, I would have been shocked but I already knew that so I was least surprised. The family from Hong Kong had a long story to talk about themselves too – with both the husband and the wife were active backpackers before they met and got married. Of course their passion for traveling continued to run in the family and they'd travel with their kids whenever they can.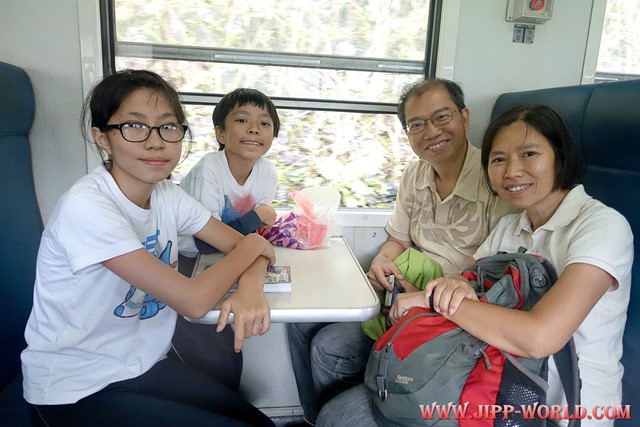 I did know that Sri Lanka had plenty of tea plantations, but I didn't expect that they were so broad and expansive that it'd take hours of train ride to travel from one end to the other. I mean, they make the Teh Boh Plantation in Cameron Highland such a speckle in the tea universe. LOL! I'm more of a coffee person although I do drink iced lemon tea quite a lot but the idea of being in a tea plantation with all the greenery that it serves always excites me.
We disembarked at Hatton, a small farming town like in the middle of nowhere, against an unwelcoming weather. We were actually running out of rupees so we expected we could change some of our USDs to local currencies in Hatton before we went further away from civilization. After asking around, we found a bank that could offer us just that but gosh, it was not a five-minute business like we usually do at any of our money changers back in Malaysia.
We had to fill up a lengthy form, and they made a copy of our passports, and then they had to get somebody to approve it. It felt more like being in a general hospital or something where you'd have to fill up forms and wait for your turn to see the doctor who would then prescribe your medication and then you'll have to go the pharmacist to collect your medicines before you can go home. Erkkk!
We took a local bus to Nallathanniya but apparently it wasn't a one stop bus ride as we had to stop countless of times at just about every little town that it came across. And seriously, there were so many towns and villages – mostly inhabited by farmers at the tea plantations. The ride was quiet bumpy but I'd been to a worse bus ride before so I was least bothered. The scenery was stunning and breath-taking with so many beautiful lakes surrounded by greenery came into view so time passed by quite faster than I would have noticed.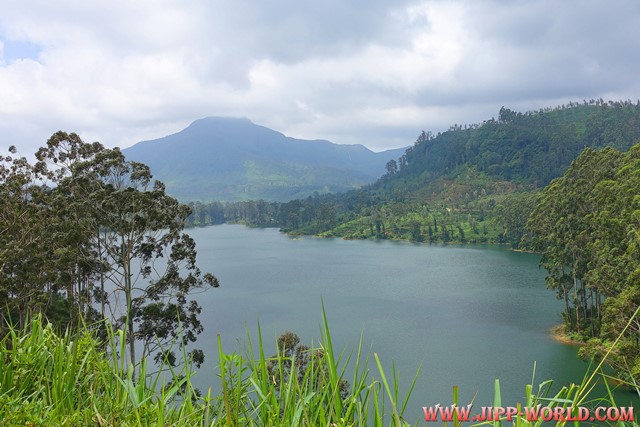 It was late in the afternoon when we arrived at Nallathanniya. Just so happened that somebody who was working at one of the guest houses was on the bus with us so we decided to come with him. Blue Sky Guest House was quite bearable, and we couldn't ask more for something that only cost us some 500 rupees (less than USD4!). I had to agree with Audrey that sometimes it's the hospitality that matters most and the host really made us feel so welcomed.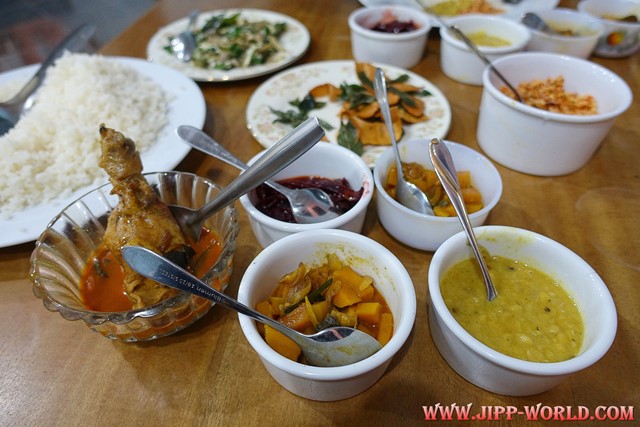 It was late July when Nallathanniya was almost deserted. From December to May every year when the weather is dry, it turns into a bustling little town where people especially Buddhists from all over Sri Lanka and beyond come to to scale the sacred mountain.
Scaling the mountain during other months is actually not recommended as the trail can get quite slippery and trees might fall down onto the trail but of course that doesn't stop people from coming and scaling it on any day of the year. Audrey was quite hesitant because it's been raining since we arrived but I told her we'd give it a try first and backed down if things got nasty.
And the weather showed no sign of mercy that I actually got woken up by the heavy rain several times that night. I could do nothing but letting out a little prayer every time. Miraculously it stopped just before our scheduled departure at 4 am.
I took it as sign and it wasn't long before I found myself walking in the dark – with Audrey tagging closely behind. It was quite a fast pace in the beginning as if we were so sure of where we were going and it was full of casual conversation too. I remember talking to Audrey about something so unrelated to the climb, as if the climb was just another one of those things that we do so casually without really giving it any thought of concerns or something. LOL.
Being one of the most climbed mountains in the world, the trail to Adam's Peak is very much well-trodden so you don't really need to worry about straying off the trail even in the pitch dark. It is very well-paved and climbing the mountain is like climbing a stair with thousands of steps on it. My only worry was the weather because it could get very cold and I was not sure if I was well-equipped enough. I didn't bring any rain-coat with me so I couldn't be more glad that I had brought an umbrella with me. I couldn't imagine how nasty things would be for me if I got drenched in the rain. Brrrrr!
We stopped a few times to see whatever there was to see along the way but mostly to catch our breath. There were stupas, Buddha statues and a few other things mostly related to Buddhism.  Quite expected, we didn't see any other climbers, not before we were half way up the climb. If there was one thing that I learned from my traveling experiences in the past, it'd be that they are always crazy travelers out there. You can't do something nasty in any of your travel trips and claim yourself the craziest traveler ever because believe me, there's always somebody who is crazier than thou who'd do nastier things. Heh.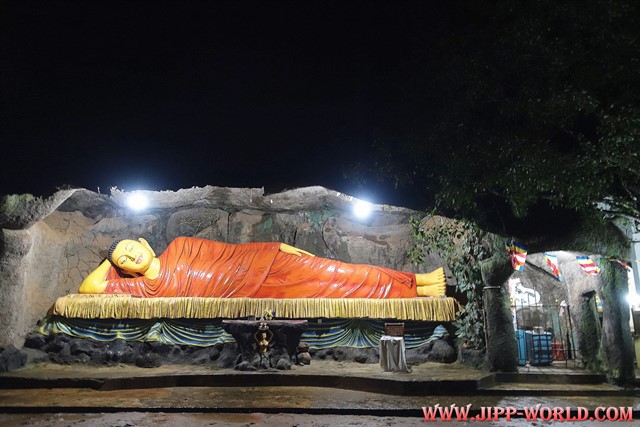 It wasn't long before sunrise caught up and things became much easier from then on. It was quite of a struggle as we picked up more elevation but of course we would not be easily cowed out. The wind was howling as if trying to tell us that we should not climb further up but I didn't go there to give up. Audrey was actually doing quite well so I did not see any reason not to keep going.
People usually go up to the Adam's peak very early in the morning so that they could make it to the peak in time for the sunrise. The air was very heavy with mist when we were there so there was no sunrise to see anyway.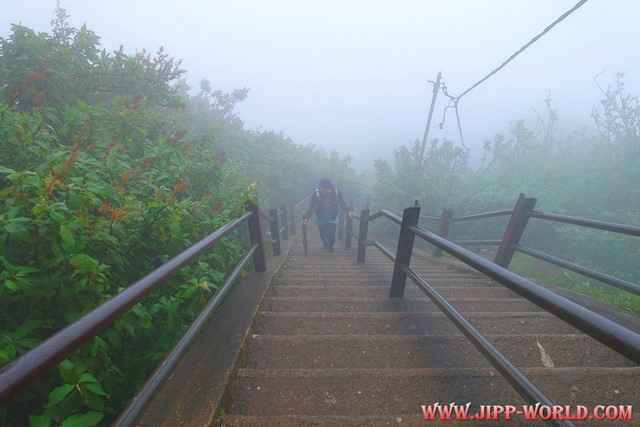 There was a sense of jubilance when we finally made it to the peak. I mean, with all the stairs and the thinning air which was not helping in any way, it was not an easy climb. In fact, it was quite a struggle. The temple at the peak is closed off during off-season so we could only look at it from outside of the locked gate.
So, what made the Adam's Peak such a popular climbing destination? Buddha is said to have climbed and left a footprint there which made it a sacred place in the Buddhism world. As to why he went there when there are so many other mountains that he could probably climb remains a question mark in my head.
Some people believe that it was the peak where Adam & Eve had first descended to when they were expelled from the Garden of Eden. I think it's quite against the scientific discovery that humans have actually originated from Africa but then who the hell knows right? One thing for sure is that, Adam's Peak has made it to the bucket lists of so many people and the people in Nallathanniya and Sri Langka as a whole are profiteering from it – or so I hope.
Going down was more like an easy walk for us. It was knee-jerking, alright, but it was much easier. We took all the time in world to enjoy the beautiful scenery, something that we could not do when we were ascending because of the near-zero visibility. Adam's Peak is part of a forest reserve so the forest at the mountain itself is quite intact. It is more like a refined tropical forest which is very green and lushly may be because of the occasional rains. The surreal image of beautiful waterfalls flowing down from the mountain would stay in my head forever. I mean, I've never seen so many waterfalls in my entire life.
We returned to the guest house with a sense of accomplishment. Climbing the Adam's Peak in the torrential rain and howling winds would be a great story to tell to my grands in the future – Insya Allah. 😀