SO, I have just returned from Brunei to join the first Standard Chartered Brunei Half Marathon (SCBHM) in Bandar Seri Begawan last weekend. It would be the latest addition in the series of annual marathons under the Standard Chartered so the air of excitement was all over the participants as I made my way to the starting line.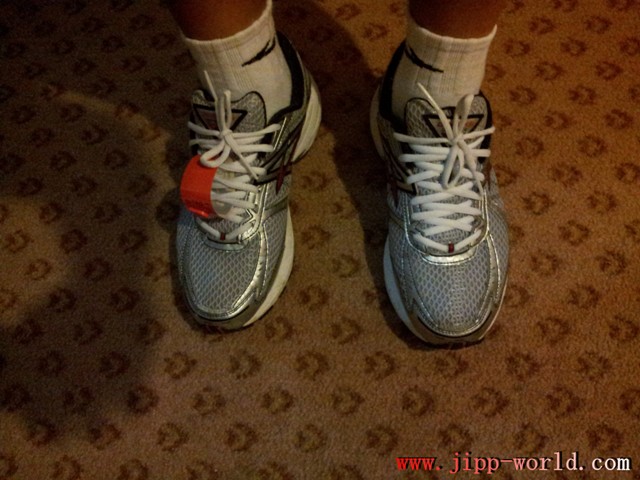 I overheard from some conversations that most Bruneian runners were not quite ready to take on the half marathon this year so most of them had opted to go for the 10K instead. I can only assume that you'd see more of them in the 21KM next year (when they are ready of course) so next year's HM is going to be much more hilarious I guess.
It was without doubt one of the best organized marathons that I've ever participated in so far. The fact that somebody from the royal family was there to run as well was certainly something the organizer HAD to factor in and consider.
There seemed to be more officers (police, army etc) and volunteers than the number of participants itself so there was certainly no reason for any of the runners not to feel safe. I mean, I kid you not – there seemed to be a uniformed officer at every little junction along the route!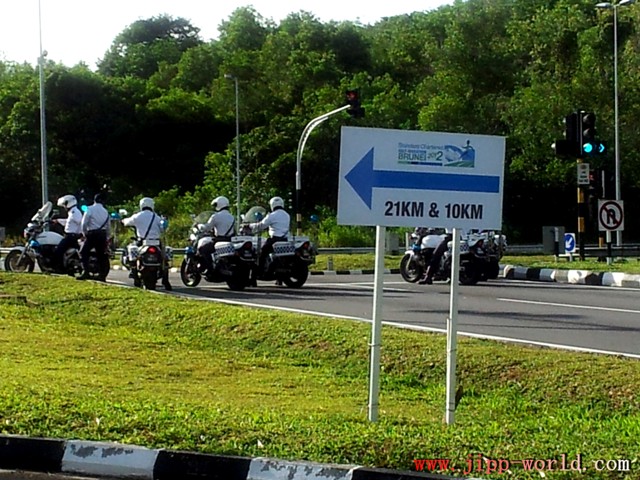 As if the existence of so many patrolling traffic police officers was not quite enough, there were also volunteers riding on bicycles and even those on big motorbikes! They certainly wanted to make a good first impression for something as big as a Standard Chartered Marathon.
I've never seen so many medics working in one single race ever before. They are all along the road offering you with whatever medical attention that they could give you. I happened to meet one of the expatriates who were in the organizing committee and he told me how the number of medics at the SCBHM could actually cater to the needs of up to 22,000 people.
They must be less than 5000 participants at the SCBHM this year with less than a quarter of them were HM (there was no FM) runners so you can imagine the redundancy of medics.
Running at SCBHM had offered me a little bit of experience of how it is like running for a Full Marathon. With quite a limited number of participants, the runners spread out further away from each other as more kilometers were covered and quite several times I noticed how far I was from the runner behind and before me.
Bandar Seri Begawan that I've found out is a very green and environment-friendly city so the run actually brought the runners to the greenery of the city and offered with spectacular views and beautiful scenery along the way.
It might not be the most flat run that I've ever been onto – in fact there were slopes here and there along the way but most of them were quite gradual so they wouldn't really kill you.
Another thing that is worth mentioning here is the fact that there are so many drink stations at the SCBHM so there were no worries about the possibility of dying because of thirstiness.
I usually grab a cup and take a sip or two at every drink station that I bump into when I'm on a run but I didn't see the need to do so when I was at the SCCBHM. In fact I remember skipping some of the drink stations because I didn't want to get drowned with too much drinking.
I knew it right from the beginning that it was going to be a very hot run when I heard that the flag off would only take place at 6am.
I mean, being an ocean away towards the East from the Malaysian Peninsular where the sun rays touch down an hour or so later, the sun has to be factored in when you were to run for the SCBHM. It was burning and mercilessly hot I actually regretted not having any layer of sun-block on my putera lilin skin. LOL.
If there was one lesson that really learned from the SCCBHM, it would be to eat at least something before hitting the track.
One thing you gotta know about Bandar Seri Begawan is the fact that they don't have any 7-11 outlets or 24hrs mini-markets so you have no other option but buying food the night before the marathon – something that I had failed to do. Uhuks!
So I marched to the starting line without a shit of thing in my stomach. I could feel every ounce of energy had drained out from my system when I was only half way through the race so finishing the other half had suddenly become very much of a struggle.
All the mountains of food that I ate the night before suddenly became so irrelevant. The energy that came with them might have been sucked by the air-conditioner while I was asleep.
Carbo-loading is just a myth after all or rather; it had to be done the right way. Whatever it is, you still need to eat something before the race.
After much struggling, I managed to finish the run – not in the best of time but I finished it nevertheless and that was all that mattered to me.
SCBHM was certainly so worthy to participate in. Great run, spectacular views, excellent organizing and above all great people. I don't mind joining it again next year.