So, I went to another run last last week as part of my crazy mission of doing at least one half-marathon every month this year. But then, it was actually my second run in May alone with the first being Borneo International Marathon 2012. Now that I'm half way through the year, I really think I should reconsider the mission and slow down on my running a little. I mean, too much fun will kill the fun and I really think there's more to life than just running. 😛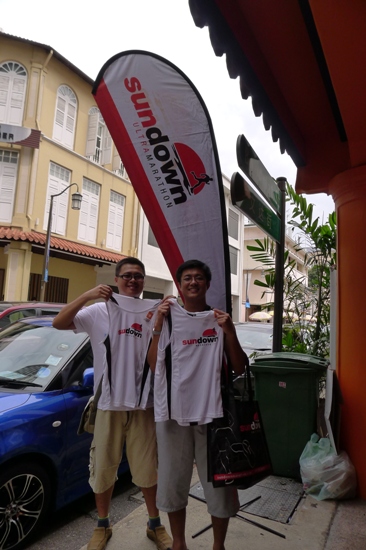 The Sundown Marathon in Singapore pissed me off quite too early when the organizer changed the flag-off time from the usual 8-ish pm to 12.30 in the morning. Since I had already booked my hostel way before they changed the time, I actually spent the last few days trying to figure out how to go back to the hostel at three in the morning.
But then, things seemed to have their own way of getting into place when I found out that the hostel was not really that far from Nicoll Highway where the run would take off from and finish at. I only hoped that we'd have enough energy to walk for another 2km after finishing off the whole of the 21km.
So, taking an early nap at 7pm after spending the whole afternoon foot-scaling the expansive Singapore Zoo and later Bugis Street, I managed to get a least 2 hours of forced sleep before I took to the streets and hit the starting line 30 minutes past mid-night. Singapore has always been known to attract a massive number of participants in every run that they organize and Sun Down marathon is certainly a no exception.
Full and half-marathon were flagged off side-by-side at exactly the same time so imagine the crowdedness and the heat that comes with it. The participants were flagged off group by group according to certain time ranges that they themselves would put themselves into.
I unashamedly joined the (below) 2hrs30mins group, putting my trust into all the not-so-hard trainings that I had done in the past few weeks. Besides, I had learned from my experiences in the past how starting off at the front of the crowd is much easier to move than having to compromise the slow paces of the crowds at the back.
Singapore really is high on its high-tech. Imagine having a remote-controlled camera hovering overhead as you push your way off at the starting line. Everybody was waving at the camera, probably expecting a 5 seconds fame on Singapore's National TV or something. It must be how a UFO looks like in real.
The first thing that I realized even before the run started was the humidity and the hotness of the night. It really was so hot that I actually found myself suffocating in the stillness of the air. I was expecting that the temperature would ease down on me once everybody had started moving but no.
I had never run in such a hot and humid atmosphere before. I guess it was the outfit that I had on combined with the hotness and airlessness of the night which was worsened by all the street lamps that seemed to shower the roads of Singapore with intense light.
Apart from the hotness and stillness of the air, I wouldn't really categorize the Sundown Half Marathon 2012 as a tough run considering the other runs that I had participated in in the past when my legs were forced to go against the gravity by running up and downhill. In fact it was quite flat all throughout the run so it was one of those times when you can just go dumb and run like a wind or something.
If there was one problem that was worth mentioning about, it'd be the fact that some parts of the track were quite too dark that I had to put my trust wholly on the organizers who I considered had done a thorough check pending the run.
Participants were made to run on jogging tracks, some on grasses at parks whose source of lights were minimal and I couldn't help but worrying that I might run right into a drain and stumble and break my legs or shatter my kneecaps or something. My worries seemed to have had some valid point for I did see a guy whose knees were bleeding as he struggled to walk towards an empty slot inside the giant canopy that they had set up in case there was rain or something.
Either I had lost my sense of direction or the areas that the run took us to were unknown, I really had no idea where we were on the map of Singapore after running along for quite awhile.
Thanks God, I finally got to go to the Marina Bay Sands – a place that I had seen and amazed by from the other side of Marina Bay but never really went there and found out that it was actually a hotel perched atop a shopping mall. A bunch of drunk tourists were out on its front patio to cheer us all on.
It would have been a perfect run if not for the heavy downpour that dampened my run about one and half kilometers towards the finish line. It was so sudden and heavy that for a moment I contemplated of stopping and running for cover and forget about achieving a new PR or anything.
To tell the truth, I was most worried about my hand phone than anything else. It would have been a good reason to buy the newly-launched SS3 but I don't think I could afford to buy it with its current price tag.
For the same reason, my running buddy KJH had to stop and sheltered himself under an awning before he could continue and finish the run once and for all. I really thought he didn't finish the run because I had to wait for at least an hour or so before he finally turned up looking just as vibrant and energetic as he was before the run started. (A result to all the hard trainings he later told me 😉 )
Thanks God my hand phone was alright. It was wet alright and I had to dry it out before I could stop my RunKeeper 20 minutes after hitting the finish line. There were free popcorn and cotton candy whose after-run relevance I had no idea of dispensed at the end of the run but I'd rather go resting my ass somewhere then getting into the long line of people just to get something to munch over.
So, another medal to be added to personal collection. There's always something so exhilarating about holding a finisher medal at the end of a marathon. Putting the time aside, what matters most is the fact that I finished it.:-P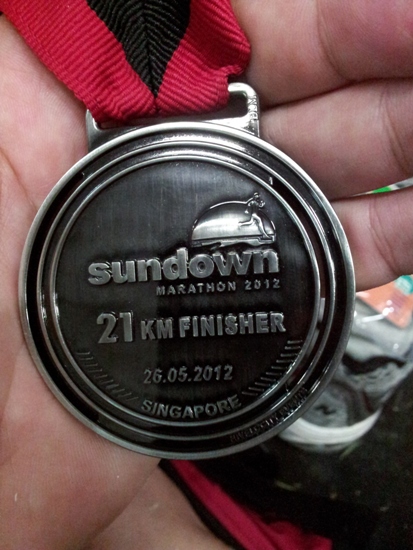 It was almost 4.30am when I re-united with my running buddy again and after getting stuck here and there because of the relentless rain, we walked towards where we believed the hostel would be.
"Don't forget to shower your head when you get home ah", said an aunty with an umbrella whom we bumped into while crossing a road in the drizzle together. My friend KJH had to do a long explanation before she was convinced that I was not Chinese. "Macamana you boleh putih?", I remember her asking.
Coming from somebody who's staying in a supposedly global-thinking community, it came as a shock – or rather, a relief knowing that Malaysia is not really far behind after all. Heee! I mean, I used to get that a lot of that when I was a student in KL a decade or so ago but not anymore. People in KL would instantly nod knowingly when I told them I was a Sabahan.
So, the Sun Down (half) marathon was not so bad for a marathon after all but I don't think there is a chance that I'm gonna do it again. I mean, I love Singapore and the vibrancy and big turnouts at its marathons and all the modernity that it offers but there are so many marathons in the world so I would rather broaden my running horizon by going somewhere else.
But it was good. Really. It was. 😀