I first came to Mulu in 2010 and I was so amazed by the caves. Mulu is probably the only place in Malaysia that fascinates me more than Mount Kinabalu and both of them are on the UNESCO Sites list. Mount Kinabalu for me is too showy. It stands tall for everybody to see. Mulu on the other hand prefers to stay humble and mysterious, and it requires people to go underground to explore what it has to offer.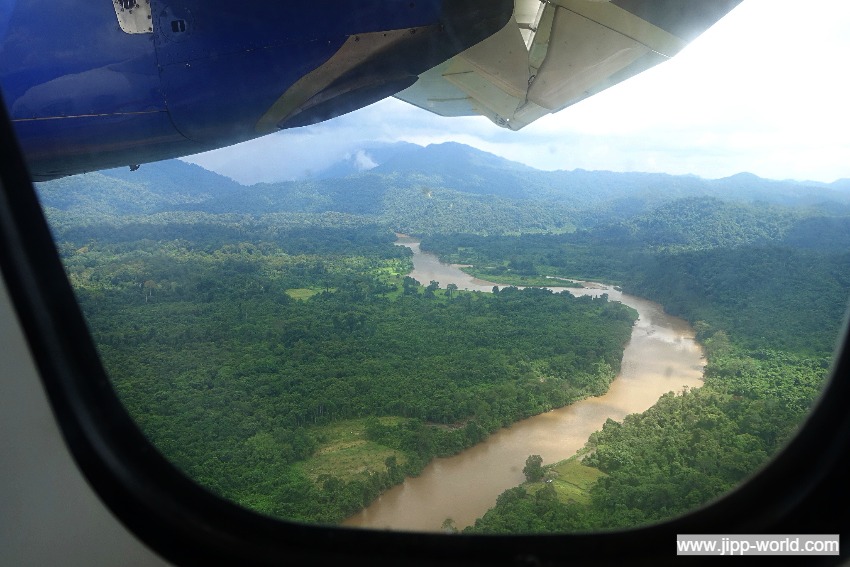 I remember how I promised to myself that I'd return to Mulu and bring my mother with me. It is one of those places that I'd like to bring my mom to because it is quite easy to explore (but I went there when I was actively joining running events and climbing mountains and whatnots so it didn't feel that tough. Now that I returned eight years older, and with a significant lack of training, I found it quite physically challenging LOL).  And I think that long overdue plan was meant to be fulfilled. When my sister called to ask if I could take her and her husband to Mulu, I eagerly agreed but on one condition – my mom must go too.
So off to Mulu we went. They flew to Miri from Kota Kinabalu while me from KL and we flew to Mulu from there together. I think my eagerness to buy the tickets (they were quite cheap at RM79 one way from KK to Miri on Air Asia, and another RM160 from Miri to Mulu on MAS Swing) had cost me and family quite dearly, as our flight back to Miri from Mulu was delayed for about 2 hours, causing my family to miss the connecting flight back to Kota Kinabalu.
Too bad MAS would not take any responsibility over issues involving separate tickets so we (or rather my family) were forced to buy new tickets back to Kota Kinabalu and the last minute purchase had cost us about a thousand bucks. What I didn't know was that, there are now direct flights from Kota Kinabalu to Mulu and they are even cheaper compared to the combination of air fares of Air Asia and MAS Swing with an interconnecting flight. I only found out about it when I saw the scheduling notice plastered at Mulu Airport. It wouldn't have hurt that much if I didn't see it. Damn.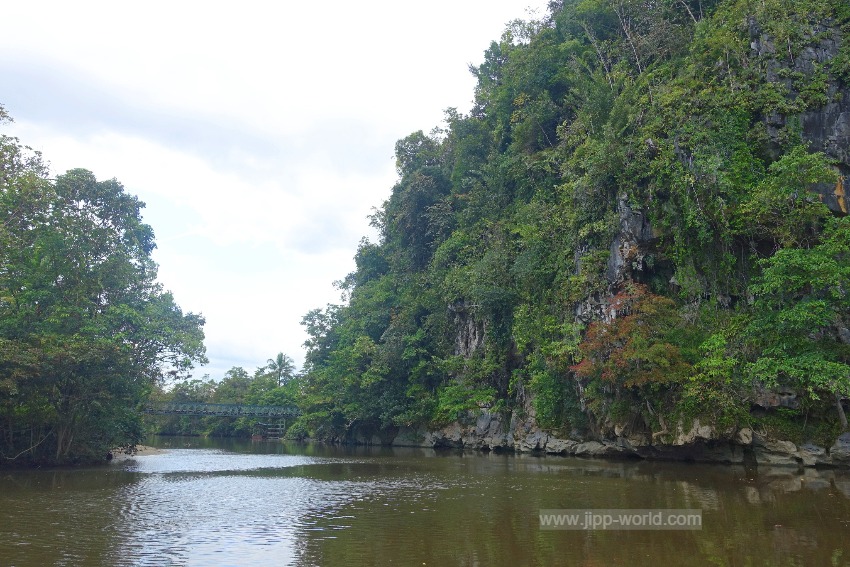 Despite the unfortunate incident of missed flight, the trip to Mulu was still very much worth it. We checked in at a place called on Kenny's B&B on the first night because the family rooms at Park HQ (the most popular choice, and it is operated by the Mulu park management itself) were fully-booked. After all it was school holidays. Their reps came to the airport to pick us up and after a dinner at their restaurant, we walked over to Marriot Mulu Resort which was actually just on the other side of the river but required us to walk around to get to it and back. We spent our first evening going about the beautiful resort and enjoying the breath-taking river view from there.
The real fun only happened the next day when we moved to the Mulu Park HQ. We registered at the counter and each of us had to be tagged with a plastic wristband. I was told that the wristband could not be removed and we had to have it on all throughout our stay at Mulu Park HQ. I found it quite ridiculous because the edges were quite sharp and they could actually hurt especially when we were taking a shower. Grrrr!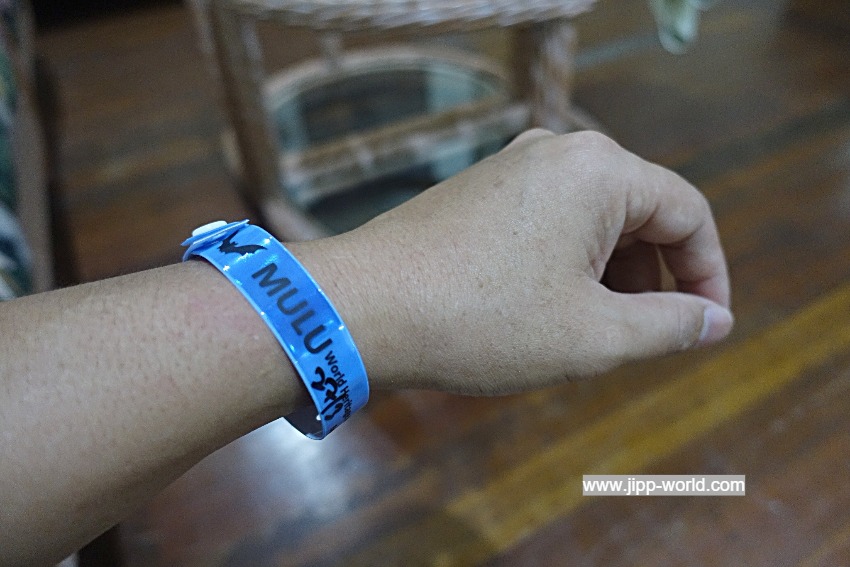 We checked in at a family room called Belian and it was superb. I booked it via email – together with all the activities that we wanted to do. We were required to pay RM200 for the booking fee (I paid online with credit card) and the rest was settled during the registration. If disconnecting from the outside world is not your thing, you can pay RM5 to get a password to you mobile phone but you would only get the coverage around the office building (which co-joins the café anyway). They change the password every day so you may have to pay another RM 5 if you still want a Wi-Fi connection the next day.
Mulu Park HQ has changed a lot since my first visit to Mulu. Even the arrangement and the setting of the resort buildings have now changed a lot. There are more private rooms in separate buildings unlike last time when there were all in the same building. The café was much more spacious and some of the tables were set in a way that you can enjoy the river view while enjoying your meal.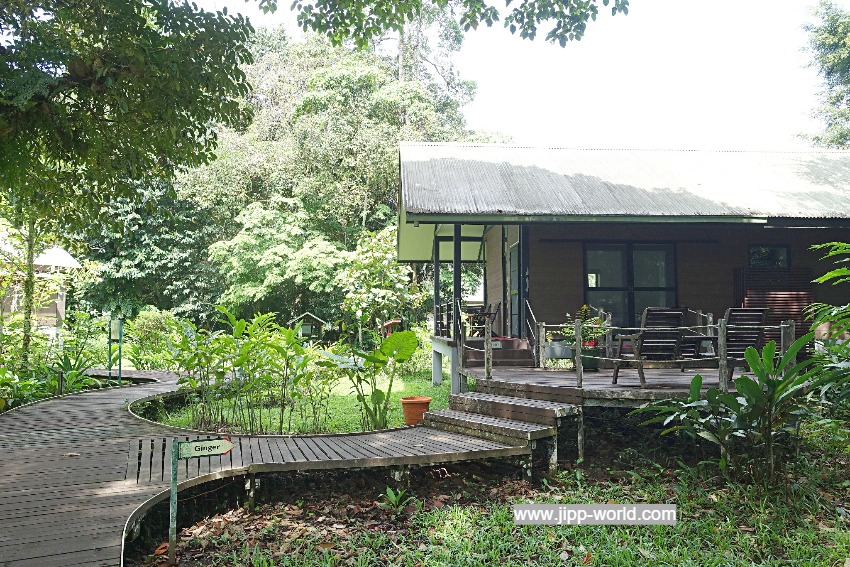 We started our activity by joining the afternoon tour to Deer and Lang caves. It was a light and easy walk on a wooden walkway all the way to the caves and back. The tour guide was going quite too fast so I told him that we could not keep up with him because we had a 70-year-old woman with us (which was my mother of course). The fact is, I wanted to enjoy the walk and the beautiful forest that the walk board was taking us across.
I remember I was so fascinated by the very same forest during my previous visit to Mulu. In fact, despite all the hiking and mountain-climbing that I did since, I found it quite difficult to find a forest that could even match the lushness and richness of this very forest – at least among all the Tropical forests that I've ever been to. Of course that changed when I went to Mount Tambuyukon last February. But the bottom line is – it really is a beautiful forest.
Lang Cave and Deer Cave still fascinated me. The beauty of Lang Cave is of course the bizarre rock formations – which are still very much unspoiled, thanks to all the protective measures that the park management had put to force. The iconic 'jellyfish' rock formation was just so amazing to see up close. Then the one that resembles an intercourse, which was highlighted by our guide during my pervious visit to Mulu. This time the guide didn't point it out at all, may be because there were children among the group members. With my family around, I tried to take no notice of it but the resemblance was too unmistakable to ignore. LOL.
Then the gigantic Deer Cave. It is still as big as ever and I felt so small walking along the walk board that took us around the inside of it. And of course the iconic Lincoln formation – as it is called – because it resembles the face of the 16th president of the United States of America. I don't quite see the connection but the face is unmistakable, thanks to Abraham Lincoln's distinctive facial features.
It was raining by the time we were done with the caves. We walked back to the gazebo or pavilion or whatever it is called (an observatory area), and waited for the bats to come out of Deer Cave in hordes to put on a spectacular display of spiraling ribbons known as Bat Exodus. Unfortunately, they never came out that day, probably because it was raining. We walked back to our hotel with a tinge of disappointment. But of course the bat exodus was just a tiny part of the whole beauty that Mulu has to offer.
Perhaps the most awaited activity in Mulu was the half-day trip to Wind Cave and Clearwater Cave. We started off at 8.45am, on a short boat ride. We stopped at a Penan village (Penan is one of so many ethnic groups in Sarawak and many of them still practice nomadic life) to check out their morning market. I remember coming here in my previous visit and how there was nothing special about the market and the village. But I think it had progressed a lot since then, and my mother and sister appeared ecstatic going from one merchant to another. They even bought a few stuff. My brother in law even tested his talent in darting a target board using a blow pipe, which is a traditional weapon used by the Penans to go hunting.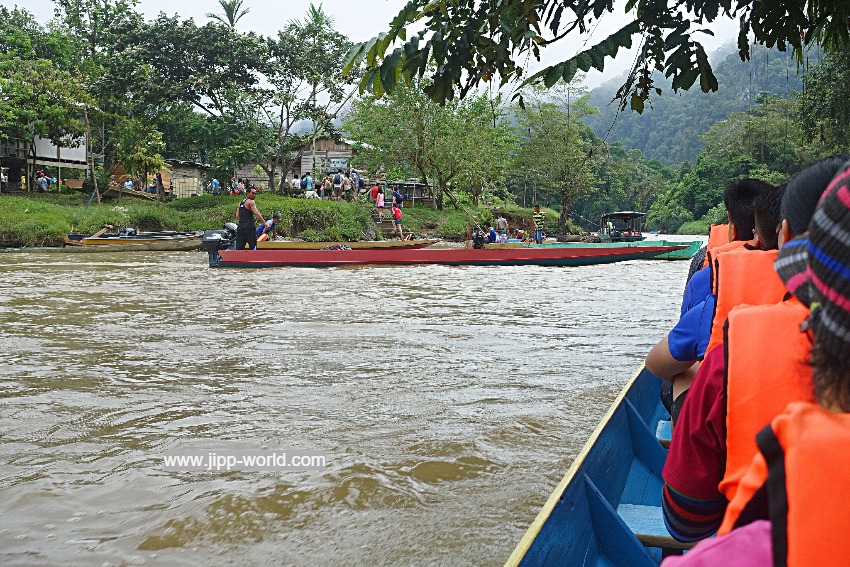 Then we returned to the boat ride and continued on to first the Wind Cave. Wind Cave has always been my favorite cave in Mulu. The rock formations are so out of this world. To say they are spectacular is an understatement. We all know how it takes hundreds of years to form a tiny column of stalagmite or stalactite in a cave and this Wind Cave has dozens of them, some of them are so tall it could take millions of years to take form.
Looking at them across the gloomy lights that they have put on for the convenience of visitors, these columns look like (they are) floating. I call them the hanging columns. My mom was ecstatic. As a church person, she'd keep crediting all the beauty to the greatness of God. This is what I love most about her. She really enjoys seeing stuff, provided she is in a good mood. And she apparently was (in a good mood). LOL.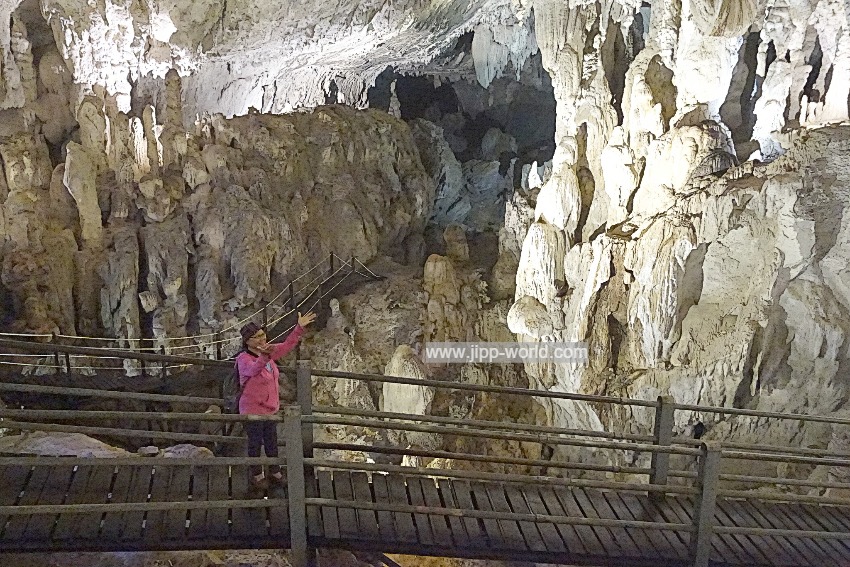 My biggest surprise of the whole trip to Mulu this time came in the form of Clear Water Cave. I remember how it was quite nothing during my previous visit. We went down to the underground river and touched the water as a form of check-in ritual and returned to the entrance on the same walkway that we came in on. When I returned again this time, I was hugely surprised and pleased to find out that they had put up an additional walk way that take visitors to more corners of the gigantic cave – something that was not there back then.
The views from the new walkway were surreal. I could see the river with clear water (from which the cave is named after) flowed thunderously along the naturally formed corridor. The whole thing reminds me of Mordor in the Lord of the Rings where the evil orcs multiply (or rather created into being) in number under the instruction of Saruman. Then I realized that such thing does not exist but merely a product of J.R.R. Tolkien's billions-dollar imagination. Heh.
Done with Clear Water Cave, we returned to the gazebo to have a little lunch. Me and the other guys in the group went down to the river to have a little swim. It felt so great to be floating in a clear water river in the middle of a pristine forest. It was a great way of embracing nature in entirety. Unfortunately our enjoyment was cut short due to a sudden rain. We climbed hastily out of the river and ran for cover. Once it had stopped, we returned to the boat which was waiting to take us back to Park HQ.
We spent the rest of the afternoon lounging around at the café area. I had a couple of beers with my brother in law later in the evening – until we were too sleepy to stay up and went to sleep to wrap up our last night in Mulu.
We woke up to a very rainy Sunday. After having breakfast (it comes with the accommodation), we paid one of the airport transfer operators at a restaurant near to the park entrance to take us to the airport for RM5 per person. The driver was a lady and she told me how most of the people in Mulu would prefer to go and buy stuff in Marudi, which was a few hours away by boat, instead of flying for 30-minutes to Miri.
Then she told me how her daughter was molested by a security guard at her boarding school. She reported the case to the police and the security guard is now serving time in jail. "I'm thinking of transferring her to another school because I heard the guy is coming out of prison soon", she told me. The fact that she readily told the story to such a total stranger like me startled me quite a bit but then if there was something that you'd find the people in rural areas are lacking of, it'd be hypocrisy. They can be very naïve, and they'd rather be honest to themselves. They just tell things without thinking much.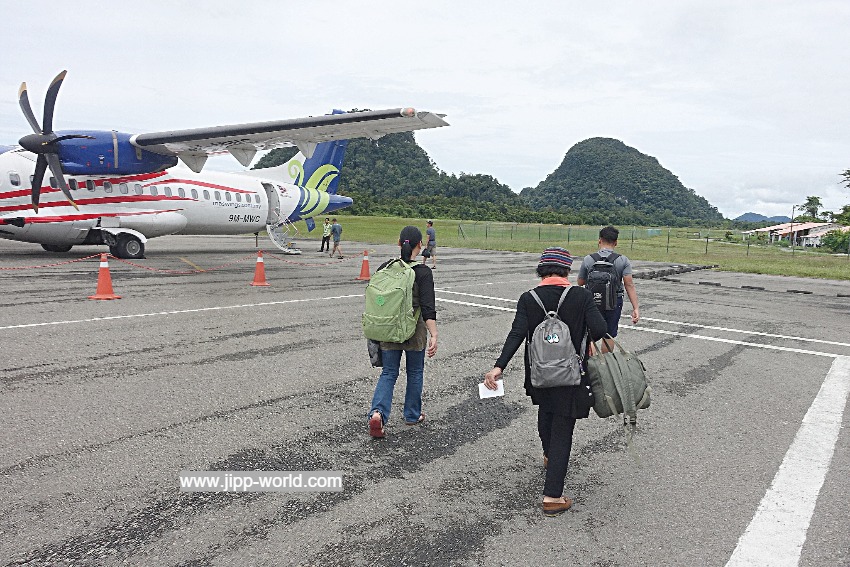 After a couple of hours at the airport, we finally said goodbye to Mulu. I wouldn't say I wouldn't come to Mulu after two visits, because I've got this crazy plan to conquer all the five highest mountains in Malaysia and Mount Mulu happens to be one of them. I've done 3 of them so I don't think it'd be long before I return to Mulu to do the fourth, or probably the fifth. Heh.