Before you read any further, you may want to check out my previous post on Weekend Dash-away to Fraser Hill.
Now, due to some work commitment for which we had to go back to KL before midday, we planned to get up early in the morning and be at the starting point of the trail before sunrise.
Then we thought may be challenging the trail with an empty stomach was not a good idea after all so we decided to negotiate with time and wait for hotel to open its door for breakfast at 7.30am. It was a decent breakfast really.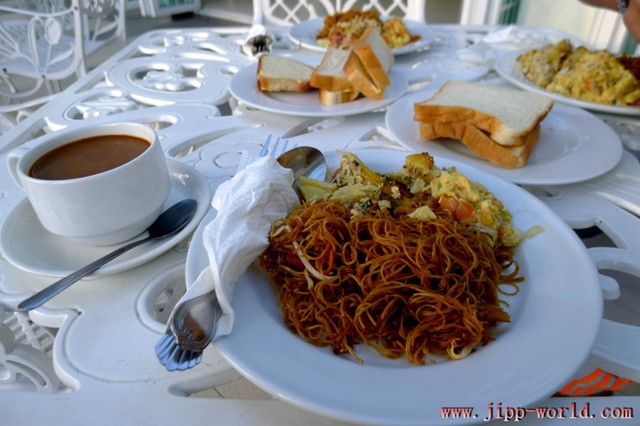 It really was funny. I don't know what I did in the past to deserve it but I tend to underestimate things quite so much nowadays. There are at least 8 trekking trails in Fraser Hill with different levels of difficulty. Of course with all the egos that we had, we knew we'd go for the toughest of them all. Heh.
It's called the Pine Tree Trail. When I was told that it was 5KM long, I really thought it was the overall distance to trek, meaning 2.5km going up and 2.5km going down. By the time I knew that it was 5km going up alone, it was too late.
It wasn't difficult to find the starting point of the trail. Everything was well-indicated. It was probably one of the best maintained trails that I'd ever been to in all my years of trekking.
When a friend of mine told me that the trail was different from any other trail that she'd been to before, I tried to imagine how different it was.
Finally getting there myself, I could see why she said that. She was right, there was something about the trail that makes it quite outstanding at least among all the trekking trails that I had done within the country so far.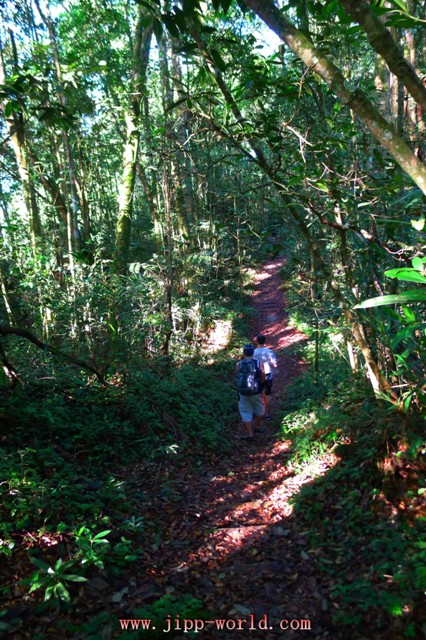 There were as many things to see on the ground as they were up on the trees. The fact that Fraser Hill is located in one of the wettest areas in Malaysia makes the vegetation there grows faster (and lusher) than it probably does in most other parts of the country.
I noticed the lack of big trees along the trail, which I suspected due to logging activities in the past. I just wish they had spared the forest there. It would have been more beautiful and natural.
Being a secondary forest (which I assumed it was), it's quite unlikely that you'd bump into any wild animal so you don't have to worry about crossing your path with a tiger or something. Such coincidence has become too much of a privilege nowadays and not many people are lucky enough to come upon one.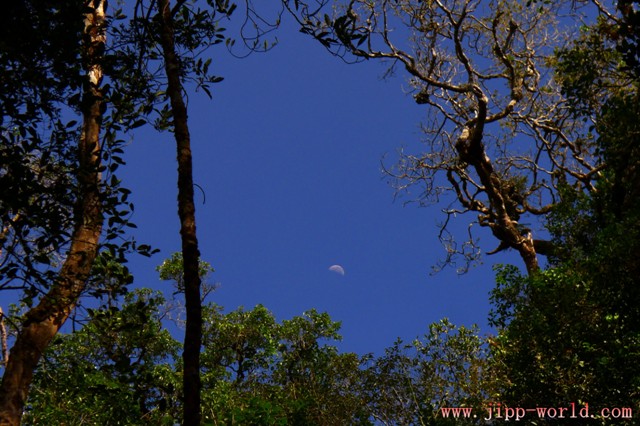 But still, it is a beautiful forest really. It really was meant for trekking activities where everything has been provided to make things much easier for you. They have actually provided concrete stairs where they are needed so all you need is a good stamina to go against the gravity.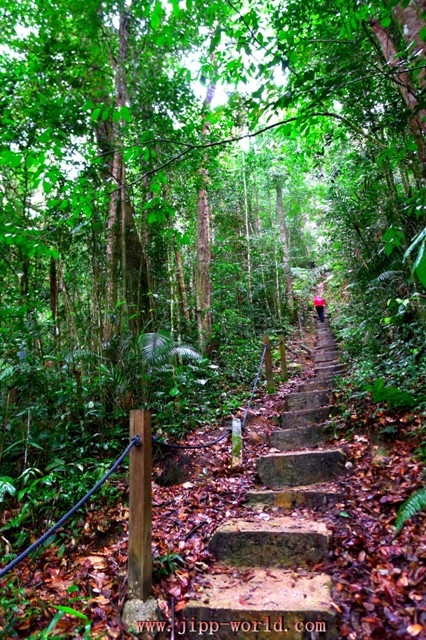 They even provided resting huts here and there along the way for you to take a rest under just in case you need to catch your breath before continuing – or giving up. LOL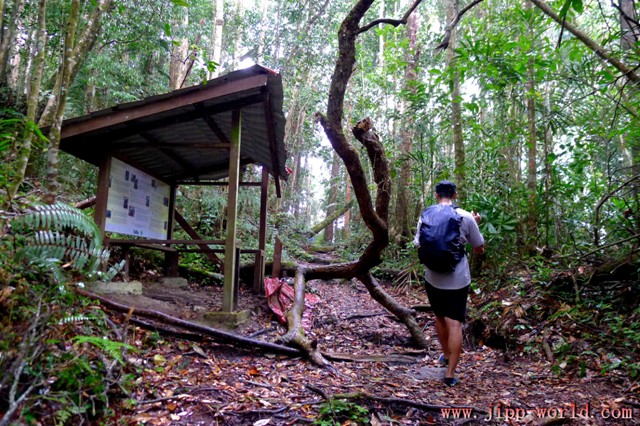 The distance is also well-indicated and marked every few hundred meters so you know how much longer you need to go before making it to the peak or vise versa.
The only obstruction to a supposedly smooth trekking is probably the fallen trees that fell right across the trail so you have the choice of ducking down or clambering over them.
I did the later – at least for the first kilometer or so – until I happened to bump my ass right onto a fresh dung of whatever stupid animal who probably thought that a human ass bumping on a shit was funny. Whatever it was, it really got me. I stank like hell for the rest of the trekking. Damn.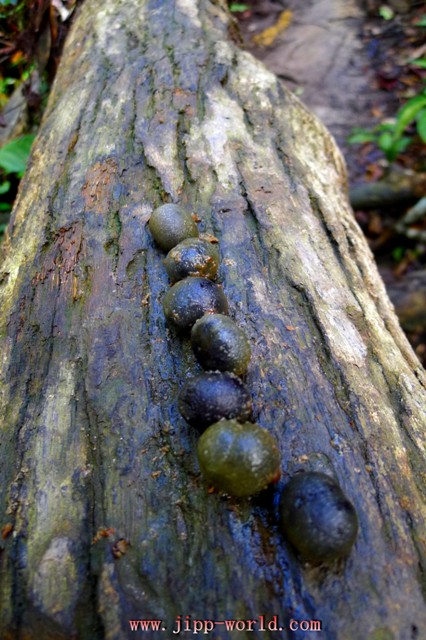 We could have done it much faster but I was there as part of a bunch of crazy people, so with all the dramas and cam-whoring that took place every now and then along the way, we were making quite a slow progress.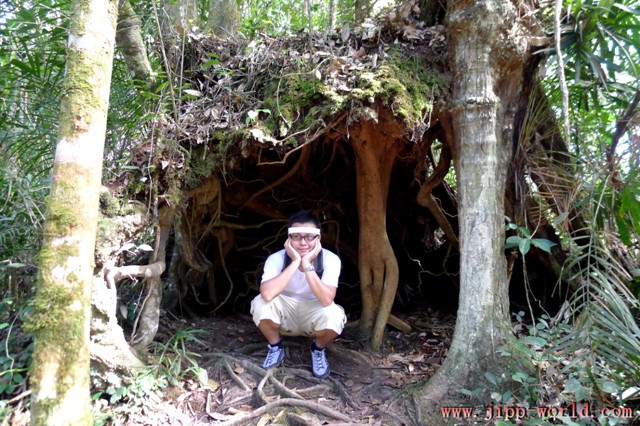 I would say, it was pretty much a balanced trek between ascending and descending so it was not really the toughest trail that I had ever encountered at least in this life. But still, it was tough really.
The last half kilometer of the trail was the climax of it all where you'd be met by a near horizontal rocky trail that needs you to do a little bit of wall-climbing.
It might be a little bit tough in the end but it was also the most rewarding part of the trek. The ground is covered with cushioned layer of moss and dense vegetation so it really is so different from what you'd usually see down there. Stepping on them is like stepping on a carpet. It was so soft I could even brush my face on it and feel it softness lai dat. LOL.
It would be after this wall-climbing thingy that you'd reach the end of the Pine Tree Trail. I would say there's nothing much to wow about being up there at least visually. You gotta find the right spot to get a good visual of the sweeping view of  the Titiwangsa Range which is known as the backbone of Malaysian peninsular.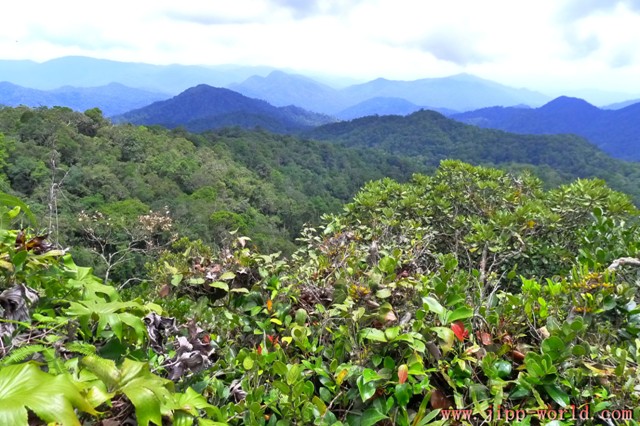 The Pine Tree Trail doesn't really bring you to the highest point of the whole area so the visual is quite limited to what you are seeing from there. It might need the help of an observation tower to get a 360 degree view of the surrounding but there was no observation tower so you only see what you get to see – which was still breathtakingly beautiful.
But then, as they say, it's not really about the destination but more about the journey so it was still a very rewarding experience. We took a seat at one corner of the shaded area and took out whatever edible from our bags. We had the whole area to ourselves for quite a moment before more and more trekkers turned up so we had to share whatever space available with them.
Most of them seemed to be much better-facilitated than we were and some of them even did a little bit of cooking so we just looked at each other while munching over pieces of bread that we stole at breakfast from the hotel. After all, it was way past lunch time so everybody was hungry.
We swapped stories with some of the trekkers before we offered them good bye and made our way down. Of course having covered 5 kilometers thus far we had pretty much used up much of our energy.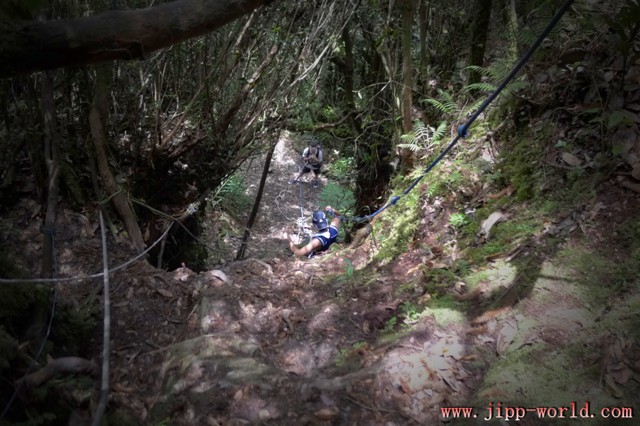 I would say getting back to the base was the most difficult part of the trail. I tried to be just as hilarious as I was on the way up to the peak but it just wouldn't come out of me. In the end all of us walked in silence with everyone was concentrating on getting back to the car and get it over with once and for all.
When the entrance gate finally came into sight, I couldn't help but feeling a sense of jubilation creeping up all over me. In fact, I was surprised by how relieved I was. That was certainly something that I had to pay for underestimating the Pine Tree Trail. I would say, it was tougher than I had expected but it was worth every drop of sweat.
After rewarding each of ourselves with a big meal a restaurant, it was time to say good bye to the beautiful Fraser Hill. It was only a short stay but everybody was pretty much content with what we had seen and experienced in Fraser Hill in that one night that we had spent there.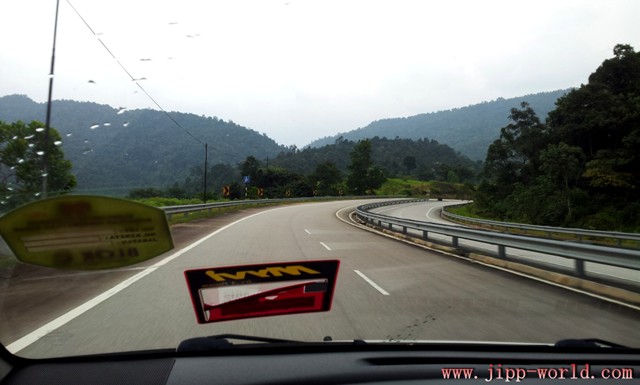 We left from there with a big smile on our face knowing that we could always come back there, probably for any of the other trails. He.