Having done with Badrinath and Hemkund Sahib, it was time to do the final leg of our trip – the much anticipated trek to Valley of Flowers.
I first heard about this beautiful valley in the far corner of Uttarakhand in India when I watched a documentary about it on National Geography channel. I was busy doing an assignment for my Masters when my attention strayed off my laptop and over to the TV screen. With my eyes fixated on it, I slowly closed my laptop and began to focus my attention to what was shown on TV – and I could not take my eyes off it. I was totally captivated by the beauty of the valley which was said to have been found by Frannk S.Smythe, Eric Shipton and R.L. Holdsworth – all British mountaineers when they lost their way while returning from a successful expedition to one of the mountains around there back in 1931.
So I later searched it on the internet and decided, almost instantly, that I was going to go there. A year or so later, I found myself walking towards where exactly it was and I knew it was going to be a happy place for me. And it was.
We started off from Ghangaria early in the morning and be at the entrance gate when it had only been opened. We bought our tickets, and slowly walked along the well-designated trail with no body to lead us on but us.
It was amazing right from the beginning of the trail. It started with a beautiful forest with gigantic ancient pine trees that made me feel like being in some fairy tale movie or something. It was like entering a garden, only this one was surreal. Being a UNESCO world heritage site, it was not a surprise that the trail was very much well maintained.
Not far from the entrance gate, we were thrilled by a roaring river that flows straight from the mountains. The thundering sound was quite intimidating but then there was something about it that was so much captivating. One might never see a river like that anywhere else but in the Himalayan mountains. It was kinda hypnotic but I suddenly felt terrified, imagining a sudden surge of water and a wall of furious currents that suddenly came swallowing me at that very moment. Somehow I found that feeling quite thrilling and exciting at the same time. LOL.
We hastily pushed through and waiting on the other side of the river was an ascent against the lower part of the mountains. It might be a little bit hard, especially after all the trekking that we had done for the past few days, but waiting on the other side of the ascent was what exactly where we were there for – the Valley of Flowers!
We could see the whole valley from there – which was more like a curve against the snow-capped range of mountains – and I had to remind myself over and over again that I really was there. Looking at it from a distance was more like a 'preview' but walking towards it commanded the best of feeling.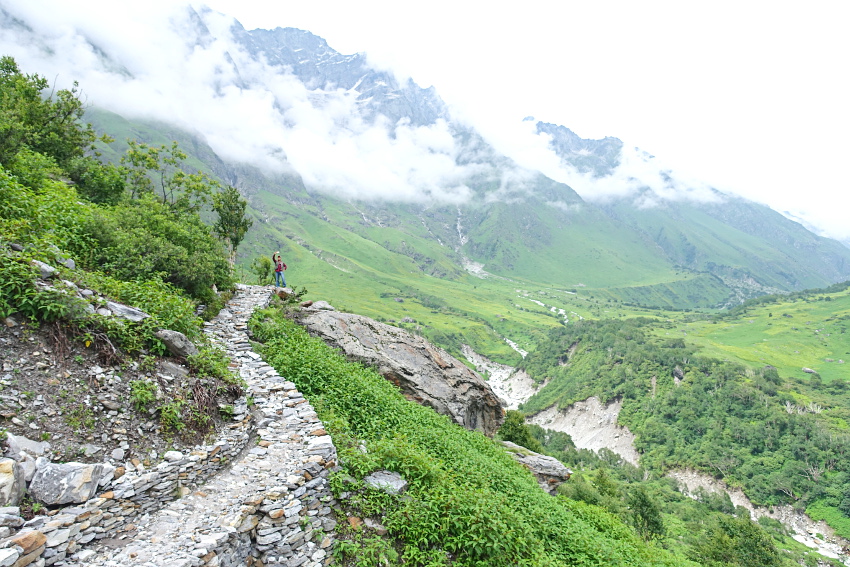 It was still early in the morning so we had the whole valley all to ourselves. It did not feel real. As we moved further along the trail, it was not long before we began to see flowers and all the scent was a perfect reminder that we really were there – among the wild flowers that scattered all over the valley and beyond.
I had always been an avid fan of flowers so being there among the sea of flowers made me feel so excited beyond words. I jumped from one flower to another – taking pictures and of course tons of selfies with them – before realizing that we might get stuck there longer that we were supposed to if we took too much time savoring every detail of every flower that came our way. But seriously, it was very hard not to.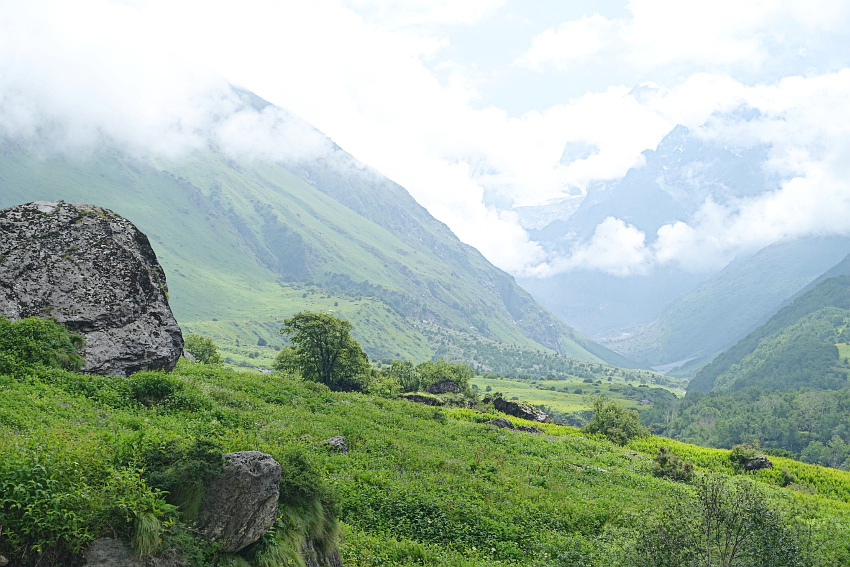 I mean, it really was crazy. We'd come upon a waterfall that flows from wherever it was up there – and it was like a complete set of picture postcard except that it was not a picture postcard. It was real and we were there experiencing it all for real.
The trail stretched for about 5 kilometers and along this trail we saw tons of flowers in a variety that I had never seen anywhere else before. I was completely over-thrilled. When I was in Nepal, it was all snow so I did not really get to see the real beauty of Himalayan mountains, although the snow itself was very much beautiful in its own way. But this was the Himalayan mountains at the peak of its beauty. It was complete greenery dotted with millions of flowers of different species and colors. Even the wild lavender comes in different colors!
Thinking that we were already there – and it was a long long way from New Delhi and even Malaysia for that matter, we walked right to the end of the trail to see the famous view that we had seen and heard so much about. The famous mountain that dominates the view was by then obliterated by white shades of clouds, but the beauty was unmistakable. There we were, trying to grasp the reality that we really were there to witness it all in real. We allowed ourselves to stay there for an hour or so to take it all in before coming to term with the reality that every good thing has to come to an end.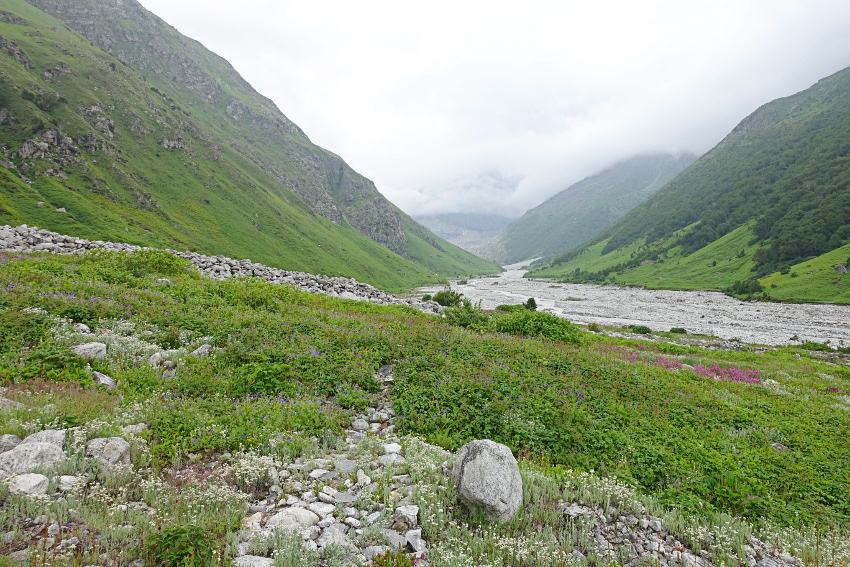 So that was it, our journey to the Valley of Flowers, a place that would forever be haunting me because seriously, a place of such beauty does not come to me that often. It is one of those once in a life time kind of experience and feeling. Those places that make me realize that there really are heavens on earth and we found one of them right there, at the Valley of Flowers.