So, in my previous entry on my trip to Kelantan, I wrote about my solo road trip to Rantau Panjang from where I crossed over the famous Golok River and marked my steps on the Thai soil almost in no time. It was such an easy business doing all the stamping of passport at the Thai immigration office in Golok. They'd help you fill up a form and you only need to pay RM2 for their little help.
I couldn't help but getting a little bit worried when the officer showed quite too much interest in my camera (I had it slung around my neck). He kept staring at it while filing up the form, asking all kinds of questions such as its price and where I bought it. I guess I got a little bit traumatized after the incident at the Bali Airport when an immigration officer tried to take my camera away and asked for money if I wanted it to be returned. Damn.
But that was about it. I walked out onto the soil of Thailand and I couldn't believe how different everything was despite the fact that it was only separated from the Malaysian soil by a river. There were taxi motorbikes offering to take me to the town center which was quite a distance from the immigration office itself.
Of course I'd walk. I don't want to miss on things by simply hopping on a motorbike and vrooming my way over to the center of town. And yeah, you know you're in Thailand when you see these.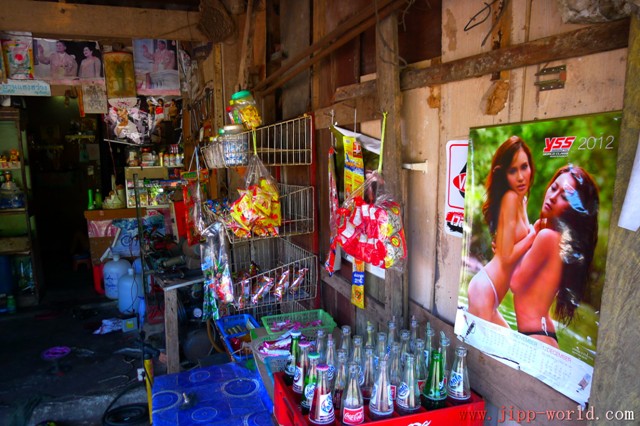 And you know how markets have always been my favorite things in the world so I jumped in excitement when I saw one in Golok. Somehow the fruits looked bigger than our fruits back in Malaysia that I remembered – and more delicious looking. It was probably the way they were so well-arranged or something.
Vegetables in Golok might look quite similar to the ones that we have in Malaysia and just as various but if you look closely, you'd see some differences. We don't really see much of this being sold in our markets in Malaysia or probably anywhere else in the world. That is probably why it is called Thai Basil. It was unique to their own country.
I walked on and it wasn't long before I arrived at what I believed was the center of Golok town. I couldn't help but noticing how buildings in Golok are so well-arranged and the roads – OMG – they are so wide and well-maintained and smooth I actually gritted my teeth as I thought of the roads in Kota Bharu and even KL.
I noticed how Golok was quite heavy with army personnel in uniforms. Some of them were standing guard while some were patrolling around as if a war was looming over or something. Some of the roads were closed and they were army personnel guarding each of the barricades that they had set up.
Oh well, the Thai government didn't just put their army in there without reason. Golok is located in the Thai province of Narathiwat which is quite notorious for its series of bombings and gun attacks launched by groups of Muslim separatists.
In fact only last year a bombing was launched in Golok and Malaysians were among those who were killed. It even prompted the Malaysian government to advise its citizen not to visit Golok until things calmed back down.
It wasn't probably the best time to be in Golok when most of the shops were closed and things didn't seem to be going normal. I was there on the first day of Chinese New Year – a public holiday in the highly Buddhist country of Thailand – so people seemed to be staying away from the streets. In a province where religious sentiments can get quite nasty, I had no blame for them at all.
Being highly populated by Muslim Thais, and for the fact that most of them speak Kelantanese Malay and the women wear tudung (shawl) and all, you can't really tell a Thai from a Malay in Golok.
I was however told by my Kelantanese friends that there are differences in their slangs although outsiders like me wouldn't really know.
The inter-government policy that allows Kelantanese to enter Narathiwat (and vise versa) without the need of a passport makes Golok the most 'Malaysian' town in Thailand. Malaysians are known to do businesses here and so are Thais in Kelantan so it really is a well-balanced business between the two sides of the border.
Being there on a public holiday, the number of stalls and open restaurants was quite limited so I was a little bit disappointed. I have always believed that Thailand is the food capital nation of the world and I was expecting Golok to have its own share of the reputation.
But then again, it was Chinese New Year so it is not fair to judge Golok based on all the things that I saw within the very limited time that I have had on a public holiday there.
There were stalls here and there but most of the foods were quite too Malaysian I had to say no to them. I mean, I was in Thailand so I definitely wanted something different for the only meal that I'd probably have in Golok. Somewhere along the way, my stomach squealed at the sight of what looked more like a pie and I knew instantly that I'd go for it.
The lady who made it spoke in what sounded like Kelantanese Malay and so was the waitress who came to take my order but I couldn't really understand what they were saying. Being in Kota Bharu for the past 8 days and constantly in close communication with the locals, there shouldn't be any (more) problem understanding their language.
Then I remembered what my Kelantanese friends told me – that there are differences in Thai and Kelantanese Malay slangs. I'd been in Kelantan long enough to finally be able to differentiate them. Heh.
After wandering around for another half hour or so, I finally decided to say good bye to Golok. There was nothing more to hold me back there for so I didn't see any point of staying longer. I hopped onto one of the taxiing motorbikes and asked to be 'delivered' back to the immigration office.
SO, that was how I spent my 3 hours in Golok. It might not be the best time to be there but I am glad that all the questions about Golok had finally been wiped off my mind.
And the best thing of all is that I managed to get a new immigration stamp on my passport. I mean, I was in Kelantan on a job assignment so who would have thought that I'd get a new stamp on my passport while I was at it right? 🙂