So, I have just returned from a short trip home – something that I've been doing every year whenever May comes, probably because the Harvest Festival is a good enough reason to go back to Sabah for – apart from the fact that I am from there. But of course, above all, it's the family. In the end, it's the family that matters most to me no matter where I am and what I do in life urang bilang. Even the slightest thought of returning to them even for a short while keeps me grounded and reminds me of where I am from. Heh.
But then, family or not, I still made my time to drive up to Tenom, a town nearest to my own hometown Keningau and yet I hardly go to. Tenom is quite famous for its unique demographics with 60% of its population are of Murut ethnicity. Murut is one of the dominant ethnic groups in the interior part (some call it division) of Sabah apart from Dusun which I am one of and Lundayeh. It might be a less known town to many but it is actually very much worth a visit.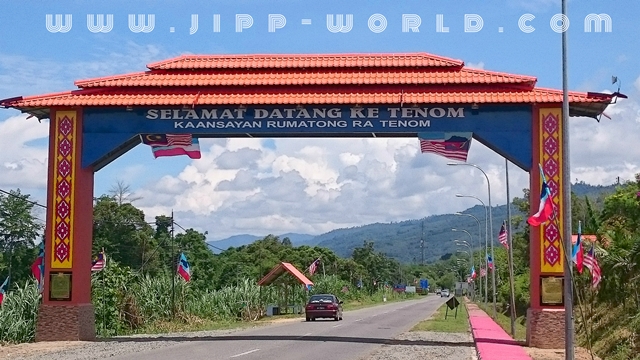 Of course one could never talk about Tenom without associating it with Kopi Tenom – which is considered one of its finest products. Back then it was the only coffee that I knew so the taste is very nostalgic to me and probably most other Sabahans. I might have tasted a lot of other coffees now – from the cheapest to some of the most expensive in the world – but still the taste of Kopi Tenom has a very special place in my heart. It's still the best to me really.
I have always been fascinated by how clean the town of Tenom is. It has always been considered one of the cleanest towns in Sabah, probably together with Kudat. I mean, seriously, it might be located in the interior part of Sabah but the people there seem to be more civilized than those who stay in bigger towns say, Keningau and even Kota Kinabalu. Uhuks.
Since I was already there, I made my time to do something that I had always wanted to do – to get a taste of the famous local tauhu (or tofu – a food made by coagulating soy milk and then pressing the resulting curds into soft white blocks) which I found out could be found at the food court on the 2nd floor of the new Pasar Tenom (Tenom Market) building.
Having been featured quite numerous times on TV food channels, and having heard so much about it from my friends in Tenom, I knew I had to go for it this time. I was actually trying to locate the stall (or rather a mini-restaurant) that serves it when somebody called out to me and asked if I was looking for it – that tauhu. Seems like I was not the only one who was there looking for it. I would say, the tofu was OK at least to my inexperienced tongue, but then I'm not really a big fan of tofu so I don't really know how to describe it in a language that most tofu enthusiasts would probably understand.  But it was OK, really.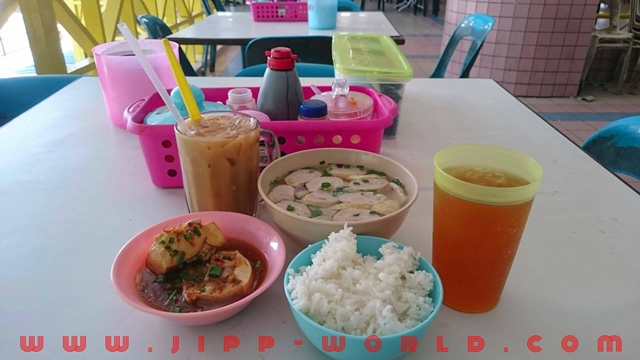 Then on the way back to Keningau, I made my way to stop by the Murut Cultural Centre. I only visited it once during one of the annual Kalimaran Festivals long long time ago – which is like the biggest celebration in the Murut communities – and I didn't really get to check out everything that it had to offer at that time, probably because it was too crowded so my focus was more on the crowds and not really on the museum itself. Somehow this time, I had all the time in the world to check out everything in detail.
I was instantly wowed by the grandeur of the building/s, which were built almost entirely of timber – and almost nothing else but timber. The main columns (or pillars in a less engineering term. LOL) are built of whole logs as if trying to show off the state's once-thriving but now waning industry. Coming to think that Sabah is now struggling to save some of its last rainforests, there really is nothing much to be proud of in those columns.
The architecture might be a wow but what they have on the display at the museum is even much more of a wow to me. It's funny how I grew up surrounded by Murut friends and yet I knew very little about their wonderful culture. Being here at the Murut Cultural Centre, I got to learn a lot about them in almost no time at all. I mean, almost everything about this wonderful ethnic group has been detailed out – right from their origin to their traditional ways of life, from their cultural evolution to their modern-time achievements. Sabah is probably known for its cultural diversity but having Murut in its long list of ethnic groups is such a privilege considering how colorful the culture, tradition and arts is.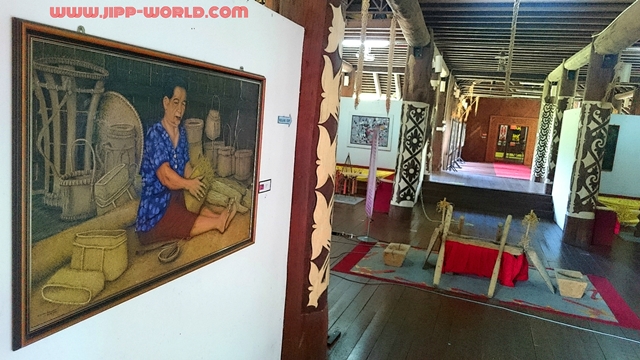 I was actually at the costume section of the museum when I came upon this – which almost instantly took me by surprise. I mean, I found it quite outrageous and I knew it wouldn't go well with the tribal group concerned if any of them happened to be there to see it. Almost compulsively I took a picture of it and posted it on twitter. One of my twitter followers cc-ed it to the Tourism Minister of Sabah and almost in no time he returned with a response (kudos Datuk!). He later returned again saying that the dress was sent away for cleaning (or washing) at the time of my visit and had now been put back on. I mean, I knew it might be a small thing to some people but considering how significant the museum is to the tribal communities in Tenom, it might be a big deal for those who are actually in it (the community).
I also went to another building to see the place where they do the Lansaran – a traditional game whose idea of formation was acquired from a bunch of kids who was jumping happily in a trampoline-like movement on a tree during the paddy planting season as described on the info banner. Of course it had since evolved against time and it is now a game aimed at trying to touch some hanging object placed wayyyy high at the ceiling.
Having the place all to myself, I tried to play silly by trying to jump as high as I could but it was almost impossible to reach no matter how hard I tried. I mean, the game was invented in such a way that it needs a group of people to jump (repetitively) in unison so that the floor will acquire enough energy to make somebody bounce high enough to touch the hanging object. I couldn't help but getting reminded of the popular game show from Korea called Running Man in which the entire team was sent to Sabah to do a series of local games. Lansaran was one of the games that they did and needless to say none of them actually succeeded. LOL.
I've been to quite a number of cultural museums and I can safely say that the Murut Cultural Centre in Tenom is one of the best not only in terms of architecture but also the quality of the exhibited items. For me, it deserves more recognition than what it has now.
I believe there is more to Tenom than what I've managed to explore within that very limited time that I had there. But of course, as I had always said, some places are better left un-visited so that you've got reasons to go to those places again. Kan? 🙂