I know.
I haven't really blogged that much recently. I've been going through a phase of my life that needs a little bit of concentration and focus or I'll be sorry for the rest of my life. Heh.
To tell the truth, I've been stuck in KL for quite some time now. I've got at least a few more days before I get on a plane again and then, off I'd go – towards a trip that bears so much significance to my life personally (and religiously) that by just thinking about it gives me some kind of  shiver every time 🙂
Until then, let me bring you to a place that I went to recently. It was a place that I had heard so much about and yet had no chance of going to until last weekend when I decided to take my mom and my two nieces to do a little bit of weekend escapade to a coastal district on the West part of Selangor.
Sekinchan is the name of the place – or rather the (sub) district. Trusting the newly updated Google Maps on my phone (it has a GPS-alike feature now), I drove off towards Sungai Buloh, across the yawning view of vast Palm oil plantations. It was quite a zig-zag that my niece almost puked.
Then I remembered a stall that was recommended to me by a colleague. It's called Chendol Bakar. Located very much on the road side, you can't miss it. The stall must have gained so much popularity now that it even has a drive-through for those who are fast on the go!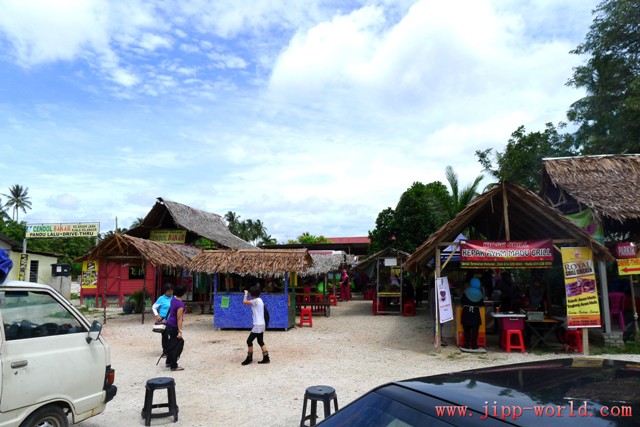 Being a first timer there, I ordered what was suggested to me by the guy at the counter. One thing that immediately caught my attention was the tape or locally known as tapai as part of the topping. A durian Chendol topped with tapai is something that you might not see anywhere else but here at Chendol Bakar. Quite creatively, they also put in a scoop of nasi pulut (glutinous rice) just so that it has a little bit of carbo on it (although I didn't like that part of the chendol).
Chendol Bakar is such a mouth-gapping name for a food. I mean, seriously, when I first heard about it, I couldn't help but coming up with a set of theories in my head as to how on earth they could ever burn  chendol – which is more like a bowl of shaved ice mixed with red beans and some other ingredients. In the end I decided it was impossible.
Then I found the answer and burst out laughing right there at the counter. Apparently, they don't burn a shit. It was named after the owner's grandfather's name – Abu Bakar. LOLOLOL!
I liked it almost immediately. It was not too sweet unlike most other chendols that I have had anywhere else before. They really know how the put the right amount of sugar – or milk (usually condensed). The durian really tasted like durian, not just some durian-flavored ice-cream. Having it under the hot burning sun made me go hmmmmm. It really was so damn refreshing.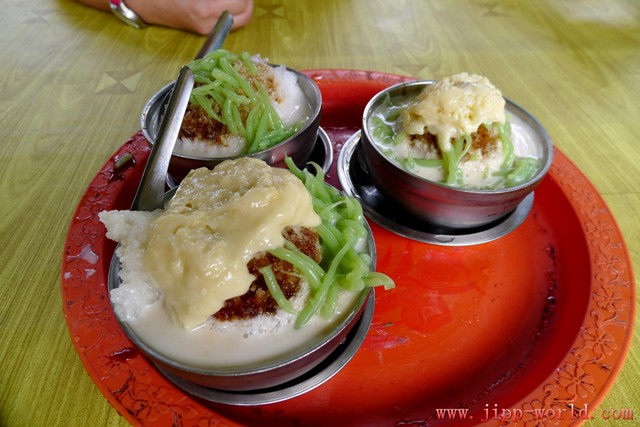 Done with the unburned Chendol Bakar, we continued heading towards the town of Kuala Selangor before traveling for another 30 KMs or so to Sekinchan.
Being there for the first time, I didn't know where exactly to head to. In the end, I ventured turning into one of the junctions across a village which was heavily planted with coconuts and it wasn't long before we found ourselves on the edge of a vast paddy field.
The scenery was simply breath-taking. It was paddy-field for as long as the eye could see, bordered only by the green hills in the far end. We drove further into the field which was segregated into sections by a web of bunds, irrigations and the roads itself.  I parked the car strategically at a crossroad and stepped right out into the rusticity of Sekinchan.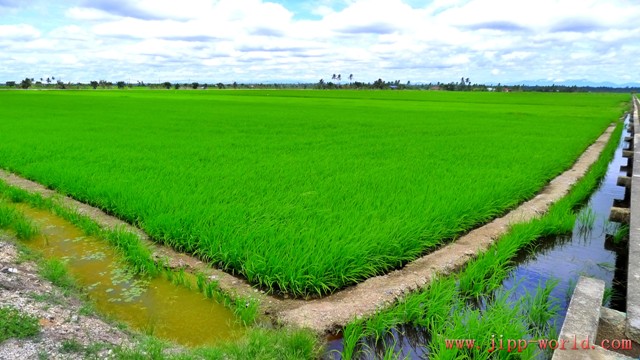 You have to be there to know how it feels like to come out of the car and feel the fresh air sipping right through your lungs with such a refreshing aroma.
Being born to a paddy-planting family, returning into a rice-field brings back all my childhood memories. The air, the wind, the smell and even the heat that comes down on me from the glistening sun above suddenly felt all so familiar. The smell of the mud threw me back to those days when I used to roll myself around stark-naked in the mud and play mud-slinging with my childhood friends 🙂
Of course those days are long over now but rice fields always hold a very sentimental value to me. They always remind me of my origin and where I came from. 😛
With such a beautiful view and enchanting greenery, I couldn't help but thinking how perfect it would be to do a run in Sekinchan. If ever a run was set to take place there, I'd be the first one to register 😛
After taking all the time in the world camwhoring around and taking in the beautiful view and Sekinchan's kampong charms, we drove back to Kuala Selangor and continued heading south to a seaside restaurant called Aroma Ikan Bakar. Again, it was a place recommended to me by my colleagues.
Being there for the first time again, it took me a little bit of time to figure out what to order or even how to place my order. To tell the truth, I was a bit worried because I didn't bring much money with me. Hehe.
I had some two hundred bucks in my pocket but still I was worried that they wouldn't be enough. I mean, I know for a fact that seafood in Kuala Lumpur is quite if not very expensive if comparison was made with seafood in Sandakan where I spent 4 years of my life feeding myself up with (mostly) cheap seafood.
In the end I ventured ordering 4 dishes consisting three different types of fishes and one giant squid. They were priced based on weight. Trusting one of the cooks to suggest, each fish was served in a different way of cooking – one was steamed, another was grilled and the third one was cooked 'tiga-rasa' as described on the menu. He suggested that the squid be fried with dry chili.
It was quite a feast for the four of us. I would say the dishes were more than enough probably because the ladies being ladies didn't really eat that much. They had small stomachs. If there was one dish worth highlighted, it'd be the tiga-rasa. It was so good that it ended up being skinned to the bones.
The rest were so so only. In fact the squid was quite lame which made me wish it was grilled instead of fried.
When it was finally time to pay, I braced for the total price expecting to sheepishly borrow some money from my mom or probably my nieces later. I was even more worried that the total combination of all the money that we had wouldn't be enough to pay the bill off. I let out a sigh of relief when I looked at the price. I was quite sure that it would have cost me much more if I ordered the same dishes back in KL. Phew! 😀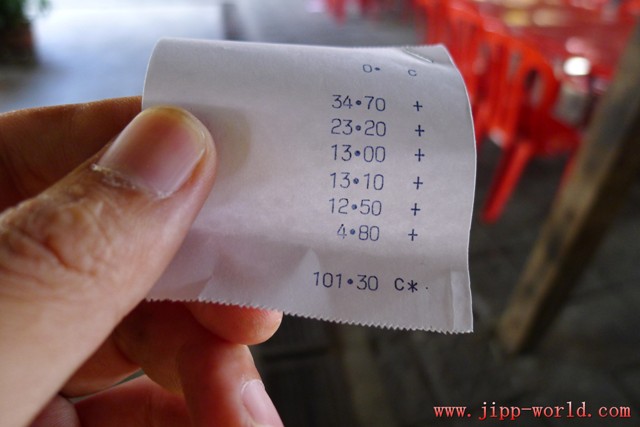 The restaurant seemed to be quite popular judging from the presence of so many customers there. In fact, more and more people were trickling in and they were fast occupying the tables. A large group of motorcyclists were there on a convoy and I could see that they were filming for some TV Program for TV3.
Well, I wouldn't recommend you to drive all the way to Jeram just for the beach because believe me, you would be disappointed. The beach is full of ugly seashells which I suspected were disposals from the kitchen. The sand itself is more like mud so the water is murky. But of course if the sight of an ocean by any means is important to you, then you'll definitely see one there. LOL!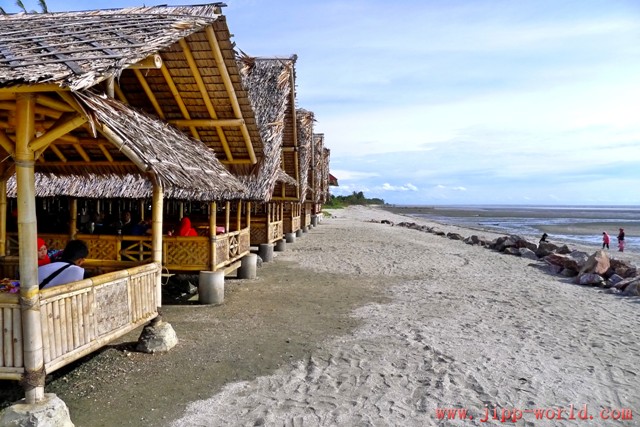 I returned to KL via LATAR Highway which was much more convenient and time-saving compared to the road via Sungai Buloh that I took in the morning. I just couldn't see the need of having to go through three toll plazas within that quite short stretch of highway. I could only assume that they want to give the impression that the toll rate is not that high but hey, it doesn't take a genius to sum them all up and the total amount is what matters.
For me, Kuala Selangor is such a great place to head to for a quick weekend getaway especially if you're residing in KL and you want to break away from the hustle and bustle of the city at least until the reality of impending Monday blues comes back to haunt you again.
It's different from other parts of the state which has long considered itself as the developed section of the country. Believe me, when you go there, you'd go like – nahhhh, it's still very much developing lah 🙂