Japan was not really my country of choice when it comes to traveling but if I were to go there, I'd 'conquer' it by scaling its highest mountain – the one and only Mount Fuji. And that's exactly what I did recently.
Mount Fuji is probably one of the most pictured mountains in the world. Pictures of a snow-capped cone-shaped mountain is like all over I actually started seeing them even when I was a kid. Never did I ever expect that someday I'd be standing on top of it. Heh.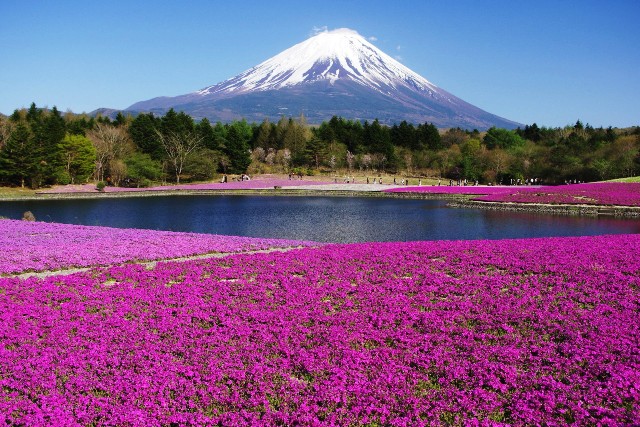 There are a few options to go to the foot of the mountain. The easiest one is probably by taking a bus from Shinjuku Highway Bus Terminal (KEIO) in Tokyo to the 5th Station which is the starting point of Yoshida Trail – the most popular among all the trails to go up to the peak of Mount Fuji. You may want to book your bus ticket well in advance too because there are hundreds of climbers coming to Mount Fuji every day so they run out pretty quickly.
Our plan of climbing Mount Fuji was almost shattered when we missed our bus. Blame it on our stupid procrastination, we forgot that we were in Japan where a minute of delay DOES matter. Mind to tell you (if you don't already know) that Japan is a very punctual country. When the bus is scheduled to depart at 10.40am, it will depart at 10.40 am right on the dot.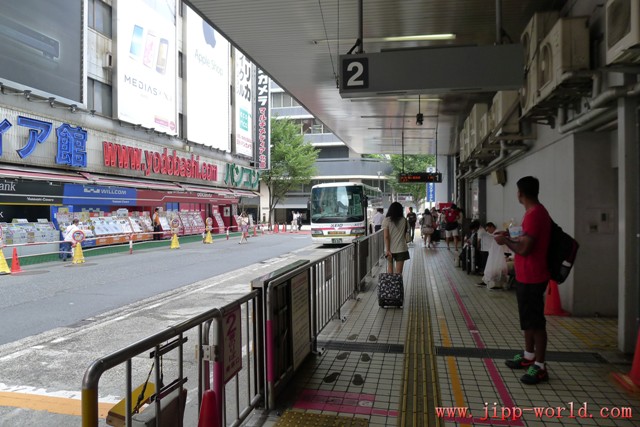 When we realized that we were late for the bus, we had to run like hell. I had never run so fast like that in my entire life. After exiting Shinjuku station – which is known as the world's busiest rail station – we kinda lost our bearing and went the other way. When we finally managed to find the bus station, it was 20 minutes past the departure time.
The standing officer seemed so sympathetic with us that he couldn't even bear looking at us with the bags, sweat and the apparent looks of despair. When he could no longer contain it, he went to consult another officer just in case they could come out with at least something to help us out. This is one of the reasons why I love Japanese people so much.
Together they led us to the ticket counter inside the building and asked the ticket officer if we could get on the next bus to Mount Fuji. Miraculously, two of the passengers had canceled their tickets at the very last minute so we were allowed to take their now-vacant seats! I was like – THANKS GOD!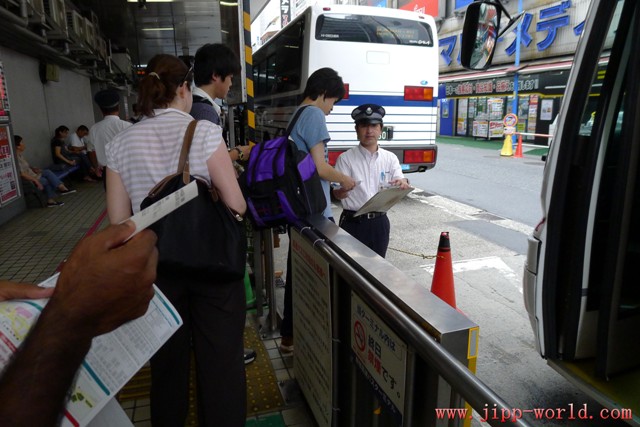 If felt so surreal to be standing at the very foot of Mount Fuji and looking up at the mountain that I had heard about and seen so much of on TV and magazines.
After taking a quick lunch at one of the restaurants at the 5th Station, we started off towards the Yoshida Trail where we met hundreds of other climbers all ready to take on the mountain.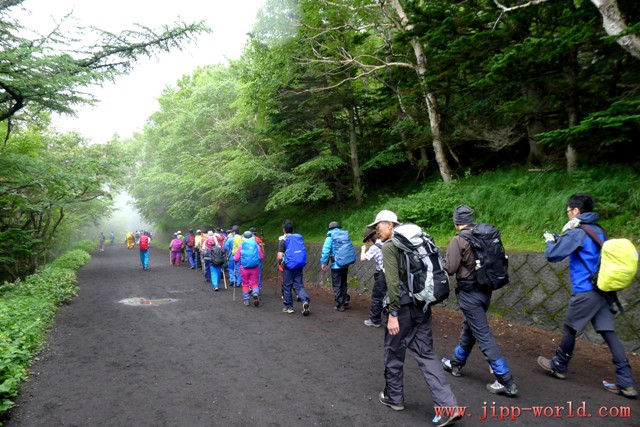 It was by then 2 pm, and it was so foggy. In fact it was foggy most of the way so visibility was quite limited. The trail was quite well indicated but you still need to ask around if you are not sure of where you are going.
One of the best things about climbing Mount Fuji is the fact that you don't have to pay for it. It is open for public, meaning you can always go there and climb it anytime you want during summer (close in other seasons).
There have been plans to introduce some climbing fee but as for now it is still free. All you need to do is book for the accommodation if you intend to stay there overnight like how we did.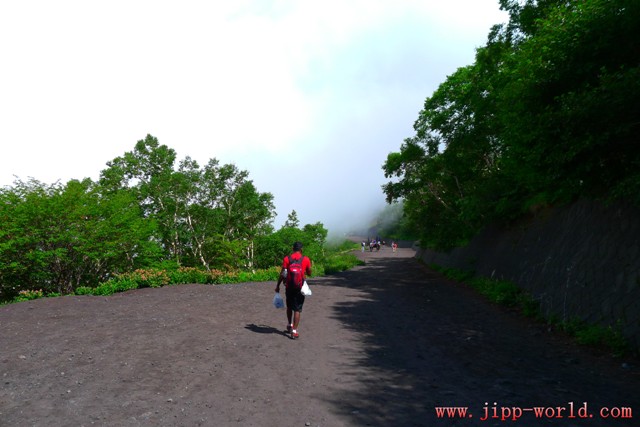 Booking for accommodation at Mount Fuji can be a little bit of a problem if you're not residing in Japan. Not only most of the websites (each hut has its own website) are in Japanese, most of them only allow booking via phone. I had to actually ask a friend of mine in Japan to book for me. I really didn't want to come to Mount Fuji only to find out that we had no place to stay. We'd die in the cold.
All the lodges at Mount Fuji require you to book well in advance – probably a few months before the climb so that you can get a slot. Being one of the most climbed mountains in the world, it is almost impossible to get a slot.
You have the option of booking the accommodation together with one meal or two. The huts have a range of prices but the one that we booked had cost us JPY7500 inclusive of two meals (served dinner and packed breakfast). You'd pay less if you pass the meals. Of course you can always bring your own food if you are on a budget or you can order from the kitchen. You just need to be prepared of the exorbitant prices.
Most people would prefer to stay at Station 8 which is closer to the peak so that they don't have to do too much climbing to the peak the next day. Since all of the huts at station 8 were fully booked, we only managed to book a slot for two at Fuji Ichikan of Station 7 so we had quite a long way to go to the peak the next day.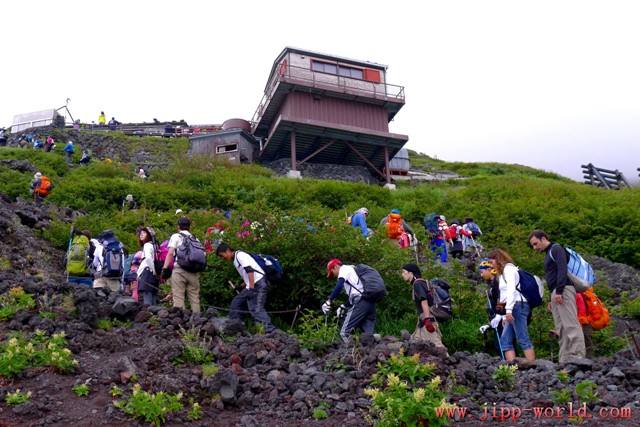 We arrived at the lodge at 4.30pm and dinner was served an hour later. There really was nothing much to do at the hut but chatting the time away and taking pictures. You can order hot coffee from the kitchen if JPY400 (MYR 13) per cup is not really a matter of concern to your pocket.
Starting off quite late at 2 pm apparently wasn't really a bad idea after all. In fact, there were many other climbers who started off much later than we did.
Mind to tell you that most of the huts at Mount Fuji are meant to be a place to sleep in and nothing more. You share the room with dozens others so privacy is almost zero. They provide you with a sleeping bag, a comforter and a pillow to rest your head on and that's it. With all the snoring and people coming in every now and then, it is almost impossible to get a sleep. In fact I don't think I did get any.
They don't even provide you with a shower room. There is however a toilet for you to do your basic business – or probably to brush your teeth at least.
Now, I found this toilet charge quite interesting. There's nobody at the toilet to collect the fee. It is fully based on trust where people are expected put money into some sort of bottle, meaning, you can always skip (paying) if you want.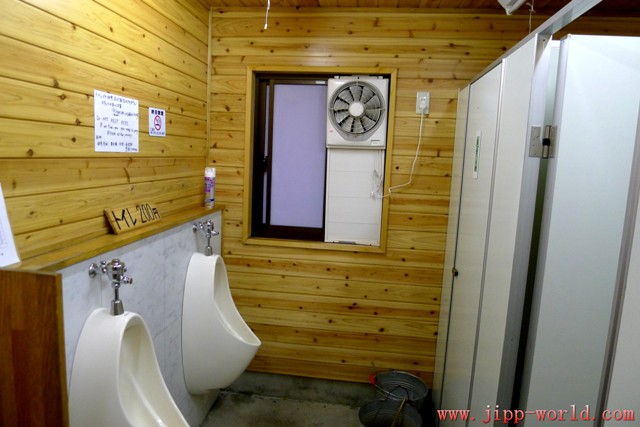 I remember how the guy at our hostel in Tokyo warned us that an entry to the toilets along the trail would be quite expensive so he suggested that we peed in a bottle and disposed of it somewhere where nobody was looking. Never did he suggest that we used the toilet without paying because nobody is there to watch anyway. That's how trust-able Japanese people are.
Most people would usually go to sleep at 8 pm and wake up at midnight to start the climb to the peak. Again we started at 1 am which was quite a mistake because we didn't expect climbing in the dark could be more challenging than we thought. There are quite so many people climbing along the trail so the human traffic that ensues can pretty much slow you down.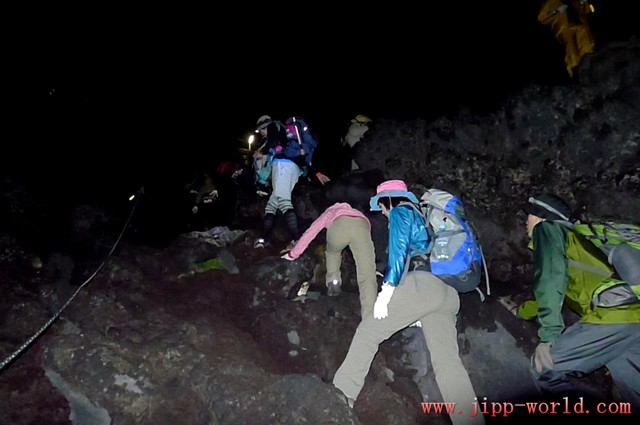 Kishnan and I both agreed that we shouldn't have judged the mountain based on its height. Comparing the height to that of Mount Kinabalu, we really thought that Mount Fuji couldn't be THAT challenging. Looking at so many climbers in their old age as well as kids climbing up Mount Fuji, we thought it was going to be a piece of cake. How wrong we were.
I think the air thinned down very fast against the altitude at Mount Fuji. I did experience a mild headache that night which I presumed was a sign of altitude sickness. I chose to ignore it, expecting it to go away when my body got adjusted to the altitude.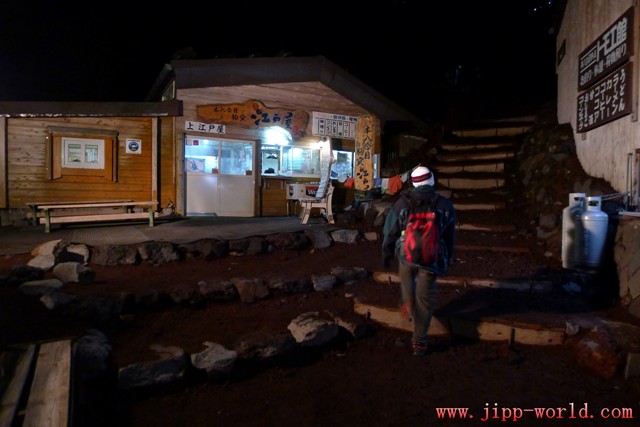 By the time I reached the last station, I began to have some difficulty in breathing. I really thought it was only a sign of my body warming up to the gain of altitude, that it would be temporary but when it persisted even after awhile, I was beginning to feel a little bit worried.
We were probably some 200 m away from the peak when the dawn broke and the sun spilled its golden rays across the cottons of clouds that surrounded the mountain. It was one of the most beautiful sights that I had ever seen.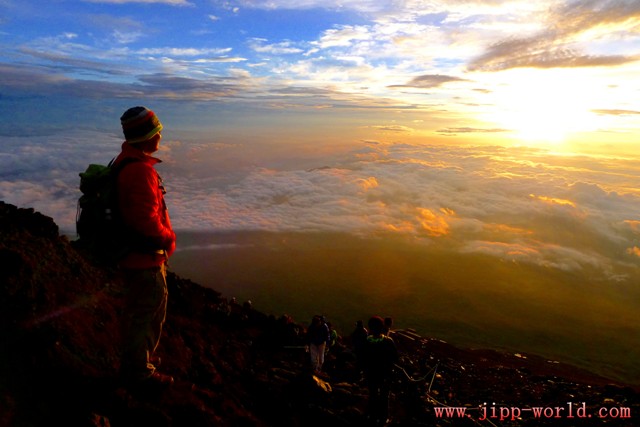 "Dawn in Mongolia Japan was an amazing thing. In one instant, the horizon became a faint line suspended in the darkness, and then the line was drawn upward, higher and higher. It was as if a giant hand had stretched down from the sky and slowly lifted the curtain of night from the face of the earth. It was a magnificent sight, far greater in scale…than anything that I, with my limited human faculties, could fully comprehend."
― Haruki Murakami, The Wind-Up Bird Chronicle
There is something magical about watching the sunrise from atop Mount Fuji since Japan itself is known as The Land of the Rising Sun. We were some of the very first persons on the planet to welcome the coming of the day. Heh.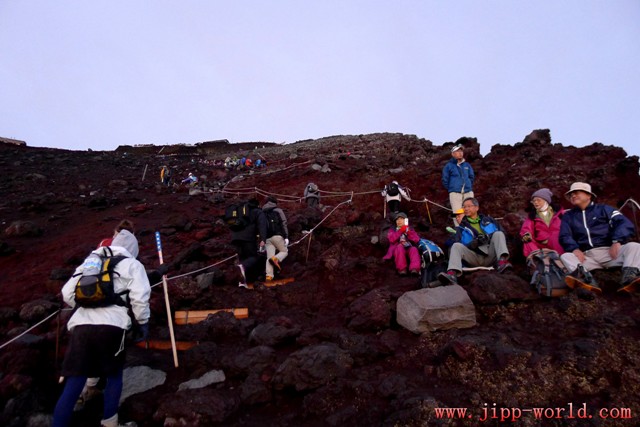 We had the best of feeling when we set foot at the peak of Mount Fuji awhile later. Although we both had a breakfast pack from the lodging hut, we felt like we wanted something hot and soupy.
They are a few restaurants that serve hot dishes at the peak of Mount Fuji but then we are talking about an altitude of 3700 m in an expensive country like Japan so the food is understandably pricey. I ordered a bowl of Udon and seriously, Udon had never tasted so good before.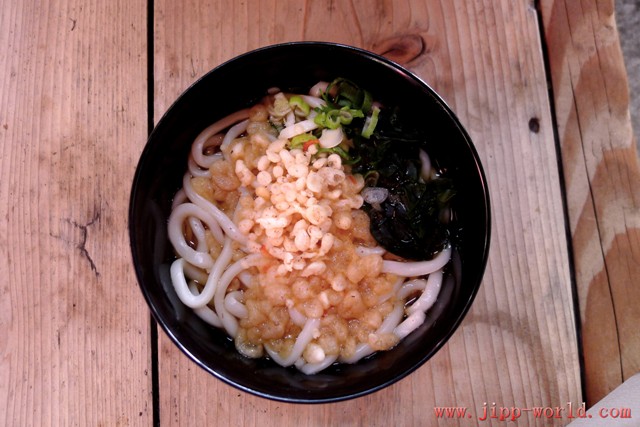 Reaching the peak is not really the real challenge. Skirting the crater when you are already half-drained is. We were already so tired and I had to tell Krishna that skirting around the crater is something that we HAD to do no matter what. Besides, the highest point of Mount Fuji is located on the other side of the crater.
The view as we skirted the crater was something to die for. Being an active volcano with low risk of eruption, Mount Fuji wouldn't disappoint its visitors who dare to scale it. It had not erupted in a few hundred years so the crater is now fully covered with rocks and soil.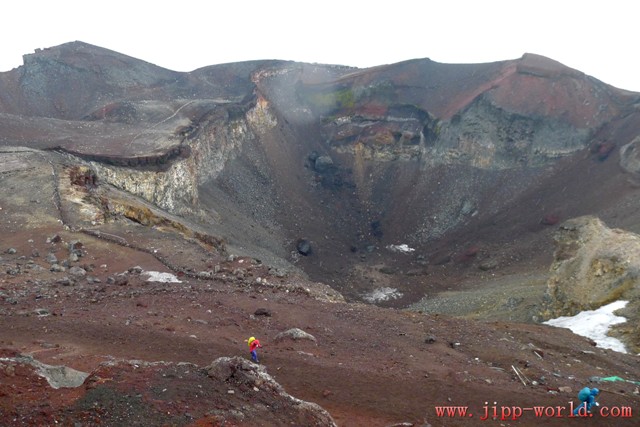 I think one of the most difficult challenges when climbing Mount Fuji is the fight against drowsiness. Starting the climb at 1 am when I didn't even get a decent sleep the night before had proved to give me such a problematic encounter. Seriously, I could just fall asleep while walking. I think part of it was due to the lack of oxygen in the air.
There was a long queue of climbers waiting to take photos at one particular spot of the mountain. We later learned that it was highest peak of Mount Fuji so there was no way we would ever let the opportunity slip off. Mind to tell you that Mount Fuji is the tallest mountain in Japan so standing on top of it is like standing on top of Japan. There was something so great about (doing) it.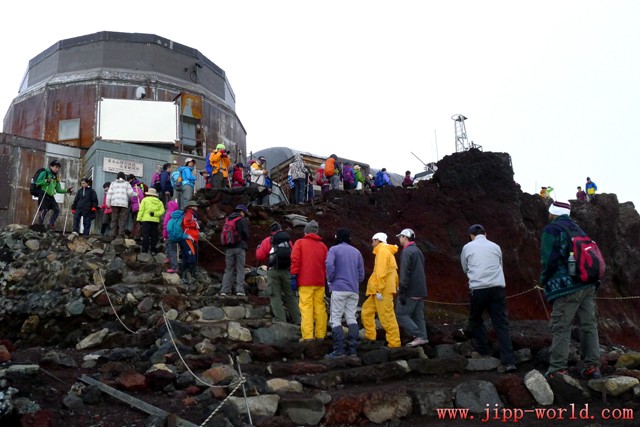 After making a full round around the crater, we decided to start descending. The descent wasn't really my favorite part of the adventure – in fact, it was the worst.
Due to the human traffic created by the big number of climbers, we had to descend using a different trail from the one we used to ascend. It was like trekking down a very loosely graveled road so we tend to slip down every now and then no matter how grippy our shoes were.
It was certainly the worse trail that I had ever walked on in all my experiences of hiking. The zig-zag didn't seem to have no end. Even my brand new Columbia shoes didn't help much. My toes felt so painful I was on the verge of taking the damn shoes off and throw them down  the ravine. I remember thinking that may be I should have bought shoes of a bigger size. It really was a struggle for me.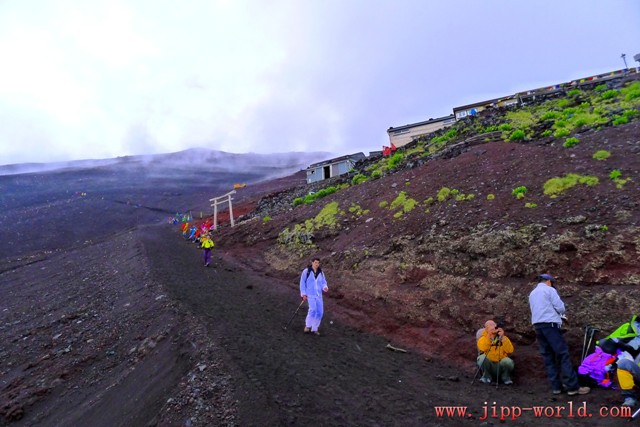 I had one hell of a relief when we finally arrived at the foot of Mount Fuji and later back at the 5th Station. We had at least one hour to grab our lunch before leaving for Tokyo at 1 pm. More and more people were leaving but they were quickly replaced by people who were coming in hordes.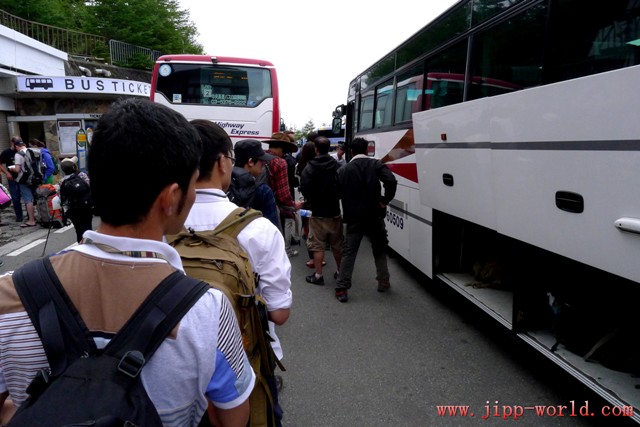 Mount Fuji is not really my favorite climb so far but still it was something that I really wanted to do for such a long time and it's always good to tick something off my bucket list. At least, whenever I see a picture of snow-capped con-shaped mountain, I can always proudly say – I've been up there. Heh.