Before I go further, let be warned that if you're under 18, please back out. Some of the materials used in this entry might not be suitable for your age. Now, you know YOU HAVE BEEN WARNED.
I first heard about Bangla Road in Patong from a Siamese housemate of mine when I was still working as a site engineer in Kota Kinabalu back in 2004. He was so excited talking about it as if being at Bangla Road is like being inside a vagina or something, no kidding. LOL.
Five years later, I landed on the island of Phuket and I intended to find out how exactly this Bangla Road was like in real. I spared my last night in Patong checking out what this famous street has to offer.
Bangla Road in the daytime is just like any other street in Patong – a variety of shops, crowded with people and busy traffic.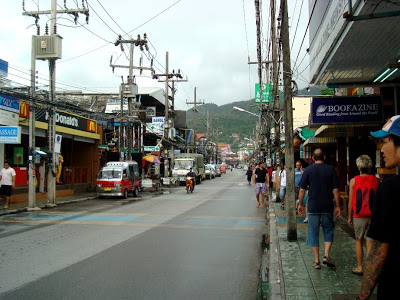 But the moment the road is closed for traffic at 6 pm, it will turn into the epicenter of night life in Phuket with people cramming up into the pubs, bars, night clubs and karaoke lounges all over the area. Entering Bangla Road is like entering a road festival. Everybody seems to be partying and they are partying real hard.
Consumption of alcohol is unbelievable. There must be hundreds if not thousands gallons of beer are poured into the bellies of thirsty visitors every night, 7 days a week.
There are many dozens of night clubs offering a variety of shows that are slated to complete anyone's sleazy and wild Thai imagination. There were peddlers holding up placards advertising what Bangla Road is most famous for – Go Go Show a.k.a Tiger Show.
Out of curiosity, I took a hasty turn into one of the less-crowded corners and made my way into one of the Go Go Bars. Mind to tell you, most of the Go Go Bars would be advertised with 'No Entrance Fee'. Well, they are telling the truth. There is NO entrance fee and you can walk in and out freely.
But here's the cache. They'd put it into the first bottle of your order. My first small bottle of beer was billed at a whooping 500 baht! (RM 50). Quite expectedly, any bottle of beer that I ordered later had been much cheaper at about 150 baht per bottle.
So, I was there, feeding up nothing but my eyes with stark-naked young girls dancing all around the stage. Looking up at them, it was such a surreal experience. While some part of me was enjoying the show, some was quite – sympathetic. The girls have to succumb to their job of feeding the lustful eyes of the visitors every night (not all are lustful though. Some of them just want to experience it, probably to tick it off their bucketlist or something. Some of them were husband and wife couples in their golden age). To me it is one of the worse types of exploitation of women.
Then I hopped to another place that I happened to find almost by accident. Named Body Nude Club, I was glad that I went there. Apart from a Western guy, I had the club pretty much all to myself. The show was much more interesting to watch that the first club that I went to. The girls really defined the meaning of 'drop-dead gorgeous' at its best, the kind that you'd cat-walking on fashion runways in KL, no kidding!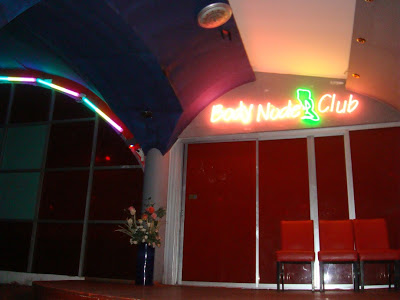 During one part of the show, a girl took a lingering shower inside a full-glass 'bathroom' to the full view of the audience (which was me and the Western guy and other girls). They called it a 'shower show'. I'd never seen an adult girl taking a shower right before my eyes ever before. I mean, in nude. 😛
Some of the shows were quiet too weird for my innocent eyes. A nude lady would show up every now and then performing a series of weird shows which among others included dropping a golf ball right into the mouth of a bottle or a beer mug. Then she'd blew a candle out as well as shoot a dart right into a balloon. Well, they all sound quite easy to do except that she did it all with her vagina! It was just so amazing to see what the girl could do with her thing. She even pulled things out her vagina – a long rope, strung up needles, razor blades – you name it. I was so curious I actually asked if I could check that so gifted thing of hers out with my fingers. Needless to say refused. LOL!
During one of the sessions (it was a series of performances), I was asked (they actually had to drag me) to come on stage and one of the girls came up to do a lap dance on me. I was asked to strip her off with my bare hands, starting from her shirt all the way down to the very last piece. I did it all in the name of adventure and nothing more. I knew the image of the girl would keep lingering in my spoiled head for very long time and sure enough it did. Damn.
Just downstairs of this Body Nude Club was an aqua club. My sense of adventure again took the better of me so I went in. I bought a bottle of Tiger, took a seat on the front row, and watched the group of 'lady boys' perform a series of songs including Diana Ross' I Will Survive and Britney's Baby One More Time. They consisted of a lead singer and a group of back-up dancers which made the show seem so hilarious and entertaining.
Being alone on the front row seemed to attract their attention. May be they got curious as to why a young and good-looking guy (ehem!) like me would come and sit alone on the front seat of an aqua show. The lead singer would come up to me and do all the seductive acts which among others included extending HIS legs out to me on my table and seductively pouting HIS lip (some call it duck face). I was quick to say "no thanks", not once but several times just to make sure he got the message right. LOL.
Lady boys in Phuket can be very deceivingly beautiful. They are nothing like the ones you see roaming the streets of Kg. Air in KK (short form of Kota Kinabalu) at night. Patong is full of beautiful girls, I have no doubt. But when you see somebody who is TOO beautiful to be a girl, chances are, they are one of them – the famous lady boys of Patong.
This one here insisted that I should take a picture of her baring her boobies after I told her that I was in Phuket for some kind of 'blogging trip'. I promised that I'd post it up on my blog and sure enough I did.
When the show finally ended, I decided I'd had enough of the adventures. I was later back on the street and took a seat at a bar corner called Lotus Blue. It gotta be one of the most strategic spots because I had all of these to keep my eyes wide and awake. Well, sometimes ladies look more appealing with their clothes on. LOL!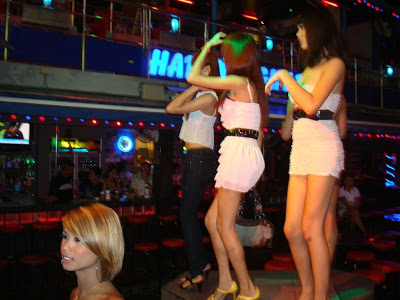 It was amazing to sit down and just watch the world revolve around me. Everybody seemed to be enjoying themselves. Moment pictures of visitors that came to the bar were plastered all over the wall. I kind of liked them. Somehow, they brought in such a friendly and welcoming atmosphere to the bar.
An American girl that I had a chat with must be so impressed by the way I sweet-talked to her that she took a flower from her ear and tucked it in mine.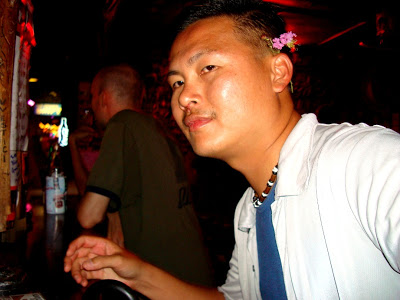 After spending an hour or so in the bar, I decided it was time to say good bye to Bangla Road. I was quite drunk that everything around me was shaking and blur as I staggered my way back to the hotel.
Somehow, I managed to get back to the hotel room all in once piece. My travel buddy complained the next morning about me making weird sounds in my sleep. My innocent being must have be trying to expel all the devils of Bangla Road off me. Heh.