So, where were we? Ohh. We spent our first three days in Bali by checking into Jati Guesthouse and Gallery in Ubud on the first day, visited the monkeys in Monkey Forest and shopping a bit at the Ubud Market on our second day, then going off the beaten track by riding aimlessly in the countryside of Ubud on our third day,  then joy-riding our way to the beautiful terraced paddy field in Tegalalang and the 1200-years old Goa Gajah (Elephant Cave) before spending our last evening in Ubud by visiting The Blanco Renaissance Museum.
It was on the fourth day that we moved down to Sanur – a laid-back coastal little town some 10 km to the East of Kuta. We stayed at a beautiful hotel called Ari Putri Hotel.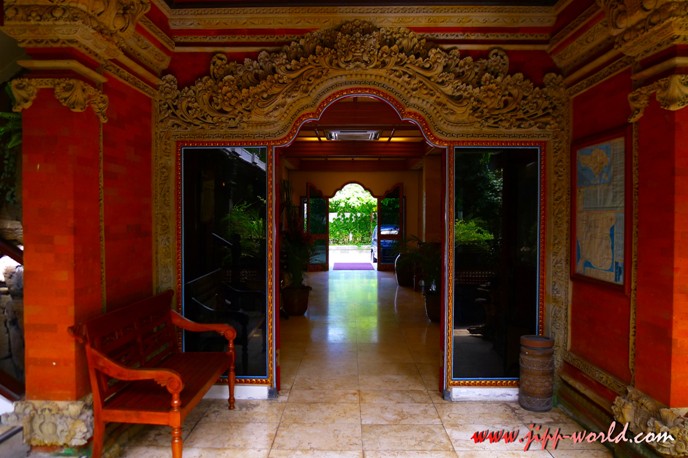 We spent our first night in Sanur by having dinner at Mago Lounge and Bar – one of the most happening spots that we could find around  there.
A group of talented Balinese youngsters were performing a series of Salsa songs and there were all sung 100% in Latino! I don't know why but there's always something sexy about Latino songs to me. The catchier it is, the sexier it is to me.
The whole place was vibrant with energy and the dancers seemed to fire up the dance floor with their sexy grooves and  movements. They were not particularly pretty but the way they strut their butts off around the dance floor was sexy enough to give me a hard-on. Oppps! TMI. 😛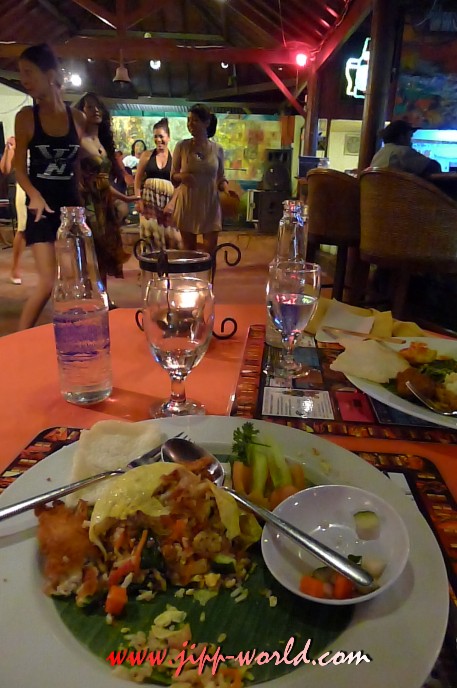 The only song that wasn't sung in Latino was probably the Poco Poco and since none of the visitors seemed to be Asian but us, I expected the crowd to disperse immediately at the sound of it.
Hell no. Instead of retreating to their tables, more of the visitors came forward and started to dance  in the head-throwing poco-poco as if they've been doing it their entire lives. It really was entertaining to see them dance in unison and for a moment I was tempted to step forward and join them.
If the mufti of Perak was there, he would have died of a heart attack. The dances continued but we had to get back to our hotel because there was something particularly important to do the next morning – something that required us to get our lazy butts off the magnetic bed early in the morning. ZZZZZZ.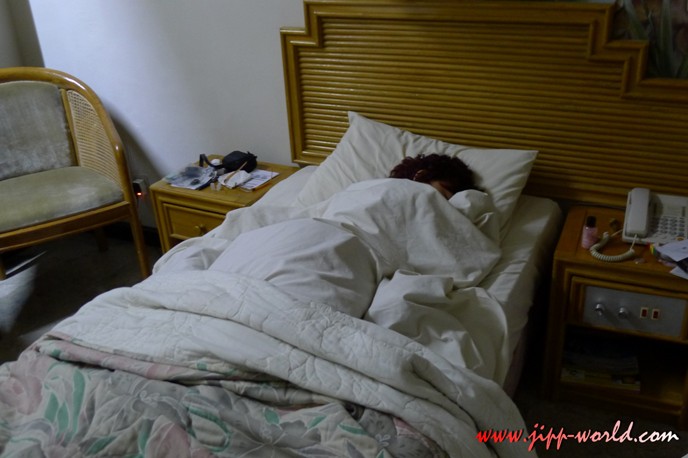 We woke up the next morning with a renewed excitement. We would be going on a very long trip covering some of the places that I heard so much about and seen so much of on TV. Places of interest in Bali can be quite far from each other.
Having the size that is much bigger than Singapore and geographical settings that are so mind-boggling and confusing to non-local people like me, it is much advisable to hire a car with a driver to make your life much easier here in Bali.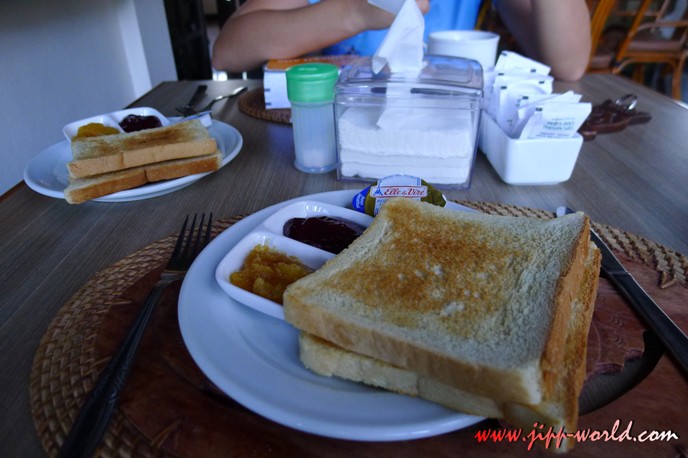 You really don't have to worry about budget. Although most hotels would be more than happy to recommend a rental car with a driver to their guests, it is quite worth it to take a little bit of your time to look around and make some price comparison – as any budget travelers like me would do.
Instead of taking a the one suggested to us by the hotel, we decided to hire a car from a road-side booth we happened to bump into when we were looking for a place to eat in Sanur.
400 Rupees (MYR 140/USD 47) for 1 Day, although we were not sure if 1 day in this case means 24 hours like the motorbike that we rented back in Ubud. INCLUSIVE OF PETROL AND DRIVER – it was certainly a very good deal.
So – the driver was already there waiting for us when we walked out to the front yard of  Ari Putri Hotel. He introduced himself as Made and his lean body made him look more like a bodyguard than a driver. His intimidating looks were instantly neutralized when he spoke though. He was soft-spoken and polite and his attempt to speak in the Malaysian Peninsular slang of sayer, dier, kene and everything was giving me a nausea I had to stop him before I threw up. 😀
I explained to him that I was from Sabah and that Sabahan speak more like 'Indon' where 'saya' is pronounced 'SAYA' and not 'saye'. That was before it came to my mind that Indonesians don't like to be called 'Indon'. Whopppsy!
Our first destination was Batubulan. I was not sure where exactly it was located because I gotta tell you that Bali is the kind of places where your sense of direction tend to die down in the complexity of its road system and geographical settings. Renting a car without a driver in Bali is like navigating a ship in the middle of a sea without any maps and compass in hand. You think you're almost there but you're actually not.
We went to Batubulan for the Barong Dance. To tell the truth, I didn't really know about it before I came to Bali. I had only heard about Kechak Dance but never Barong Dance. Mind to tell you that there are dozens of Barong groups performing in different places all over Bali and the one in Batubulan is one of the most highly reputed ones (I did ask around).
Being highly reputed of course comes with a bigger price. I did see some pamphlets offering an entry to a Barong Dance for 60,000 rupees (RM21/USD7) in Ubud. Here in Batubulan, it'd cost you 80,000 rupees. (RM28, USD9.30).
Having been a driver-cum-tour guide for almost 15 years, Made sure had his own way of putting us at the front seat despite the presence of so many other tourists. We were so much on the front row (ok, may be the second row. We shifted :-P) that I could even know if the dancers had trimmed their nostril hair the night before or not. 😀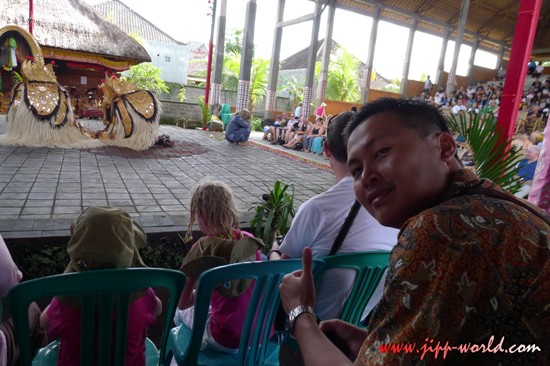 Barong Dance that I'd come to find out is more like a jest-laden theater drama – something like a soap opera but it is narrated and presented in such a humorous and comedic way. It is loud with Balinese traditional instrumental played by a group of musical players and of course without the help of any vocal enhancer, the actors had to speak up at the top of their lungs – almost shouting actually.
To tell the truth, it wasn't easy to understand the story of Barong as played by the actors on the stage – or rather, I didn't try hard enough to understand it. It involves Gods and Goddesses and mythical creatures and evil and good spirits and magic and a lot of other Balinese mythological things.
I had no idea what the story was about but the play alone was interesting enough to watch. The costumes were colorful and radiant and eye-catching and the actors and actresses were heavy with make-up which reminds me of either the clowns that played at circuses that I used to go to when I was a kid or those heavily acrobatic Chinese operas that I see a lot on TLC.
Despite the name, the whole play of Barong Dance is actually mostly dominated by comedic scenes of fighting and chasing around and shouting and acting silly while only a small segment of whole play is truly a dance performance.
And jeez, as I sat there looking at the girls perform what appeared to be seemingly difficult and physically demanding dance, I really thought I was hypnotized or something.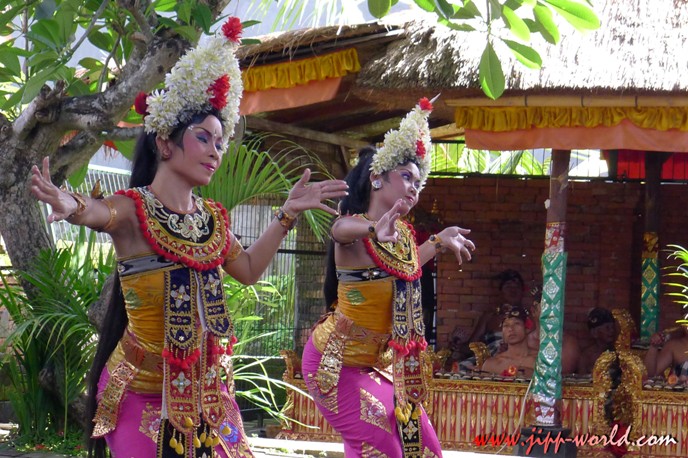 There was something so – engaging? I don't know how to put in the right word but there was definitely something about the girls and their dance and they way they look AT ME that made them stay in my head for such a long long time.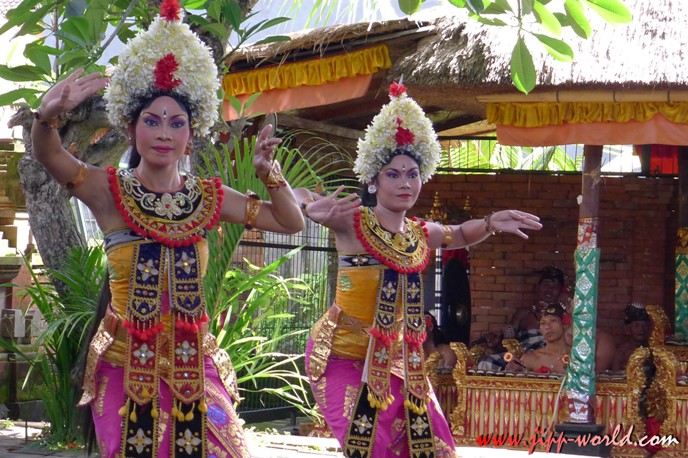 I gotta give my double thumps up to the actors especially those 'jesters' for their ability in doing intense facial expressions to portray how they feel in any particular part of the play. They really know how to contort their faces out when they should be in pain and laugh as heartily as possible when something is supposedly funny.
I was especially amused and utterly entertained by the person who did the character of a monkey. Looking at how he walks, runs and dance, it was probably the closet to a monkey any human can be.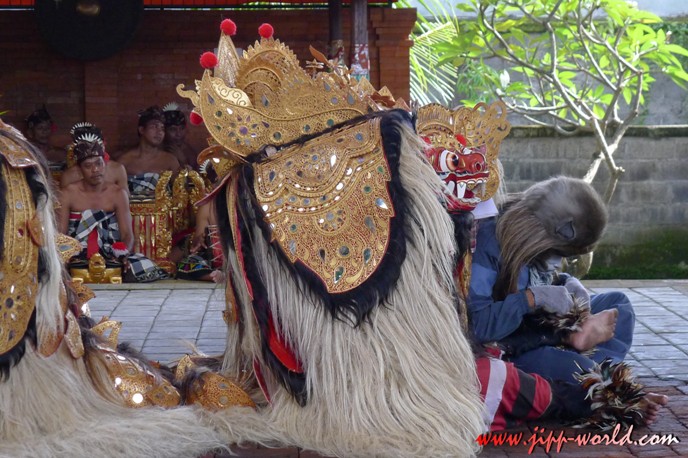 Or rather, the itchiest a monkey can be. LOL!
If you are the no nonsense kind of person who can't take silly (since 'stupid' might sound offensive) acts and plays, I wouldn't recommend you to go watching Barong Dance. It COULD be such a waste of time to you.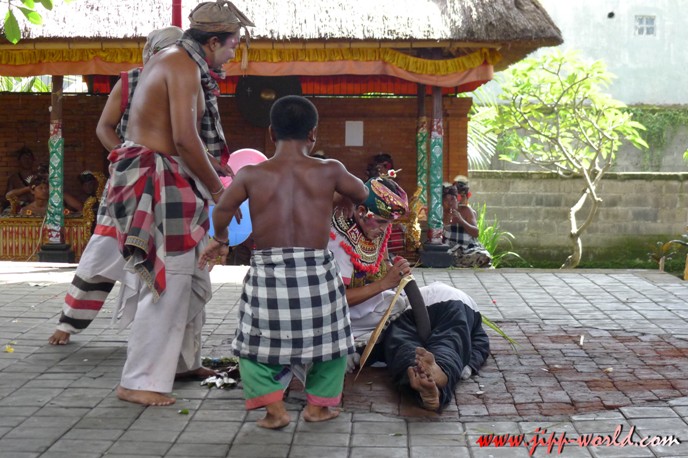 For me, it was something that I would want to watch at least once in probably a lifetime.
So – pulling out from the hall compound, we were driven off to our next destination – the ever famous highland area of Bali called Kintamani. And hell, the excitement was boiling up inside me as the picture of Batur Volcano and Batur Lake kept flashing in my dreamy head as we wheeled off right towards there . Believe me, you wouldn't want to miss it. 🙂
You can view more pictures of Barong Dance in Batubulan right >> here