So, I was back in Sabah to attend a friend's wedding last week. Attending a friend's wedding can be quite expensive now that I'm staying in KL but if you may ask, while the wedding itself is already important, meeting up with old friends who are there to attend it is certainly just as important, if not more. 😛
So, before I boarded the plane, there was something that kept coming into my head, something of a longing for swimming, and it came with the image of a river. Then I realized how much I missed swimming in a river and I suddenly knew how I was going to spend my first day in Sabah.
I remembered a place that I used to go a lot when I was still working in KK and I suddenly knew where to head to to satisfy my cravings for swimming. Just so happened that I drove past the Upside Down House in Tamparuli, so I made my time to stop by, just to see what the heck the fuss was all about.
The Upside Down House is probably the "IT" thing in KK if not the whole of Sabah since it was opened for public less than 3 weeks ago. While the news of it had been swirling around in the internet, fb, twitter and local magazines, I was actually expecting it to be a real residential house where real people actually stayed there so I couldn't help but being a little bit disappointed when I found out that it was built 100% for commercial purposes. It would have been more thrilling if somebody was residing there for real.
And the house is so perfectly made for commercial purposes. The location itself couldn't get any better than where it is now because it is located very much on the roadside of a primary road that connects Kota Kinabalu with most other major towns in Sabah. I can imagine how people would spontaneously go "Let's stop by" while taking a break from a long road trip in or out of KK.
It would say the admission fees are quite expensive but then what do you expect from a city like KK where a bowl of kolo mee would easily cost you 6-fucking- bucks and no lesser than two-fucking-bucks for a Teh C Pink? KK really is more and more overpriced and I'm still wondering why people don't really complain at least to the extent that it is seriously heeded by anybody high up in the ranks.
I think people in KK don't really travel anywhere beyond Sabah or those who travel might be too loaded to bothered by the soaring prices. If only they knew that they could get 2 bowls of Kolo Mee for RM5 in Kuching and Penang. *sigh
So, back to the Upside Down house, I only entered because the admission fee was RM10 which was (said to be) a discounted price from the displayed fee of RM18. If you by any chance go there when the admission fee is already RM18, don't go in. It wouldn't be worth it. The owner has to be reminded that ordinary Sabahans are not really that rich – not yet. Take MAS and Air Asia for instance and see which one is doing better now. My two cents.
Besides, you can always visualize the house – the whole of it – from outside the fence since they wouldn't allow you to take any photo in the inside anyway.
"You'll be fined 100 ringgit and all the photos will be deleted", the tour-guiding sumandak explained. Baek lah! :_D
While I do appreciate that they owner tries to incorporate all kinds of elements say – its significance to Sabahan cultures and adats and history and all, I don't think the house interior needs explanation more than necessary. I think the concept and the whole idea is quite direct forward, that the house has been built upside down and so is everything (almost) in the inside of it and that's it.
I think people are more interested in knowing how the idea of building an inverted house came about in the first place although we all know that it isn't the first of its kind at least in the world that we know for sure. Then people might be interested to know how the construction and the featuring of things in and outside the house were done and implemented.
For me, the house has to me seen through the right perspective and view and free from all those potentially made-up and exaggerated facts and stories just for the sake of selling it better. Seriously, we already have too much of them in our tourism industry.
The Upside Down house was not really my ultimate destination. I continued my trip towards Tamparuli, and turned to its sub-district of Kiulu right before the famous Jambatan Tamparuli (which has inspired the now famous Sabahan folk song Jambatan Tamparuli).
KIULU has always been one of my favorite places in the Sabah, and to me one of the most beautiful. Located in a valley that is narrower than most other valleys that we see in Sabah, it really offers a spectacular view seen even as you drive along the zigzagging hillside road. Meandering along is the Kiulu River (or whatever the name is) and that was what I had come there for.
I actually drove right to the town of Kiulu to get at least something to eat because I knew how swimming with an empty stomach and half-depleted energy could pretty much kill the fun.
If there was something that you could always find in every corner of Sabah, it would be noodle soups and Thanks God, they usually taste good and 'fulfilling' enough at least for the price that we pay for.
Tempted by the 'overpowering' smell, I tapao-ed 2 ringgits' worth of fried jackfruit from a stall nearby and almost rammed my car into a bush when I put one in my mouth while I was driving. Jeez, I should have waited until they cooled down a bit. I haven't been to Singapore for so long that I actually forgot how Kiasu I could be. LOL.
So, I drove back in the direction of Tamparuli and somewhere along the way turned to a riverside village called Malanggang. Being the venue of the yearly Kiulu 4m Challenge, it has now changed a lot. The school is still there for sure and the camping area has now been fenced probably to provide more security to its participants.
There are plenty of structural things that I don't remember being there back then and one couldn't avoid noticing the existence of a viewing tower – probably from where you could view the whole area and see if something is trying to break in or something.
Out my curiosity, I continued driving along and the sight of a hanging bridge had prompted me to stop and park the car in a shaded spot and took a stroll towards the bridge with such a boiling excitement. The whole place was completely silent and the only sound I heard was coming from the river and probably the rustling sound of leaves when the wind blows against them. It really was the best feeling.
As I mounted the bridge and let myself be amazed FURTHER by the beautiful scenery from there, the sound of an incoming motorbike broke the silence and that was when I saw a motorbike coming from the other side of the bridge. The rider stopped briefly when he saw me and I waved my hand to let him know that it was alright for him to ride on and past me. I later noticed as he came closer that he had at least two other passengers on the bike with him.
What was planned to be a swimming session turned into a mini trekking activity for me and I actually continued walking until I realized how far I had walked away from the bridge. It is so easy to stray away from your original plan when you are in a place like Kiulu where things can pretty much allure you into discovering more and more of its beauty.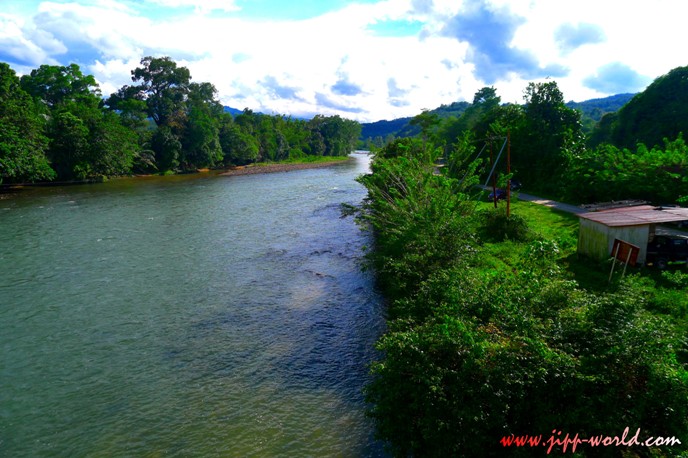 I chuckled a little as I thought of all the money that one can easily spend away going for a trek in another country, say Thailand or probably Vietnam when what they can offer is not even half of what is offered here in our own territory. Besides, there's something so assuring about trekking in our own country at least in terms of safety and security.
Thinking that time was ticking away fast and unnoticed, I returned to the river and after making sure there was no one around, I changed into my boxers and ran into the river like…. FINALLY! 😀
I could feel a refraining sensation oozing through my feet when I first stepped into the water. It wasn't an immediate friendly welcome that I got from the river at the beginning but as I dipped deeper and longer, the communication was beginning to take place between my body and nature and it wasn't long before I submerged myself entirely into the stream and voila! I was a happy man – again. 😀
I was pretty sure I had the river all to myself (or at least as far as I could see) so I was there taking in every moment and the spectacular view that comes with it. I have to admit that it was one of those moments that make me miss Sabah so so much. 😛
I must have spent at least an hour or so when the water was beginning to take away too much of my body heat so I decided to offer my goodbye to it, at least for now. I didn't want to end up catching a cold when I had at least a few more days to kill in Sabah. But I'd be back there for sure. 🙂