IT would be our 3rd day in Bali. We had covered quite a number of places but there were still a few places in and around Ubud that we wanted to check out.
Somebody had been challenging me to go PINK and I just felt that Bali was the perfect place to take that challenge ONCE AND FOR ALL.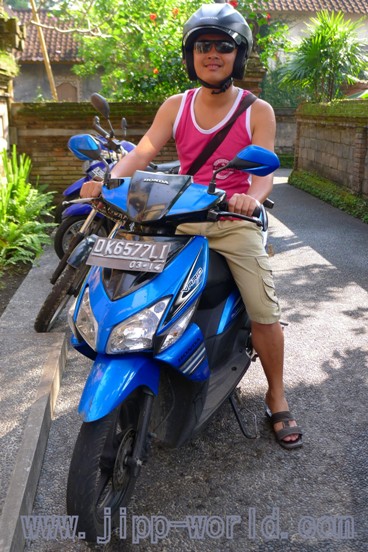 It certainly felt so gay to be wearing pink for the first time. My travel buddy Ulai seemed to like it somehow she actually asked if she could have it if I went on with my plan to toss it away after I've used it once. 😀
Being a big fan of the Jamaican legend Bob Marley, I jumped on my feet when I spotted a Jamaican-themed shop at the Hanoman Street. Of course I wouldn't walk away just like that without buying at least something and what else could it be if not the famous hat (made popular) by the legend himself?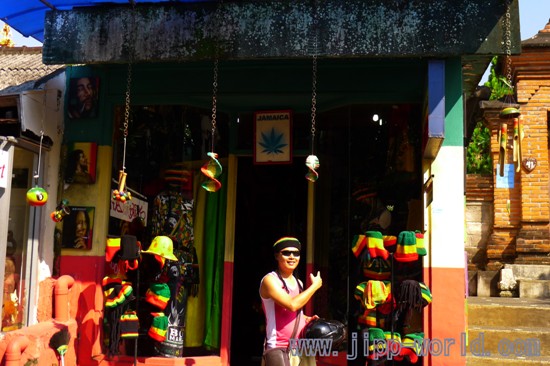 So, we wheeled off towards our first destination of the day – The Goa Gajah (Elephant Cave).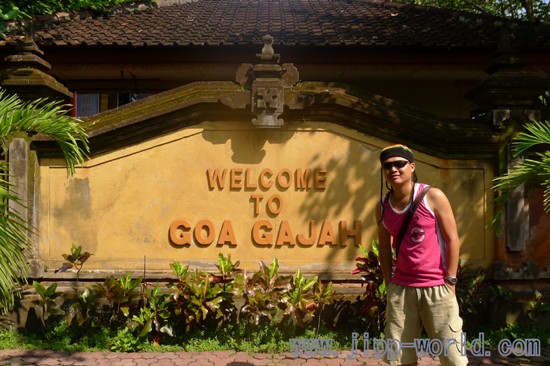 There were at least half a dozen of janitors assigned to help visitors put their sarongs on at the gate.  I noticed how one of them was fast to snatch a sarong away from another who was actually ready to put one on Ulai.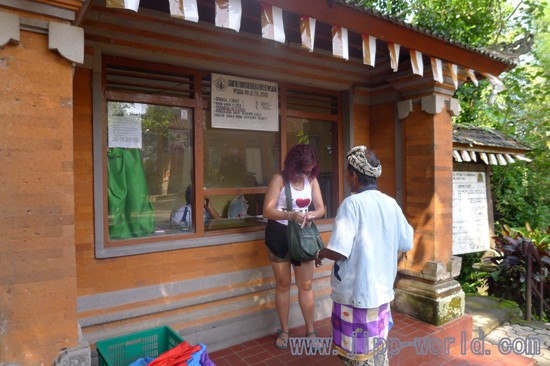 "Let me do it", he said, almost as quickly as his hands. I was literally left to put my sarong on on my own. 🙁

So – The Goa Gajah happened to be just another one of so many temples in Bali. OF course the name itself says it all – or may be not. It was a cave whose facade is a relief of various menacing creatures and demons carved right into the rock at the entrance.
To tell the truth, I didn't see anything 'elephant' about the Goa Gajah despite the name. The façade is actually facing down to a patio with a large pool in the middle. I almost burst out laughing when I heard one of the tour guides told a group of Korean tourists that the water at the pool was brought in all the way from India. I mean, with a gaping pool like that, who needs water from India? LOL! Tour guides are all the same. *shake head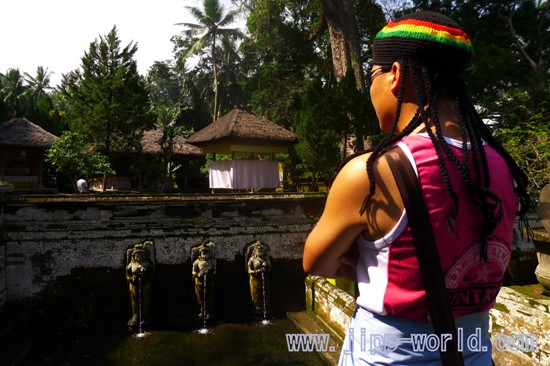 If you think the main attraction lies inside the cave, I'm afraid you're in for disappointment. There's nothing much to see in there. It was a T-shaped chamber quite too hollow to let out any gasp of amazement from your mouth for.But then, if you are there for spiritual reasons, there's a little altar at both ends of the chamber (and one in the middle) for you to do a praying ritual.
The Republic of Indonesia had actually applied for Goa Gajah to be listed in the UNESCO World Heritage sites but frankly speaking, it takes much more that what it has to offer to even make it to the list IMHO. Still I would say good luck to them.
So, after flying our kisses good bye to Goa Gajah, we continued our ride towards – again – Tegalang. Blame it on oversleeping; we had to forget watching the morning mist drifting from the terraced paddy field at the break of dawn. 🙁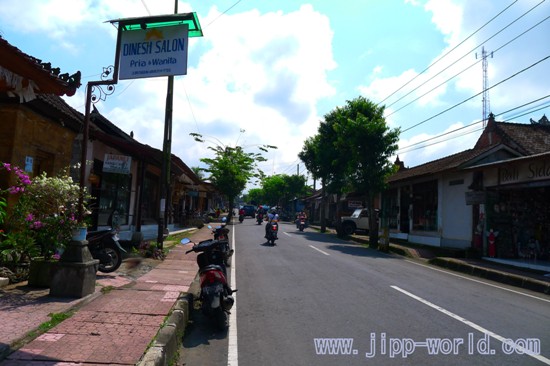 With quite an ample time to kill (unlike the day before when we had to race against time – Bali for sure darkens fast), we really really took time enjoy the ride this time. We would stop whenever we felt like stopping and check out whatever there was to check out. It was the perfect time to be observant and curious about everything.
And seriously, there really were a lot of things to check out along the way. Bali for sure is so headily artistic you might get puzzled by just looking at the abundances of artworks here – be it wood arts or galleries, costumes or home decorations – they all come in ABUNDANCE. Along the way from Ubud to Tegalalang alone, every shop seems to offer something different.
Still in the mood for another 'off the beaten track' adventure, we actually rode past the paddy terraces in Tegalalang and after venturing into a series of junctions and smaller kampung roads, we finally arrived at the beautiful village called Pakudui. The local residents seemed to be a blend of welcoming and curiosity upon seeing us strangers entering their well-hidden territory.
We would stop by to have a chat with the villagers. Believe me, it doesn't take long for the Balinese people in the countryside to warm up to you if you know how to approach them.
A little bit of venturing further into the village had brought us to a large gallery house. Not only it was beautifully located in the middle of an expansive paddy field, it was probably the only place in Bali where we would finally get to see a garuda IN REAL. Yeah, this gallery has Garuda.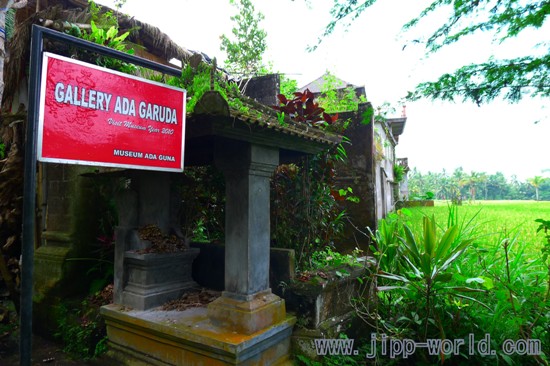 LOL! Do not get fooled. Of course this giant bird called garuda is only a myth and it will remain so even if the next predicted apocalypse would really happen this time –whenever that might be.
But seriously, Gallery Ada Garuda had proved to be so worthy to drop by. There are so many galleries all over Bali but Gallery Ada Garuda seems to stand out from the rest.  I mean, just look at these.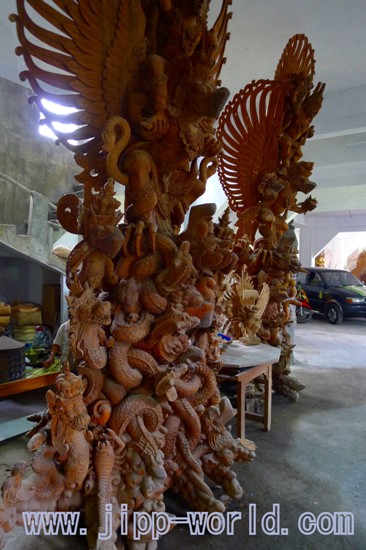 It never crossed my mind that trees could be carved into something so intricate and extremely detailed like that. It's very hard to imagine how they actually came from stumps of trees.
And of course, it took the head of a genius and somebody with the highest sculpturing skills and remarkable talents to get something like this for an outcome.
It took somebody by the name of I Made Ada (pronounced "eye" "ma day" ). He is indeed an extraordinaire, not only for his art talents and sculpturing skills but also the recognitions that he had deservedly gained through them.
For one his art works had been exhibited all over the world, and the list of famous people who had bought his works in the past has included Indonesian presidents. President Ronald Reagan had personally visited his gallery to purchase one of his works back in 1981!
As if that wasn't quite enough, a special TV program about him had been televised on CNN for the whole world to watch and THAT pretty sums up how BIG I Made Ada is in the sculpturing and art world. I was humbled in his presence but I was even more humbled by how humble he was.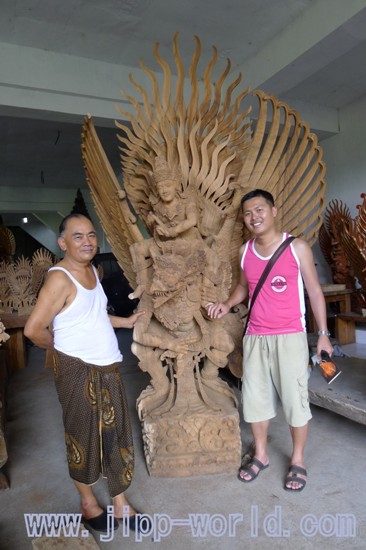 After finally saying good bye to I Made Ada, we rode back down the hill towards Tegalang – this time to enjoy it more in the sunny atmosphere than the day before when we had to race against time in the fast-darkening mountainous Tegalalang.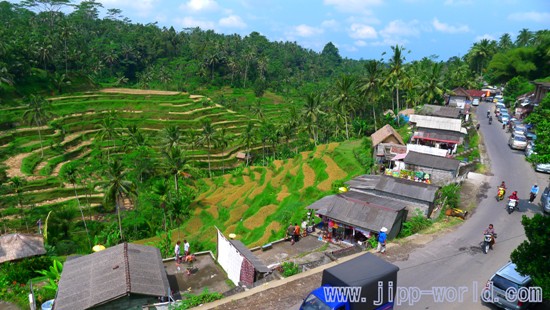 It was around noon and tourists were streaming in and out of the area to have lunch and all and that appeared to be a blessing to the peddlers who were there to haunt everybody with their ever-persistent business approach.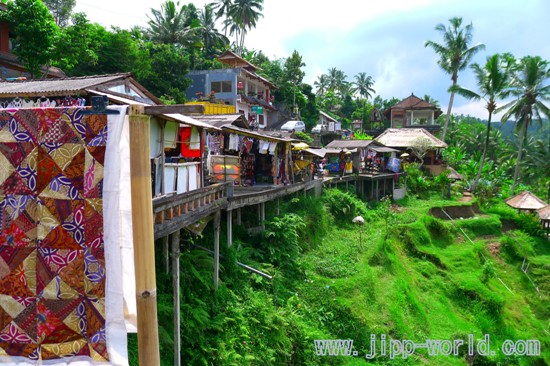 Ulai was so sure one of the ladies had offered to sell her a linen cloth for 1000 rupiah and it took quite awhile before it registered in her mind that 1000 rupiah is actually 0.35 cents in Ringgit Malaysia.
"Oh my God!!!! I can buy for everybody back in my kampong with a price lai datttt!", she exclaimed as she dashes around to look for the lady whose selling attempt she had  earlier rejected.
Of course, something that is too good to be true doesn't come twice. The lady lashed out at Ulai when she OFFERED to buy a cloth for 1000 rupiah. Apparently there was no second chance for her. Poor girl. 😀
So, after trying out just about every pose imaginable with the terraced paddy filed in the background (more photos of the Terraced Paddy Field in Tegalalang here ), we returned to Ubud to concentrate more on the attractions within the township area itself.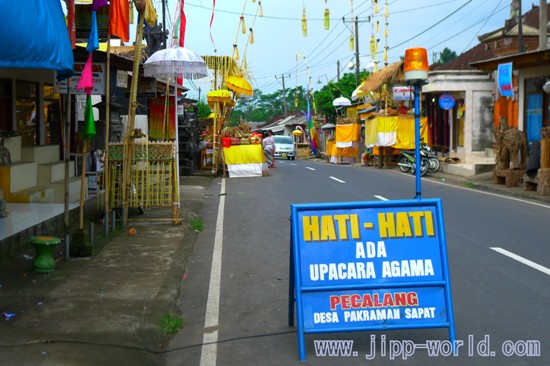 It was wayyyyyyy past lunch time so the groan in our stomachs was louder than the growl of the exhaust pipe. We had come to find out that it wasn't easy to find an eating place along the way from Tegalang to Ubud. A heavy downpour had stopped us from continuing our ride and forced us to run for cover instead.
Little did we know that the rain had come as a blessing considering how we stopped right in front of a stall called 'Warung Ibu'.
While waiting for the Ibu to prepare the food for us, one of her sons led me to the back of the warung and showed me his collection of paintings. Some of them were so beautiful I really thought they should belong to a museum.
The warung was really meant to serve the most basic foods for the locals.There wasn't even much to serve but a bowl of instant noodles and a plate of small cakes of rice locally known as lontong.
The looks seemed to have deceived on us BIG TIME. What appeared to be such a less-appealing set of meal had proved to be extremely delicious we actually fell silent the moment we took our first bites. WE were deeply engrossed in the tastiness of such a simple and yet so fulfilling meal.
I don't know what was it that the mak cik has put in the foods but there was something about them that were just so …. infectiously delicious? Whatever it was, we both agreed that it was the tastiest rice we've ever had – EVER. Ulai suggested that the foods were prepared with a good and pure heart and hence the remarkable taste.
After thanking the makcik for the food, we continued riding back to Ubud. It would be our last evening there so we wanted to enjoy every moment of it. Find out how we did it in my next post. 🙂